What is it about matcha that's just so good? It's earthy, slightly sweet, calming, and never fails to make you feel comforted. I've been baking with matcha for a long time and no matter what recipe I try, it just keeps getting better!
I'm showing you how to make the top 12 matcha drinks, with something for everyone. I've got hot drinks, cold drinks, sweet drinks, all with a heaping of amazing matcha! Plus I'm sharing a bonus recipe that'll put an end to watery matcha lattes.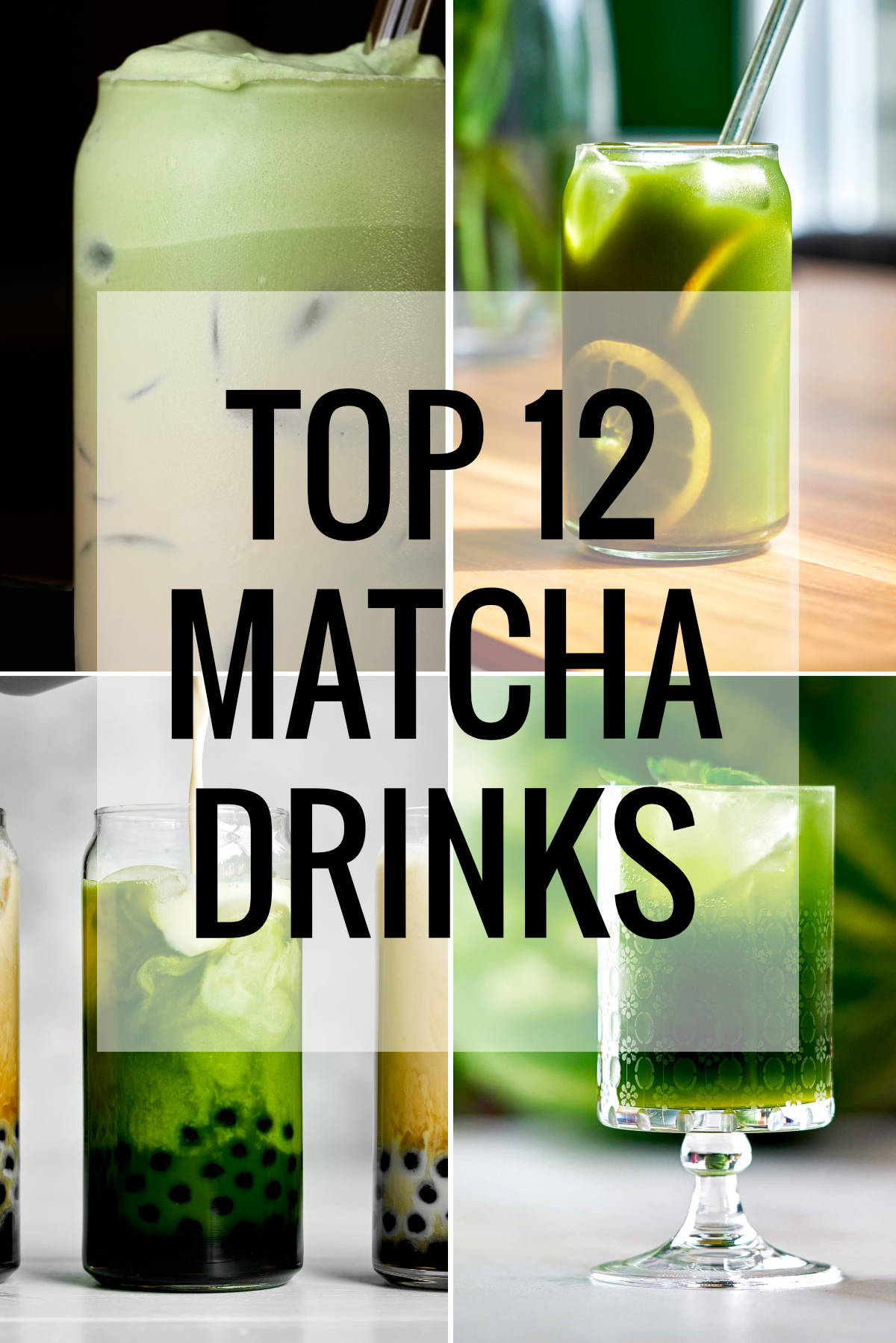 What is Matcha?
Matcha, or green tea powder, is a finely ground light green powder that comes from Japan. Japanese green tea comes from the plant camellia sinensis. The green tea leaves from this plant are ground up and then that powder is added to water to make matcha drinks, or baked into recipes.
Matcha powder is actually insoluble in water. When added to hot or cold water and is stirred, it doesn't dissolve but is instead suspended in the liquid to give it a green color all over.
Matcha has a very distinct and recognizable flavor. It's earthy and grassy, with a slight sweetness to it. Lower quality matcha is often more bitter, so you'll find that it's mixed with more sugar to counteract the bitterness. High quality matcha tastes amazing as it is.
The Matcha Brands I Buy for Drinks
Not all matcha is created equal – it's important to choose the matcha that best fits the purpose. This means choosing a matcha brand and type that works the best for the particular recipe that you're making whether that's a latte or ice cream or a simple traditional matcha.
For lattes, I like to use these matcha brands:
What I would say about latte grade matcha is that it's a slight step up from culinary grade matcha, which is my choice for baking and cooking.
A word of caution is to never buy any matcha that has added sugar or other ingredients. You always want to buy pure matcha from Uji, Japan. You can sweeten to your preference afterward.
For baking and cooking, I buy these matcha brands:
Just like wine there are many different varieties of matcha, all which taste great, but have completely different flavor profiles and some will resonate with you more than others. I encourage you to taste different matcha powders to find the one that you like. You have to taste test to find the best one for you and there's no right or wrong answer – it's completely personal preference.
I really like Ippodo ceremonial grade matcha because they describe the flavors of their matcha on a spectrum with accessible terms, like sweet and grassy. This means they put each matcha on a flavor scale and help you navigate to the flavors you will most enjoy.
Many companies describe the flavor profile of matcha but it's useful to have descriptions that compare them to one another to help you make the best choice.
Traditional matcha definitely requires ceremonial grade matcha. When it comes to ceremonial grade matcha, I encourage you to think about different matcha choices as similar to choices of wine.
Top 12 Matcha Drinks
Dalgona-Style Matcha Latte
Get whippin' your matcha and aquafaba to make this stunning dalgona matcha latte. Once you've enjoyed your lattes whipped, there's no going back.
Matcha Boba Bubble Tea
You can easily make amazing boba right at home, and they are so fun and tasty to have with matcha tea. The chewy boba with matcha is dreamy.
Simple Matcha Latte
Take matcha, add any dairy or non-dairy milk you like, and you have a fabulous matcha latte! My guide shows you how to make it with any equipment you have on hand.
Lavender Matcha Latte
The lavender season comes in the summer and lasts from June to August. You can make the most of it by making this delectable lavender latte with your own dried lavender.
Matcha Mint Julep
If you're looking to spruce up your happy hour, this caffeinated cocktail is a must for any matcha lover.
Matcha Rose Latte
Rose is another fantastic matcha flavor pairing. The floral flavor is subtle and makes every sip that bit more special.
Matcha Affogato
To round us out, I'm showing you the ultimate after-dinner treat. Take cold ice cream and add matcha tea for the yummiest affogato. An impressive way to end any meal! Double it up by using matcha ice cream instead of vanilla!
Matcha Mint Latte
Add the subtle flavor of peppermint to the matcha for a sweet, creamy, minty latte.
Iced Chai Latte with Matcha Cold Foam
A surprising match made in heaven, this Starbucks copycat recipe off the secret menu will have you making it over and over again.
Matcha Lemonade
Long hot afternoons in the back yard call for a cool, sweet refreshment. Say 'yes please!' to this matcha lemonade, which is kind of the matcha version of an Arnold Palmer (half iced tea, half lemonade)
Traditional 2-Ingredient Matcha
When it comes to matcha, you have to include the basics. Matcha and water is all you need to make a soothing, traditional matcha to start your day.
Matcha Sekanjabin
You are in for a real treat with this matcha Sekanjabin! Simply whisk matcha together with the Sekanjabin syrup and a sprig of mint for a refreshing, unique cool beverage.
Bonus: A trick for no more diluted matcha lattes!
Know that sad, watery latte you get when your ice has melted your iced latte? Well, no more! Make matcha latte ice cubes and your problems are solved.
Matcha Drink FAQs
Craving more matcha recipes?
I have amazing matcha recipes for every occasion, so give these showstoppers a try!
I love hearing from you! You can also FOLLOW ME on INSTAGRAM, TIKTOK, and PINTEREST to see more delicious food and what I'm up to.
Read More