Calling all tea lovers and friends-of-tea-lovers! I put together this guide of tea-related gifts to help you choose something special for yourself and loved ones. Here are the items I have and love, or plan to get for myself.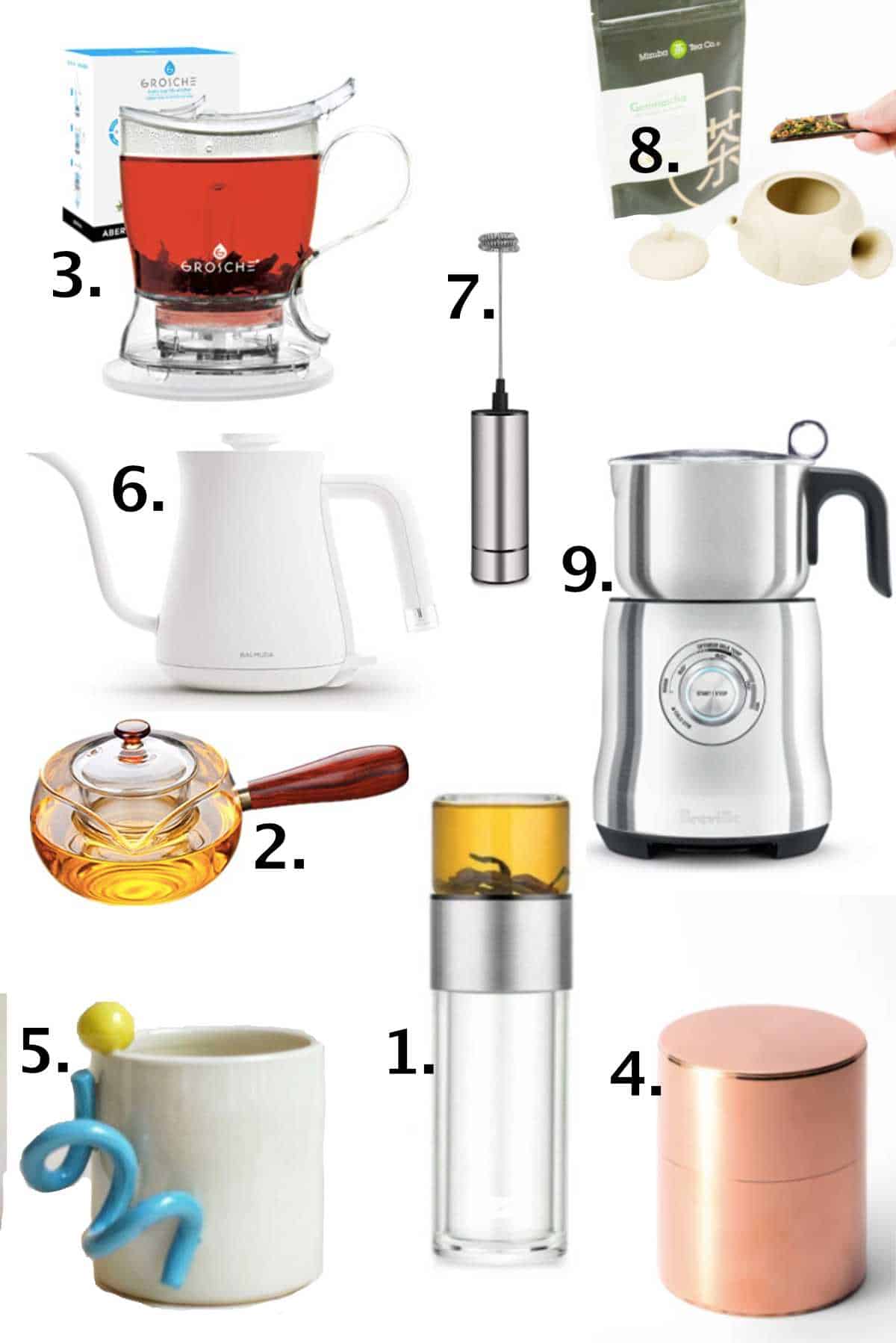 It's no secret that tea is my favorite - it's a morning ritual, and afternoon pick-me-up and sometimes a sweet treat if I make a tea latte or something fancy. Over the years I've found a few products that I love using, and that I think make fantastic gifts.
1. Tea Steeper Bottle
I like this minimalist tea steeper bottle because of its sleek design and that it's ideal for tea on the go. It has a strainer in the lid so that you can brew loose leaf tea easily, and the bottle is insulated to keep the tea nice and hot while you're on the move.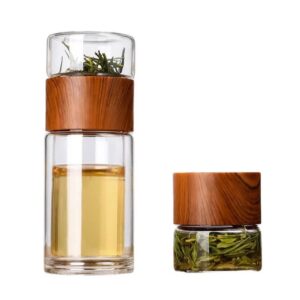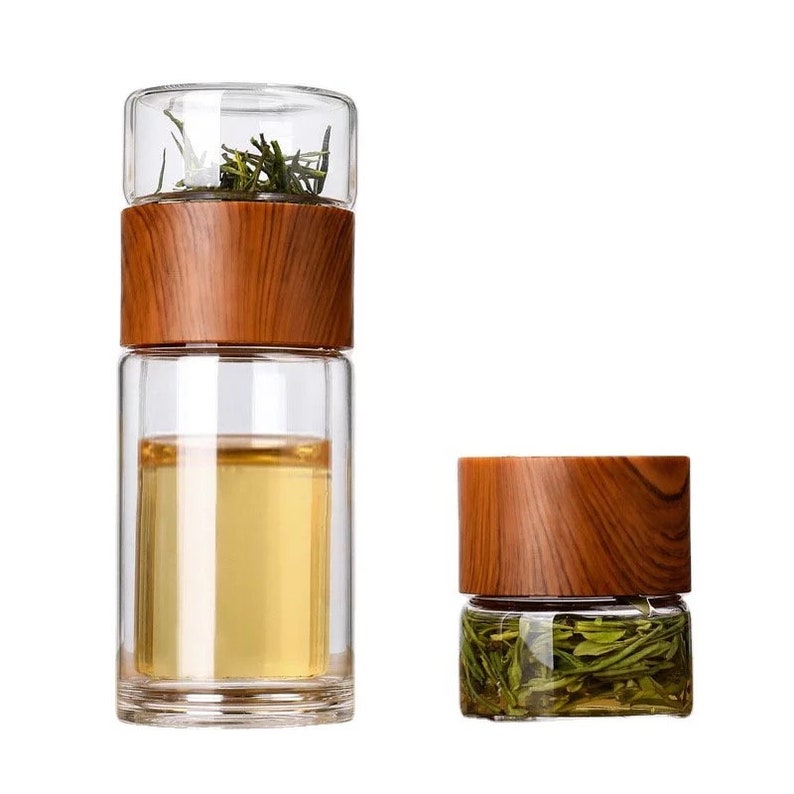 2. Glass Teapot
If drinking tea for you means several cups, it's great to have a larger capacity kettle to brew some great tea all at once. This glass teapot from Amazon has a built in stainless steel steeper, and can be used with both loose leaf tea and teabags.
And, you can brew the tea just to your liking as the steeper has a french-press style plunger that you can push down when the color and strength of the tea is to your preference.
I also like to have a single serving glass steeper on hand for when I'm making tea just for myself.
3. Pour Over Steeper
This pour over steeper is small and great for brewing individual cups of tea. It's made to attach to your drinking mug so the tea seeps down once it's brewed. It works for hot and iced teas, and avid tea drinkers will use this all the time!
4. Kaikado Tea Canisters
These tea canisters are so beautiful, and they're made to last. These canisters are designed to hold tea in an airtight, moisture free environment that preserves its quality. This is a perfect gift for those who appreciate functional, stylish design and are serious about their love of tea!
These canisters are traditionally passed down through generations as heirlooms, with their color changing as they age naturally. It's a lovely tradition to begin this year!
Shop at the Tortoise General Store, $140-170.
5. The Perfect Tea Mug
Having your perfect mug for drinking tea is almost as important as the tea itself. It's good to have a mug in a fun color and style that you like, almost like an accessory you always have with you!
These are some of my favorite picks from local artists you can find online. Try and find some local artists in your area:
If you're looking for a high tech mug solution, something like an Ember mug is a fantastic gift. You connect it to an app on your smart phone and can control the temperature of your tea, maintaining it at the perfect level.
6. Instant Tea Kettle
This is a sleek tea kettle that's more on the affordable side. It comes in black and silver, and I love this kettle for one feature in particular - it allows you to control the temperature to which you heat the water, and choose the ideal temperature depending on the tea you're drinking.
A lot of people don't realise that you shouldn't boil black tea and green tea and the same temperature, for example, to get the best out of the tea.
This tea kettle is a little on the pricier side, but it has a beautiful sleek design and is a good investment for tea lovers. It holds three cups and has a slim precision pour spout for minimal tea spillage.
Shop at Williams Sonoma, ~$135.
7. Handheld Milk Frother
This is a must-have for anyone who loves tea lattes! This electric milk frother is easy to use and will help you make the best frothy tea latte. It will also come in handy to blend some Dalgona matcha or any latte!
8. Customizable Tea Set
This tea set from Mizuba is customizable so you can make it unique for whomever you're gifting it to. You can choose the color of the teapot and the loose leaf tea to go along with it. I recommend the genmaicha - it's incredible!
Shop on Mizuba Tea Co, $84-100.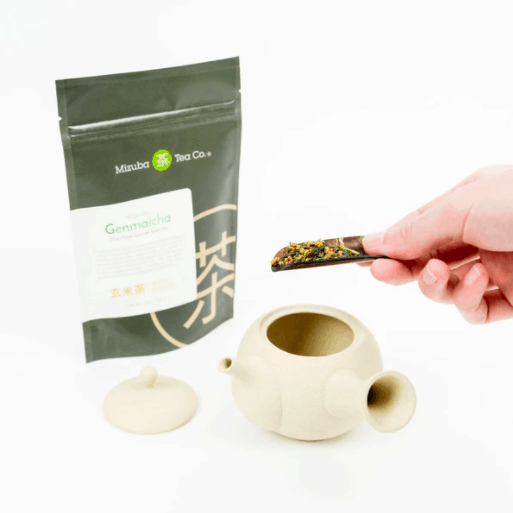 9. Breville Milk Steamer
A gift that has so many uses; this is my favorite milk steamer as its high quality and always produces a great result. It's suitable for making great hot chocolates, steamed milk for coffee drinks and for tea lattes. It's super versatile and will be a useful addition to any kitchen.
Shop at Williams Sonoma, ~$150.
Tea Time Inspiration
Now you have the tea accessories, you need some tea recipe inspiration! Here are some of my favorite tea recipes to get you started.
Read More
Enjoyed this guide? Check out some of my other lifestyle & travel content here!
This post was originally published in December of 2020 but was republished with updated links in February of 2022.