The key to a seamless kitchen is choosing multipurpose cookware that can work hard for you. I have experimented with my fair share of pots and pans over the years and want to pass on my knowledge of which ones every kitchen needs.
You really do only need 5 essential pots and pans to have everything you need to cook successful meals: a fry pan, cast-iron skillet, non-stick pan, dutch oven, and saucepan.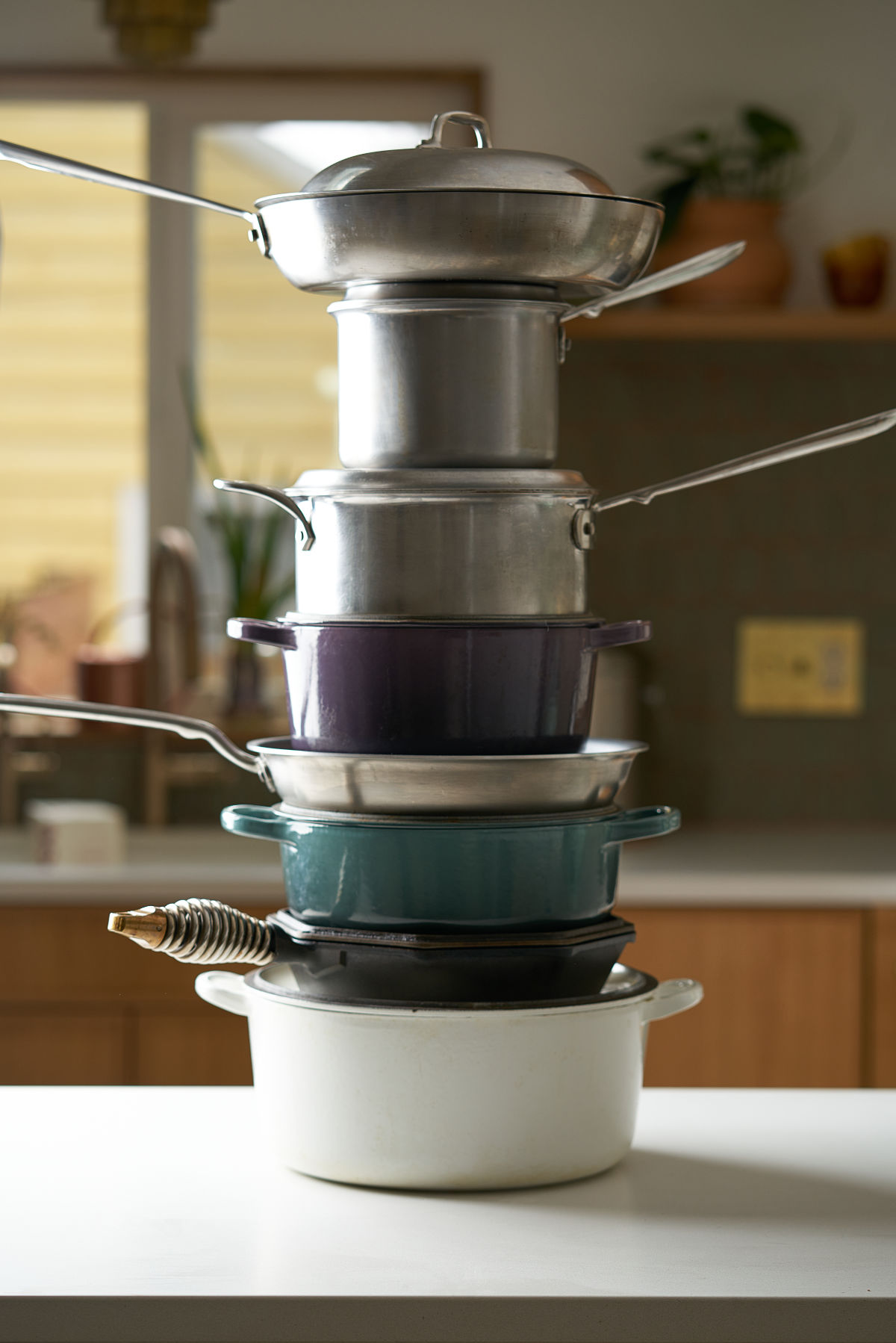 Benefits Of Having The Right Pots And Pans In Your Kitchen
Less clutter and unused items filling up your cabinets
Increases your cooking options for a wide variety of dishes
You can easily cook multiple things at once
You can switch easily between stovetop and oven cooking with cookware designed for both
Tips For Buying The Best Quality Pots And Pans For Your Kitchen
More expensive in price does not always equal better quality. Here are some things you'll want to look out for when evaluating if a pot or pan is high-quality.
The Material: Stainless steel, copper, and cast iron are all excellent choices as they guarantee durability, even heating, and are easy to clean.
The Weight: High-quality cookware tends to be heavier than cheaper options because the materials are built to last a lot of wear. A heavier pot or pan will also conduct heat better, resulting in more evenly cooked food.
The Thickness: Thicker cookware is less likely to warp, and will also heat more evenly.
The Handle Design: The handles of the cookware should be firmly attached and provide a comfortable grip when held.
Remember, there's nothing wrong with buying secondhand or lightly used cookware from high-quality brands like Le Creuset or durable items like cast iron pans. These items are designed to last a lifetime.
You can also save on high-quality cookware by buying a bundled set from a reliable brand. This MadeIn set is my favorite for covering all your bases.
The 5 Pots & Pans You Need in Your Kitchen
In reality, different people use different-sized or shaped pots and pans depending on the things they cook in their homes. Starting with just a few basics will open your eyes to the pots and pans you need as an individual.
Frying Pan
Why you need it: One of the most versatile pans for frying foods and sauteeing veggies. Also fantastic for toasting nuts, cooking fish, and it makes a seamless transition from cooktop to oven. Also great as a steamer if you purchase a steamer basket and make sure to get a lid!
My recommendation: All-Clad d5 Fry Pan with Lid
Other options:
Cast Iron Skillet
Why you need it: Cast iron skillets are excellent for deep frying, grilling, or searing meats, poultry, and fish. They also allow you to transition cooking from the stove to the oven. And if you're thinking about transitioning to induction, it's a must.
Cast iron does require some upkeep, so if you're not ready for that, skip this item.
My recommendation: a 12" Lodge Cast Iron Pan
Other options:
Non-stick Pan
Why you need it: Versatile cooking with ingredients that tend to stick like eggs, tofu, pancakes, chicken, or lean beef. They enable you to use way less cooking oil, plus they are easy to clean.
Many non-stick pans degrade over time, the one I'm recommending is the only one I haven't ever had issues with. I love it just as much as when I started using it.
My recommendation: MadeIn Non-Stick Pan
Medium or Large Dutch Oven
Why you need it: Best used for braising meats, cooking soups or stews over a long period of time, roasting meats or baking in the oven. You can get one that's enameled cast iron or not, but make sure it's heavy-bottomed.
My recommendation: Le Creuset 7.25-qt
Other options:
Saucepan
Why you need it: Ideal for heating and cooking liquids, cooking grains and pasta, boiling water and blanching vegetables, or melting ingredients together.
My recommendation: All-Clad d5 Saucepan Set
Other options:
Considerations for an Induction Stovetop
I have particular pan preferences because my induction stove has specific requirements. If you're planning on eventually having an induction stovetop, consider investing in pieces that will work with it now instead of having to reinvest when you do make the switch.
Final Thoughts
When picking your pots and pans, I find the 5 above are a great combination, but you can choose your own adventure based on what you usually cook! For example, a cast-iron skillet could replace a non-stick pan/ fry pan depending on your cooking style.
My number one piece of advice is to invest in as high-quality items as your budget will allow, so you can enjoy reliable cooking tools that will last you a lifetime.
Want to Read More Kitchen Recommendations?
The lifestyle section of my blog is where you can find them!