As a food blogger and recipe developer, my food processor is one of the most-used tools in my kitchen. I upgraded mine to a Breville Food Processor two years ago, which is a pricey kitchen investment at $300-$550 depending on the model you choose.
When shopping for a new food processor, you'll want to consider the following: price, how easy it is to wash, the bowl size, the discs/attachments it comes with, and the overall size.
I'm going to give you my honest review of the Breville Sous Chef® 12 Plus, and help you decide whether it's worth the extra money for you!
For those of you wondering, I have previously owned an older model of the Cuisinart Custom (also recommended) and the Ninja food processor attachment. I have also used different models during onsite cooking demos and appearances.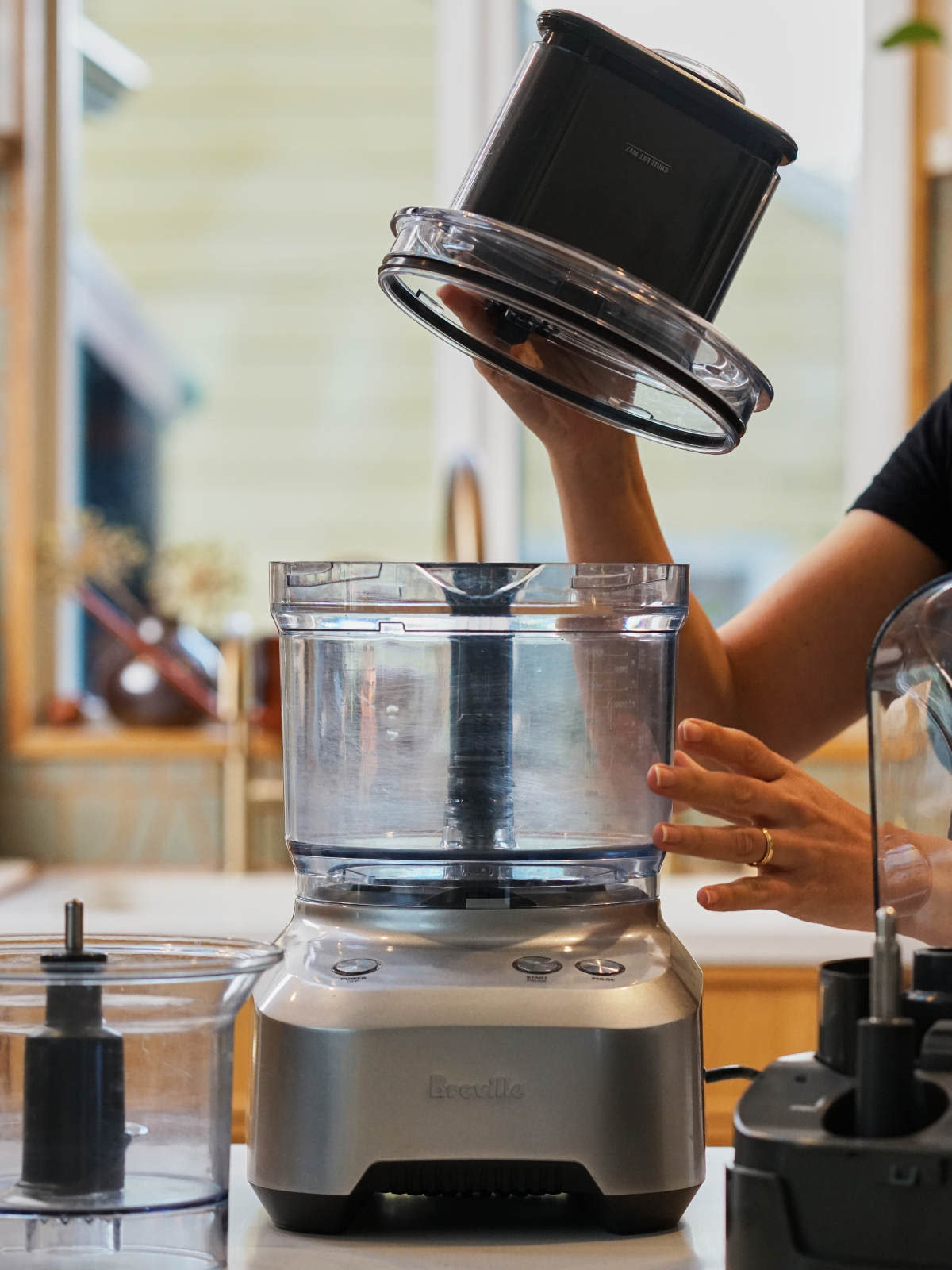 This post is not sponsored but does contain affiliate links where I might receive a commission if you make a purchase, at no additional cost to you. Thanks for your support!
How can a food processor improve your cooking?
A food processor can level up your cooking whether you're an at-home baker, busy parent, or a recipe developer like me. I use it weekly for a wide variety of uses, including;
Pureeing soups, sauces and dips, like pesto
Making nut butters from scratch
Chopping and slicing fruits & vegetables
Making homemade doughs and batters
Shredding and grating ingredients of all kinds
Making smoothies and milkshakes
Emulsifying dressings and vinaigrettes
Breville Sous Chef® 12 Plus features
The Breville Sous Chef has several features that make it a useful kitchen companion:
The motor is extremely powerful and can make fast work of mashing a potato or creaming fruit into a smoothie.
It comes with several helpful attachments for a variety of purposes, including a serrated s-blade, an adjustable slicer with 24 settings, a reversible shredder, and a dough blade.
The adjustable slicer is a huge time-saver because it allows me to achieve any cut of vegetable, fine or thick, for my recipes.
The attachments come with a compact storage container.
Two key reasons I upgraded to the Breville Sous Chef® 12 Plus
It has two different bowl sizes
Having two different bowl sizes was a game-changer for me as it allows me to customize food prep to different quantities. It also provides the flexibility to make smaller batches of food if needed.
This feature is especially helpful when making sauces, dips, and other recipes that require precise measurements.
It comes apart easily, making it easier to wash
This may not sound like a huge deal, but being able to clean and dry your processor easily makes a huge difference, and makes you want to use it more often. It also makes it easy to use multiple times in one cooking session.
The Breville Sous Chef® 12 Plus dismantles completely, getting a much better clean, and it can even quickly get ready for repeat use.
The bottom line
My old food processor worked almost as well, and equally well for most things I use it for. However, I am happy I upgraded to the Breville. The following are good reasons to upgrade:
You currently use your food processor multiple times a week.
You use your food processor for more than one purpose.
You can afford and are prepared to make a long-term investment in this piece of equipment.
Top 4 alternatives to the Breville Sous Chef® 12 Plus
Best Breville alternative: Cuisinart 14-Cup Food Processor
This 14 cup food processor comes with a powerful 720 watt motor, a stainless steel standard slicing disc, a medium shredding disc, and a stainless steel chopping/mixing blade. A huge bonus is that it comes with a full 5-year motor warranty.
Price: $200 - $250
Best small option: Cuisinart Elemental 8-Cup Food Processor
This conveniently-sized option has an efficient 350 watt motor, with reversible shredding and slicing discs. The removable parts are easy to clean and dishwasher safe, which I think is a big plus.
Price: ~$100
Best for easy food prep: KitchenAid 13-Cup Food Processor
The KitchenAid is equipped with a powerful motor and durable blades, so you can easily tackle chopping, shredding and kneading tasks. It's super versatile - you can easily chop, shred, slice precision dice, knead, mix, or puree.
Price: $160 - $200
Best on a budget: Hamilton Beach 12-Cup Stack and Snap Food Processor
This option has a 450 watt motor that can handle slicing, shredding, chopping and pureeing with ease. This option features a sealed bowl with pour spout that helps make sure your ingredients are secure and won't leak.
Price: $59.99
2 Food Processors to Pass On
Magimix 5200 XL 16-Cup Food Processor
This food processor is frequently reviewed, but is a huge, heavy piece of equipment that won't suit most homes. It has a large capacity, but you are paying for a size you likely won't use.
Hamilton Beach 3 Cup FreshChop Mini
While the price on this is affordable and the processor works well, by spending just a little more you can get a much more powerful and high-capacity food processor with more diverse uses.
Read More