When I renovated my first kitchen, there was a steep learning curve. I had done plenty of research and spent a lot of time planning, but there is always more to learn about combining practicality and design to shape a space that best suited the user's needs.
Now, I'm a food blogger and recipe developer who helps others design their kitchens. That combination of expertise has given me a unique perspective on kitchen design that has led to a specialty – I design for functionality in a way that is unique to each client's day-to-day functions, equipment, and household needs.
Following are 7 watch-outs I follow when designing a kitchen that will be helpful for you as you embark on your kitchen renovation journey!
1. Never store spices near a heat source
The taste and longevity of spices change when they are subjected to heat. Just think of how you toast spices to bring out the aromatics when you're cooking - this should be done only right when you're about to use them.
The cabinets designed to hold spices should be kept away from heat sources, like cooktops and ovens.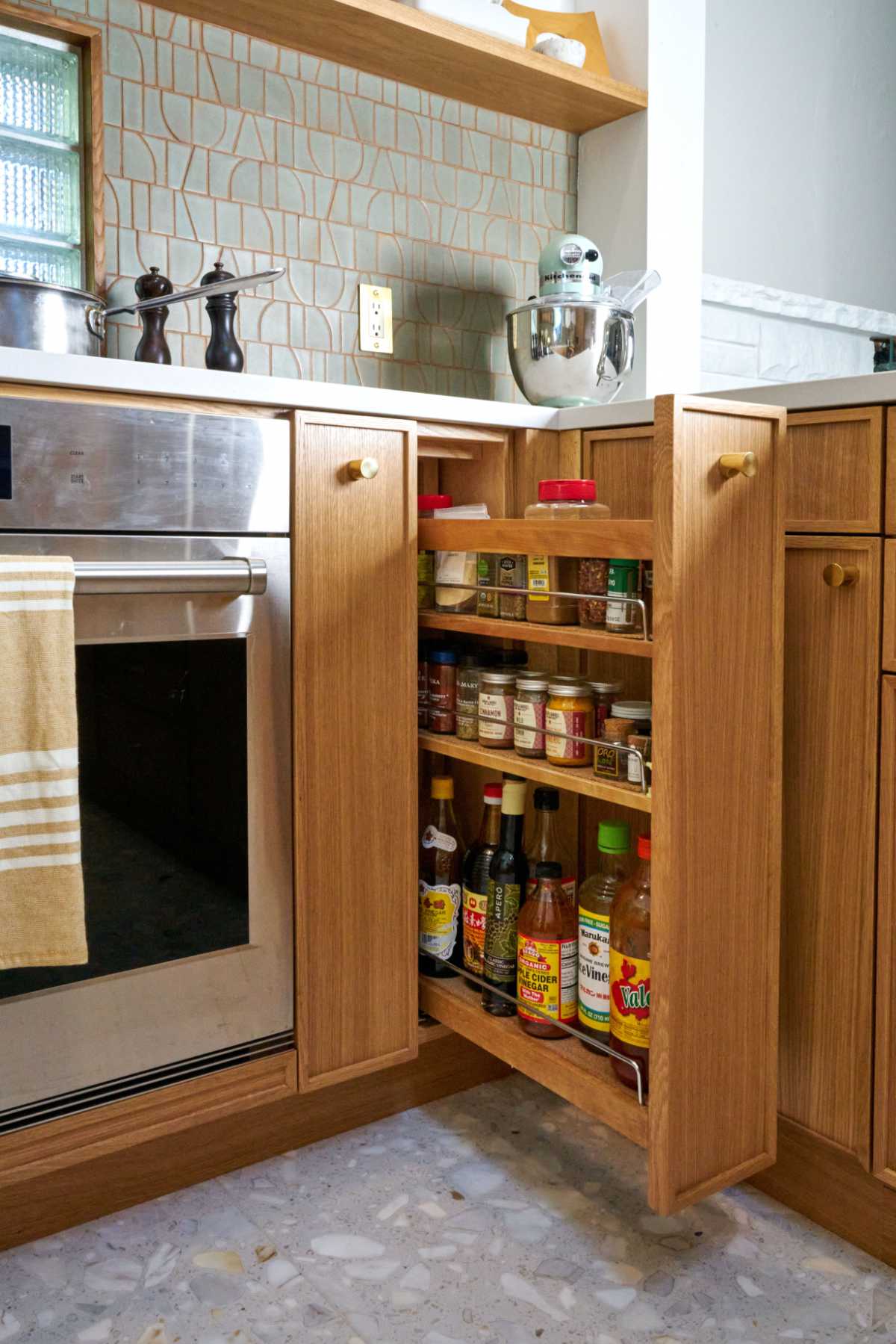 2. Skip the upper cabinets
Tall cabinets make the most of vertical space in your kitchen. They can also look really gorgeous. However, most people can't reach the contents of these cabinets easily or safely.
Skipping the upper cabinets and putting in a shelf can make a space feel more spacious. This effect happens both while you're in the center or outside of the kitchen and while you're performing daily functions on your countertops.
So if you won't be able to reach most of the contents in them, opt for the shelving and give your kitchen that spacious feel.
3. Don't choose a fully matte finish for cupboards
I know what you're thinking – a matte finish is so attractive and stylish, and I agree! However, a fully matte finish is more prone to fingerprints and scratches, so your cabinets will start to look worse for wear much faster.
I always choose an eggshell or even satin finish, as it looks super close to matte (very few people can tell the difference) and it gives you more protection against fingerprints, scrapes, and scratches.
4. Don't corner the refrigerator and the microwave
Place the refrigerator and microwave in an area of the kitchen that can be accessed without disturbing the person (or people) cooking in the kitchen. This is especially helpful in households with kids since kids and teenagers are more likely to be in and out of these two appliances.
Tip: Create a triangle of workflow in the kitchen.
In any kitchen, it needs to make sense to travel freely from the sink to the stove to your workplace/countertop. This usually means arranging those three elements in a triangle shape so you can move from point to point seamlessly.
5. Don't put a stove or a sink in the island or peninsula (if possible)
While it can look amazing, the huge downside is that you're losing the double or triple function of your kitchen island. In a good-sized kitchen, a countertop island can serve as a preparation space, a secondary dining area, and even a buffet table when you're entertaining.
Putting a sink or stove in the island (or peninsula) makes it much harder to make use of these options. You'll get maximum space usage if you put your sink and stove along a wall.
Although this isn't always possible, it's important to consider.
6. Don't use a super-porous material for countertops
A kitchen is meant to be used, and many beautiful countertops require maintenance as often as every 6 months.
Porous materials like some granites, onyx, concrete, and wood absorb stains and react to heat, even staining with water to varying degrees. They are beautiful, so if you are considering them, make sure you're willing to put in the extra maintenance to keep them beautiful!
Similarly, grouted tile countertops will require the same grout upkeep of your tiled showers. I know that's not something I'm willing to do!
7. Don't forget to place the seams between the countertop in a place that makes sense
Countertops are made from slabs of material, almost always multiple slabs, meaning there will be a joining seam. That seam is usually hard to spot but can cause water damage problems if it's in the wrong place. Avoid placing these seams near sinks or even the cooktop.
Ask your fabricator where they plan to put the seams before the material is cut and if the cost will be different with proper placement so you can fully understand your options.
Looking for more design inspiration?
Interested in working with me?
Set up a free, 30-minute kitchen consultation where we will get to know each other, and discuss your timeline, budget, style, and next steps.
Send me an email at candice@proportionalplate.com.
Do you have any kitchen design nuggets of wisdom or unfortunate learnings from your experiences? I'd love to hear them!