Instant-read thermometers are far more versatile than you think. While they do an excellent job of getting the right temperature on your Thanksgiving turkey, they can do so much more for you and make life in the kitchen much easier!
I'm sharing 8 ways you can use your instant-read thermometer. After thoroughly testing 5+ different kitchen thermometers the clear winner for me was the Thermapen One, and I'm sharing why. Plus a great budget-friendly option!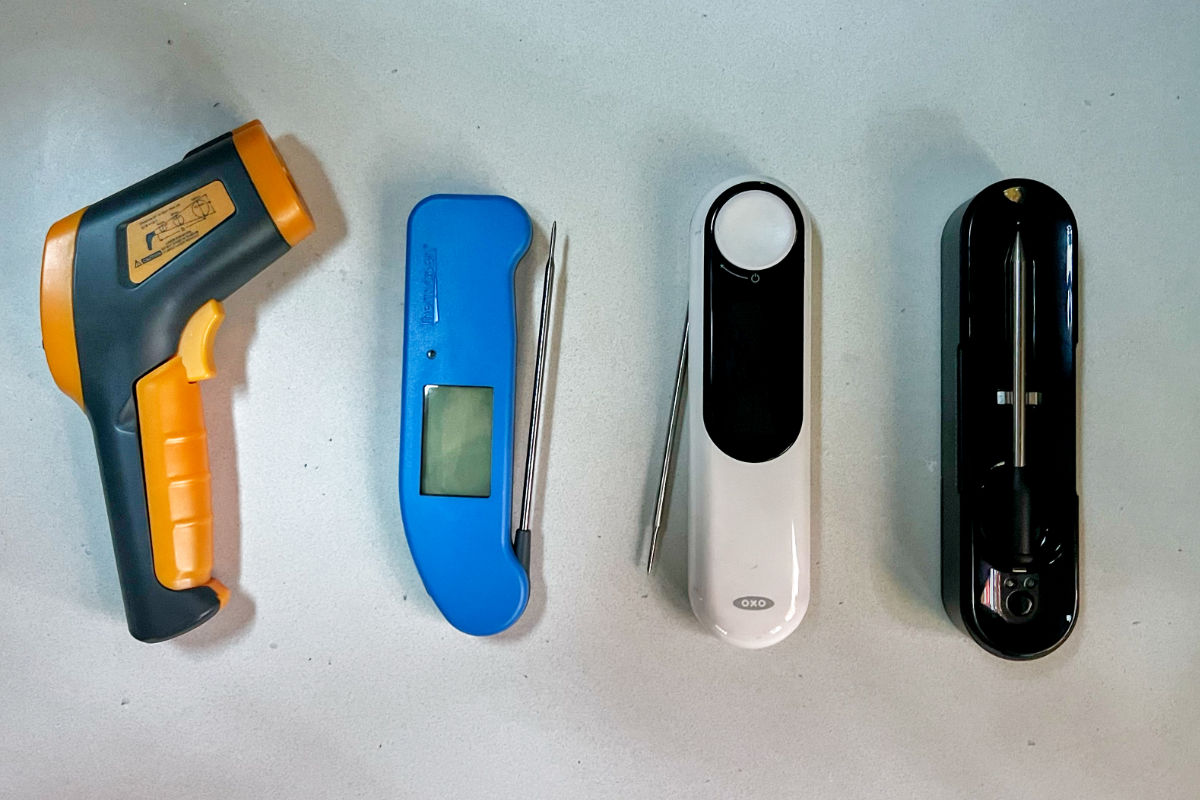 Why you need one
One of the most useful tools in my kitchen is my instant-read thermometer. I use it to be more precise and safe in my cooking by cooking to a temperature instead of the time on the recipe. It ensures my meat is cooked properly, my bread isn't raw or dry, and my custards are going to be cooked & properly thicken.
Jump ahead to read the 8 ways I use it.
I use it multiple times a week all year round, which makes it an all-star player among my kitchen utensils. I think it's an essential tool for anyone's skill level and will greatly improve your cooking skill.
Which one is the best?
The Thermapen One wins out for me because of its fast response time, its level of accuracy, and the warranty. It's easy for beginners to use and the newest version on the market has a helpful rotating display that I love so that you can read the temperature even when the Thermapen is not in an upright position.
Best versatile option: The Thermapen One ($99) is my favorite thermometer for the reasons listed above. It works so fast, that I find myself using it even when a specialized thermometer would be normally be recommended, like a candy thermometer. The battery feels like it lasts forever, too!
Best budget option: The Thermopop ($21) is a fantastic low-budget solution that I think works as well or is better than some of the higher ticket options tested (see below).
Jump ahead to read the 8 ways I use it.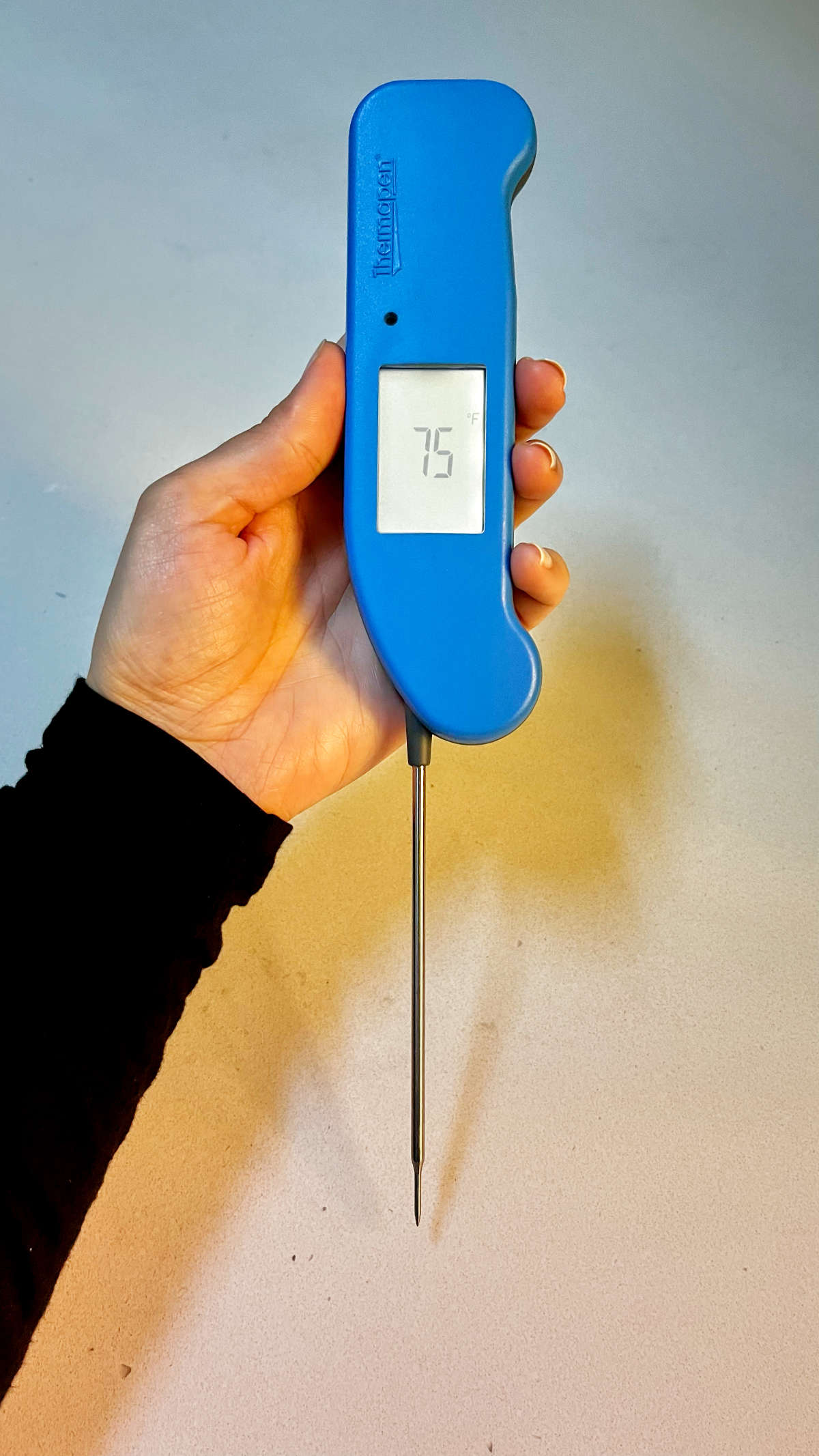 My advice is to invest in a high-quality thermometer. I haven't had a good experience with cheaper thermometers lasting more than one holiday season.
Everything I tested
Before finding my perfect thermometer, I tested these brands:
8 ways to use an instant-read thermometer
1. Cooking meats like chicken, beef, lamb, and even fish
It's always a challenge knowing when your proteins are perfectly cooked, but an instant-read thermometer takes the guesswork out of that process. Almost all recipes will give you an internal temperature to aim for, and the thermometer prevents you from overcooking or undercooking your proteins.
2. Making homemade ice cream or custards
Ice cream and custards are both products where you need to lightly heat a mixture containing egg and cream. This can be tricky because the final result can be ruined if you overheat, and underheating leads to raw egg consumption which is unsafe for many populations. A thermometer makes that problem a thing of the past.
3. Tempering chocolate
Getting a glossy shine on your chocolate is well worth the time for the right recipe, and a thermometer helps you increase and decrease the temperature of your chocolate with such precision that you can get great results every time.
4. Baking bread
I always use my thermometer to tell me exactly when my bread is done. It's much more reliable than judging by sight or by cooking time. Cooking to a temperature with bread is the best way to make sure it isn't raw or dry.
5. Heating eggs to a food-safe temperature
Raw eggs can be unsafe to consume, and yet so many recipes call for them. Some meringue recipes, different sauces or dressings, and even cocktails contain raw eggs that will not be fully cooked, but a thermometer helps you heat them to a safe temperature without overheating and cooking them.
6. Sugars, toffees, and caramels
A thermometer is a game changer if you enjoy making toffees, caramels, or other products where you need to heat sugar to really high temperatures. When you're judging by eye or by time it's so easy to burn sugar, but a thermometer can show you the exact time to take the sugar off the heat.
7. Heating frying oil
From fried chicken to triple-cooked fries, any time you need to deep fry something you need to know when the oil is hot enough to do the job. Keeping oil between 350F and 375F is key to keeping the finished food from coming out greasy or burning.
8. Properly steeping tea
If you don't have an electric kettle with a temperature gauge, you can heat your water in a regular kettle or even in a pot and use your thermometer to get the temperature in the proper range to properly steep your tea.
Recipes that use this thermometer
Read more
Have another way you use your thermometer? Let me know in the comments below!
I love hearing from you! You can also FOLLOW ME on INSTAGRAM, TIKTOK, and PINTEREST to see more delicious food and what I'm up to.