I want to make sure everyone enjoys their tea at its best, so I created this guide on how to properly steep your tea. Read this guide, and your tea will taste like it never has before!
Tea is such a versatile beverage; I truly believe that there's a great tea out there for everyone. It can be an amazing alternative to coffee or an addition to it.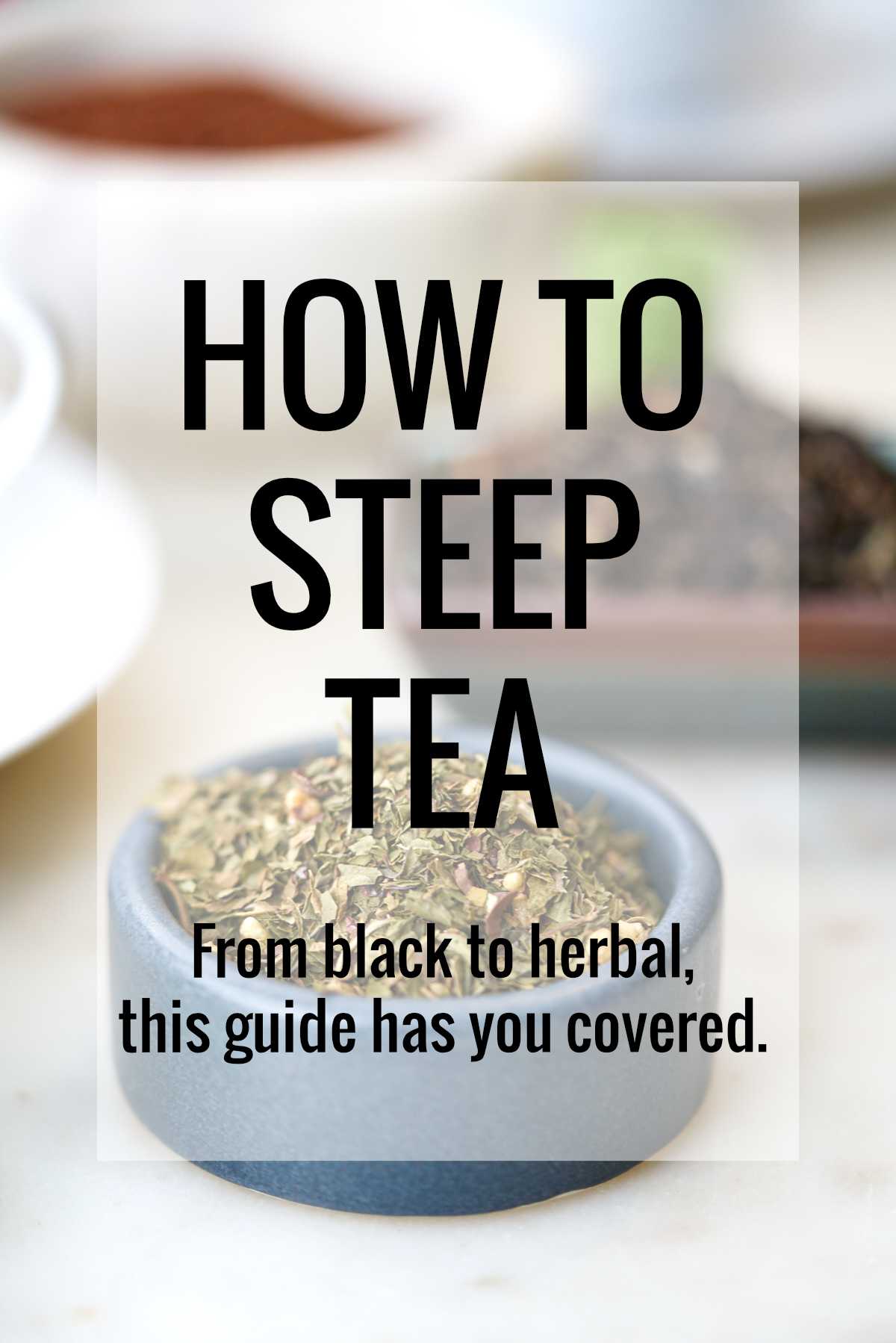 Jump to:
🌟Why You'll Love This Tea-Steeping Guide
🍵 What Are the Different Types of Tea?
For this guide, we're going to explore how to properly steep the four main types of tea.
Black tea
Green tea
Rooibos tea
White tea
If you'd like to read more about each type of tea and its unique properties, I've included some handy resources at the end of the guide.
🥄 What Are Ingredients Typically Added to Tea
Tea is often enjoyed as is, but many choose to add the following to their teas for flavor enhancement:
Sugar
Honey
Jam stirred in the tea as a sweetener
Flavored syrups
Slice of lemon
🍃 Loose Leaf Tea vs Teabag
Generally speaking, loose-leaf tea is of higher quality. It is also usually more pure and aromatic than teabags. Overall I think using loose leaves is a much better tea experience. Having said that, I appreciate the ease of use and accessibility of teabags. They are usually a bit more financially friendly than some loose-leaf options.
Take into consideration that loose-leaf tea produces much less packaging than tea bags. I try to buy loose-leaf tea in bulk, in recyclable or reusable packaging like paper or metal tins.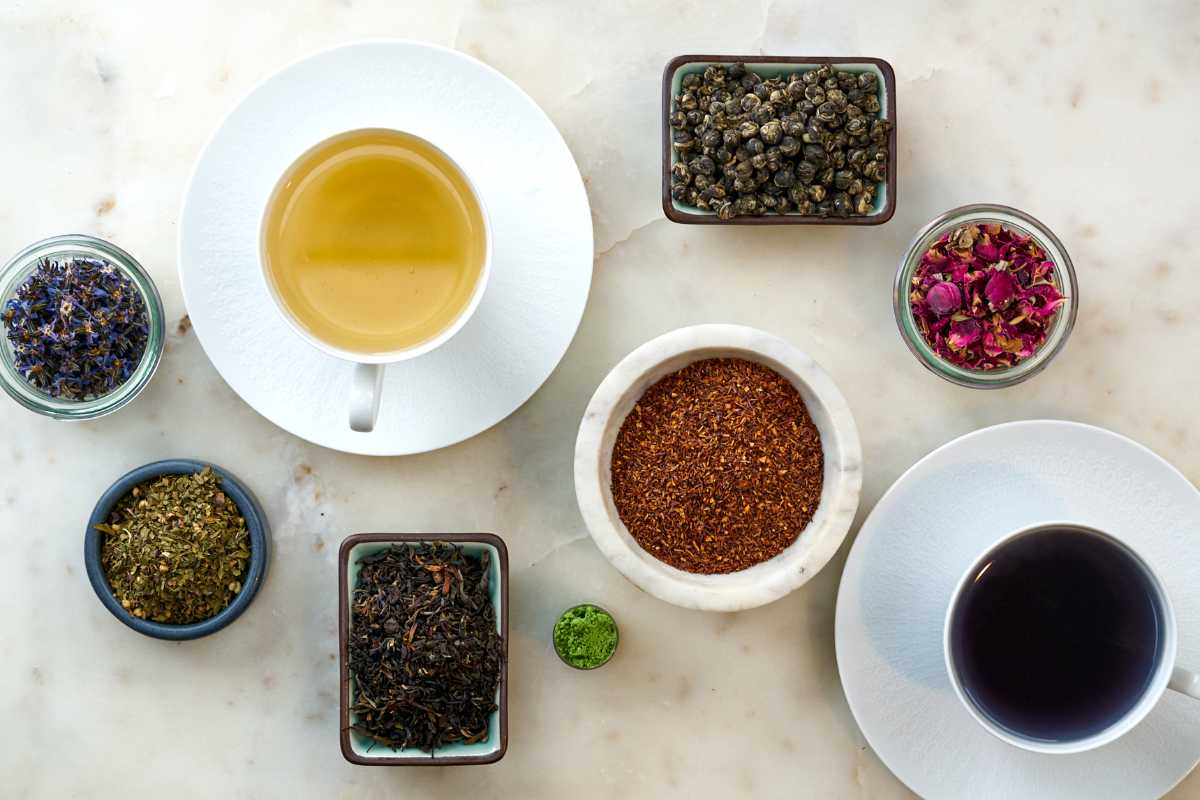 📏 How to Measure Tea
One reason someone may dislike tea is because they haven't had the chance to try tea that is measured and steeped correctly, to give it the absolute best taste as it was intended by the teamaker.
For teabags, the amount is pre-measured for you, but for loose-leaf tea, you should measure out 2 grams of tea per 8oz of water. I have read some sources that suggest up to 3 grams for stronger tea, but I think 2 grams is a good amount to get started. If you do have a taste for strong tea, you can always experiment with more.
If you have a tea scale or kitchen scale, you can put the tea in a small container to measure it out. If you do not have a kitchen scale, 2 grams is about one tablespoon of tea.
💧 How to Steep Loose Leaf Tea
You will need either a teapot with a small mesh barrier between your tea leaves and water or a mesh strainer to transfer the tea from the container you steeped the leaves into your mug.
Boil your water. Use an electric kettle or a stove if you can and avoid the microwave. Most kettles heat water to boiling point, which is 212 degrees Fahrenheit. This is plenty hot enough to steep your tea, but different teas taste better at different temperatures.
Next, set a timer for the tea-specific steeping time, and keep an eye on it. Then, I pour it through a mesh strainer into my teacup.
Remove the tea from the cup when you're done steeping. Otherwise, it will over-steep.
☕ How to Steep Tea Bags
If you're using a tea bag, place it in your chosen cup first. Make sure the tea bag is submerged and not floating around at the top.
Pro Tip
If the tea bag has a string, I like to hold on to it or wrap that around my cup handle so that the little tag doesn't get in my tea with the force of the water poured. Fishing wet paper out of your tea is no fun!
Remove the teabag when you're done steeping and throw it away. Tea bags aren't designed to be reused to steep more tea.
🟢 How to Steep Green Tea
There are many different types of green tea, including sencha, genmaicha, gyokuro, and hojicha. Green teas are all made from unoxidized leaves, which are heated after harvesting to preserve the freshness and nutrients in the tea. For my Japanese green tea, I love drinking Ippodo, and their guidelines for how long to steep green tea have always served me well.
With green tea, you really have to take care not to over-steep the leaves, as this will result in a bitter taste.
Sencha
Time to steep - 1 minute
Temperature - 176F / 80C
Gyokuro
Time to steep - 1.5 minutes
Temperature - 140F / 60C
Bancha (e.g Hojicha, Genmaicha)
Time to steep - 0.5 minutes
Temperature - 212F / 100C
General Green Tea
Time to steep - 3 minutes
Temperature - 185F / 85C
🟩 Steeping Matcha Green Tea
Matcha is a very special tea, and the preparation is unique for this one. Like tea, matcha doesn't actually dissolve in hot water. The matcha powder particles are so small that when you mix them with hot water, they are suspended in the water and then show the characteristic earthy green color.
Use my step-by-step recipe for simple traditional matcha to help you.
Time to whisk - 0.5 minutes
Temperature - 175F
My favorite matcha are from Ippodo and Mizuba Tea Co. If you're new to matcha, try the Mizuba Daily or House variety. If you're making a matcha latte or a fun matcha drink, all you need is the Culinary matcha and this matcha on Amazon works great.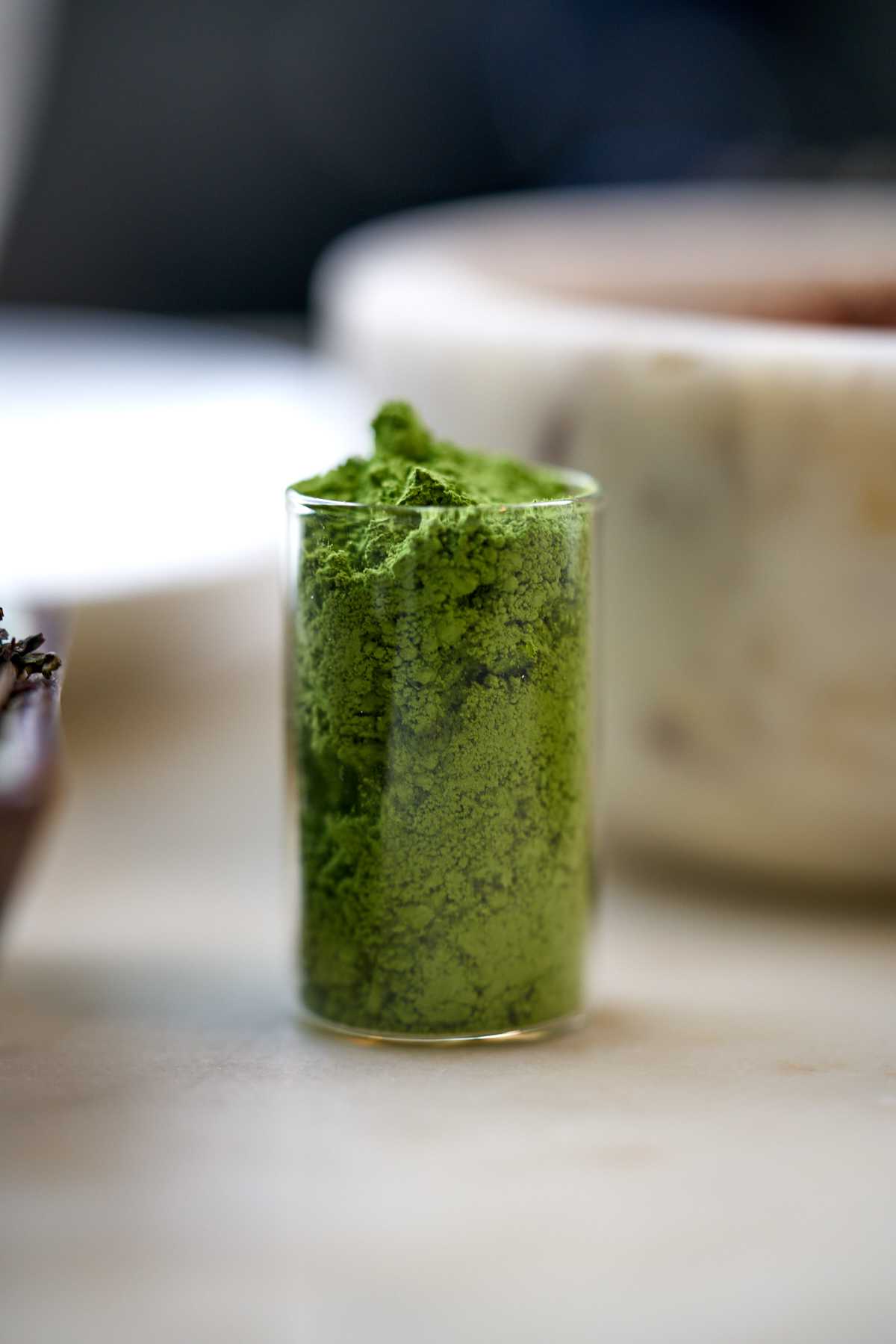 ⚫ How to Steep Black Tea
Black teas (such as breakfast tea, earl grey, and Assam) are strong, bitter teas meant to be served with a dash of milk and/or sugar to lighten the taste. However, many enjoy these teas without adding milk. Black teas are generally higher in caffeine than other tea types.
To keep the tea from being too strong, you may want to reduce the amount to a little less than 2 grams.
Pro Tip
If you do like stronger tea, the key is to use more tea by measuring out a bigger amount. Do not steep the same amount for longer to try and get a stronger taste. It will result in bitterness.
Time to steep - 3 - 5 minutes
Temperature - 200F / 95 C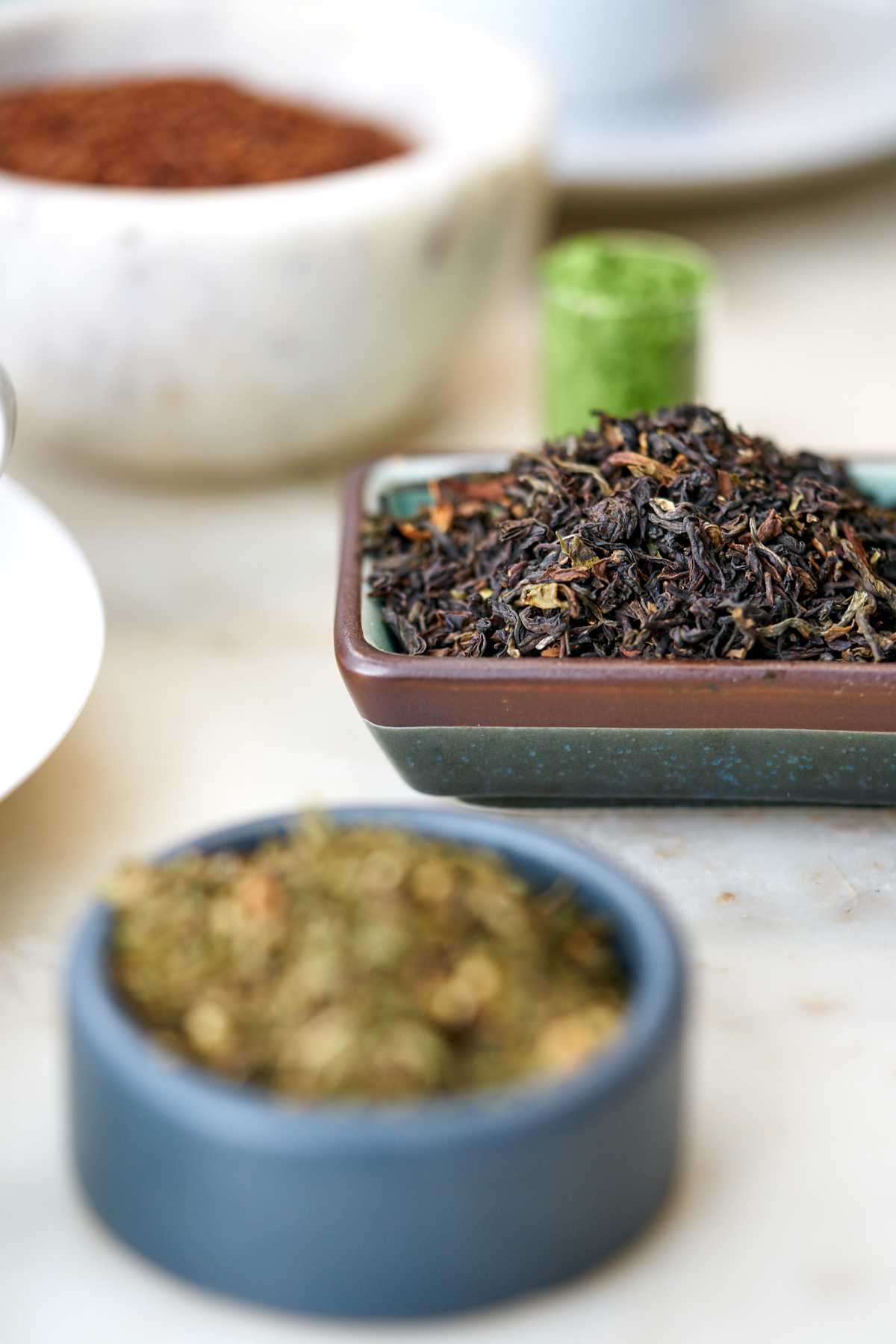 🇬🇧Fun Fact🇬🇧
Fun fact, in the United Kingdom, if you go to a cafe or tea shop and order simply 'tea', you will be brought English Breakfast tea as the default. In the US, not so much!
🔴 How to Steep Rooibos Tea
Rooibos, the red tea, is an herbal variety of tea completely unlike green and black. It is a favorite as it's naturally sweet, and in tea blends it's often paired with strong flavors like chocolate and cinnamon.
Rooibos is an interesting one because it doesn't come from the Camellia sinensis tea plant like black and green tea, but a completely different plant native to South Africa. In terms of history, Rooibos is a fairly new player but has gained immense popularity for its sweet mild taste.
Time to steep - 5 - 10 minutes.
Temperature - 200F
⚪ How to Steep White Tea
White teas are made by harvesting the youngest and freshest tea leaves from the Camellia sinensis plant. The tea is light and delicate, with a mild and slightly sweet flavor. It's a great beginner tea type for anyone put off by the stronger green and black tea varieties.
Time to steep - 2 - 3 minutes.
Temperature - 170F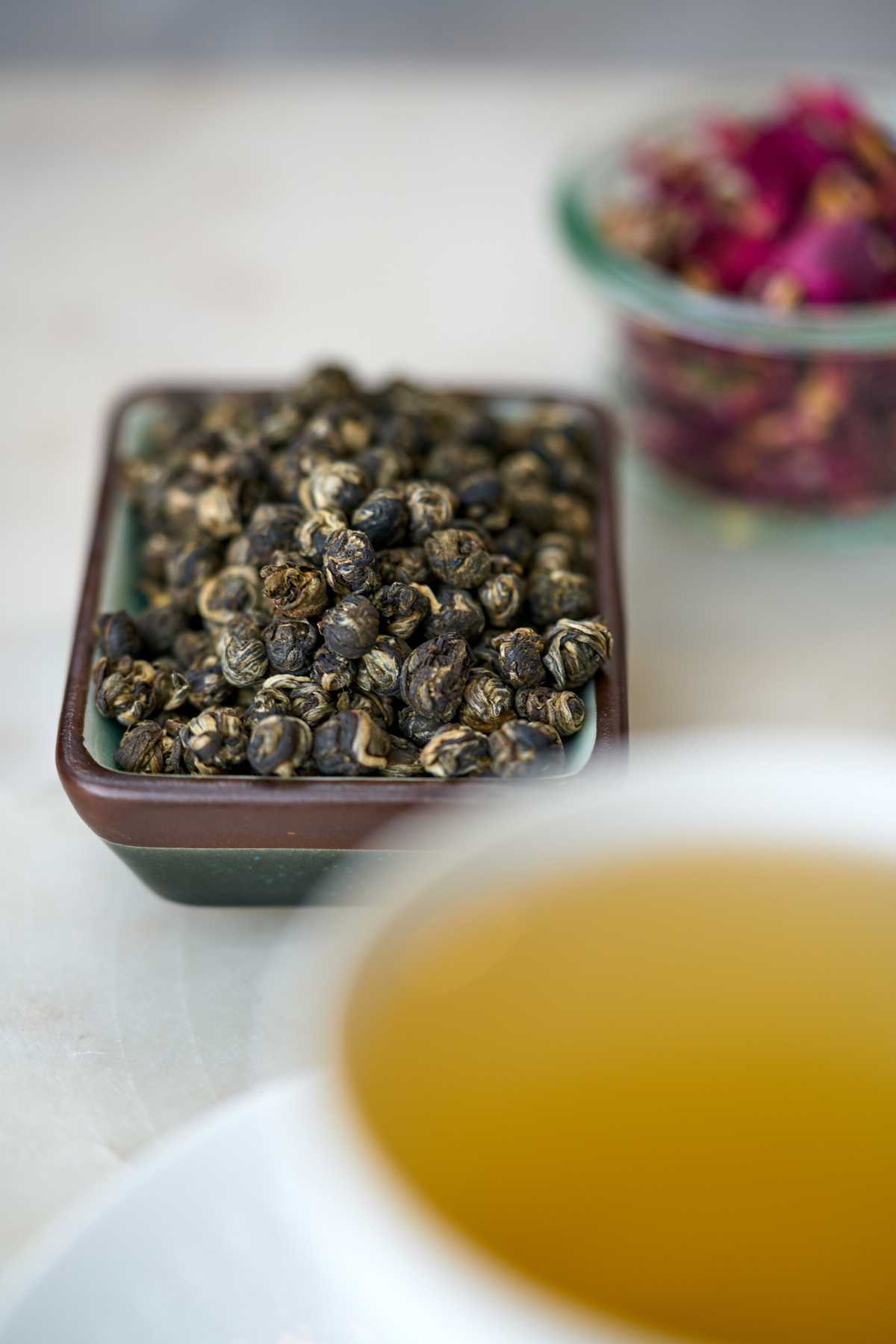 🫖 Tea FAQs
Does tea dissolve in water?
Tea doesn't dissolve in water, it just infuses it with flavor.
Is tea bitter?
Tea does have a reputation for being bitter, but that usually only happens when it is steeped for too long.
Does tea have caffeine?
Yes, brewed tea has caffeine. Teas with a longer steeping time will have more caffeine as the steeping draws the caffeine out of the tea leaves.
Is tea good or bad for sleep?
Many enjoy a cup of tea as a calming ritual before bedtime. I find tea very calming and combine it with my meditation practice. However, drinking a strongly caffeinated tea before bed may disturb sleep.
⭐ Explore Tea-Infused Recipes
Apart from a traditional cup of tea, here are some fun ways to introduce tea into your recipes.
Additional Resources for Tea Enthusiasts
I love hearing from you! You can also FOLLOW ME on INSTAGRAM, TIKTOK, and PINTEREST to see more delicious food and what I'm up to.