Oat milk is a non-dairy liquid made from steel cut oats and water that is inexpensive, simple to make, and is a delicious milk substitute. Read on to find out all you need to know about oat milk and try my quick and easy homemade oat milk recipe.
You can also make it with rolled oats. I'll explain to you how to make it either way, and why I choose to make mine with steel cut oats.
This post contains affiliate links where I might receive a commission if you make a purchase, at no additional cost to you. Thanks for your support!
Ingredients & Optional Sweeteners
The only ingredients you'll need are water and steel cut oats. You can use rolled oats, but they have less of a nutty flavor. If using rolled oats, you only need to soak them for 20 minutes.
Sweeteners
Sweeteners are optional when making oat milk. I prefer to sweeten my oat milk as I use it, because different uses call for different amounts of sweetness. If you'd like to sweeten the oat milk when you make it, be sure to also add a pinch of sea salt to round it out.
You can also add a teaspoon of vanilla extract.
Following are the sweeteners I recommend to use in this recipe. Add them to recipe when the oats and water are added to the blender. Once blended, taste, and add more if desired.
dates (1-2, pitted)
maple syrup (1 tablespoon)
agave syrup (1 tablespoon)
simple syrup (1-2 tablespoons)
How to Make Homemade Oat Milk
Begin by rinsing the oats thoroughly and draining. Cover the oats with more water and soak them - you can leave them anywhere from 20 minutes to overnight.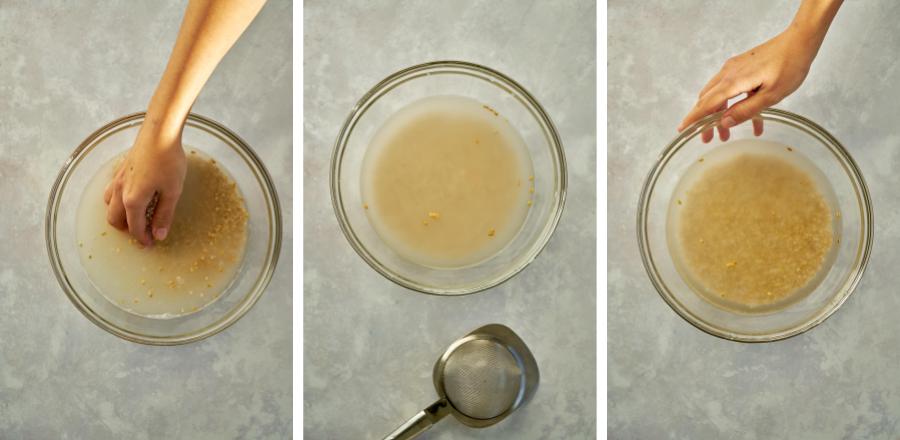 Drain the soaked oats of the water and add the oat pulp to a blender with another three cups of water. Blend the oats and water for around 30 seconds.
Note: Over-blending can lead to a slimy oat milk.
Strain the oats and water mixture 3-4 times until you are left with your oat milk liquid. Or strain once through a nut milk bag. Transfer it to a sealable container, and it will keep in the fridge for 4-5 days.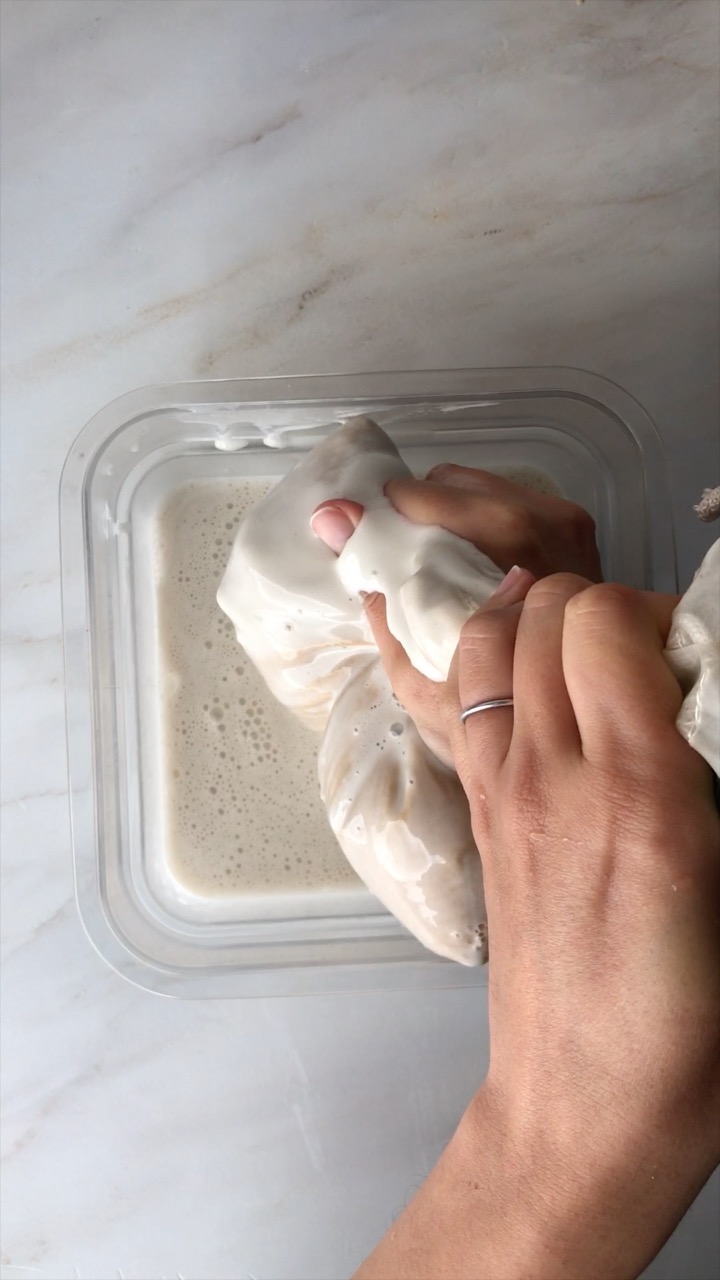 It will separate when left in the fridge, so shake well before using again.
Oat Milk FAQs
How is Oat Milk Made?
It's much easier than you think! Oat milk is plant-based and has only 2 ingredients. It is made by blending oats and water into a pulp and then straining it to get the remaining creamy liquid.
What Does Oat Milk Taste Like?
It is creamy, thicker in texture, and naturally a bit sweeter than other non-dairy milk options. The taste of oats is definitely present, but in a very subtle, neutral way.
Why is Oat Milk So Creamy?
As it's made from only dry oats and water, it may seem odd that oat milk has a creamy texture and taste. Due to the process to make it - soaking and blending of oats - oat milk ends up very creamy due to the ability of the oats to absorb the water. Additionally, the addition of pulverized oats thicken the liquid to get a smooth creamy texture.
Why is Oat Milk So Popular?
Oat milk has certainly become more popular in recent years, with many prominent brands and product expansions including oat milk smoothies and ice cream! Oat milk is a popular milk alternative for many people because it doesn't contain nuts, which other alternative like almond milk and cashew milks do.
How Healthy is Oat Milk?
Drinking oat milk isn't quite the same thing as having a bowl of oatmeal, and it doesn't have the same amount of nutrients as whole oats. However, it is a great source of fiber and other vitamins and minerals (especially in fortified oat milk) such as vitamin B12 and vitamin D.
It has more calcium than cows milk, and there are many articles out there about its positive effect on heart health and bone health. Remember that oat milk is lactose, soy and nut-free, so it is a great milk substitute for those with dietary restrictions.
Is Oat Milk Good for Weight Loss?
This is subjective depending on whether you make your oat milk yourself or buy a brand name. Many oat milks at the store will have added sugar, oils, and other ingredients with differing calorific values as a result. Always check the label before introducing it to your diet.
Oat milk is low in fat and high in fiber, and with a balanced diet and exercise may assist weight loss. However, simply replacing your regular milk with oat milk won't yield miraculous results.
Which is Better for You - Oat Milk or Almond Milk?
Both oat milk and almond milk are good non-dairy alternatives. Compared with each other, oat milk is higher in calories but has more fiber and protein. Almond milk has less fat and carbohydrates. Neither can really be judged as better - it's a personal preference.
What Are Some Other Non-Dairy Milk Alternatives?
If your diet means you can't have dairy, there are so many alternative varieties of nut milks (I have a recipe for homemade nut milk here), soy milk, coconut milk, and rice milk. They all taste slightly different so it's a good idea to try a few and see which one you like the best.
What Are the Best Oats for Oat Milk?
There are three types of oats - steel cut, rolled, and instant. They all come from the oat groat and are different because of how they've been processed. Steel cut oats are chopped into little pieces and take the longest to cook. Rolled oats, (the kind you may be most familiar with) are flat disks and cook much faster than steel cut. The final type, instant oats, are pre-cooked and pressed thin so that they cook very quickly. Nutritionally, there is no different between them.
My recipe uses steel cut oats, because I find they produce a nuttier milk in the end. This recipe also works really well with rolled oats, and you would only need to soak them for 20 minutes.
What Can I Do With the Leftover Oat Pulp?
This doesn't have to go to waste! You can use it to bake oatmeal cookies like these, and in other baked goods like muffins or banana bread. You can add some to your smoothies or use for some overnight oats!
How Do I Make Sure My Oat Milk Is Not Slimy?
The key culprit for slimy oat milk is over-blending your oats. Don't blend for any longer than the 30 seconds recommended for the best non-slimy texture.
Do You Have to Refrigerate Oat Milk?
Refrigerate your oat milk and it will keep in the fridge for 4-5 days. Make sure to shake well before use! This is because it separates if left too long.
Can I Heat Oat Milk?
You can heat oat milk, but be careful. If you heat it up too quickly or for too long, the oat milk will cook and become thick and lumpy. They are oats after all.
Can I Sweeten Oat Milk?
To sweeten your oat milk, blend it with 1-2 tablespoons of a sweetener like maple syrup, then add 1 teaspoon of vanilla extract, and a pinch of sea salt.
Can I Flavor My Oat Milk?
Yes absolutely you can flavor it! Here are some of my favorite ways to flavor my oat milk:
Chocolate oat milk - add in cacao powder
Vanilla oat milk - add in pure vanilla extract
Matcha oat milk - add a scoop of matcha powder to your desired taste
Lavender oat milk - add a lavender simple syrup like the one I make here
Cinnamon oat milk - add powdered cinnamon to desired strength of flavor
Can I Use Oat Milk in Coffee?
Oat milk works great in caffeinated drinks. It's neutral, creamy flavor makes for an amazing latte or matcha latte! Be careful though when heating your oat milk for lattes. If you heat it too quickly or for too long, the oat milk will cook.
What is the Difference Between Oat Milk and Oat Milk Creamer?
Unlike milk, a creamer has an added emulsifier (usually some kind of oil) that makes it easier to froth. However, since oat milk is so creamy, it can work just as well as a creamer.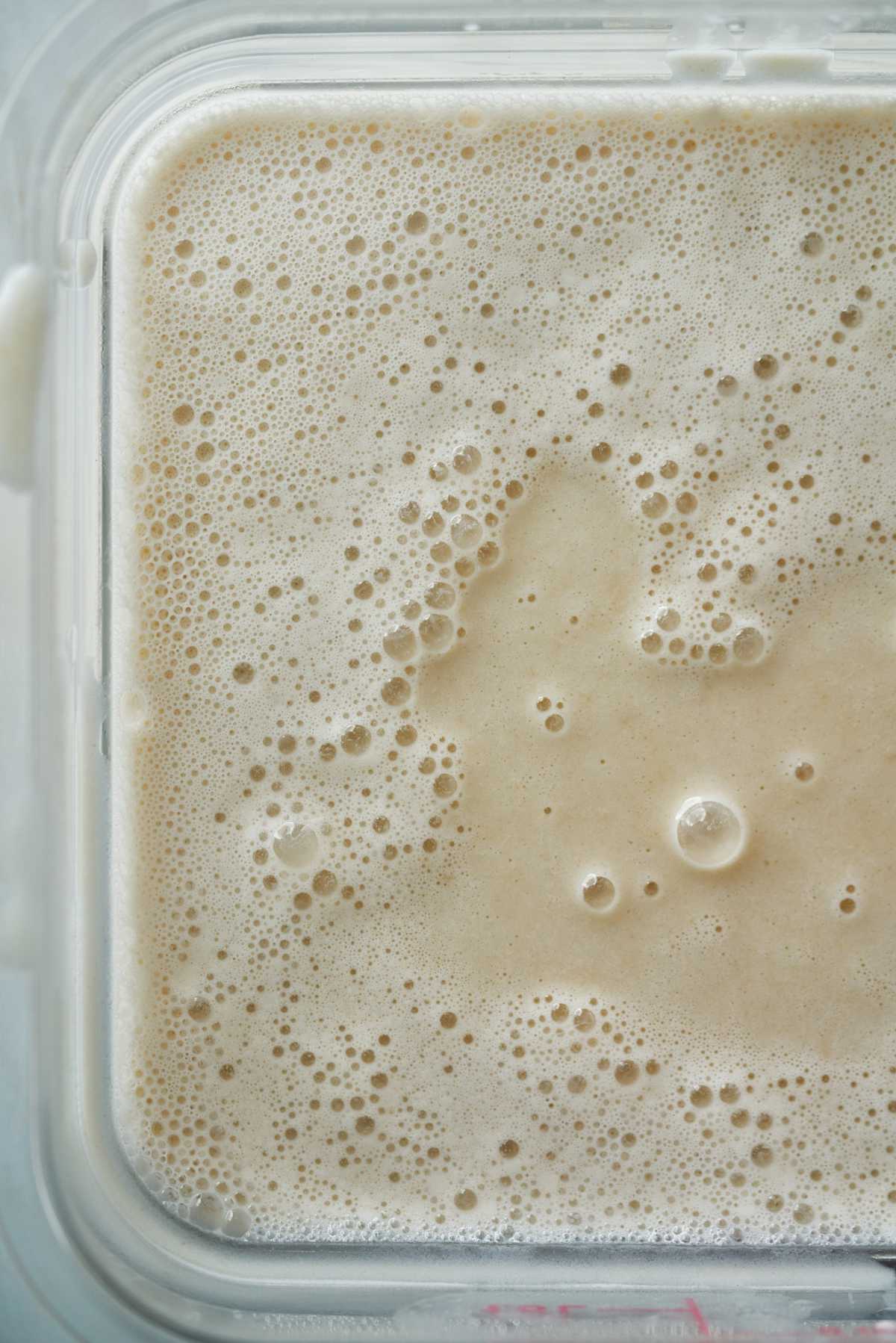 What Drinks Work Well with Oat Milk?
Use your oat milk to make delicious beverages like:
Or make some simple homemade nut milk.
★ Did you make this recipe? Please give it a star rating below!★
I love hearing from you! You can also FOLLOW ME on INSTAGRAM, FACEBOOK, TWITTER, and PINTEREST to see more delicious food and what I'm up to.
Print Recipe
Homemade Oat Milk
A non-dairy liquid made from steel cut oats and water that is inexpensive, simple to make, and works as a delicious milk substitute. Keeps in you fridge for 4-5 days. Shake well before each use.
Ingredients
1

cup

steel cut oats oats

3

cups

drinking water
Instructions
Rinse the oats well and strain out the excess liquid. It usually takes 2-3 washes for me. The water should run mostly clear.

Cover with water. Soak 20 minutes for rolled oats and overnight for steel cut.

Rinse well and strain out the excess water.

Add to a blender with 3 cups water.

Blend ~30 seconds.

Strain 3-4 times or once through a nut milk bag.

Add to a sealable container. Keep in the refrigerator for 4-5 days. It will separate, so shake well before use!
Notes
Be careful when heating your oat milk for lattes. If you heat it too quickly or too long, the oat milk will cook.
You can use regular oats for this recipe, but I prefer steel cut oats. Steel cut oats yield a slightly more flavorful, nutty oat milk.
Do not blend the oats too long or the oat milk will become slimy.
You can add a sweetener like dates, maple syrup, agave, or simple syrup. Add 1 tablespoon to the blender along with a pinch of salt. Taste and adjust to your liking.
Nutrition
Calories:
154
kcal
|
Carbohydrates:
26
g
|
Protein:
6
g
|
Fat:
3
g
|
Saturated Fat:
1
g
|
Sodium:
9
mg
|
Fiber:
4
g
|
Calcium:
25
mg
|
Iron:
2
mg
This post was originally published in June of 2017, but was republished with new photos, step by step instructions, and tips December of 2019. It was updated again in September 2021 with new photos and FAQs.