Want to try a seasonal meal plan, but don't want to figure out what you're going to cook every night? This seasonal grocery list and recipe plan are designed to help you plan 7 days of phenomenal summer meals with ease!
There's so much great, fresh produce available in the summer, so it's a fantastic time to eat seasonally. The warm nights and beautiful weather gets me excited about cooking and eating outdoors!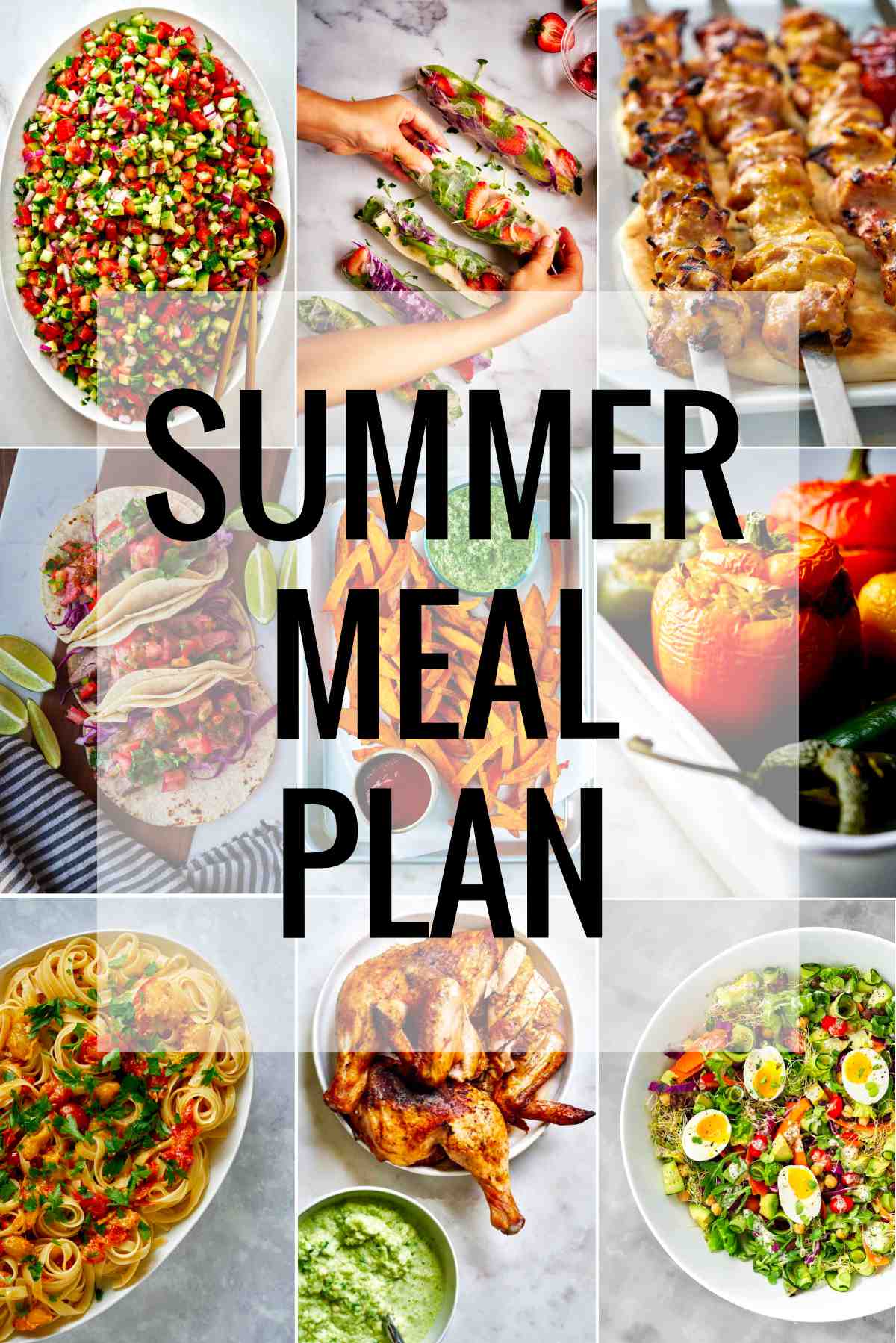 My top tips for meal prep:
Before anything else: go through the grocery list and cross off anything you already have at home.
Grocery shop ahead of time for the whole week!
Wash your veggies and put them back in the refrigerator so you don't have to worry about it the day of.
Keep herbs in water like you would with flowers.
Don't want to cook 7 days in a row? Use the grocery list below to plan 7 dinners over the next few weeks. Freeze the meat or chicken until you are ready to use it (if you think you won't get to it quickly) and you'll have everything you need at home to make some simple, tasty, healthy meals in the next few weeks!
Keep veggies in your crisper drawer to keep them fresh.
Make sure all of your pots, pans, and cooking equipment are clean and ready to go.
What's in Season Right Now?
Your taste buds will come alive in the summer with all the amazing fresh produce that's readily available. From succulent sweet fruit to tart berries to fresh peaches and watermelon, it's the best time to take advantage of the produce that's readily available.
Basil
Blackberries
Blueberries
Cherries
Corn
Cucumber
Eggplant
Green Beans
Lettuce
Mangoes
Peaches
Peppers
Plums
Strawberries
Squash
Tomatoes
Watermelon
Your 7-Night Summer Dinner Menu
Use this menu to cook all week long OR to plan 7 dinners over the next few weeks. See meal prep tips above, especially if you plan to cook over the next few weeks.
Monday
Slow-cooking the tomatoes and garlic in olive oil yield a light and summery sauce packed with flavor. You can cook the tomatoes the day before for an even easier dinner.
1.
Tomato & Garlic Confit Pasta
A perfectly light, satisfying comfort pasta. And cherry tomato and garlic confit does all the work for you as it slow cooks in the oven, so you can enjoy this decadent dinner with only 15 minutes of work.
Check out this recipe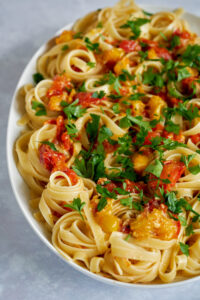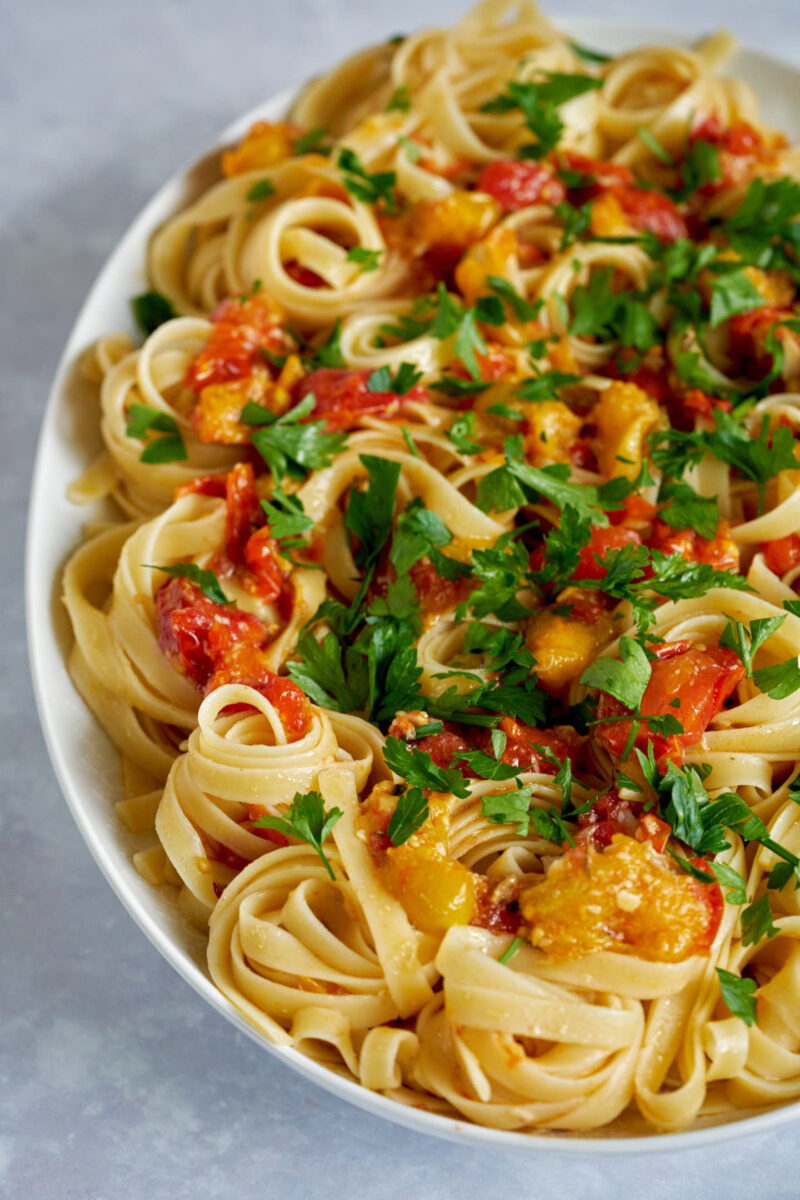 Tuesday
These two recipes are a Persian power duo! Grilling flavorful kabob on the grill outside is a joy, but you can also do it quite well under an oven broiler. I love making Shirazi salad in the summer and it's a great side to learn how to make because it pairs well with so many grilled meats.
2.
Joojeh Kabob (Persian Chicken Kabob)
This Persian Chicken Kabob, Joojeh Kabob, is marinated in saffron, grated onion, lemon, and garlic. It's usually cooked on a charcoal grill, but you can also cook it in your oven under the broiler. I'll show you how to do both!
Check out this recipe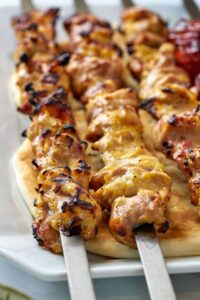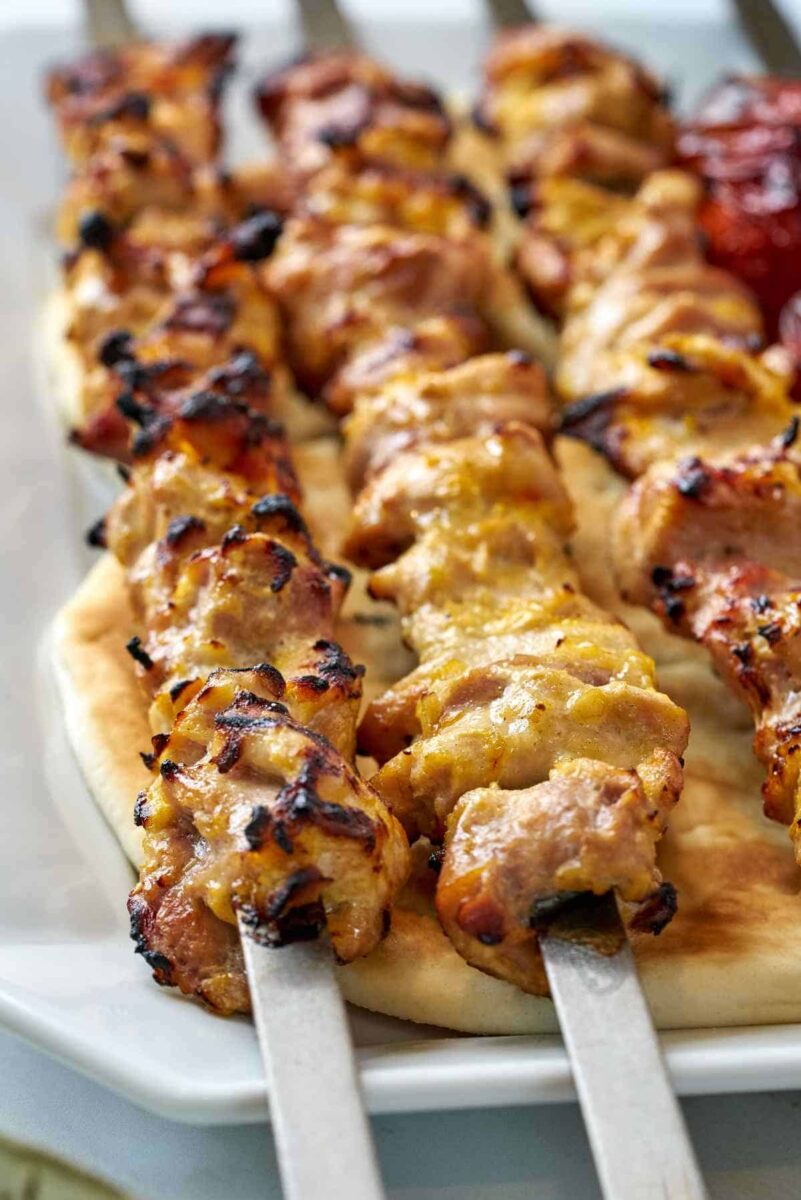 3.
Cilantro Jalapeño Hummus
Hummus might be the ultimate dip of all time! I've spiced up my classic chickpea hummus with some jalapeño, cilantro, and lime. This spin on an already delicious classic dip is my go-to hummus.
Check out this recipe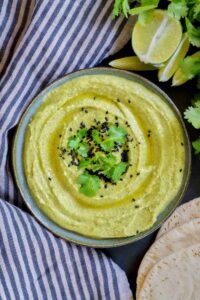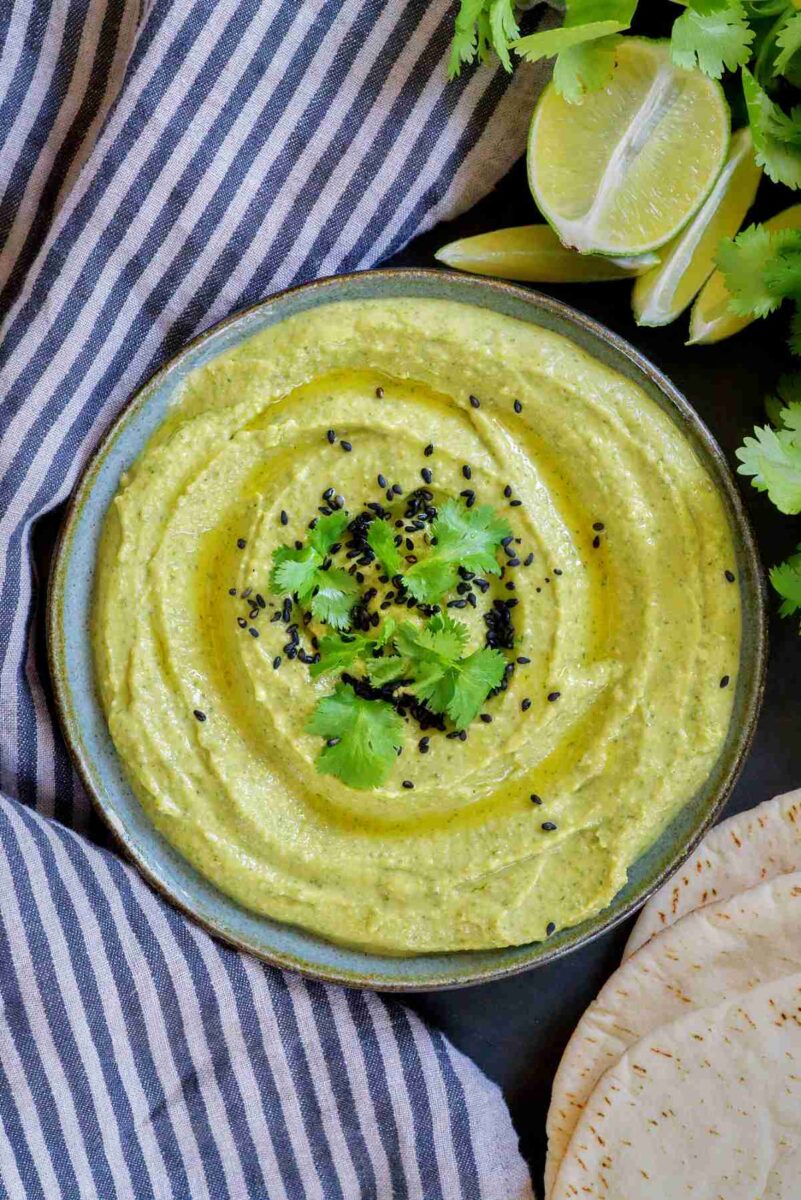 4.
15-Minute Shirazi Salad - Persian Cucumber Tomato Salad
This bright and colorful Shirazi salad takes uber-fresh ingredients like Persian cucumbers and Roma tomatoes and pairs them with parsley, and lemon to create a crisp, light salad.
Check out this recipe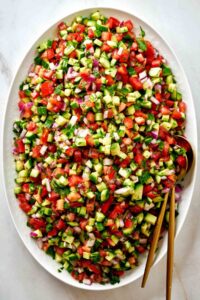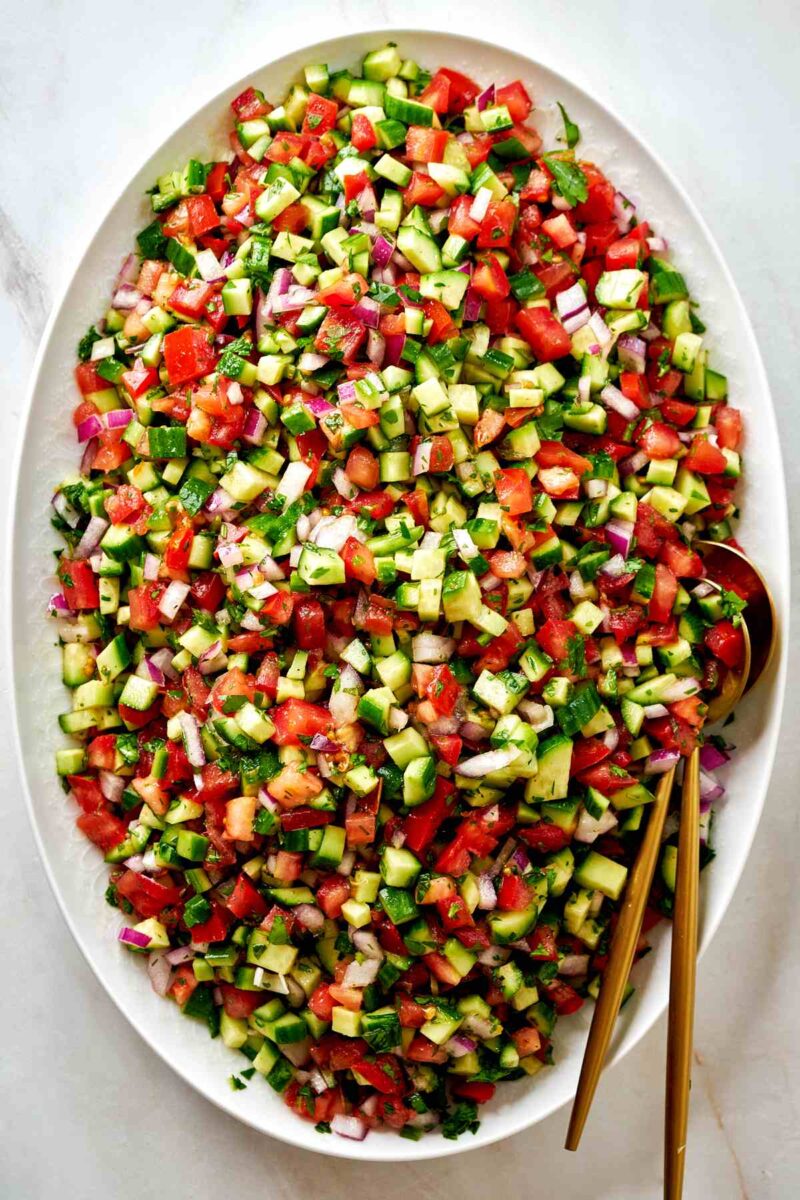 Wednesday
Nothing beats a meal salad on a hot summer day. It's peak time to enjoy fresh cucumber, tomatoes, and other garden gems all together! I love serving this with a loaf of freshly baked bread and butter.
5.
Meal Salad with Poppy Seed Dressing
This meal salad with poppy seed dressing has everything your body wants and needs right now! You don't often hear someone say they are craving a salad, but this is one we crave often. And the best part is that it is actually fills you up.
Check out this recipe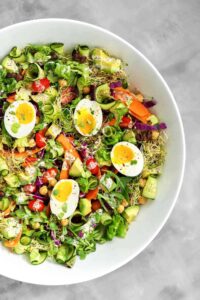 Thursday
You can't get through Summer without making these summer salad rolls. And if you have never put fruit in your spring rolls, you're seriously missing out on an amazing flavor experience. I've paired my tofu rolls with a wicked strawberry cashew sauce, too.
6.
Tofu Summer Rolls with Strawberry Dressing
These tofu summer rolls with a wicked strawberry dressing will add a new level of fun to your summer salads!
Check out this recipe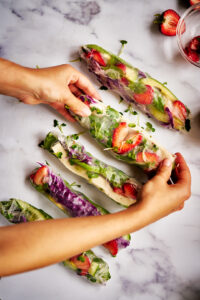 Friday
This recipe is always a huge hit! It's so easy to put together with the roasted chicken and fries all together in the oven, and you will go crazy for the super simple Aji Verde sauce. You can also take this recipe a step further and cook the spatchcock chicken on the grill.
7.
Peruvian Style Roasted Chicken with Aji Verde
This copycat recipe of my favorite roasted chicken offers the same, delicious, herb-marinated chicken without the need for a rotisserie. Plus, a surprisingly wonderful sauce.
Check out this recipe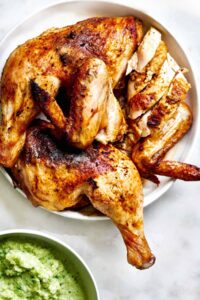 8.
Crispy Baked Sweet Potato Fries
These oven-baked sweet potato fries is simple, healthy, and delicious. I like them a little bit thicker so that there's plenty of room for some dipping sauce.
Check out this recipe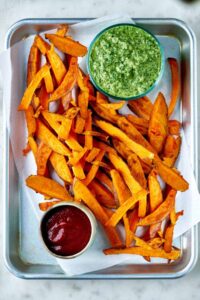 Saturday
There's a reason this steak taco recipe is one of the most popular recipes on my blog! It has a fantastic tasty marinade with tender steak and makes taco night the best night of the week.
9.
Steak Tacos Recipe
Sweet & tangy skirt steak tacos cook up quickly and are filled with flavor. Marinate overnight and they're ready in 35 minutes!
Check out this recipe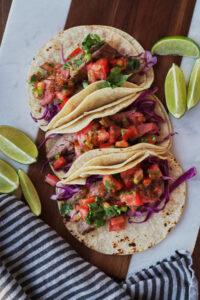 Sunday
If you're not enjoying fresh, colorful veggies all summer long then are you really enjoying the season? Dolmeh are meant to be enjoyed hot, at room temperature, or even cold, making it a great dish to enjoy cold during those hot summer days.
10.
Dolmeh Felfel | Persian Stuffed Peppers
Dishes with stuffed vegetables are called "dolma" and are categorized two ways: served warm as a meal, or served cold as a second course or appetizer. This recipe is meant to be served warm as a meal, but the leftovers make for a great, cold lunch the next day.
Check out this recipe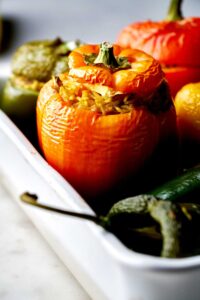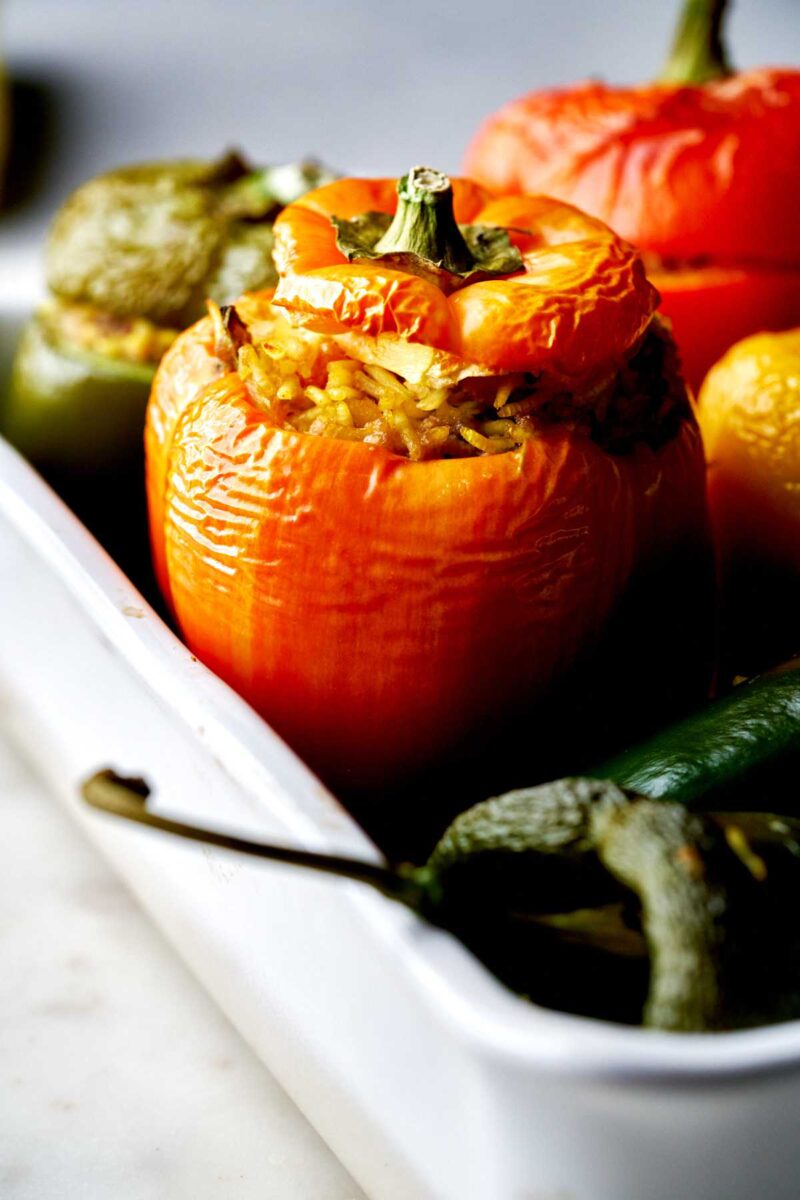 Bonus Recipe!
Take advantage of seasonal goodness with this bonus recipe for delectable cherry pie! Pie might be something that you associate with making in the fall, but cherries and sour cherries are in season in the summer and there is no better way to enjoy them than in a succulent, sweet pie.
11.
Cherry Pie Filling and Recipe
This recipe will yield the perfect cherry pie, every time...and yes, I'm taking the shortcut of buying bakery-bought pie crust!
Check out this recipe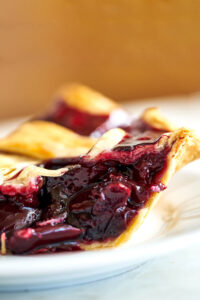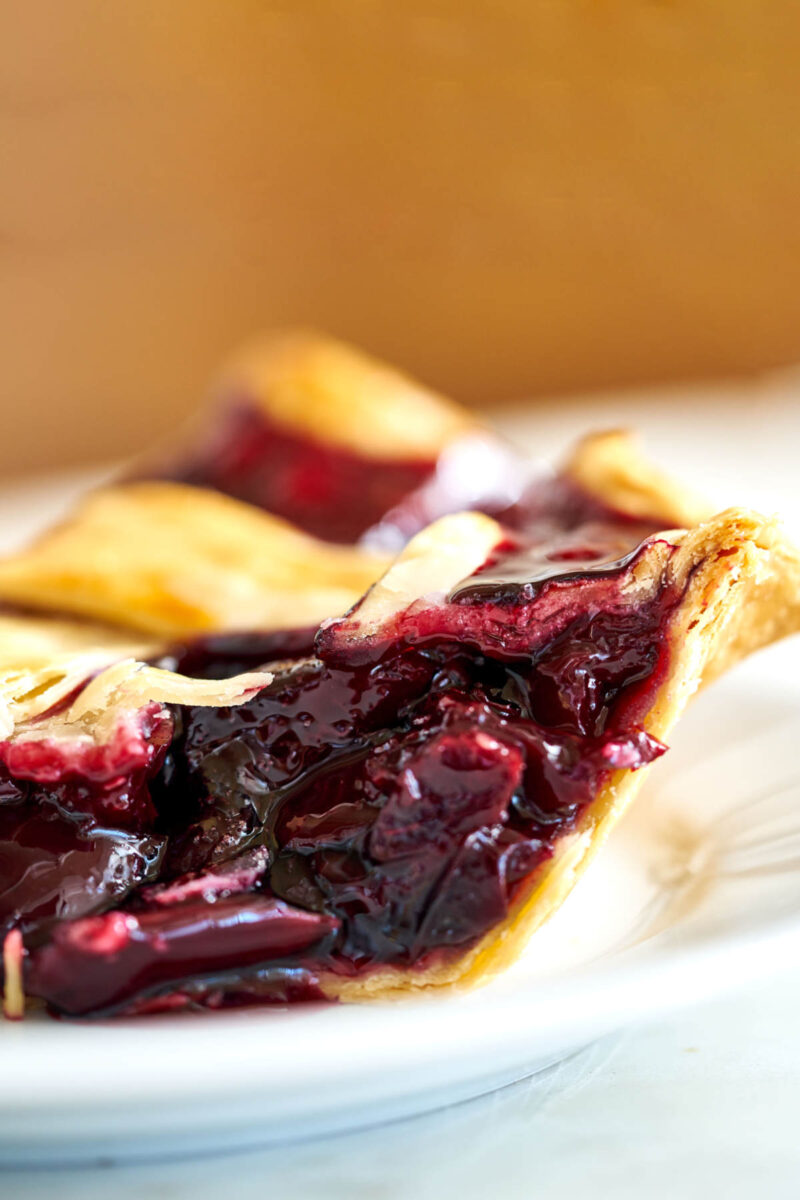 FAQs
What's the best way to store leftovers?
Store leftovers in an airtight container with a good seal, something like a glass container with a lock top, or using a silicone cover on a glass bowl.
Where can I find ingredient substitution options?
When you click on any one of these recipes there's a section that has a full list of the ingredients for the recipe with substitution options and recommendations.
Is eating seasonally cheaper?
When you eat a food that's currently in season you don't pay the excess cost that accounts for shipping that item to you from a far-away location or keeping it shelf stable to sell when it's out of season.

Eating seasonally is a great way to get great produce at a cheaper price. Shop at your local farmers markets or farm stores and keep an eye on what they have in season to scout out the best deals. You'll also find deals in your grocery store mailer based on what's in season.
Grocery List
Before anything else: go through your grocery list and cross off anything you already have at home. It's easy to get forgetful at the grocery store and end up with dupes of things!
Note that where I haven't given measurements, that means the ingredient is used in multiple recipes and you will need to buy a good stock of that item.
Here is your list for the grocery store:
Meat and Proteins
1.5 lb. boneless skinless chicken

thighs
4.5 lbs. whole chicken spatchcocked
2 lb. skirt steak
1 lb. ground lamb beef, turkey, chicken, or meat substitute
4 eggs
1 lb. tofu
Dairy
¼ cup greek yogurt
¾ cup vegan or regular mayonnaise
Pasta, Grains, Nuts, and Beans
1 pound pasta (I used tagliatelle)
¾ cup basmati rice
1 15 oz. can black beans or kidney beans
2 15 oz. cans of chickpeas
16 rice paper wrappers (medium)
¼ cup cashews
Veggies & Fruit
1 lb. strawberries
5 lemons
6 limes
1 orange
1 lb Roma tomato + 2 large tomatoes + 3 pints cherry tomatoes any size, color, shape
1.5 lb Persian cucumber + 1 English cucumber
3 heads romaine hearts
½ head iceberg lettuce
6 oz. spinach leaves
6 sprigs fresh thyme
1 bunch fresh cilantro
2 oz. fresh basil
1 pint sprouts
1 oz. fresh mint leaves
3 oz. fresh Parsley
2 large carrots
3 avocados
4 jalapeños
8 bell peppers multi-colored (only 6 if large)
1 small head red cabbage
2 lbs. sweet potatoes
32 cloves garlic
2 yellow onions
1 red onion
Pantry Items
½ teaspoon saffron
¼ teaspoon turmeric
3.5 teaspoons ground cumin
1 tablespoon chili powder
1 tablespoon paprika
3 ½ teaspoon dried oregano
1 tsp red pepper flakes
1 tablespoon poppy seeds
1 tablespoon white or turbinado sugar
Salt
Pepper
Condiments and Alcohols
¼ cup agave honey, or brown sugar
1 teaspoon dijon mustard
2 teaspoon balsamic vinegar
2 teaspoon soy sauce
¼ cup apple cider vinegar
¼ cup tahini
Olive oil
Summer Desserts
Craving a delicious summer dessert? I'm here to help with these splendid dessert recipes.