In my mind, you can never match the deliciousness of a green tea matcha dessert. I've always been obsessed with matcha, and am excited to share with you these 21 delicious matcha desserts that I've created and enjoyed over the years.
This matcha recipe roundup includes my favorite brands of culinary-grade matcha powder for baking, and how to make a wide variety of desserts from matcha chip cookies to matcha crème brûlée.
If you're looking for matcha drinks, check out the top 11 best matcha drinks here!
Plus, I'm answering all your baking with matcha questions so you can even make your own matcha dessert creations! If I missed one, pop it in the comments below.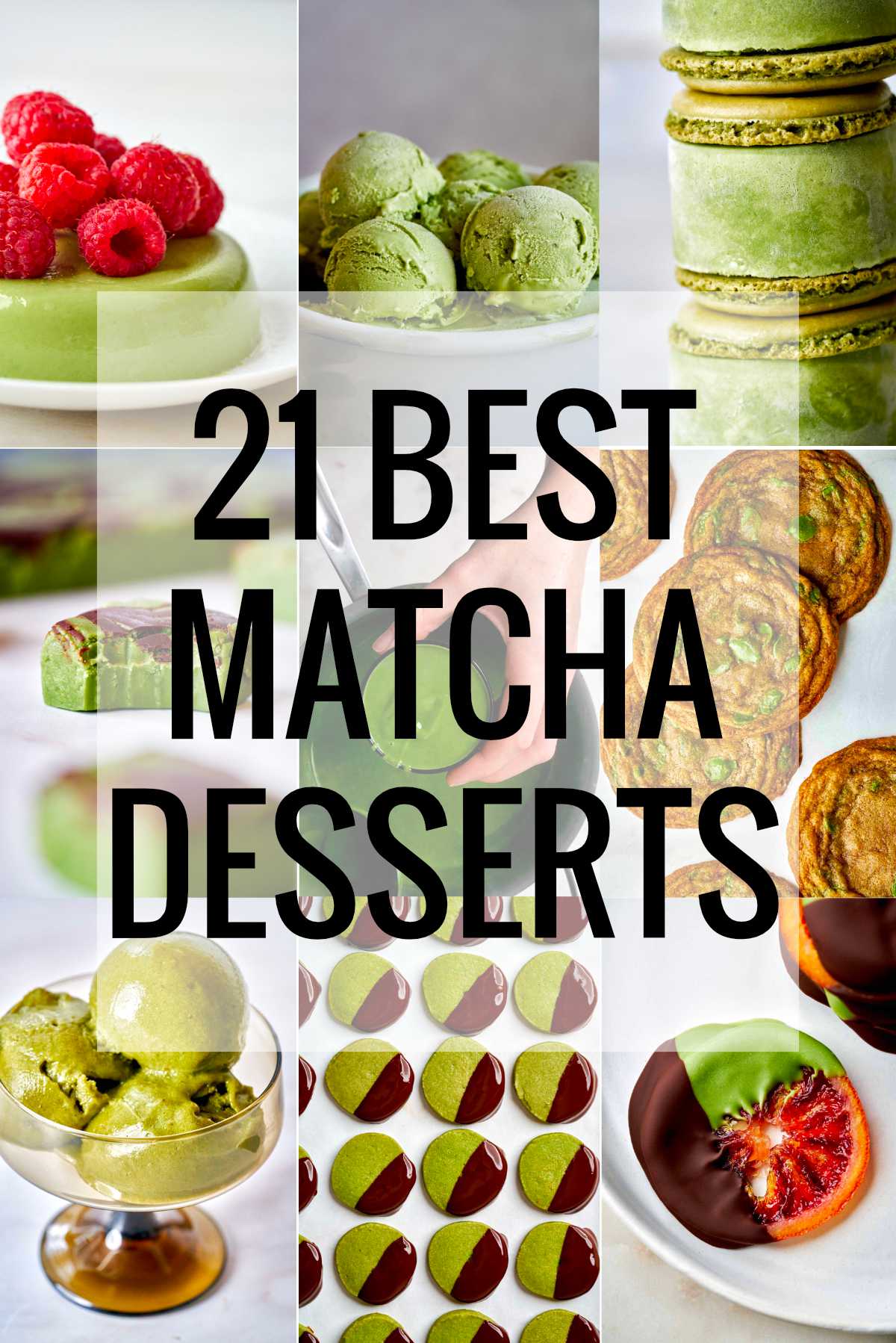 The matcha brands I buy for baking
When choosing matcha, you should choose matcha that best fits the purpose of what you are doing. This means using ceremonial grade matcha for traditional matcha, and culinary grade or latte grade for matcha lattes, drinks, and baking matcha desserts.
Read more about the matcha I choose for drinks and check out the top 11 best matcha drinks here.
For baking and cooking, I buy these matcha brands:
21 of the Best Matcha Desserts
After my trip to Japan with my husband, I fell more deeply in love with green tea and matcha desserts. Ever since I have had fun finding ways to incorporate it into my dessert recipes. Now, you get to make them all at home!
1. Matcha Green Tea Ice Cream
Matcha flavor marries beautifully with dairy elements like milk and cream, and when combined with vanilla it has the perfect smooth sweet taste. This matcha ice cream is subtle but so tasty.
Making ice cream at home may seem intimidating, but with the right tools and a little know-how it's a great way to experiment with different flavors and create something you really enjoy.
2. Matcha Peanut Butter Cups
If you're looking to make some easy homemade candy with a fun twist, this recipe is ideal for you. They're easy to make in a big batch, and you don't need to use any difficult techniques.
As for flavor, most people don't think of peanut butter as an accompaniment to matcha, and it's a shame because they absolutely do work. The flavors are salty and sweet in perfect measure, and they'll quickly become a favorite!
3. Matcha Affogato
Traditional matcha with a dollop of sweet, creamy ice cream added in. It's a delicious drink, and when the melted ice cream combines with the matcha, it makes the drink even more frothy and fun to drink.
Matcha pairs well with many different ice cream flavors, my favorites are vanilla date ice cream, hojicha gelato, or you can double up the matcha goodness with some matcha ice cream! Just as coffee and ice cream go well in a traditional affogato, matcha also complements creamy additions like ice cream, gelato or whipped cream.
4. Dairy-Free Matcha Pudding
This is a simple, smooth and decadent matcha pudding. It's kid-friendly, and great to serve for every occasion from dinner parties to weeknight desserts! It's dairy-free, but still has that rich creaminess to it.
This matcha pudding tastes amazing and yet is really simple to make. The non-dairy substitute I use is coconut milk, which is my favorite to pair with matcha as the flavors pair wonderfully. The dessert is creamy and sweet, with a hint of a caffeine kick from the matcha. It's a great no-fuss dessert!
5. Matcha Chip Cookies
I've been dying to try homemade matcha chip cookies and I just couldn't find a recipe that had exactly what I wanted. So, I created a recipe that's easy to incorporate homemade matcha chocolate chips or chunks. These cookies are perfectly chewy with bites of sweet matcha chocolate dotted throughout.
6. Matcha Fudge
This very easy 3 ingredient matcha fudge with a dark chocolate swirl on top is a crowd-pleaser every time I make it. The trick is to use sweetened condensed milk or coconut milk as a quick way to get that dense, chewy texture fudge is known for.
7. Matcha Macaron Ice Cream Sandwiches
If you're really into matcha, this is the best dessert for you! It's double the matcha with a crunchy matcha macaron sandwiched between creamy matcha ice cream.
Aside from looking really impressive, this dessert is an elegant twist on an ice cream sandwich, and it's easy to make at home. It's a fun dessert that's not too sweet, and the combination of crunchy and creamy is a surefire winner.
8. Matcha Crème Brûlée
This is a 5-ingredient, easy dessert with an amazing twist. Combining matcha green tea with creamy custard and a hard sugar topping, might be one of the best matcha dessert combinations yet!
Matcha blends really well into creamy desserts, like this creme brûlée. It also complements a classic creme brûlée flavor, which is vanilla. This pairing is a match made in heaven! Plus, it's always great fun to crack the hard sugar topping!
9. Matcha Panna Cotta
A simple Italian panna cotta is one of life's greatest pleasures. Sift in some matcha powder to create a creamy matcha panna cotta that just melts in your mouth!
10. Matcha Dipped Candied Oranges
I love desserts with beautiful colors and these win the prize for that! Not only do these dipped candied oranges look gorgeous, but the taste is amazing. Blood oranges are a very popular sweet citrus fruit with tinges of raspberry flavor.
Because of the sweetness and tartness, I love pairing citrus flavors with more bitter flavors like matcha, and dark chocolate is also a natural go-to. For a bite-size treat that packs a flavor punch, this recipe is the way to go.
11. Strawberry Matcha Semifreddo
Semifreddo is a rich and smooth alternative to ice cream, which is surprisingly easy to make at home with your favorite ingredients. The tart sweetness of strawberries pairs so well with the earthy flavor of matcha and makes this Semifreddo an all-time favorite.
12. Matcha Mascarpone Cream Puffs
Delicate choux pastry, a light matcha cream filling and topped with a delicious white chocolate matcha glaze. This might be the most perfect light and fluffy dessert pastry.
These cream puffs are amazing for pastry fans out there who enjoy treats like eclairs, profiteroles and other French delights. These delicate choux pastry puffs have double the matcha hit with a match cream filling and a white chocolate matcha glaze slathered on top.
13. Matcha Shortbread Cookies Dipped in Dark Chocolate
Shortbread is a very simple cookie made with butter, flour, and sugar, which makes it a great base when you're experimenting and creating new flavor combinations. I incorporated matcha into this shortbread recipe and the flavor comes through beautifully. With a dip of dark chocolate, it's a heavenly treat.
14. Matcha & Chocolate French Silk Pie
This might be the most beautiful desert I have ever created. My husband absolutely loves French silk pie and I wanted to figure out how to incorporate matcha into this classic dessert. I made a layered version and it always looks absolutely stunning on the table.
Plus, I show you how to cook the eggs so you don't have to worry about consuming raw eggs.
15. Matcha Banana Nice Cream
If you're a little intimidated to try making ice cream at home, making a nice cream is way easier and yields a pretty similar result. This matcha banana nice cream is so creamy and flavorful, without the dairy and heaps of sugar in ice cream.
16. Light Matcha Mousse
I'm in love with the light and creamy texture of mousse as dessert, and it goes so well with green tea powder sifted in. This is a light-as-air dessert that you can whip up with just four ingredients.
17. Matcha Toffee
Plain toffee is a wonderful treat, but imagine your favorite toffee with a thick layer of matcha-infused white chocolate on top! It looks beautiful and you can get creative with the decorations. For example, I was inspired to add some dark chocolate balls and gold foil to this recipe.
Plus toffee is way easier to make it home than you might think with only a few simple steps.
18. Coconut Macaroons with Matcha Drizzle
Biting into a coconut macaroon is an experience like no other. They are perfectly chewy and light, and the subtle coconut flavor is a delicious flavor partner for matcha. With this recipe, you have the option to do a dark chocolate drizzle or a matcha white chocolate drizzle, and they are both phenomenal.
19. Lavender Shortbread Cookies Dipped in Matcha
I've always loved London Fog flavor and Earl Grey because the lavender is so sweet and calming. When lavender is matched with matcha powder, it tastes so relaxing. They are meant to be together!
Incorporating dried lavender into your shortbread dough is really easy. It works fantastically to dip the cookies in a rich matcha white chocolate.
20. Matcha Chia Pudding
Chia pudding is a great snack or breakfast choice, and this version has a delicious matcha green tea twist! This version is dairy-free as the base of the pudding is coconut milk.
Chia seed pudding is popular as it's a great source of fiber and protein, and really easy to customize with the flavors you like. When you combine green tea with the goodness of chia pudding, it's perfection!
21. Dark Chocolate Gelt & Matcha Cookies
The bitter-sweet taste of dark chocolate and light matcha work like magic for these sandwich cookies. They are perfect as a sweet treat with tea or coffee, or an after-dinner dessert.
The snap of the chocolate juxtaposes with the soft matcha mouse, so the texture and flavors all work for the perfect bite. These cookies are deceptively simple yet have amazing rich flavor - they're 100% worth trying!
Baking with Matcha FAQs
Want more matcha recipes and ideas?
I have a whole page of matcha recipes for you to try out in your next baking session.
This post was originally published in September of 2019 with 18 recipes. It was republished with descriptions of each recipe and detailed FAQs in December of 2020. It was again republished with new recipe items and descriptions in June of 2022.