Get ready for every matcha dessert you'll ever crave...Today I'm taking my matcha latte obsession to another level with these 18 delicious matcha desserts from the blog and from some of my favorite bloggers.
This matcha recipe roundup includes how to make matcha tea, where to buy my favorite culinary matcha powder for baking, and everything from matcha cookies to matcha crème brûlée. Plus, I'm answering all your baking with matcha questions so you can even make your own matcha dessert creations!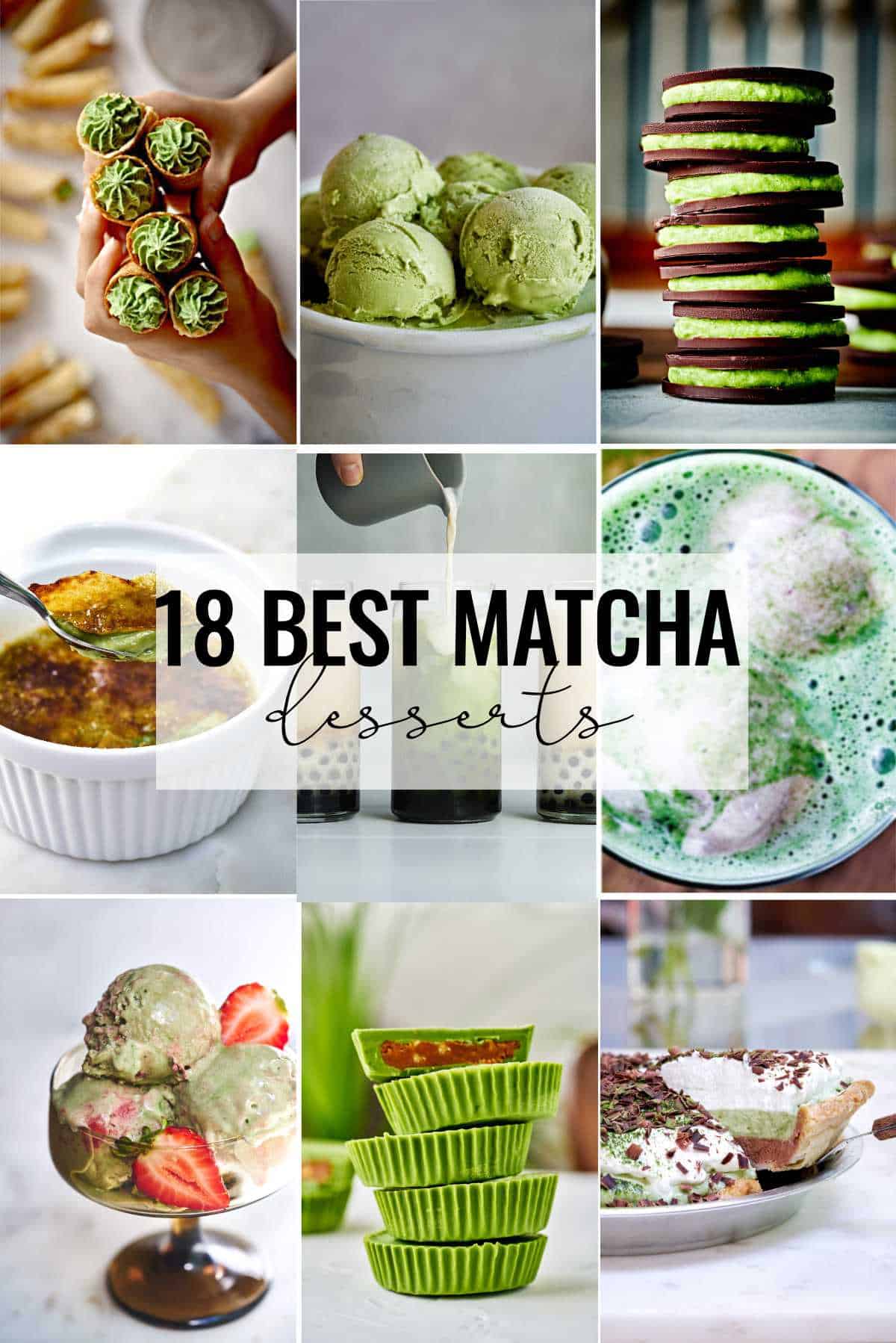 Baking with Matcha FAQs
But First, An Easy Matcha Latte
No matter what tools you have on hand; whisk, blender, frother, jar, this guide advises on the best way to make a delicious smooth matcha latte for each of them. And although we're talking about matcha desserts, I know some of you are probably matcha latte lovers, too.
A matcha latte is a fantastic alternative to your morning coffee, and is super easy to make. It only has three main ingredients: matcha powder, milk and/or water, and an optional sweetener. It's well worth it to make it at home because you can make it just to your taste, and control the amount of sugar.
If you want to take your matcha latte to another level, try this dalgona-style matcha latte.
The Best Matcha Desserts
After our trip to Japan, I fell deeper in love with green tea and matcha desserts and ever since, I've enjoyed finding ways to incorporate it into my dessert recipes. I'm incredibly excited to share these delicious treats with you. You can find all my matcha recipes here.
1. Cardamom Krumkake with Matcha Mascarpone
These are the perfect, unique dessert to make next on your list. The krumkake batter is lightly spiced with cardamom, and the crunch blends beautifully with the silky smooth sweet mascarpone matcha filling.
Krumkake will be an all round crowd-pleaser as the batter is simple, tastes great and combines well with a variety of different fillings. Making the krumkake is a little tricky but it's a lot of fun, so making a batch of these can be a fun family activity.
2. Matcha Peanut Butter Cups
If you're looking to make some easy homemade candy with a fun twist, this recipe is ideal for you. They're easy to make in a big batch, and you don't need to use any difficult techniques.
As for flavor, most people don't think of peanut butter as an accompaniment to matcha, and it's a shame because they absolutely do work. The flavors are salty and sweet in perfect measure, and they'll quickly become a favorite!
3. Matcha Ice Cream
Matcha flavor marries beautifully with dairy elements like milk and cream, and when combined with vanilla it has the perfect smooth sweet taste. This matcha ice cream is subtle but so tasty.
Making ice cream at home may seem intimidating, but with the right tools and a little know how it's a great way to experiment with different flavors and create something you really enjoy.
4. Dark Chocolate Gelt & Matcha Cookies
The bitter sweet taste of dark chocolate and light matcha work like magic for these sandwich cookies. They are perfect as a sweet treat with tea or coffee, or an after-dinner dessert.
The snap of the chocolate juxtaposes with the soft matcha mouse, so the texture and flavors all work for the perfect bite. These cookies are deceptively simple yet have amazing rich flavor - they're 100% worth trying!
5. Matcha Mascarpone Cream Puffs
Delicate choux pastry, a light matcha cream filling and topped with a delicious white chocolate matcha glaze. This might be the most perfect light and fluffy dessert pastry.
These cream puffs are amazing for pastry fans out there who enjoy treats like eclairs, profiteroles and other French delights. These delicate choux pastry puffs have double the matcha hit with a match cream filling and a white chocolate matcha glaze slathered on top. The buttery pastry is divine with the matcha mascarpone filling, which is creamy and slightly sweet.
6. Matcha Dipped Candied Oranges
I love desserts with beautiful colors and these win the prize for that! Not only do these dipped candied oranges look gorgeous, but the taste is amazing. Blood oranges are a very popular sweet citrus fruit with tinges of raspberry flavor.
Because of the sweetness and tartness, I love pairing citrus flavors with more bitter flavors like matcha, and dark chocolate is also a natural go-to. For a bite size treat that packs a flavor punch, this recipe is the way to go.
7. Matcha Affogato
Traditional matcha with a dollop of sweet, creamy ice cream added in. It's a delicious drink, and when the melted ice cream combines with the matcha, it makes the drink even more frothy and fun to drink.
Matcha pairs well with many different ice cream flavors, my favorites are vanilla date ice cream, hojicha gelato, or you can double up the matcha goodness with some matcha ice cream! Just as coffee and ice cream go well in a traditional affogato, matcha also complements creamy additions like ice cream, gelato or whipped cream.
8. Dairy-Free Matcha Pudding
This is a simple, smooth and decadent matcha pudding. It's kid-friendly, and great to serve for every occasion from dinner parties to weeknight desserts! It's dairy-free, but still has that rich creaminess to it.
This matcha pudding tastes amazing and yet is really simple to make. The non-dairy substitute I use is coconut milk, which is my favorite to pair with matcha as the flavors pair wonderfully. The dessert is creamy and sweet, with a hint of a caffeine kick from the matcha. It's a great no-fuss dessert!
9. Green Tea Souffle
The classic souffle flavor is chocolate, but this green tea matcha version is superior in my opinion! This green tea souffle from Just One Cookbook is a light, delicate souffle infused with matcha and dusted with powdered sugar. Scrumptious!
As Nami points out, unless you're in Japan, you may not find this cool dessert available on the menu at many restaurants. It has simple ingredients, and while souffle is tricky to get perfect, the texture and flavor is well worth the effort.
10. Matcha & Chocolate French Silk Pie
A creamy, indulgent, match made in heaven - this French Silk Pie takes smooth-as-silk chocolate mousse layered with a smooth-as-silk matcha mousse, and fresh whipped cream on top. Plus, I'm showing you how to cook the eggs so you don't have to worry about consuming raw eggs.
11. Matcha Macarons with Bailey's Irish Cream Buttercream
I love this recipe from The Jam Lab - it combines crunchy matcha macarons with a decadent irish cream buttercream filling. I think this recipe is worth trying for the amazing buttercream, you'll want to put it on everything!
This is perfect if you need a delicious dessert with a slight alcoholic kick. Irish cream is an alcoholic liquor, usually a cream base with irish whiskey. Irish cream is compatible with a lot of dessert recipes because the cream base makes it easy to integrate into mixtures and batters like this buttercream. I think this recipe is genius as the matcha cuts through the creamy rich buttercream and balances the flavor.
12. Matcha Macaron Ice Cream Sandwiches
If you're really into matcha, this is the best dessert for you! It's double the matcha with a crunchy matcha macaron sandwiched between creamy matcha ice cream. Decadent and delicious!
Aside from looking really impressive, this dessert is an elegant twist on an ice cream sandwich, and it's easy to make at home! The flavor is almost like a frozen matcha latte, but even better. It's a fun dessert that's not too sweet, and the combination of crunchy and creamy is a surefire winner.
13. Matcha Crème Brûlée
This is a 5-ingredient, easy dessert with an amazing twist. Combining matcha green tea with creamy custard and a hard sugar topping, it might be the one of the best matcha dessert combinations yet!
Matcha blends really well into creamy desserts, like this creme brûlée. It also complements a classic creme brûlée flavor, which is vanilla. This pairing is a match made in heaven! My recipe uses a vanilla pod to provide that rich vanilla flavor to the matcha cream as it heats up. Plus, it's always great fun to crack the hard sugar topping!
14. Matcha Mochi Donuts
Tina from The Worktop has this incredible recipe for matcha mochi donuts, they are addictive balls of goodness! They are gluten-free, yeast-free, and the fresh, chewy texture is amazing!
I really like that the dough in this recipe is easy and quick to make, you don't have to wait around hours for it to prove. The dough also brings the best of both worlds from chewy mochi and a heavier, crisp donut. The mochi have that crispy our but a pillowy soft inside. Also, anything flavored with matcha is amazing in my opinion, and these are no exception.
15. Matcha Chia Pudding
Chia pudding is a great snack or breakfast choice, and this version has a delicious matcha green tea twist! This version is dairy-free as the base of the pudding is coconut milk.
Chia seed pudding is popular as it's a great source of fiber and protein, and really easy to customize with the flavors you like. When you combine green tea with the goodness smooth of chia pudding, it's perfection!
16. Strawberry Matcha Semifreddo
This smooth and decadent Strawberry Matcha Semifreddo mixes just 6 ingredients for a creamy cold dessert made without an ice cream maker: fresh strawberries, matcha powder, eggs, sugar, vanilla extract, and heavy cream.
When it's crazy hot outside, this sweet frozen treat is heaven!
17. Matcha Black Sesame Nougat Chews
These soft and chewy matcha black sesame nougat chews by Snixy Kitchen are a cross between caramel and taffy. And matcha with black sesame is my favorite flavor combo... you're going to want to try these!
These flavors in a delicious chewy nougat sounds like heaven. I love the flavor of black sesame, it's rich and nutty and great in dessert dishes. Sarah on Snixy Kitchen toasts them in this recipe to really bring out the flavor. Black sesame is also slightly bitter, akin to the flavor of matcha powder, so they work wonderfully when used together.
18. Matcha Latte Bubble Tea
A yummy matcha latte mixed with a milky bubble tea - this beverage is a fun combination for an afternoon pick-me-up. Tapioca bubbles are really easy to make at home, and go well with many of your favorite beverages.
This is an amazing speciality drink that you may not find at your local coffee shop or a bubble tea shop, yet it's easy to recreate at home. The combination of textures with the chewy boba and smooth matcha latte is a perfect match, and the boba add some occasional sweetness without you having to add a lot of sugar to the latte itself.
★ Did you make this recipe? Please give it a star rating below!★
I love hearing from you! You can also FOLLOW ME on INSTAGRAM, FACEBOOK, TWITTER, and PINTEREST to see more delicious food and what I'm up to.
This post was originally published in September of 2019 but was republished with descriptions of each recipe and detailed FAQs in December of 2020.