This is the ultimate guide to the best traditional Persian recipes. Plus, an introduction to the spices and flavor combinations that define Persian cooking. I want to help you successfully cook and enjoy the incredible flavors of classic Persian cuisine!
Can't find what you're looking for? Browse the latest Persian food & recipes here.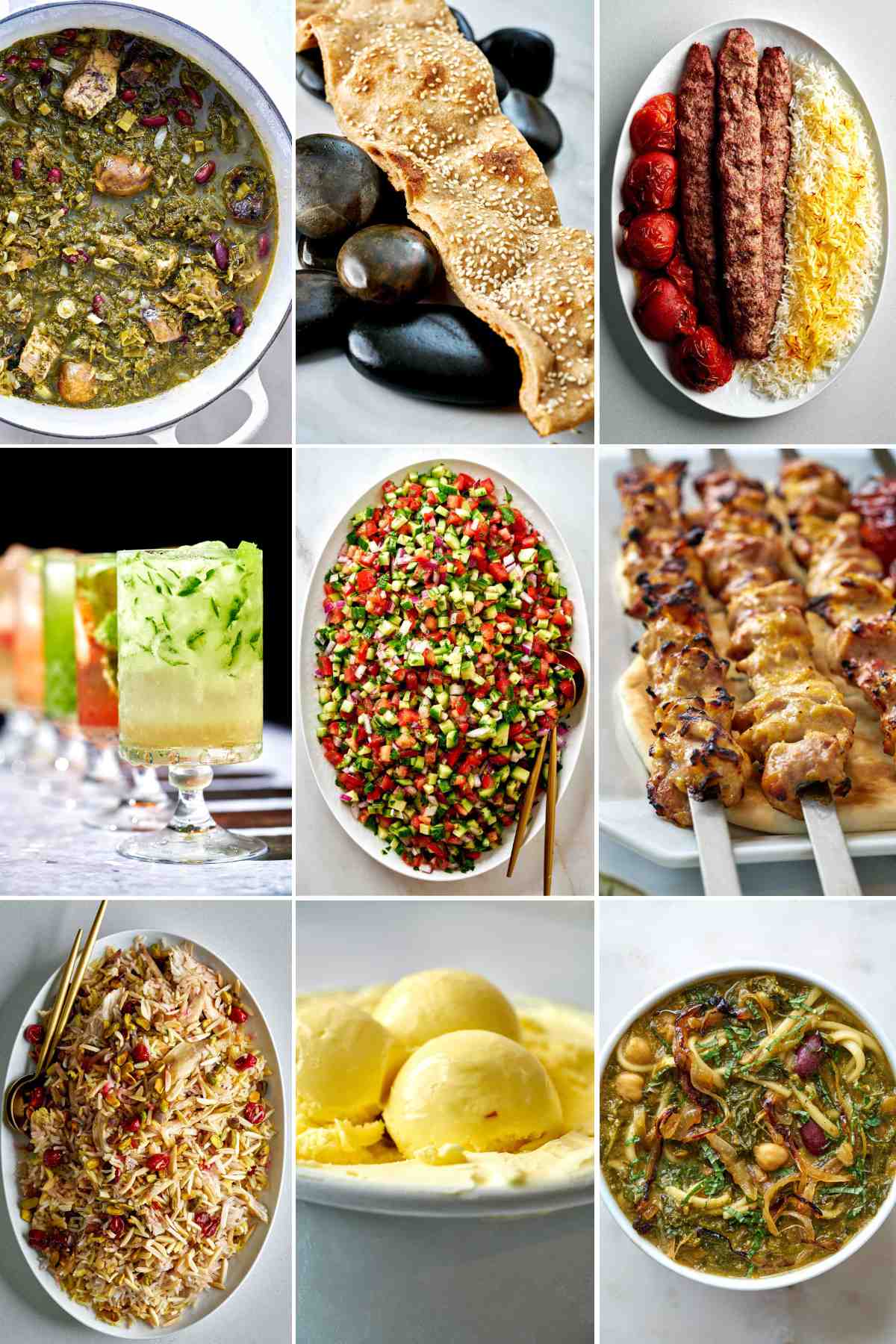 An introduction to Persian cuisine
Persian cuisine is all about balance. Every dish is designed to contain a balance of flavors that complement one another – you will see meat, fruit, dried herbs, and nuts combined in unique ways. The dishes are well-flavored and spiced, but not 'spicy'.
Some ingredients are staples in a Persian pantry, like dried limes, saffron, rice, pomegranate molasses, and Persian 7 spice, called Advieh. If you're looking to stock up on these, I recommend checking out your local Middle Eastern market. The prices will be much less expensive there than buying them online.
Garm and sard in Persian cooking
We have a concept in Persian cooking that some foods are warming (garmi) and others are cooling (sardi). These categories don't necessarily refer to the flavor or the spice level of the food, but rather the essence.
The idea is that too much of either would trigger a negative reaction from our bodies. The goal is to eat Garm and Sard foods in balanced proportions to create harmony in the body. You see this harmony thoughtfully created in many Persian dishes.
Listen to Modern Persian Podcast interviewing me about Garm & Sard here!
A tradition of entertaining
Showing love for others through food is an important part of Persian culture, and there's always too much amazing food at a Persian dinner party! Entertaining others in your home and showing your appreciation and hospitality through food is a valued tradition.
Persian Jewish vs non-Jewish recipes
Some Persian recipes look very different in Jewish and non-Jewish homes. This is because many Jewish people keep a kosher diet, so they cannot eat dairy products (such as yogurt or butter) and meat in the same dish.
Kosher doesn't have to mean dairy-free, but it's often helpful to have recipes where the dairy is already removed. Many traditional Persian recipes have dairy in them, such as rice made with butter or yogurt, and kosher households often substitute oil for butter.
Rice dishes
Persian rice dishes are beautiful, complex, layered dishes that are a staple at every meal. I always recommend starting by making Persian rice with saffron, as it's a fundamental dish served in every Persian home.
Kabob
These are the most popular dishes ordered in Persian restaurants, and for good reason. Persian kabobs are tender, juicy, and arguably the most flavorful meat you will ever try.
Desserts
Persian desserts are sweet, refreshing, and full of delicate flavors like rose and saffron. You'll often see cookies, sweets, and fruit served as dessert in Persian homes, with plenty of tea to go along with them!
Breakfast
Traditional Persian breakfasts are usually enjoyed freestyle – meaning you can choose what you want to eat and combine several dishes to create the perfect combo. All the recipes served at breakfast are filling, setting you up with energy for your day.
Stews & soups
Hearty stews and soups are dishes at the heart of Persian cooking. Many meals I grew up eating were classic Persian stews, simmering in a huge pot on the stove and making the house smell amazing. These recipes are guaranteed to deliver spectacular flavor.
Persian Tea & Drinks
Classic Persian tea is always flowing in Persian households, and served to guests with little cookies and treats like zulbia. Aside from tea, there are many delicious Persian drinks to quench your thirst.
Become a Pro in Persian Cooking!
I put together these easy-to-navigate guides to help anyone of any skill level learn the basics of Persian cuisine.
I love hearing from you! You can also FOLLOW ME on INSTAGRAM, TIKTOK, and PINTEREST to see more delicious food and what I'm up to.