I'm giving you the full rundown of all the dishes traditionally served in a Persian breakfast, as well as the recipes you can make to recreate this delicious morning feast.
Persian breakfast is enjoyed freestyle. You can pick and choose what you want to eat and combine different dishes to make unique bites. The many dishes offer a range of sweet and savory, so there's something for everyone!
Note: Most of the dishes included are prepared in advance or regularly kept in the refrigerator.
I grew up enjoying classic Persian breakfast as a Shabbat morning tradition, but it's just as wonderful as a send-off for a busy day.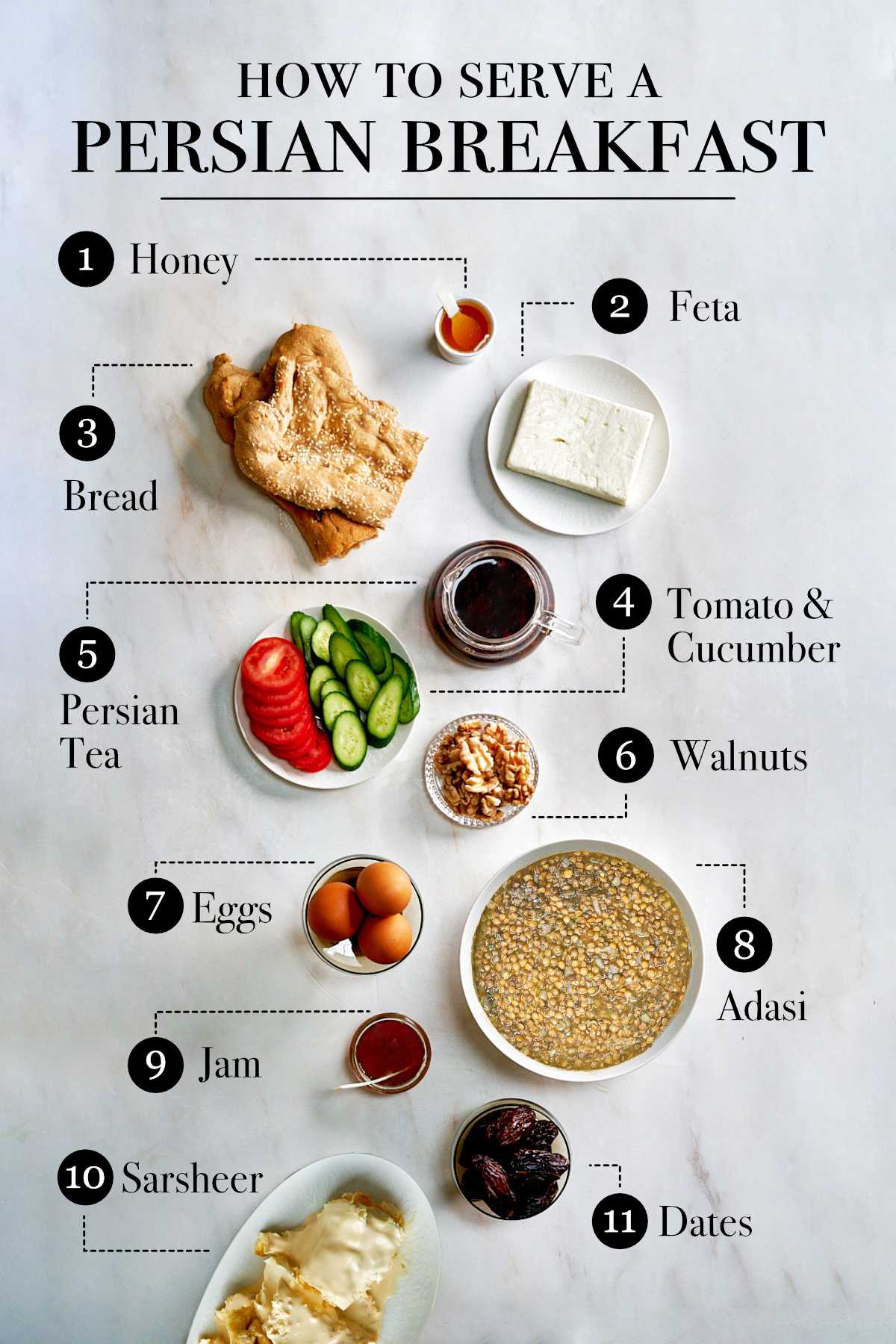 Persian Tea
This tea is a breakfast staple – it is served black and can be sweetened with sugar, nabot, or ghand.
Persian tea is also served in the afternoon with sweet treats to compliment the rich flavor, like saffon zoolbia or bamieh.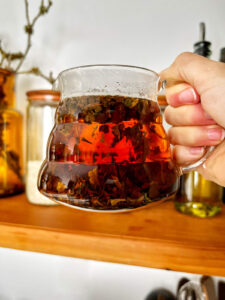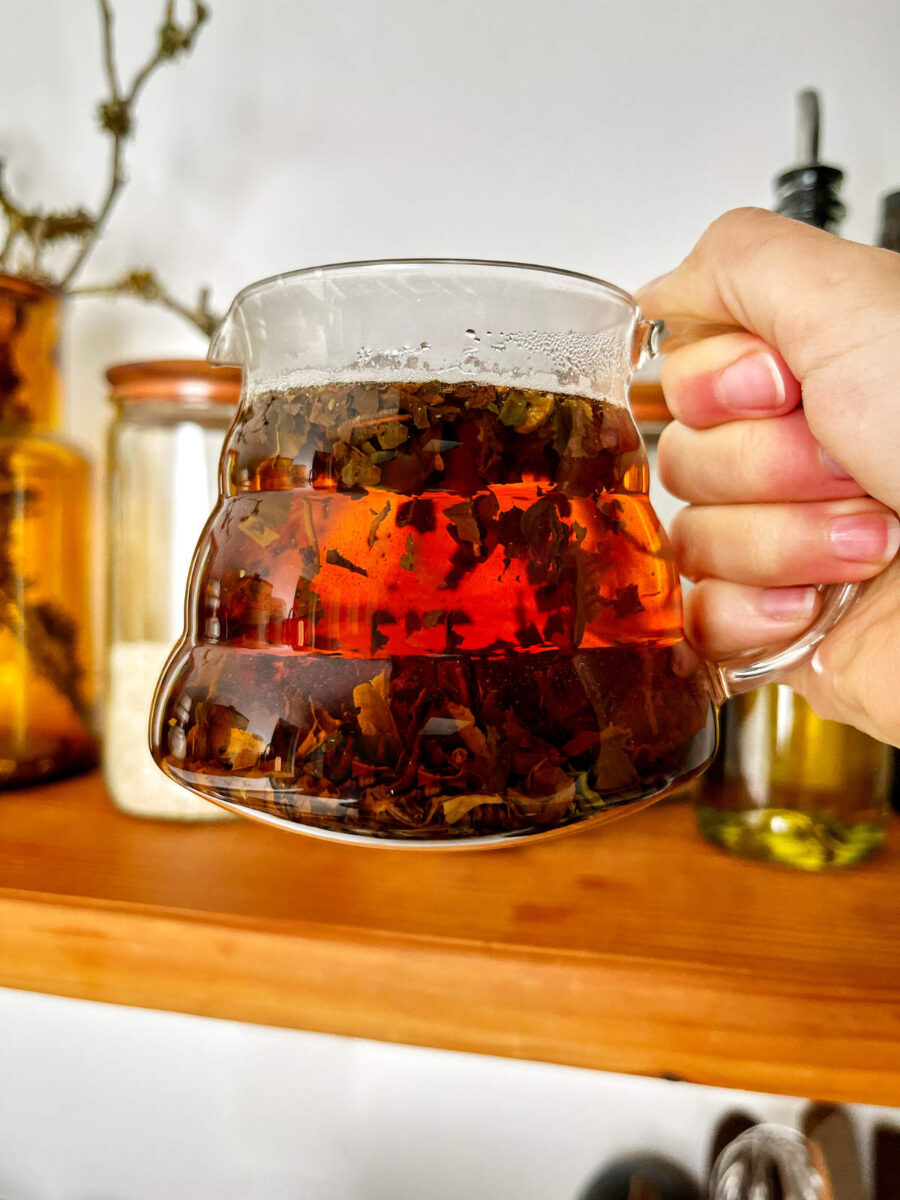 Bread
A few different varieties of bread can be served at breakfast including favorites like Barbari, Sangak, and Lavash. The bread often serves as the plate, with other ingredients piled on to make a tasty bite. Nothing beats sarsheer and honey drizzled on bread fresh from the oven!
2.
Noon Barbari
A fluffy flatbread with distinct grooves, and a gently crispy exterior. This bread is almost always on the breakfast table in a Persian home.
Check out this recipe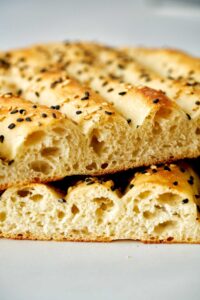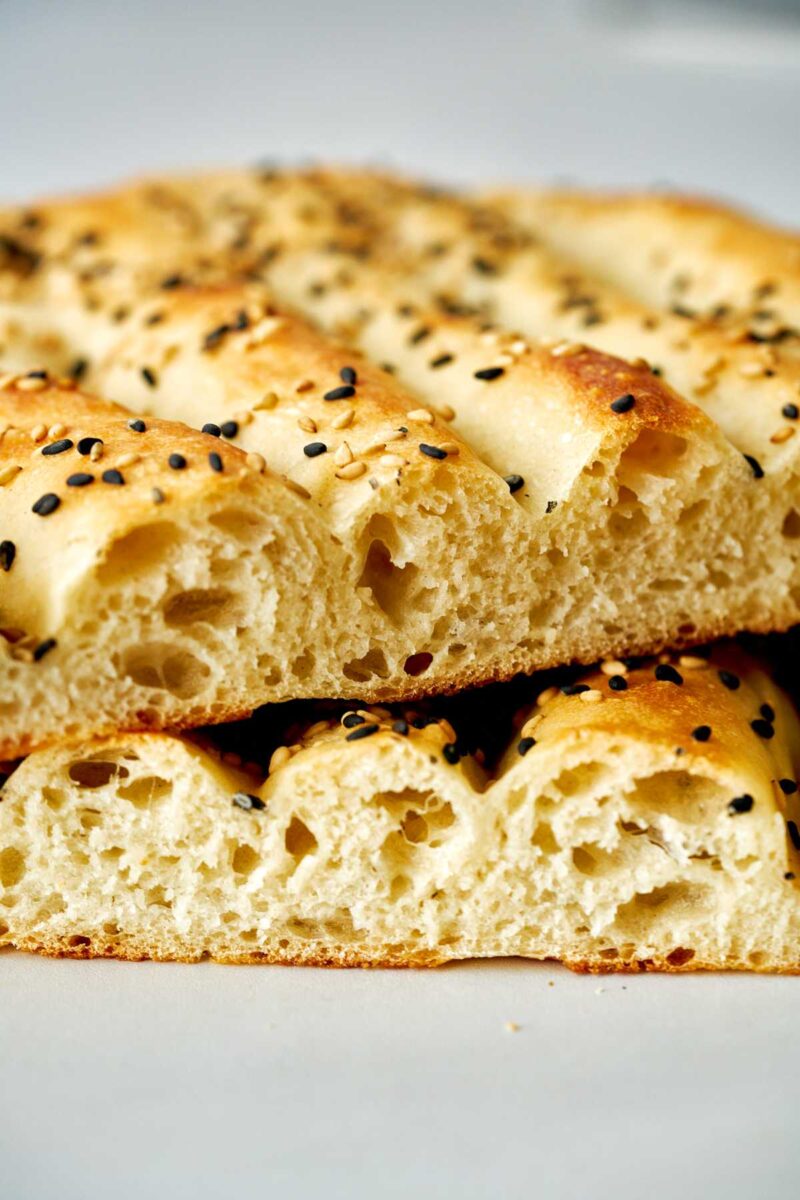 Feta
In order to achieve a balance of flavors in your breakfast, feta cheese brings the salty element. It's a soft, crumbly cheese brined in a salty liquid. This gives it a unique tangy taste and a nutty aroma.
Jam
You'll typically see sour cherry jam served, providing a sweet fruity element.
Sometimes, if jam is a bit too much for me I take my sour cherry syrup, place the bigger cherry chunks, and gently drizzle the syrup over my bread.
3.
Cardamom Quince Jam
This jam is delicious on top of toast with feta cheese! It's sweet and spiced, bringing all the tart aromatic goodness of quince.
Check out this recipe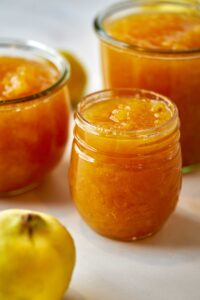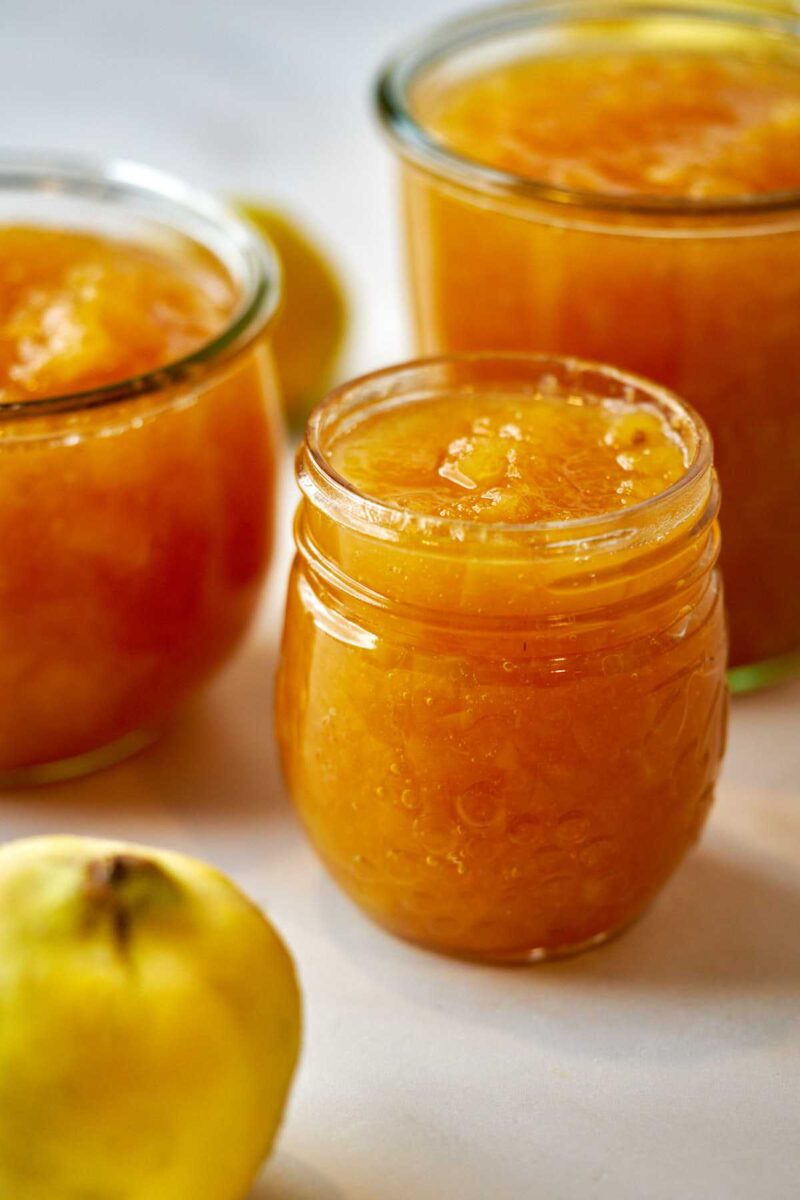 4.
Sour Cherry Syrup
Make the most of sour cherry season with this sour cherry syrup you can enjoy for months!
Check out this recipe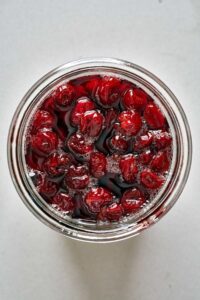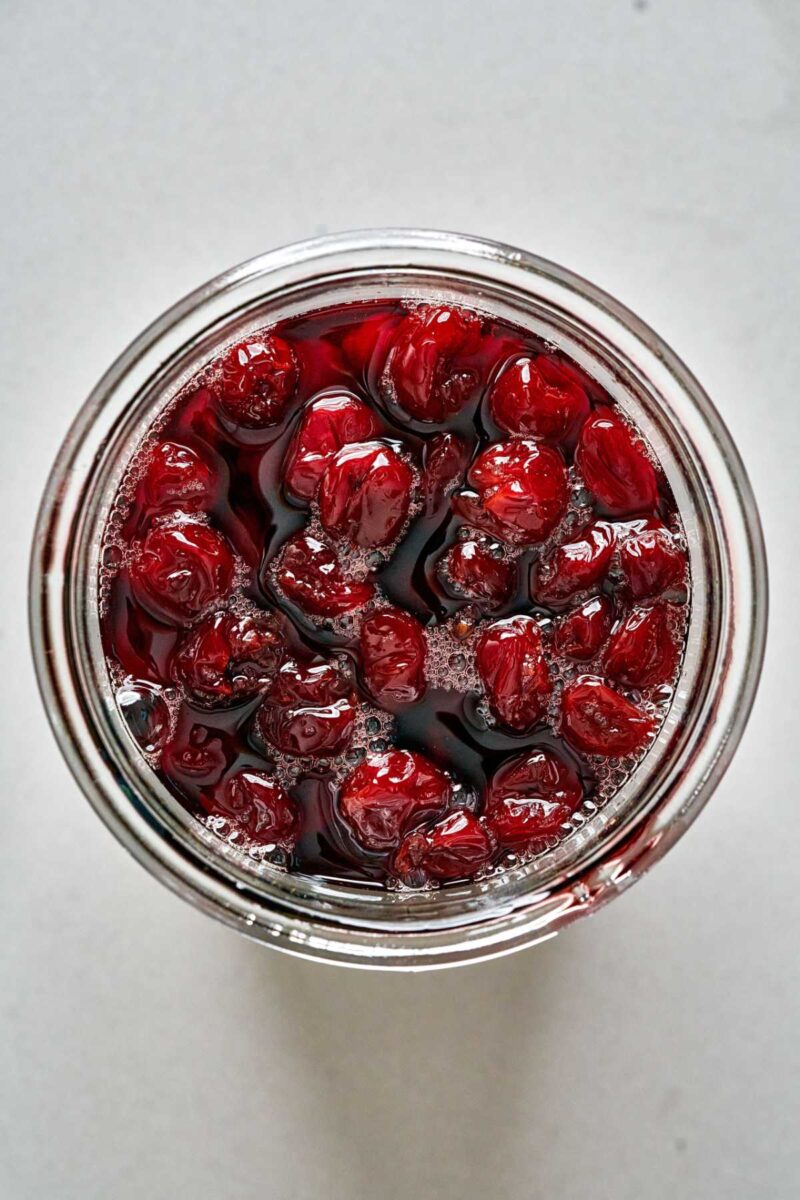 Sarsheer
This thick, spreadable cream is a Persian classic and a little tricky to make, yet so worth it. It has a slightly sweet flavor, and is comparable in texture to clotted cream or mascarpone.
While not made exactly the same way as these more common creams, there are similarities. Sarsheer traditionally comes from heating unpasteurized milk for long periods of time and separating off the thick cream this produces.
5.
Sarsheer
Homemade sarsheer comes with a wonderful caramelized flavor. And if you don't have time to make it, you can add mascarpone or crème fraîche to your grocery list.
Check out this recipe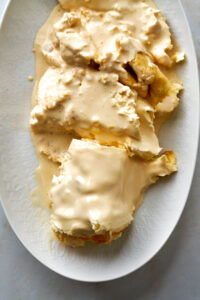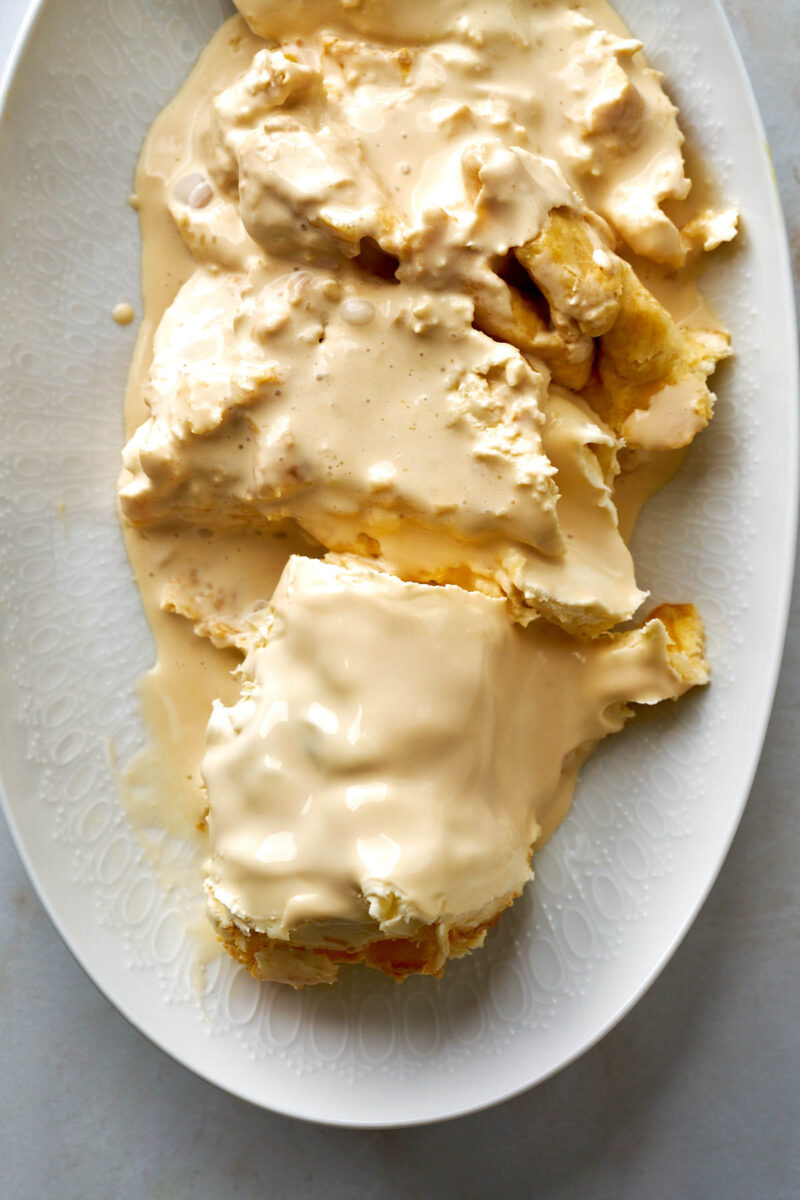 Honey
Honey and sarsheer go hand in hand. Fresh sarsheer is sold in a container with honey on one side and sarsheer on the other.
To serve at the table, place a puddle of honey and then put a large dollop of sarsheer on top.
Tomato and Cucumber
You'll always find these light, fresh veggies on the breakfast table. They are cut or thinly sliced, and seasoned with salt and black pepper. Try placing these on some fresh bread with a slice of feta and topping it with these slices for a yummy bite.
Walnuts
When a bit of crunch and nuttiness is needed, add walnuts! My mom and grandmother soak the walnuts in water to soften them just before serving. It makes them a bit easier to digest and wonderful as a topping on toast with feta and honey.
Eggs
A well-rounded Persian breakfast contains protein, and eggs are an excellent source. There are a few Persian egg dishes that can be part of breakfast, including tea eggs, fried eggs in oil (nimroo), an omelette or herb frittata (kuku sabzi).
6.
Slow Simmered Tea Eggs
My personal favorite Persian breakfast egg option is these Persian tea eggs, which are really easy to make the night before and are delicious served both warm and cold.
Check out this recipe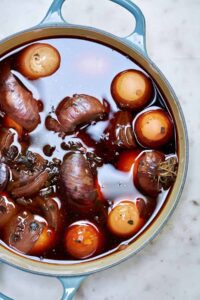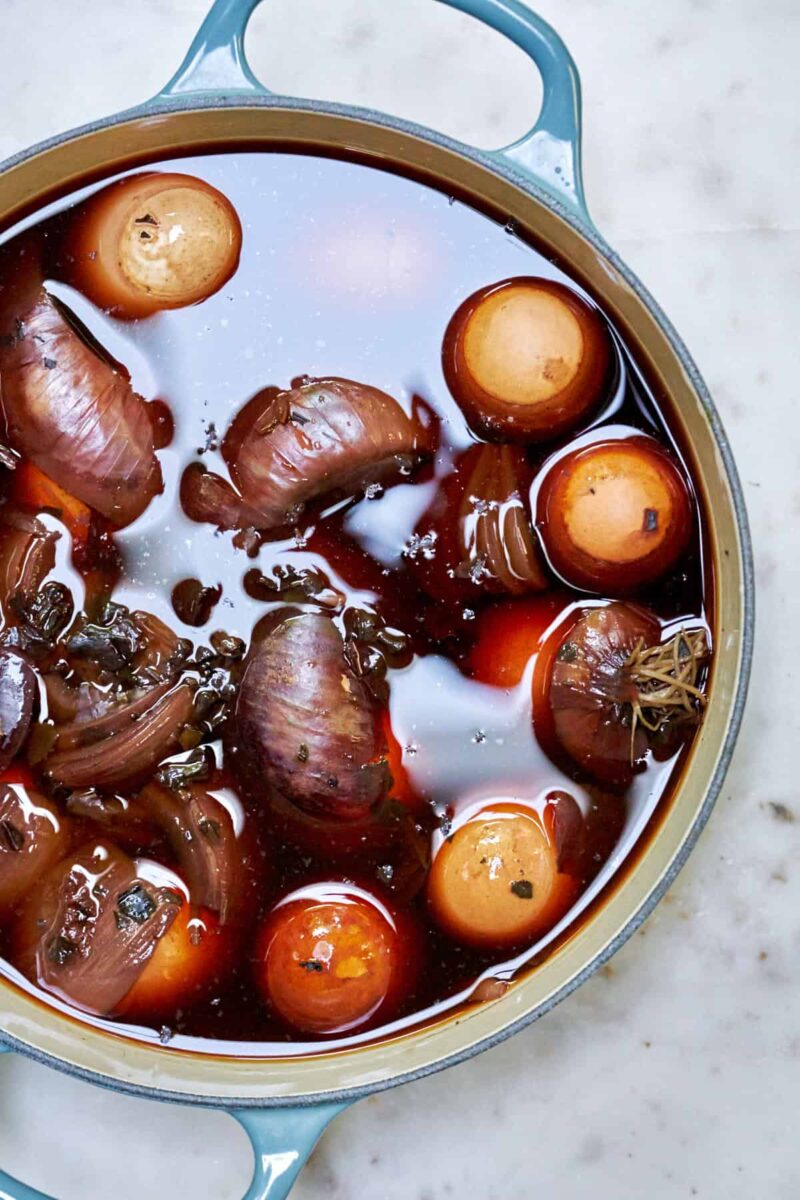 Adasi
A warm bowl of lentil stew, or Adasi, is a reliable way to fill up on slow-releasing energy in the morning.
While Adasi is my preferred stew for breakfast (it's a great vegan option, too), other amazing options include a sheep's head soup (Kaleh pacheh), barley soup (Ash-e-jo), and/or noodle soup (Ash reshteh).
7.
Iranian Adasi
Iranian Adasi is a slow-simmered lentil soup enjoyed for breakfast, often on weekends. Garnish with fresh lime, fried onion, and fresh herbs.
Check out this recipe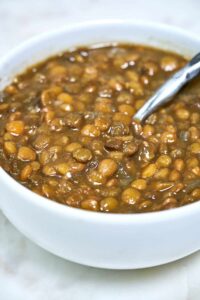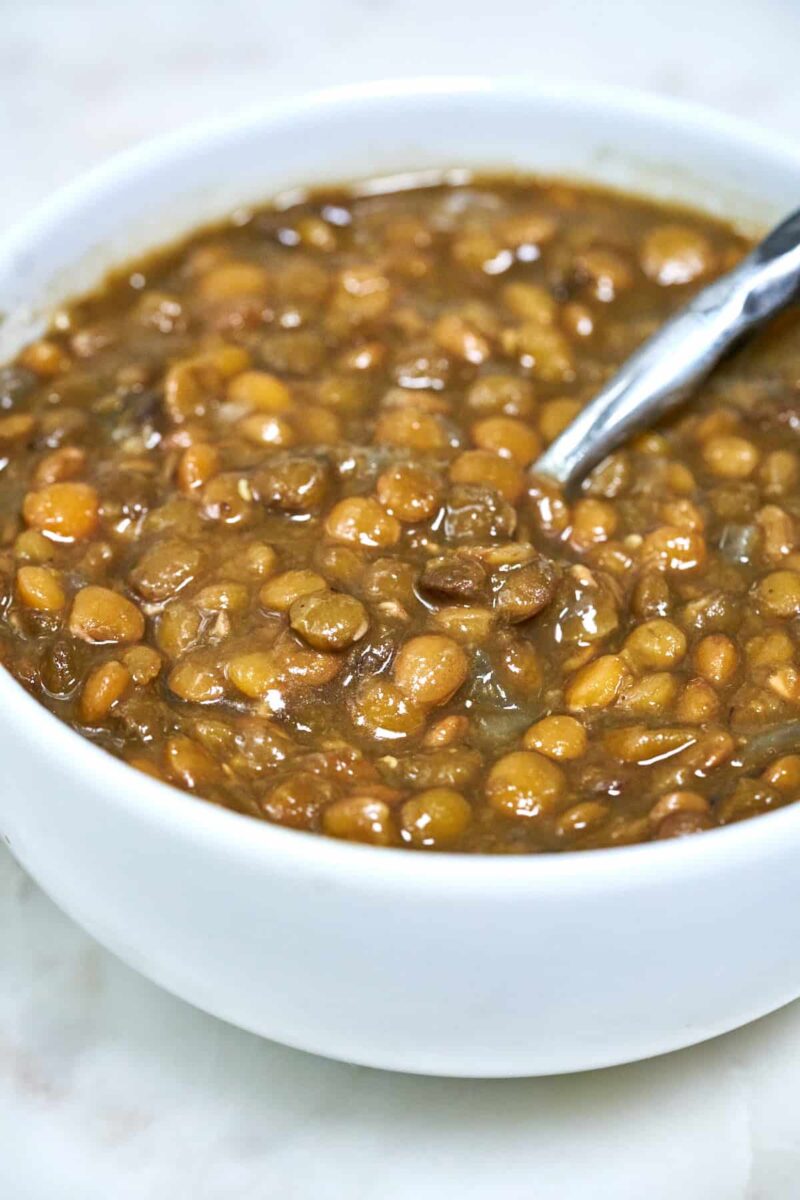 8.
Ash Reshteh
Delicious for any meal of the day, this is a very hearty and nutritious way to start it as a part of your breakfast.
Check out this recipe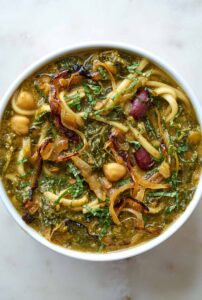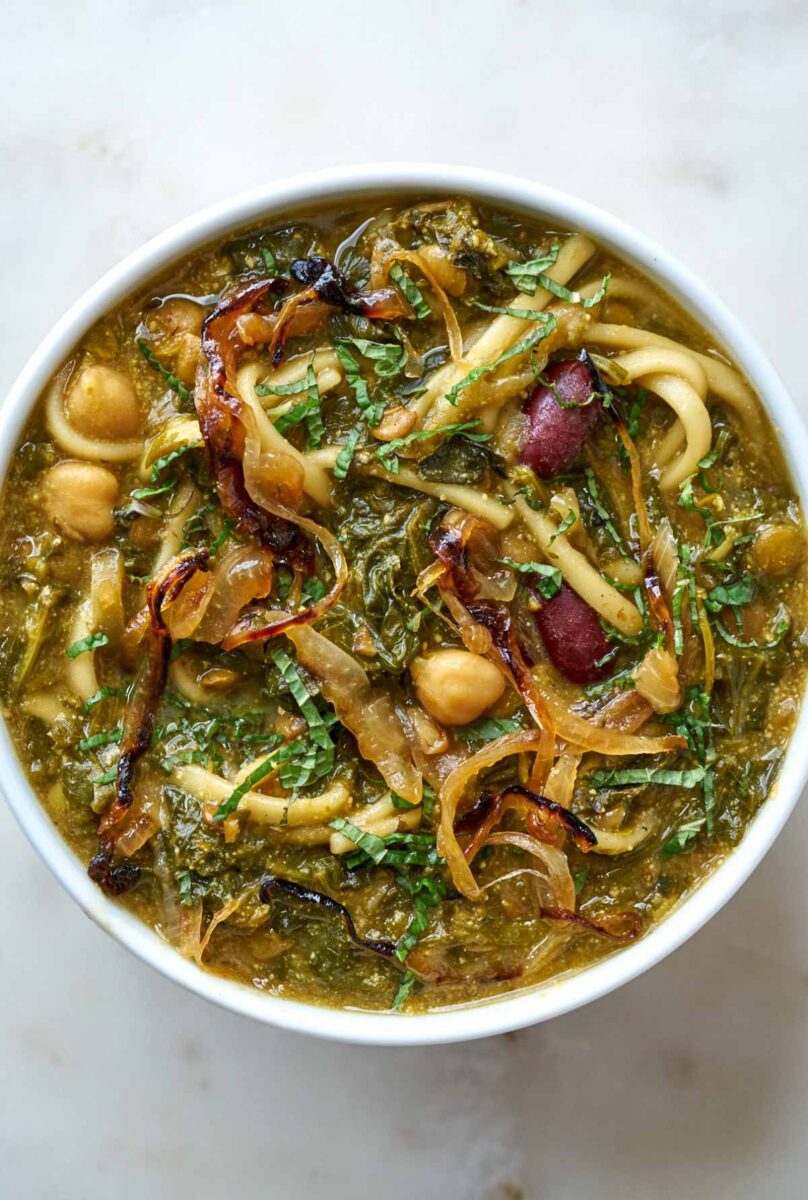 Dates
Dates are nutrient-rich and contain plenty of fiber so they help to round out the breakfast. The dates are served whole and accompany the Persian tea wonderfully.
FAQs
What is served at a Persian breakfast?
The key elements of a Persian breakfast are: Persian tea, bread, feta, jam, sarsheer, honey, sliced tomato and cucumber, walnuts, eggs, adasi, and dates.
There's no one-size-fits-all menu. Each family can customize the breakfast and try something new each morning! You will always see some combination of these core foods, but not the exact same ones every time.
Is a Persian breakfast healthy?
A Persian breakfast is designed to be a balance of sweet and savory dishes, and has dishes packed with protein, fiber, and carbohydrates to help keep you full throughout the day.
Why is this breakfast served on all different plates?
A Persian breakfast is served on different plates because most elements are kept in the refrigerator, ready-to-advance for when someone is ready to eat and is meant for sharing. It is traditionally served on beautiful plates and arranged in a visually pleasing way. You will always see lots of different sizes of spoons and other cutlery so everyone can serve themselves easily.
Read More & Other Recipes
Continue learning about Persian Cuisine with these posts:
Go beyond breakfast and make these Persian recipes for any time of day that you like!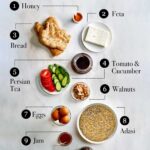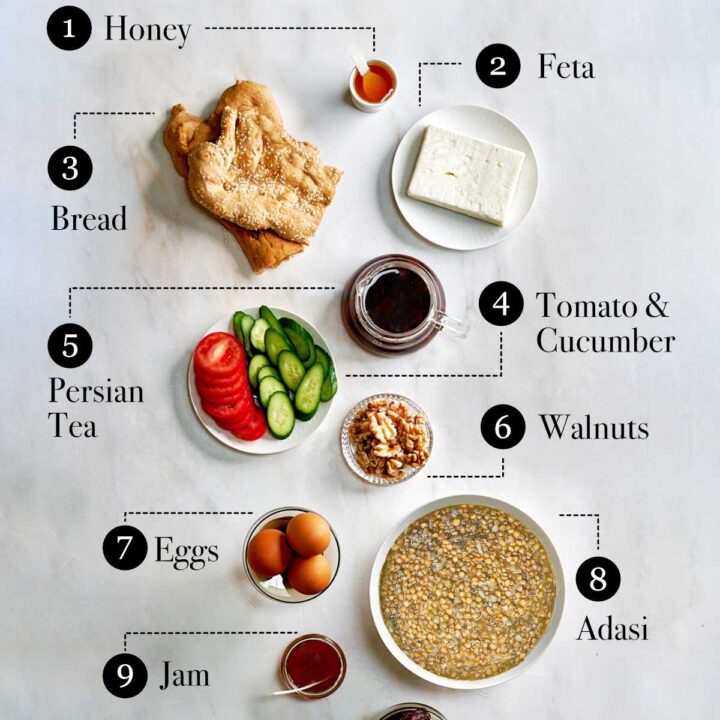 Print Recipe
Persian Breakfast
I'm giving you the full rundown of all the dishes traditionally served in a Persian breakfast, as well as the recipes you can make to recreate this delicious morning feast.
Ingredients
1

pot

Persian tea

4

servings

bread

like barbari or sangak

6

oz.

feta

¼

cup

jam

½

cup

sarsheer

mascarpone, clotted cream, or creme fraiche

¼

cup

honey

2

Roma tomatoes

thinly sliced

2

Persian cucumbers

thinly sliced

½

cup

walnuts

soaked in cold water

4

eggs

see notes

1

batch

adasi

optional

4

dates

salt and pepper
Instructions
The night before, make the (optional) adasi* and (optional) tea stained eggs.

Soak the walnuts in cold water while you prepare the rest of breakfast.

Brew the Persian tea: 1 tablespoon of black loose leaf tea and crack open 2 cardamom pods in boiling hot water for 5 minutes.

Place the block of feta on a small plate without the brine.

Place the jam(s), honey, dates, and sarsheer in their own small bowls.

Thinly slice the tomato and cucumber and place them on a small plate. Season them with salt and pepper.

Warm the bread and set it on the table, covered with a tea towel or cloth napkin to help keep it warm.

Make your eggs* (if you haven't already made tea stained eggs) to your preference.

Strain the walnuts place them in a small dish.
Notes
There are a few Persian egg dishes that can be part of breakfast, including tea eggs, fried eggs in oil (nimroo), an omelette or herb frittata (kuku sabzi).
* Recipe for adasi.
** Recipe for tea-stained eggs.
Nutrition
Calories:
677
kcal
|
Carbohydrates:
58
g
|
Protein:
18
g
|
Fat:
43
g
|
Saturated Fat:
20
g
|
Polyunsaturated Fat:
8
g
|
Monounsaturated Fat:
5
g
|
Trans Fat:
1
g
|
Cholesterol:
250
mg
|
Sodium:
690
mg
|
Potassium:
406
mg
|
Fiber:
3
g
|
Sugar:
36
g
|
Vitamin A:
829
IU
|
Vitamin C:
7
mg
|
Calcium:
316
mg
|
Iron:
3
mg
Did you try this recipe?
Don't forget to leave a rating and/or comment! And tag @ProportionalPlate on TikTok or Instagram... I'd love to see what you're making.