When I was young, cooking at home with my mom, she would always be so attentive to the flavor balances in her dishes. Sometimes, I'd be experimenting and she'd exclaim 'oh wait! Those two don't go well together, try this instead'. She would say, 'you need something hot to balance that', but she didn't mean something warm or spicy necessarily.
She was referring to garm foods and sard foods.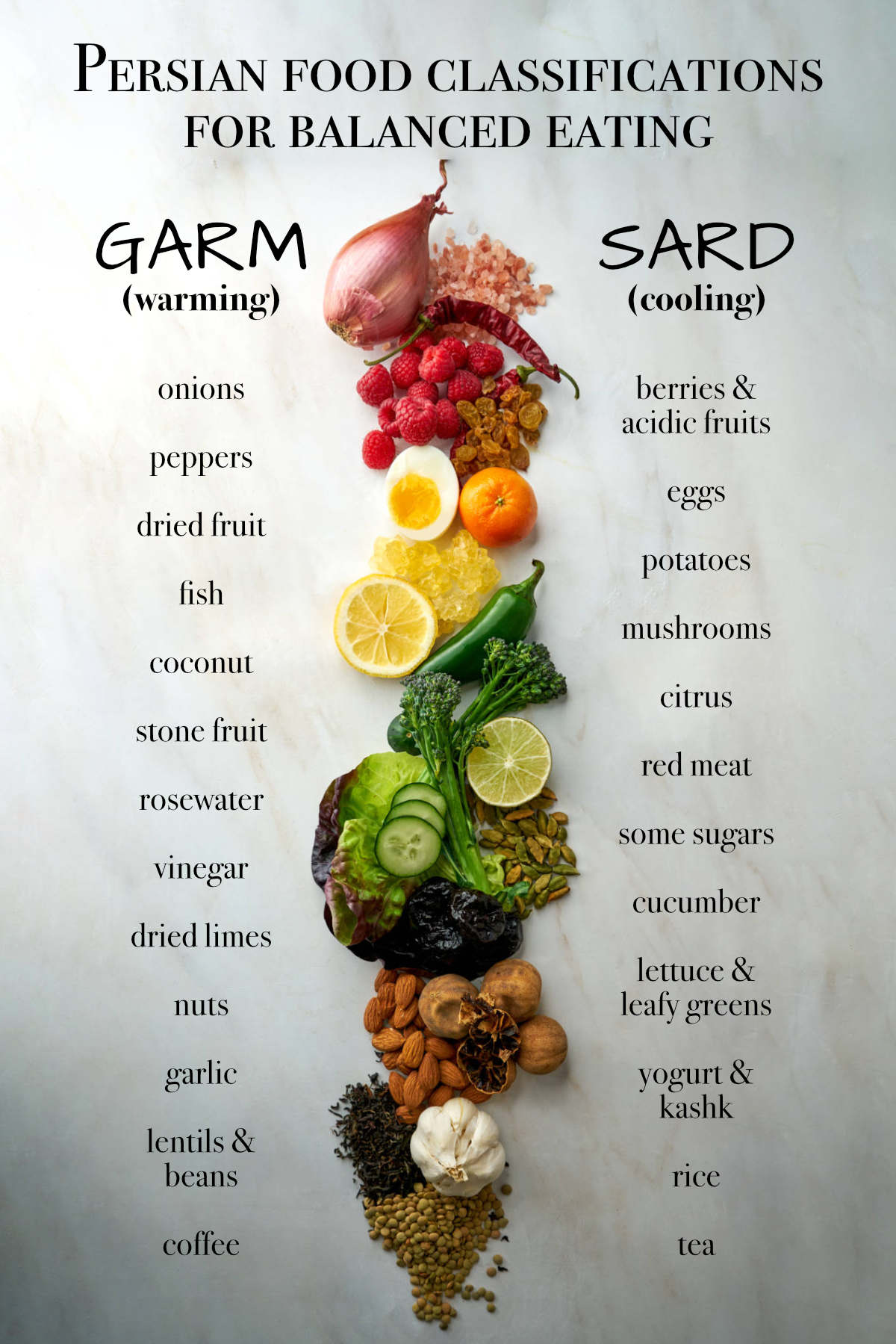 What do Garm and Sard mean when it comes to food?
In Iranian and Persian cooking, foods that are 'garmi' are warming, and foods that are 'sardi' are cooling. But these descriptors aren't referring to the spice level, the temperature, or even the taste of the food itself. I like to think of these terms as referring to the aura of foods, and thus the way they affect our bodies.
Too much of either one is bad for our body, so the goal is to eat garm and Sard foods in balanced proportions to create harmony in the body.
We can see examples of this in all Persian dishes. In my Ghormeh Sabzi recipe, the cow shoulder is classed as a sardi food, so it's paired with kidney beans, onions, and dried limes which are garmi foods.
Why is the concept of balance so important?
Garm and sard food classifications are intended so that every dish is perfectly balanced. Not just for taste, but for how they affect our bodies. This approach to eating is rooted in ancient medicinal practices; if imbalance is the root of all bodily ailments, then balance can be restored through what we consume.
The belief is that balance in the food we consume produces that same balance in our bodies; too much of either produces negative effects.
For example, eating too many garmi foods would result in inflammation or digestion problems. Too many sardi foods would result in circulation problems, and so on.
Conversely, food can be used to treat certain ailments. For fevers and inflammation, sardi foods can help. Garm foods, because they are warming, are classic ingredients for stews and soups that are served in the winter months for vitality.
While I can't vouch for the healing abilities of garm and sard foods, I do believe that balance in our foods makes our bodies happy. 'Everything in moderation' is an overused saying, but for good reason! Too much of any one thing will upset our stomachs.
I think about the concept of balance a lot in cooking and recipe testing as an adult. My philosophy is that some foods feel good to eat and to have in our bodies, and others don't. And it's entirely personal for each of us.
I think we are each on a journey to find that perfect balance in our diets. We are all recognizing how foods impact our bodies, beyond how they taste in the moment.
Does this type of food balance exist elsewhere?
Yes! You can see examples of this across many different cuisines and the globe. The one that comes to my mind is the Ayurvedic diet. This is a diet based on your particular body type, or 'dosha'. Depending on your body type, you should follow a particular diet in order to achieve bodily harmony.
You see this also in ancient Chinese medicine. This practice operates on the belief that our bodies have a life force and energy called Qi, and an imbalance in Qi is the cause of bodily ailments. You can rebalance Qi not just through to foods you consume, but also through mindfulness practices.
Aside from the use of balance as a healing principle, the balance of flavors in food can be considered the cornerstone of a great dish.
The balance of complementary flavors such as sweet and spicy, or sweet and sour, are prevalent in so many different types of cuisine. Think of sushi paired with spicy wasabi and sour pickled ginger to cleanse the palette. Or coconut milk and yogurt to balance out spices in Indian dishes.
Even if you don't completely follow the garm and sard food rules, thinking about balance in your dishes is still important to make great-tasting food.
What are examples of garm and sard foods?
There's not really a system to what's considered garmi and sardi. Some classifications make total sense, others not so much. It's about learning intuitively which foods go well together.
Examples of Garm Foods
Ghee
White fish
Oils like sesame and castor
Dried fruits, like dried limes and prunes
Kidney beans
Lentils
Nuts
Garlic
Coconut
Stone Fruit
Onions
Squash
Rosewater
Mint
Poultry
Ginger
Turmeric
Lamb
Coffee
Cinnamon
Chillis and Peppers
Mustard
Rosemary
Vinegar
Examples of Sard Foods
Yogurt and kashk
Fish
Cucumber
Lettuce and other leafy greens
Celery
Tomato
Cheese
Pomegranate (like my favorite pomegranate molasses)
Potatoes
Apples
Berries
Citrus
Watermelon
Eggplant
Mushrooms
Eggs
Red meat
Tea
Rice
If you're curious to learn more about the food classifications, this article from Fariba Karimi is a great resource.
Persian dish inspiration and how they're balanced
These are some of my favorite Persian dishes on the blog, with descriptions of their garmi and sardi ingredients.
Steamed Saffron Rice - Sardi rice infused with garmi saffron
Khoresh Bademjan Stew - Garmi chicken, sour grapes and eggplant in a sardi tomato stew.
Dolmeh Felfel - Garmi bell peppers, onions, and lamb with sardi coriander, rice, and tomato.
Fesenjoon Stew - Garmi chicken and walnuts with sardi pomegranate molasses and rice.
Ghormeh Sabzi - Sardi cow shoulder with garmi kidney beans, onions, and dried limes.