The distinct, traditional flavors and ingredients in Persian cuisine make it a joy to learn about and enjoy. I learned how to cook Persian food from my mom and grandmother, and when I started cooking the dishes on my own, it was helpful to already know which pantry items I needed to have on hand and which brands to buy.
Walking into a Persian or Middle Eastern grocery store can be overwhelming – the rice section alone can have 20+ options! Combining experience with my family's preferences, I now have a list of pantry items and brands that I use regularly and think are the best.
I put together this guide to help make your trip that little bit easier!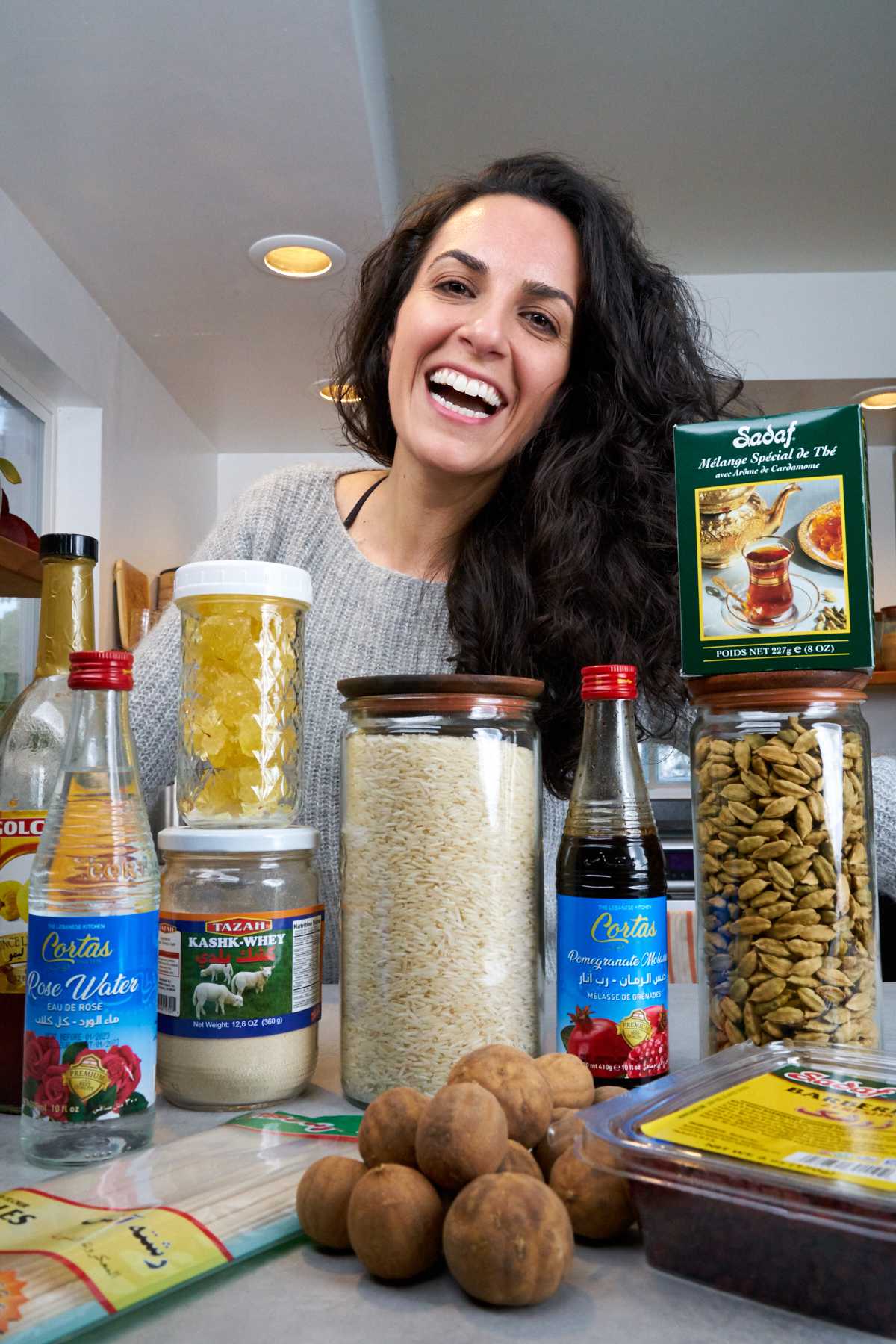 Important Note: I have found that these items are significantly less expensive to purchase if you make the trip to your local Middle-Eastern or Persian supermarket. I have linked to purchase these items online, but some are as much as 4x the prices at the store.
This post contains affiliate links where I might receive a commission if you make a purchase, at no additional cost to you. Thanks for your support!
Key Items In My Pantry
There are many cornerstone pantry items that crop up again and again in Persian dishes, and it helps to have the knowledge of these down so you're always stocked and ready to make your favorite Persian meal.
Basmati Rice
Basmati rice is a staple to serve with all Persian stews or in the many different rice dishes. You will find 20+ kinds of basmati rice at the Middle-Eastern market from brown to par-boiled.
Brand to Buy
Dunar Elonga, Extra Long Basmati Rice
Recipes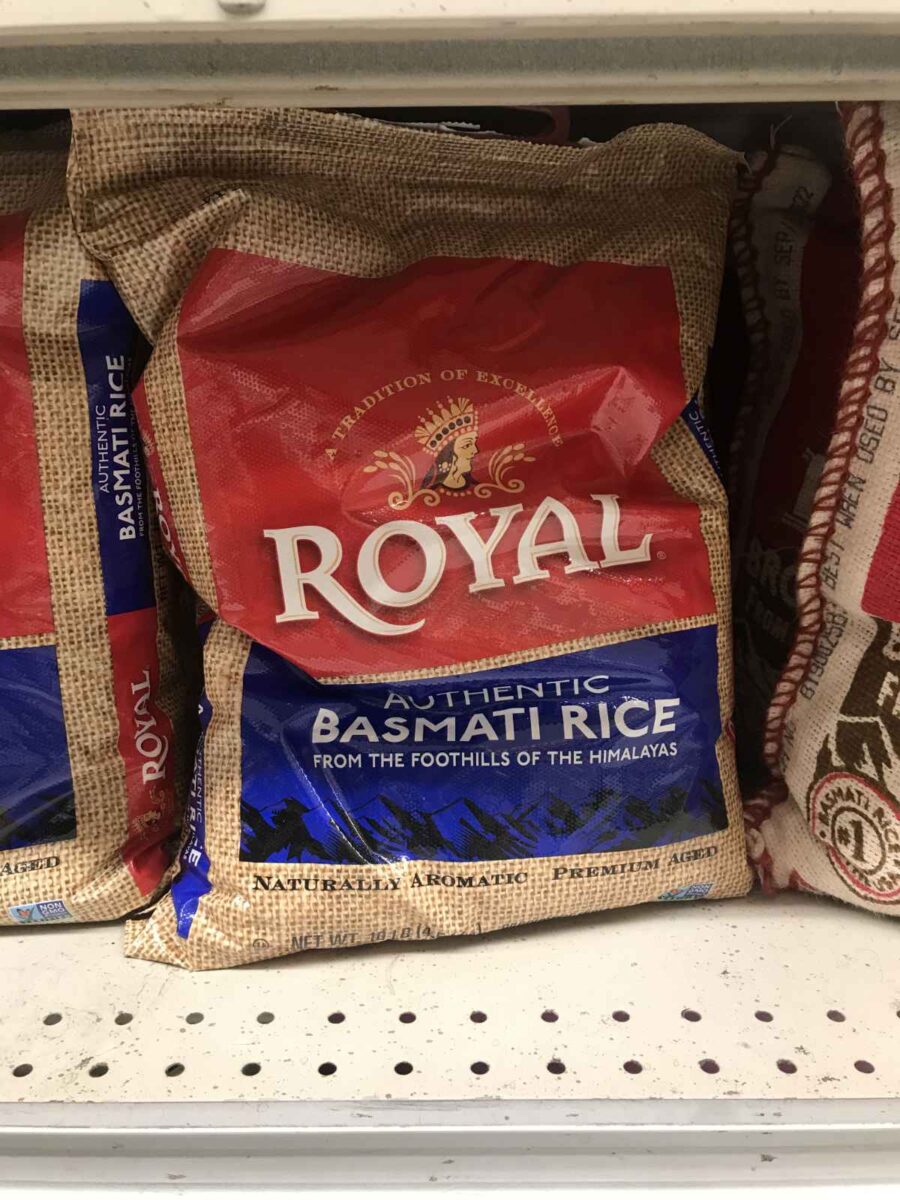 Chickpea Flour
This is a great item to keep in your pantry when making Gondi, and the prices are usually much better at a Middle Eastern market than at a regular grocery store.
What to Buy
You can either buy whole dried chickepeas like my grandma does and grind them yourself, or buy the Sadaf coarse chickpea flour.
Note: This item is more expensive online than at the market.
Recipes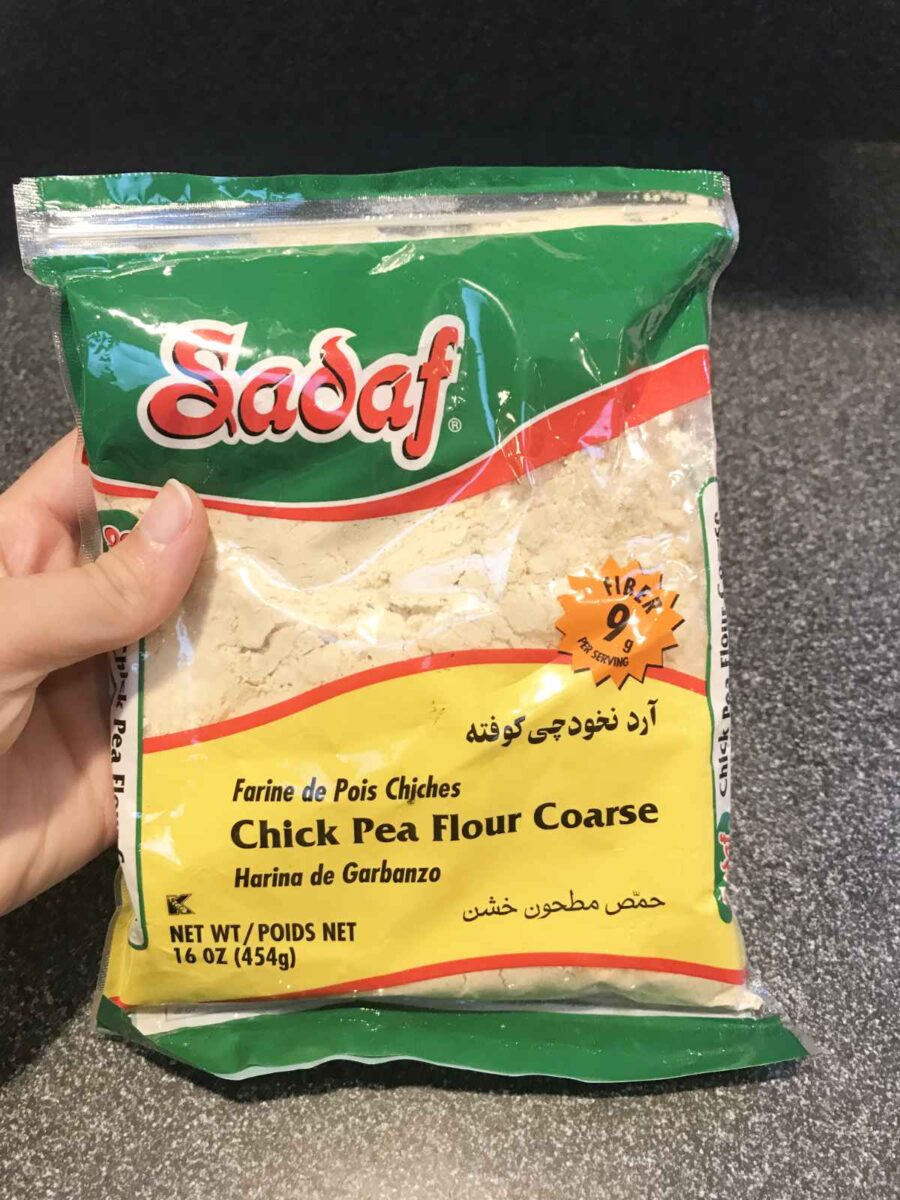 Ghand & Nabat
Ghand are sugar cubes which you'll see referred to as broken sugar, while Nabat is a kind of hard rock candy. These different forms of sugar have different melting rates.
When serving tea, it is important to offer both kinds of sugar, so your guests can choose if they want to stir the Nabat into their tea (fast dissolving) or put a ghand cube in their mouth while taking small sips of hot tea (slow dissolving).
My favorite kind of nabat has saffron in it. It is a clear, golden yellow, and you can even see some strands of saffron. This is also served with hot tea.
When I have a stomach ache, my grandmother tells me to stir some nabat into hot water to help soothe my stomach.
What To Buy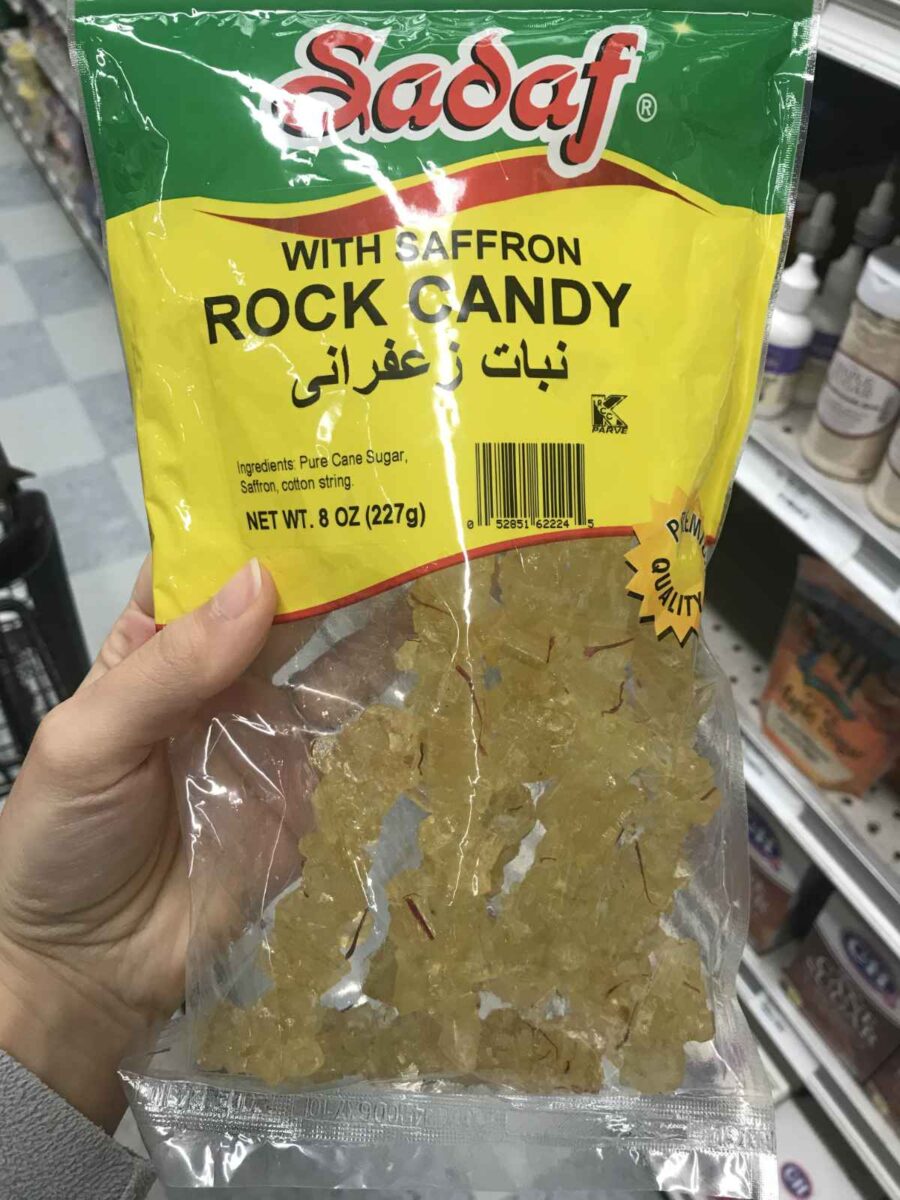 Herbs & Herb Mixes
There are some Persian recipes that require a lot of fresh herbs, and I mean A LOT. Instead of finding and chopping all your fresh herbs, a great shortcut is to purchase the ready-made dried or frozen herb mixes at the Persian or Middle Eastern grocery store.
For the recipes below, you can find fresh herb mixes ready-to-go in the freezer section or dried herb mixes in the spice aisle. I usually choose the frozen ones over the dried ones, but both are good.
What to Buy
Recipes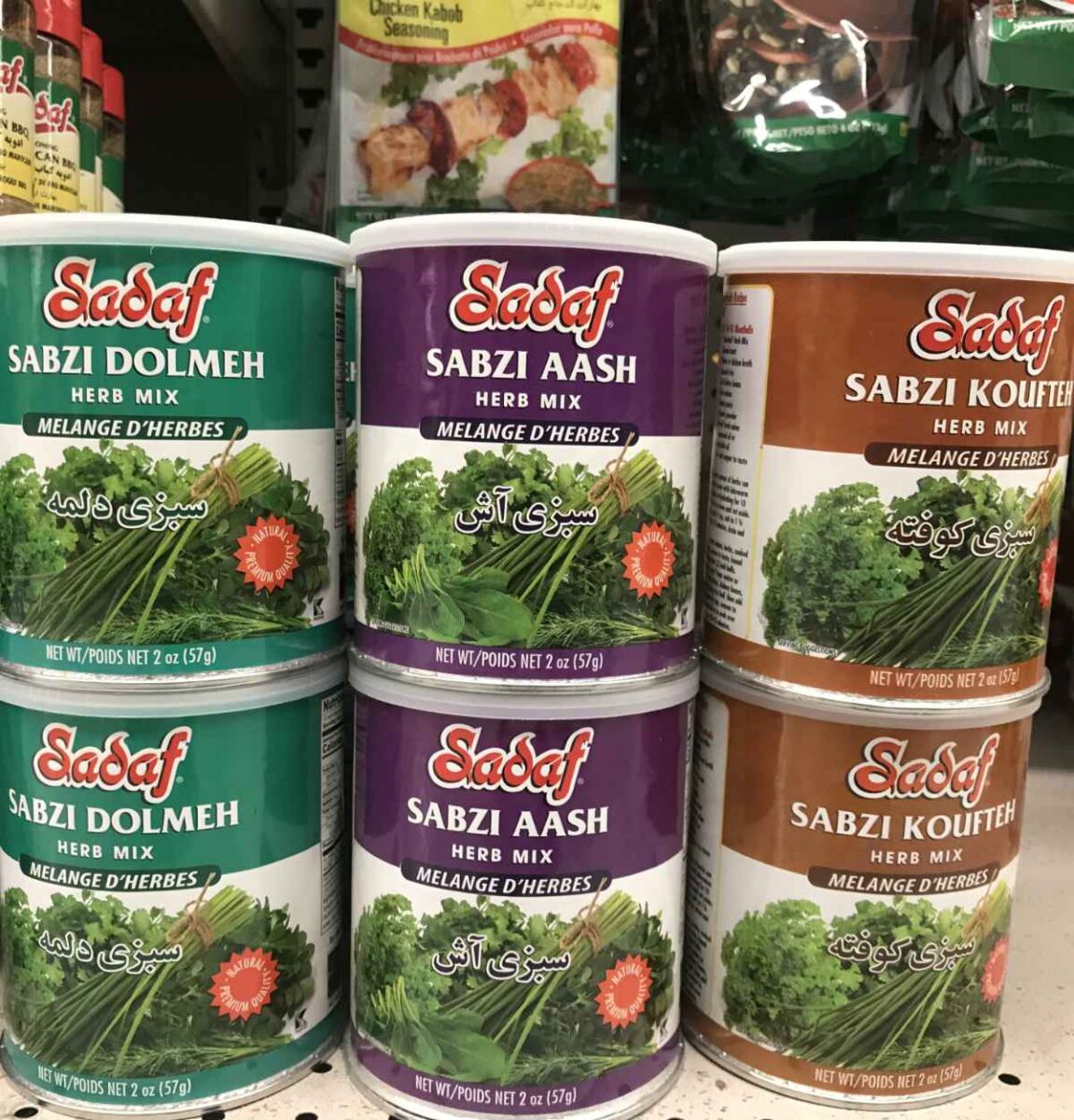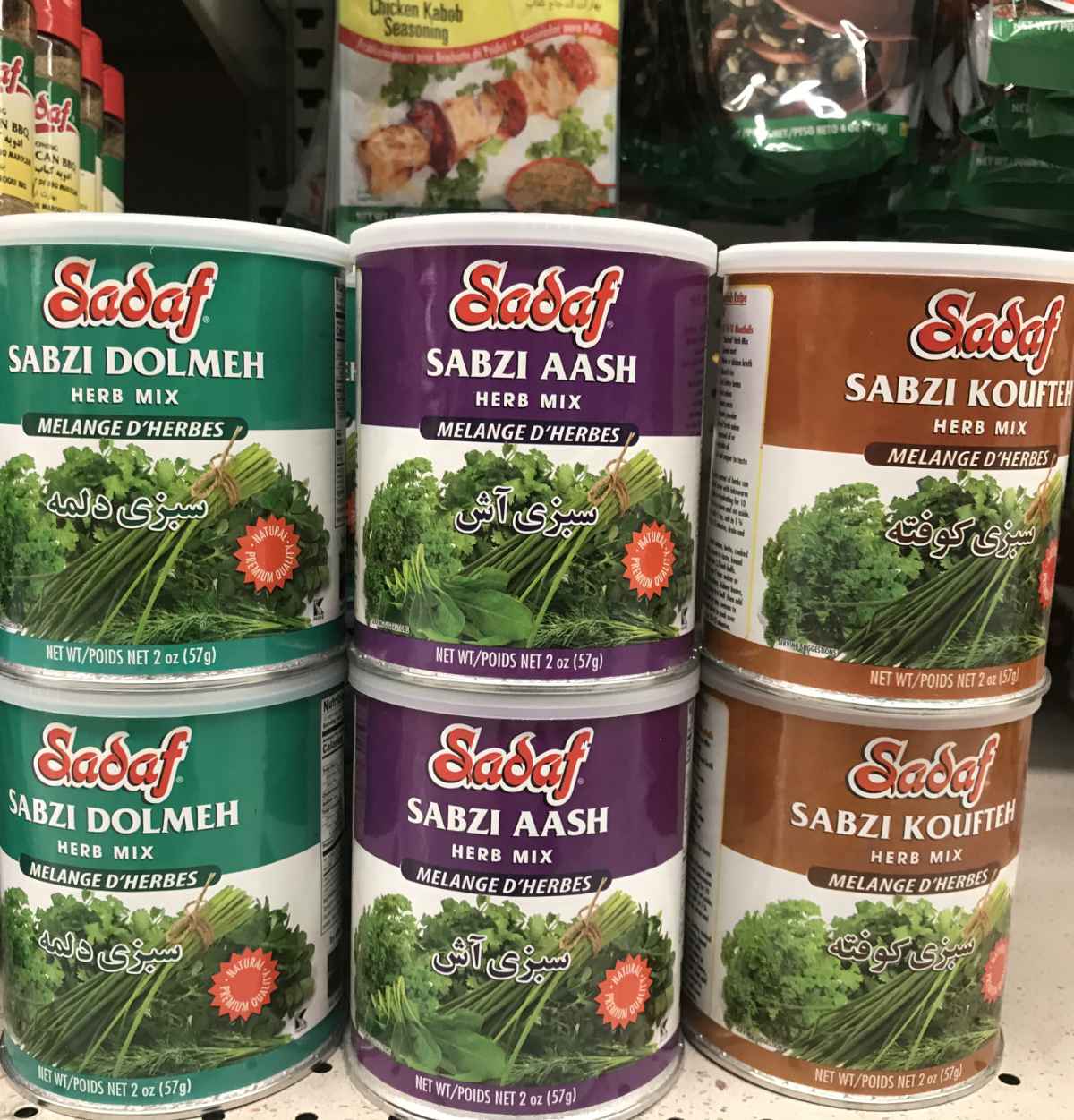 Kashk
Kashk is a dairy product that is essentially a form of dried buttermilk. It has a tangy and sour flavor, like yogurt or sour cream.
You can buy it in a dried, crumbled form or as a wet paste with a yogurt-like texture. I prefer the paste, but it's nice to have the dried version on hand.
What to Buy
Sadaf Kashk (Wet) or Kashk (Dry)
Note: These items are much more expensive online than at your local store. Also, I have not tried the linked brand for dried but cannot find the one in the photo online.
Recipes
Limoo Amani - Dried Limes
As the name suggests, these are limes that have been completely dried out until they become hard. Dried limes are a great way to add a tinge of sour to dishes, which is one element that creates the Persian umami flavor.
They are shelf stable, and you can buy them online from Amazon, or easily find them at your local Middle Eastern grocery store.
What to Buy
I haven't found a brand I don't like, but these are the best priced dried limes I found online.
Recipes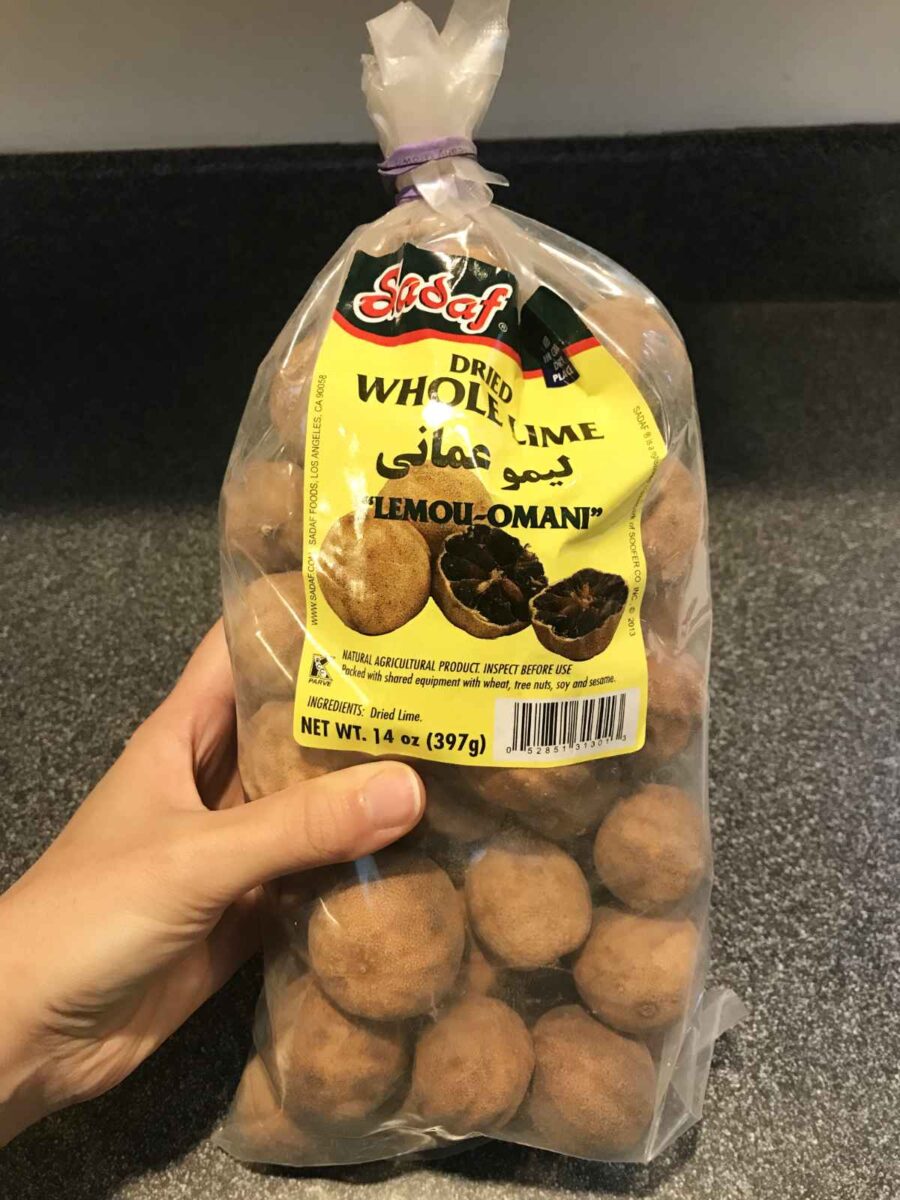 Pomegranate Molasses
I love cooking with pomegranate molasses. It's such an incredible flavor and you'll find it often adding a tangy taste like tamarind to classic Persian dishes.
You can make your own by simmering down pomegranate juice until it reaches a thick, syrupy consistency, or buy a bottle ready to use.
What to Buy
Cortas Pomegranate Molasses, Sadaf brand is also OK
Recipes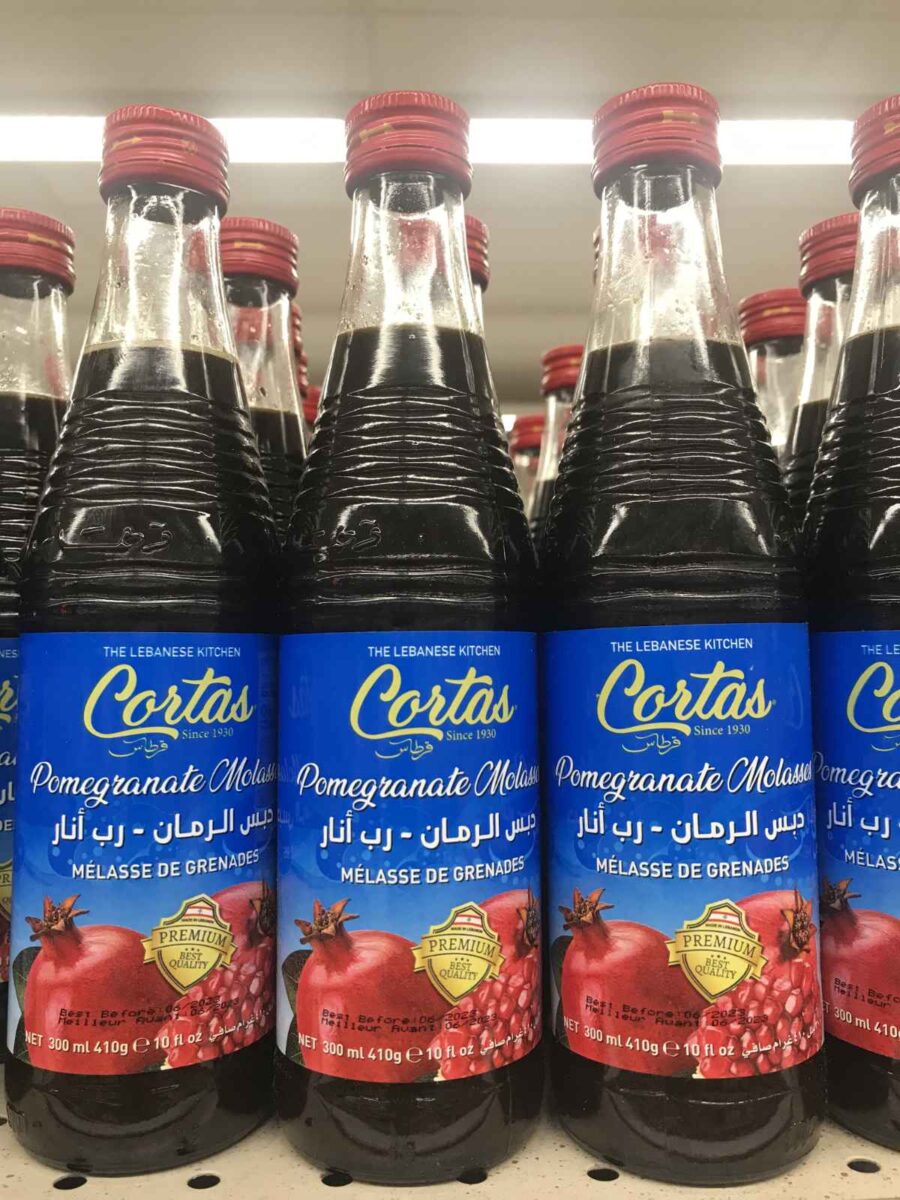 Reshteh
Reshteh are Persian enriched flour noodles which are both vegetarian and kosher.
The most common recipe that uses reshteh is Ash-e-Reshteh, which is a noodle soup with herbs and kashk.
What to Buy
Sadaf Reshteh Enriched Flour Noodles
Recipes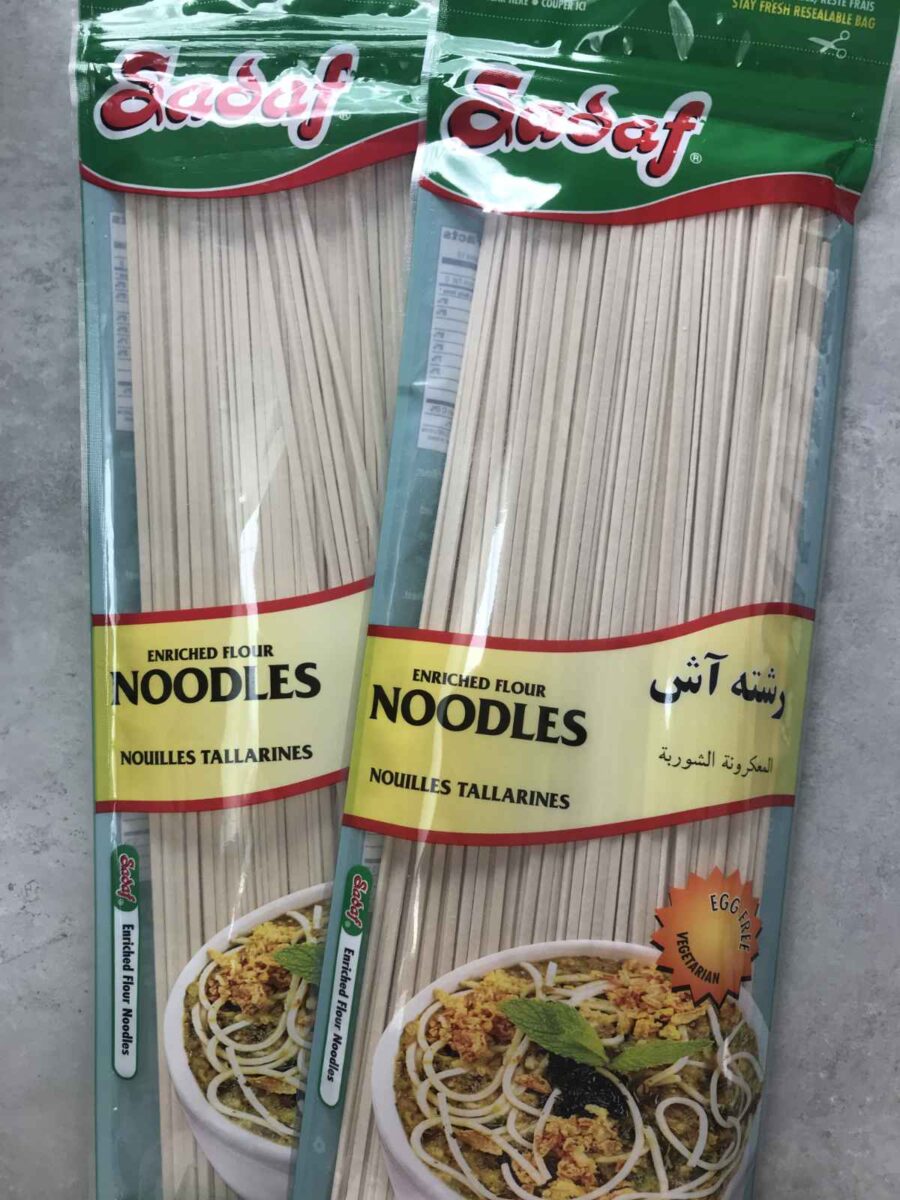 Rose Water
Rose water is a delicate flavored water made by distilling rose petals in water. You'll find that some varieties are more strongly flavored than others. Some people may dislike the flavor of rose, but others may just dislike the artificially fragrant rose smell, or find it overpowering.
Adjusting the amount you use in a recipe can make all the difference. As always, I recommend adding a little at a time to a recipe and taste testing it until you get to your personal desired amount.
What to Buy
Cortas Rose Water, Sadaf brand is OK
Recipes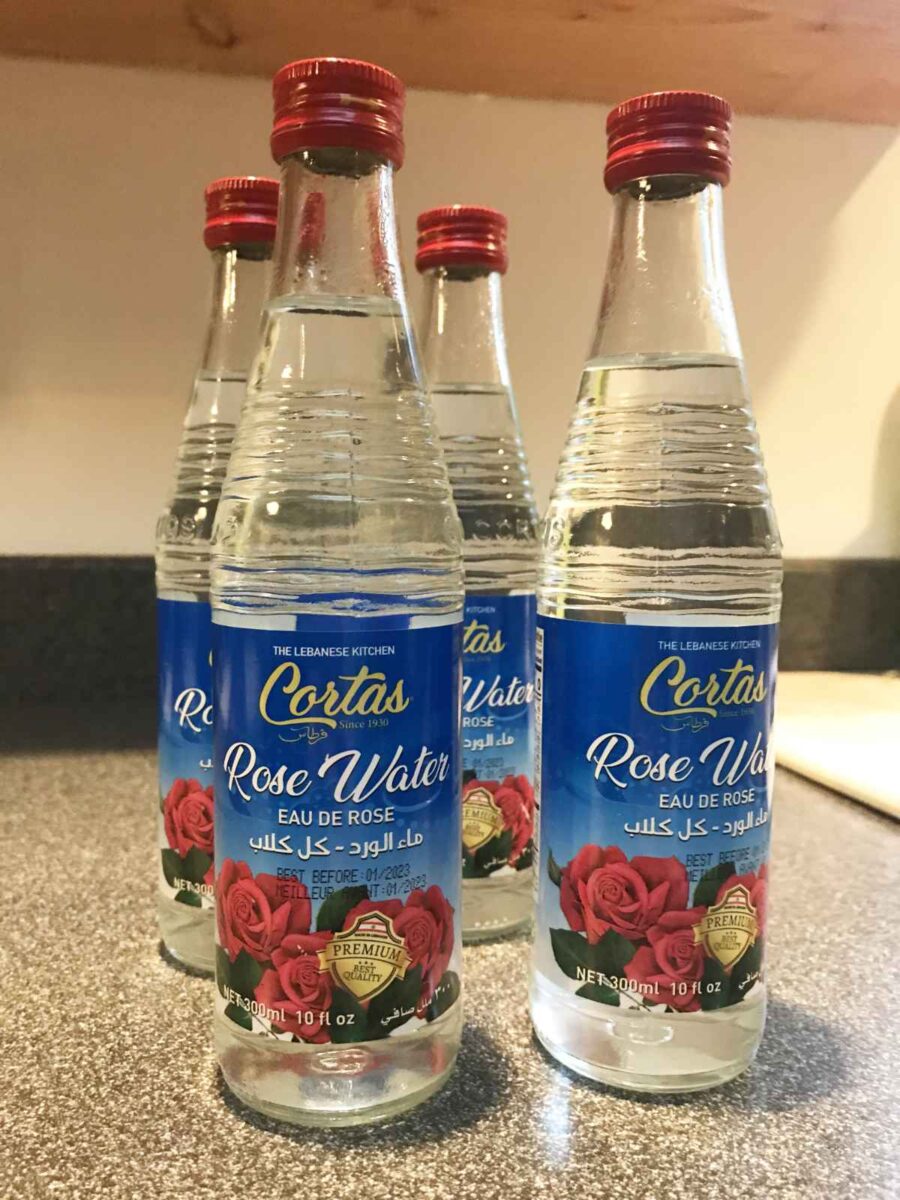 Saffron
Saffron is a yellow spice that has a sweet, floral, light, and earthy taste. Unfortunately, the real stuff is expensive and you can't get around it – it's actually the most expensive spice by weight, because the harvest of saffron is very small.
Because it's so expensive, some of my recipes that require saffron list it as an optional ingredient.
If you are going to use saffron, it's important to buy the best saffron you can find. Be warned that there are many saffron impostors out there. If you can find it in person, you can easily tell if it's real or synthetic – rub it between your fingers and if it's real it will turn your fingers yellow.
What to Buy
If you're at the Middle-Eastern or Persian supermarket, ask the person at the register. They usually keep it there because it's expensive and they usually only have a couple options.
If you're buying it in-person, it is likely that there is no English on the packaging. It is almost always in an acrylic container (rectangular or circular) with red background and gold writing.
This saffron you can buy online is not the highest quality, but is unbeatable for the price.
Recipes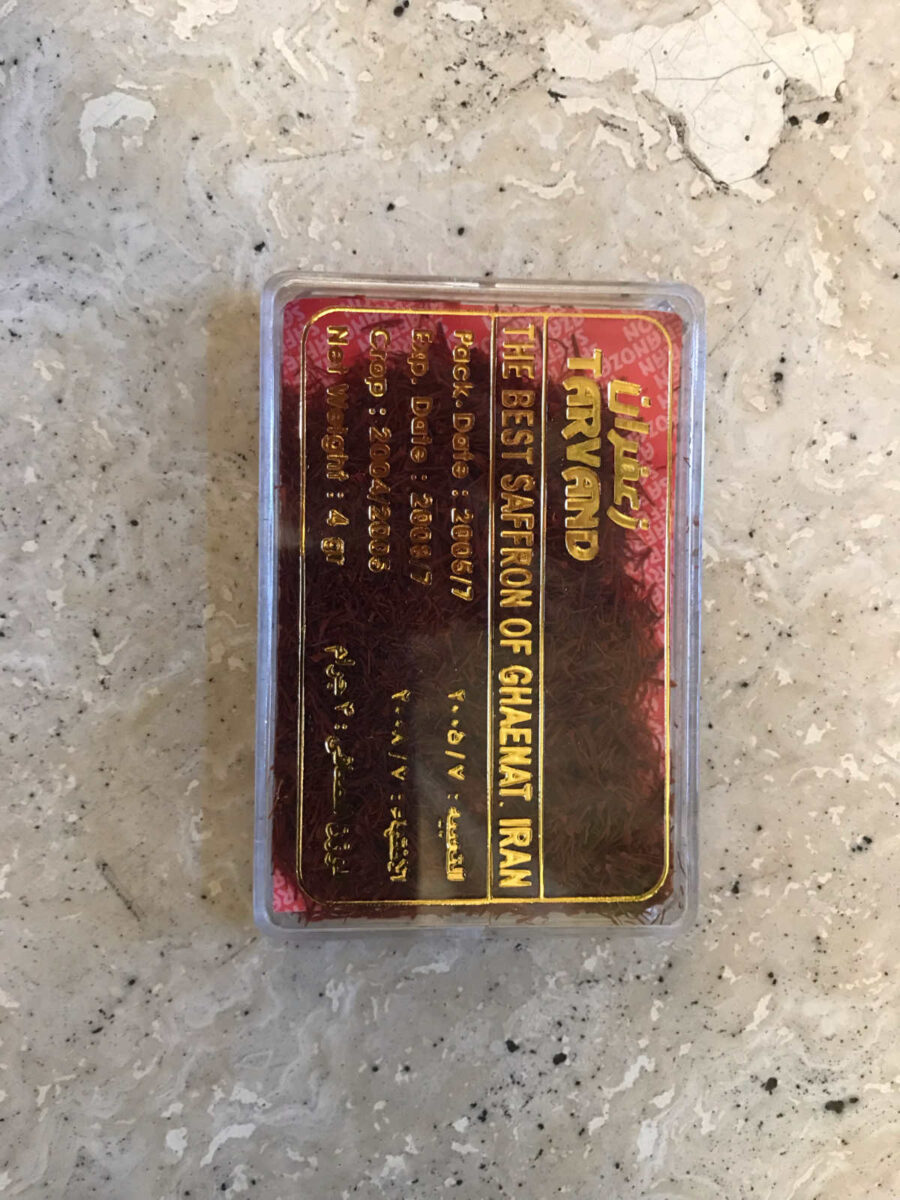 Spices & Herbs
Spices are really the backbone of Persian cooking, as they combine to create the unique and complex flavors that thread through all the best Persian dishes.
The key spices and herbs you should always have on hand are Cumin, Coriander, Fenugreek, Cardamom, Dill, Turmeric, and Sumac.
I also like to keep Za'atar on hand even though it isn't a Persian spice.
These herbs and spices come in big bags or in bulk, and are usually less expensive than what you can find at the American grocery store.
Brand to Buy
Sadaf
Need help translating from Farsi to English to make a family recipe?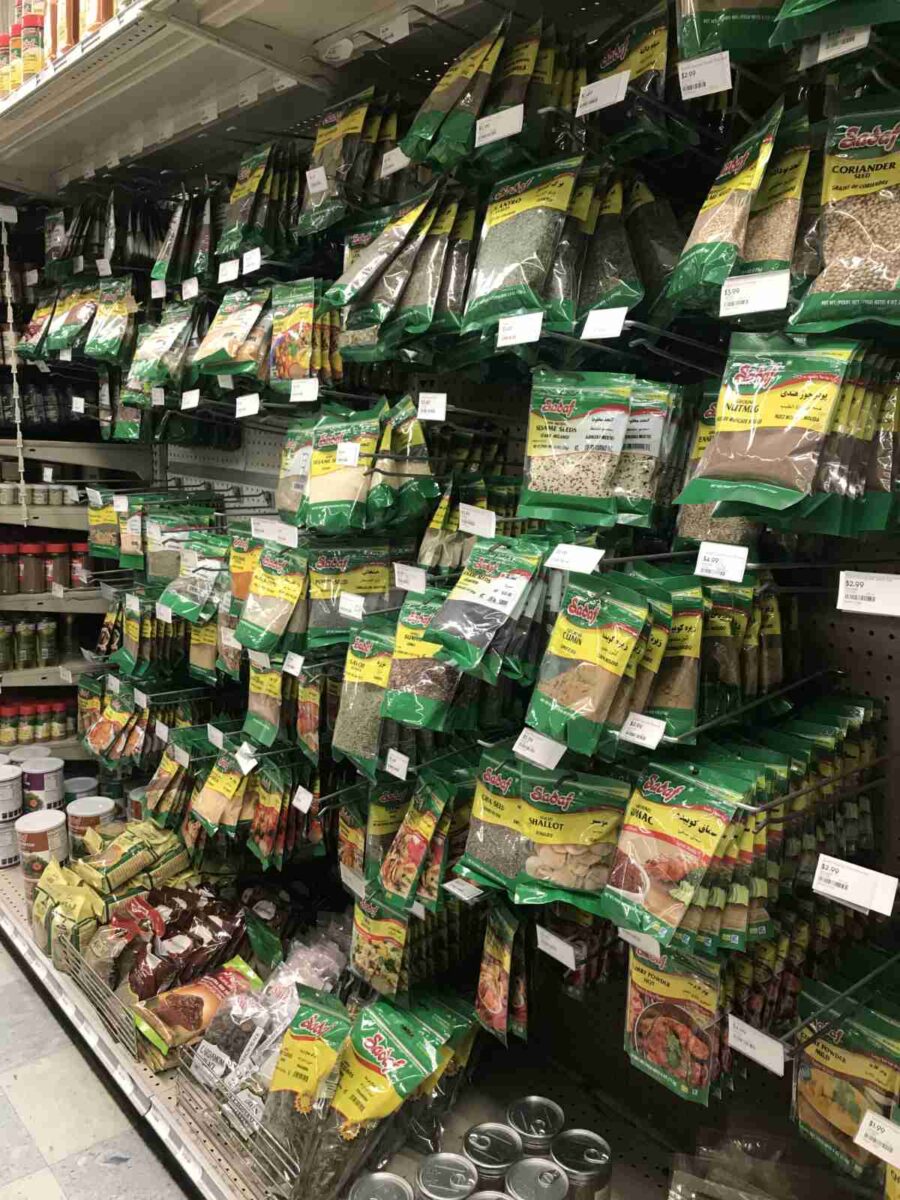 Tea
To brew traditional Persian tea, you need to brew loose leaf black tea with cardamom pods in a double boiler. The black tea is usually a loose leaf Ceylon, but Assam or Darjeeling work well, too.
The key is to get a loose leaf tea with large leaves, not crumbled ones. This is a sign of a higher quality tea.
I also buy borage, which is a blue star-shaped herb, to make gol gav zaban, a soothing herbal tea made by steeping borage in hot water. It's really good with nabat and a squeeze of lemon.
What to Buy
Sadaf Special Tea Bags with Cardamom Flavor
Ceylon, Assam, or Darjeeling Loose Leaf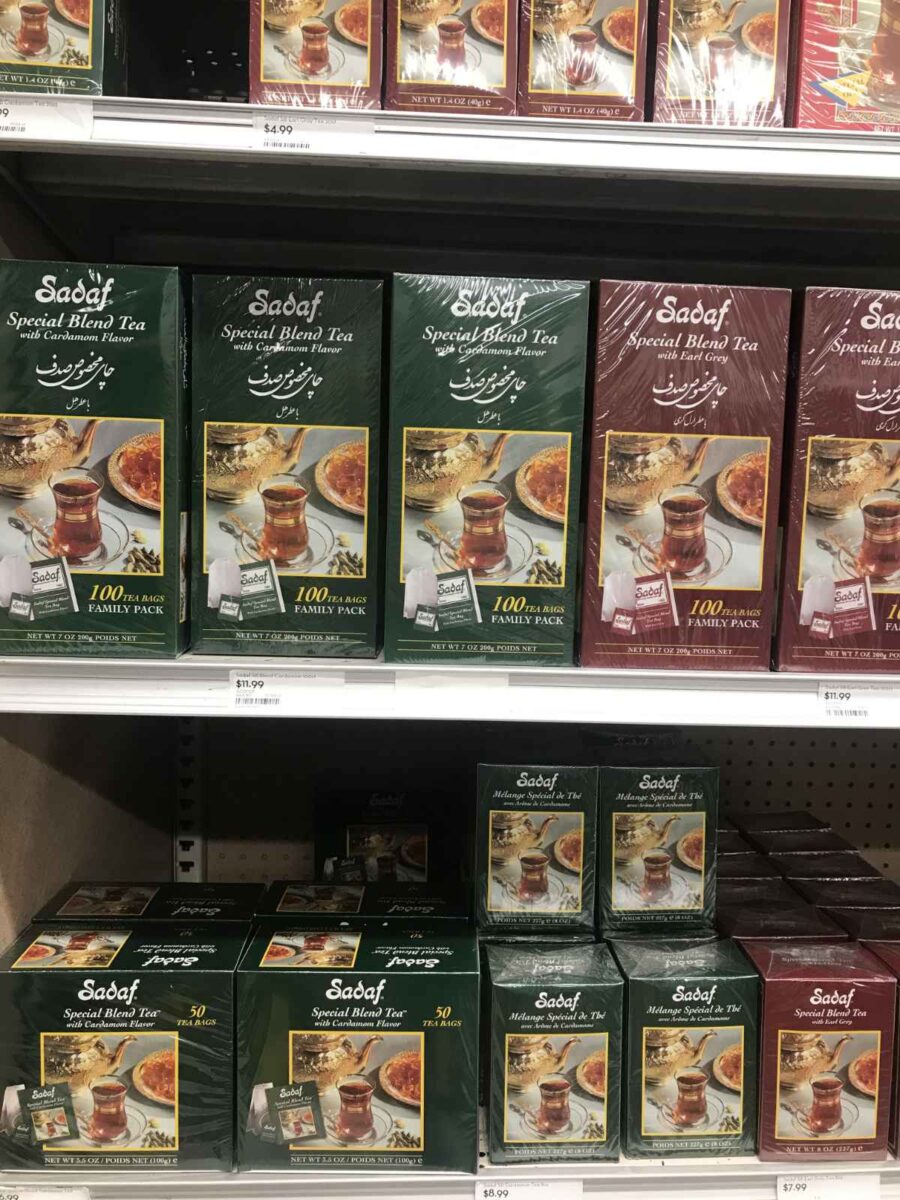 Other Pantry Items That I Keep On Hand
These don't need to be from a specific brand or have any special instructions, they're just items it's helpful to have easily accessible when you're cooking.
Canned dolmeh
Chickpeas and dried chickpeas
Dates
Dried chickpeas
Green lentils
Dried sour cherries
Kidney beans
Mulberries
Quince syrup or sharbat
Spicy cucumber pickles
Tomato sauce and tomato paste
Become a Persian Recipe Expert!
If you're keen to delve deeper into Persian cooking, sign up for my 6-part email series, a Beginners Guide to Persian Cooking!