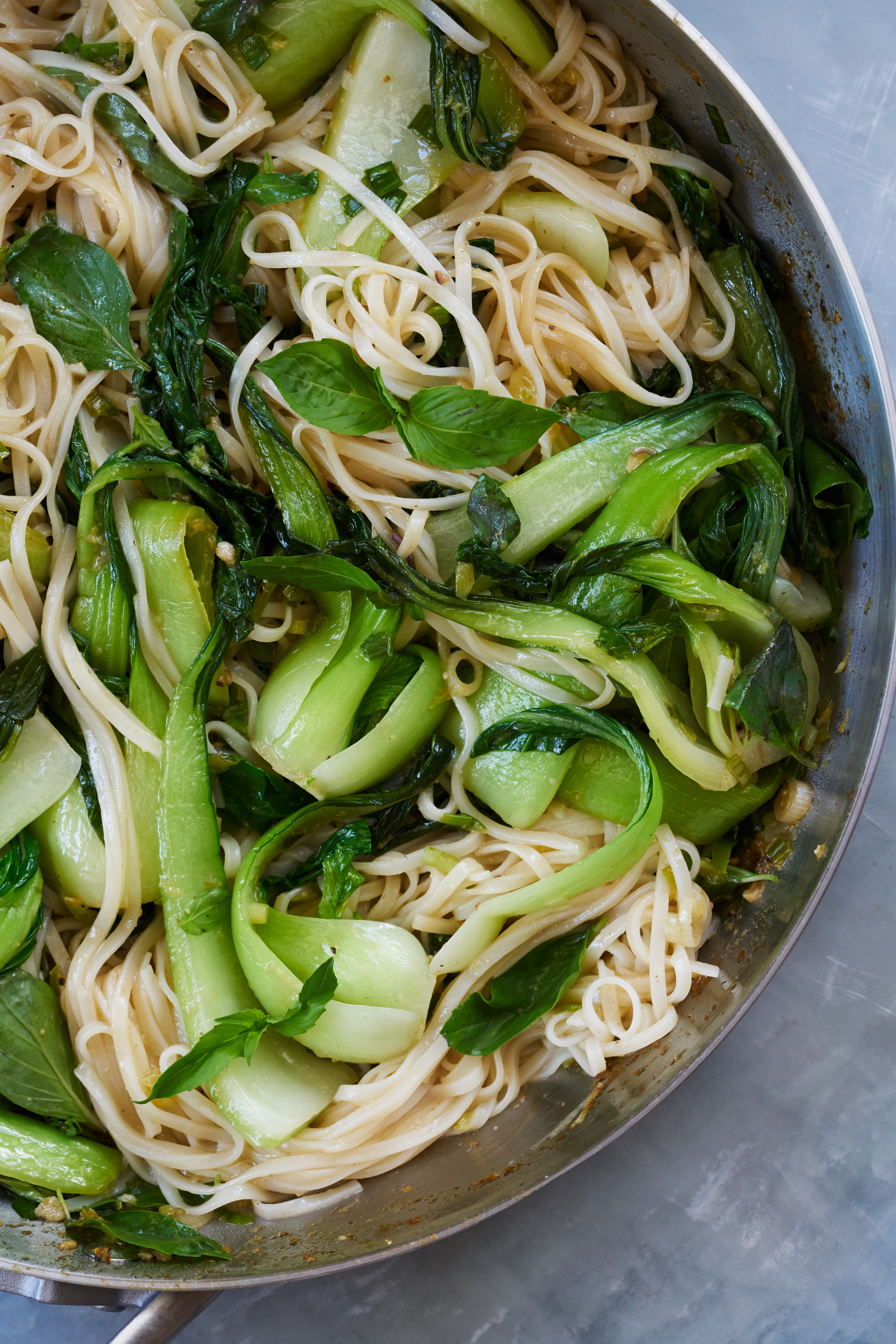 Bok Choy Noodle Stir Fry & Holy Basil- It's sweet, spicy, savory, and DELICIOUS. The cherry on top? It's ready in less than 30 minutes. And see below for the vegan oyster sauce recipe I use!
We spent 3 months in Thailand and I miss it regularly. Lucky for me, I brought back a ton of food wisdom and even took a cooking class while I was there. Though this one is far from a classic Thai dish, it brings back all the wonderful memories and hopefully takes you on a mini-vacation with each bite. Don't let the size of the Thai chilis fool you – they are packed with wonderful spiciness, so if you're sensitive to spice, I recommend only using 3-5.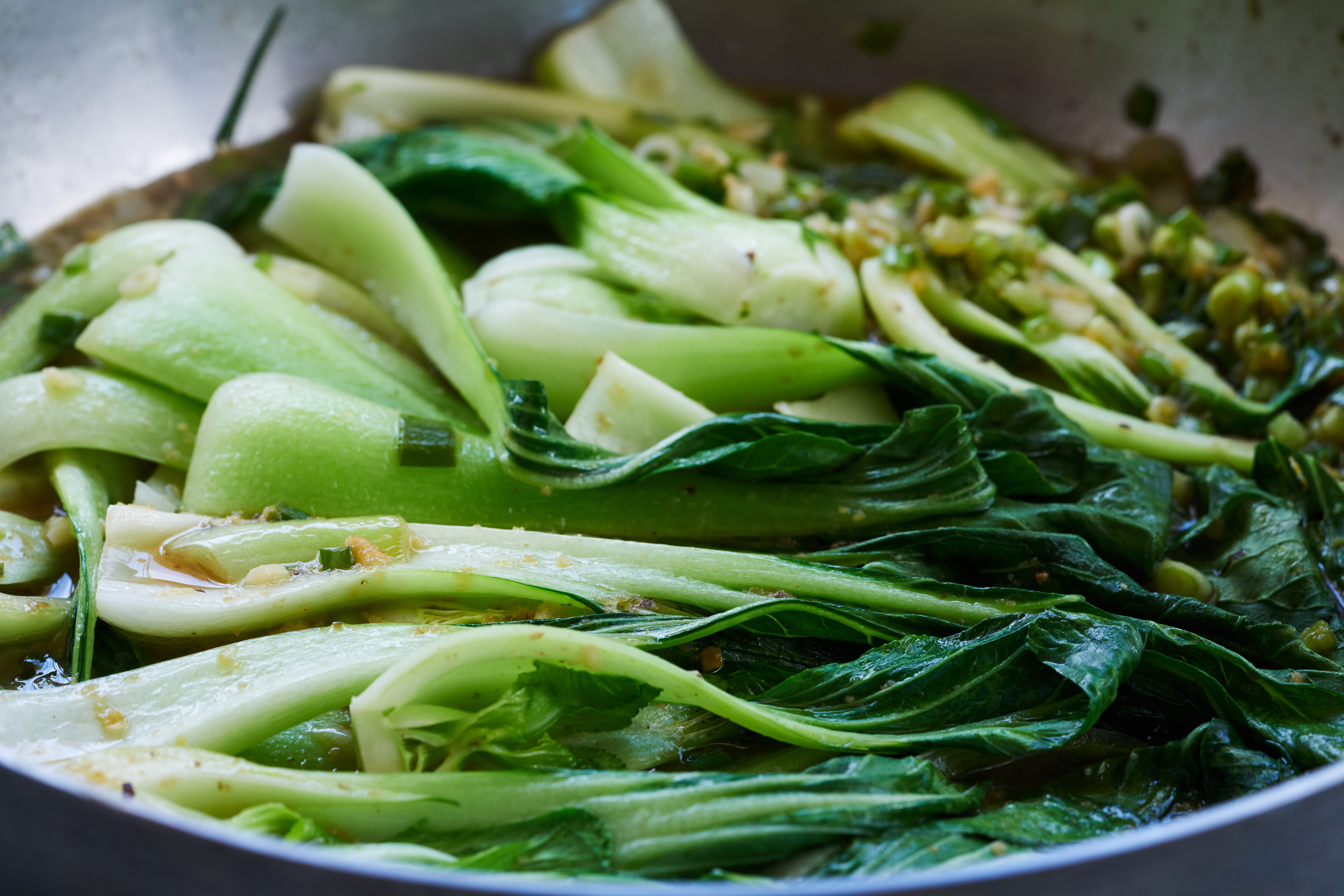 Bok Choy Noodle Stir Fry w/Holy Basil
Thai noodles with bok choy and holy basil – It's sweet, spicy, savory, and DELICIOUS. The cherry on top? It's ready in less than 30 minutes.
Ingredients
5

cloves

garlic

thinly sliced

5-7

Thai chilis

smashed and thinly sliced

1

bunch

scallions

thinly sliced

1

lb.

baby bok choy

quartered lengthwise

2

tbsp

fresh ginger

minced or grated

1/4

cup

flavorless oil

2

tsp

honey

2

tbsp

vegan oyster sauce

(made with shitake mushrooms)

1 1/2

tbsp

fish sauce

1 1/2

tbsp

soy sauce

1/4

cup

water

8-10

oz.

pad thai noodles

4

oz.

holy basil

stemmed
Instructions
Heat your water to cook the noodles.

Heat your oil over medium-low heat in a large fry pan or wok. Add your garlic and Thai chilis and cook until fragrant.

Add the scallions, ginger, and bok choy. Stir well. Cover to steam for 2 minutes.

Raise the heat to medium. Add the water, fish sauce, oyster sauce, and honey. Stir well. Cook 2-3 minutes until the bok choy greens get bright, then turn off the heat.

Cook your noodles per the package. Should take 3-5 minutes.

Strain the noodles and add them to your stir fry. Add the basil leaves. Mix well, and serve!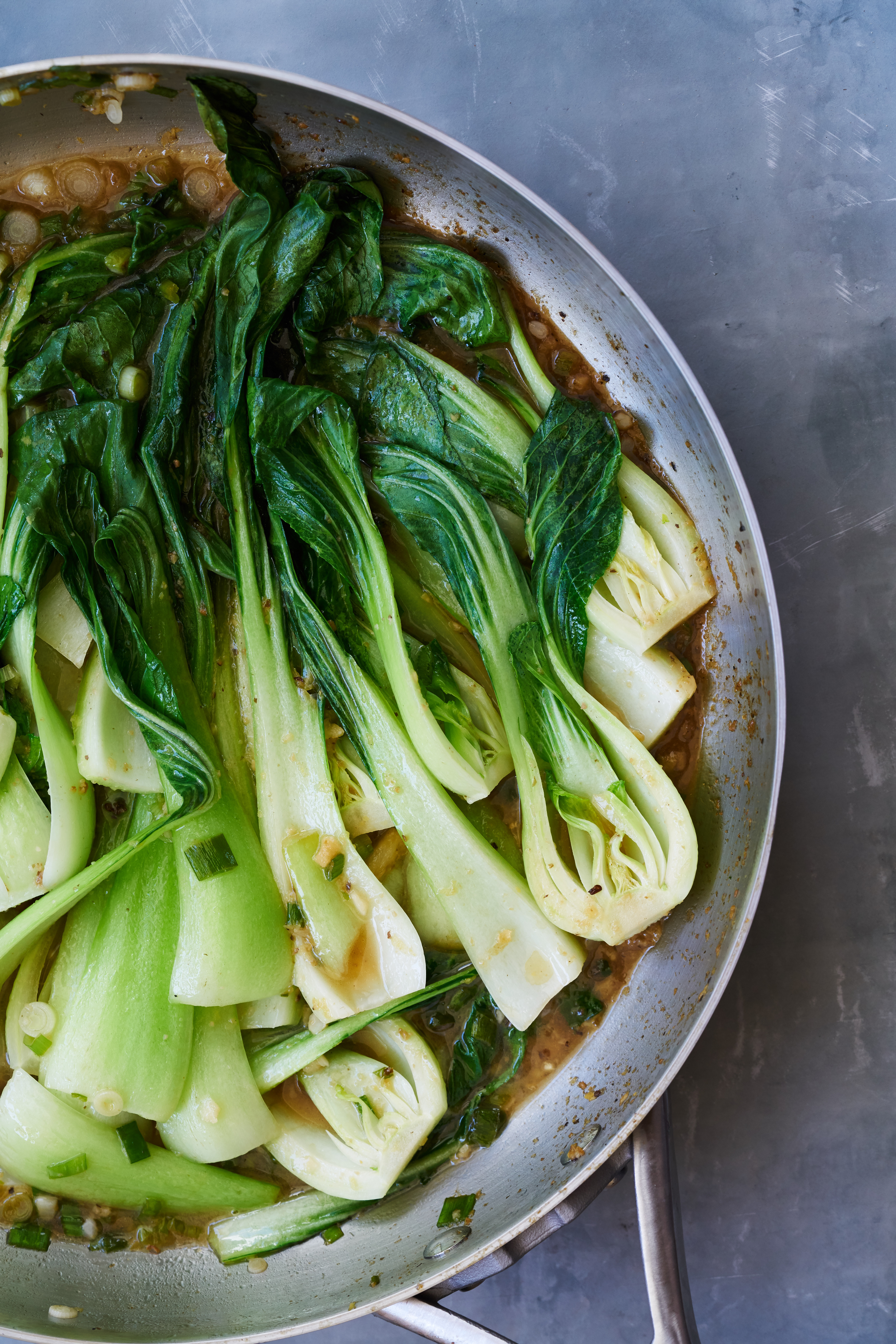 Interested in adding more protein? You can add some tofu between steps 2 & 3 – make sure you sear it on on all sides. And if you're interested in chicken, beef, or anything else, you can add it then, too. Just make sure it's cooked before step 3.
If you're in the market for a vegan oyster sauce, this recipe by Omnivore's Cook is the one I use.
Can't get enough Thai noodles? Try my recipe for Tofu Pad Thai.
And this AWESOME sized pan shown in the photos is from Calphalon…click here to shop. You can use a wok if you have one, but a large fry pan works just fine.