Souper Cubes are silicone trays used for freezing food in precise amounts. After using Souper Cubes for well over 4 years, I'm sharing why I think they're superior for freezing food. I'm also sharing the only downside I've found.
Looking for more recommendations? Check out the 9 Useful Kitchen Tools I Use All Year Round. You'll even see these Souper Cubes mentioned there, too.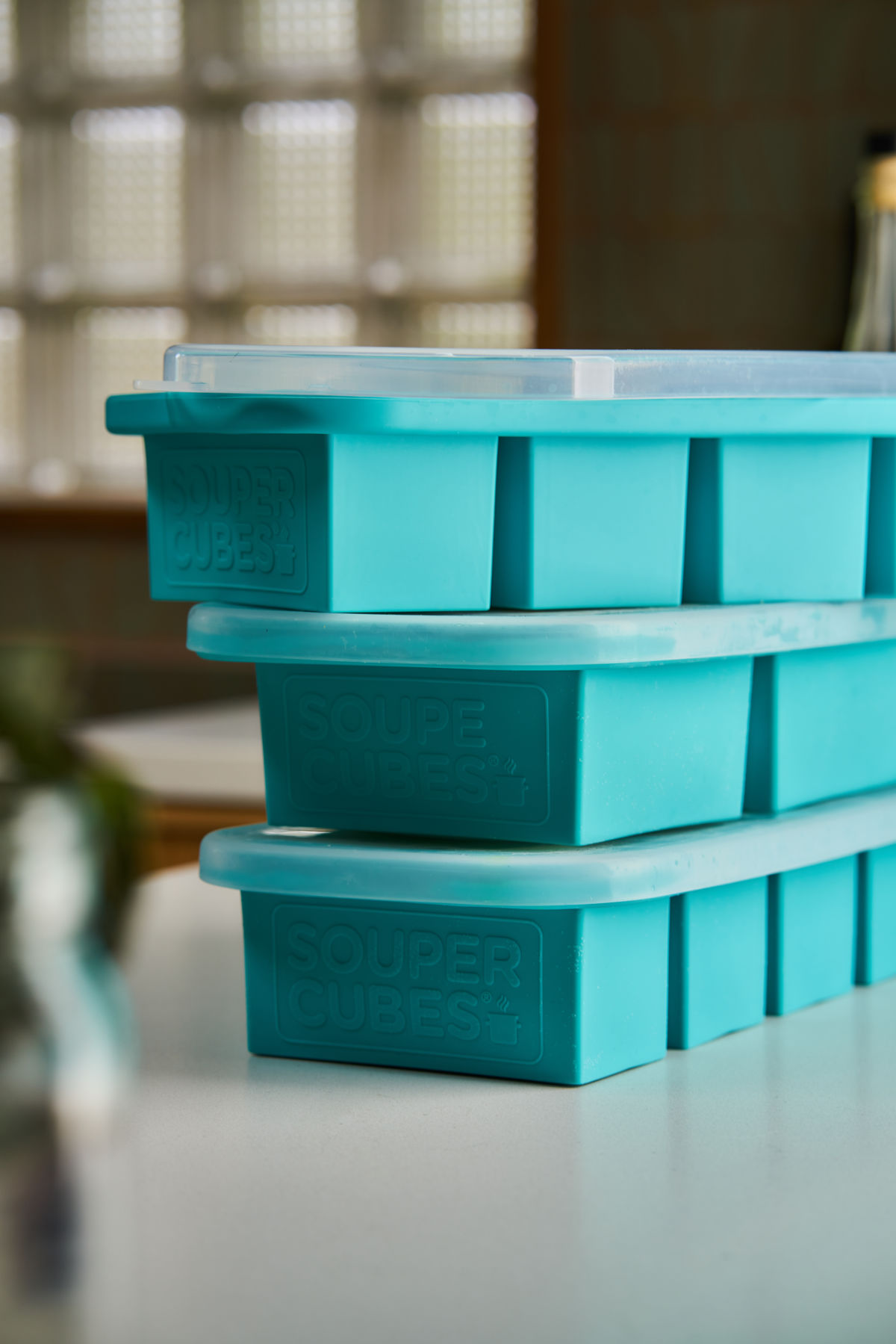 This post is not sponsored by Souper Cubes or anyone else. However, it does contain affiliate links where I might receive a commission if you make a purchase, at no additional cost to you. Thanks for your support!
Price for 2-pack: $36.99
4 Reasons I Love Using Souper Cubes
Thick and high-quality lids
First of all, it HAS a lid which is fantastic. Many ice cube trays and food freezer trays don't come with a lid. This isn't ideal because then your food can get freezer burn without a proper seal.
Some lids don't fit well or make a tight seal, but the Souper Cube lids fit perfectly and seal firmly.
Food removal is really easy
I use freezer trays to freeze portions of food or portions of ingredients. So I sometimes want to defrost one without having to defrost all of them.
The silicone pockets of Souper Cubes make it extremely easy to pop out individual servings of food without having to defrost the whole tray.
Come in a wide variety of sizes
The 1-cup and 2-cup trays really pull their weight in my kitchen. Make sure you purchase the right ones for your personal uses.
When I freeze individual ingredients like stock or fruit pulp and I need them in different serving sizes so that I don't have a nightmare trying to defrost one large block.
Also, I love that each Souper Cube tray section has fill lines to help you freeze the right portion.
Silicone is thick, durable, and lined with metal
I have used silicone freezer products in the past, but it is noticeable how much thicker and better quality Souper Cubes silicone is. My Souper Cubes have lasted beautifully over the past four years with almost no wear and tear.
The structure of the silicone base is lined with a rim of metal, providing a structure that is more than helpful when using them. No accidental spillage here!
According to the Souper Cubes product description, they use FDA food-grade silicone, and the trays and lids are BPA-free.
How to use Souper Cubes
You fill them up with your food of choice to the line indicated on the inside of the silicone well. This line tells you went to stop filling as you need room for the tray top to fit. Snap on the tray top and place the tray in your freezer.
When it's time to defrost your food, pop out the frozen blocks of food and reheat using your chosen method like the microwave over the stovetop. I wouldn't recommend reheating your food while it's still in the trays.
However, you can bake in them!
Always give your Souper Cubes a thorough wash between uses.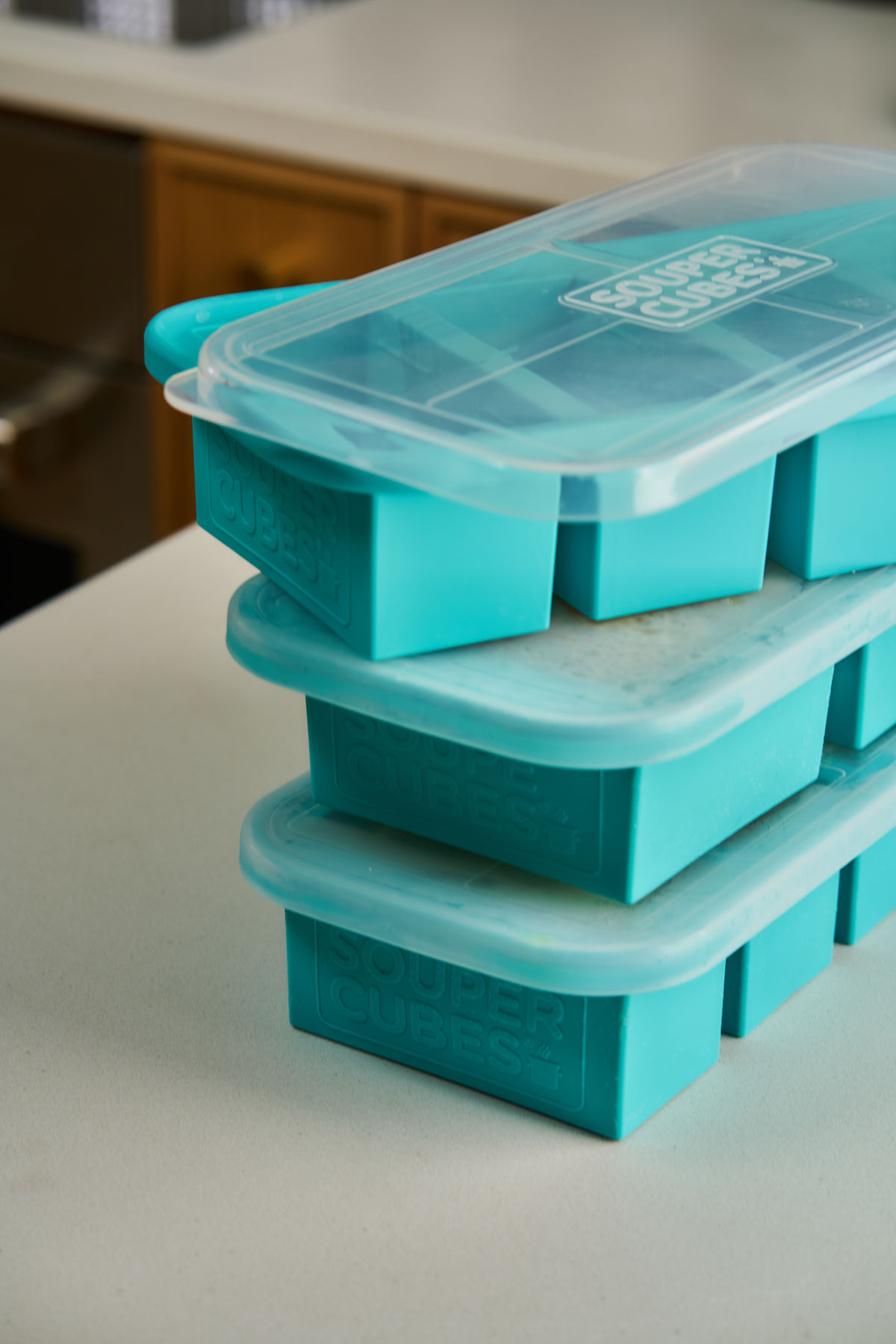 Pictured above: bottom 1-cup cubes are filled with some adasi, a Persian lentil soup. The middle 2-cup tray above has one cube filled with pumpkin puree and the other with persimmon puree. I use these to make pumpkin pie and persimmon bread.
Souper Cubes con
I usually do a full pros and cons list for product reviews like this, but the only con I can think of is the high price point.
As a workaround, I recommend purchasing only one tray. As soon as your food freezes, you can transfer the frozen cubes to another container or even a freezer bag, and your Souper Cubes are ready to use again!
The Final Verdict
Souper Cubes are on the expensive side compared to similar products. However, you are paying for quality, durability, and longevity in this product. As someone who has used them regularly for the past 4+ years, I think they are a worthwhile investment. Despite regular use, they don't even show signs of wear.
Price for 2-pack: $36.99
Great freezable recipes
You'll usually find these in my freezer.
More reviews & more
When I find a product I like, I want to let you know about it. Similarly, if there's something I had a bad experience with, I'll be the first to let you know. Here are some other reviews and products you might want to know about or avoid. Or check out all the lifestyle and review content here.