Every year Jewish households celebrate Passover with their families. Passover is a tradition rooted in history; it's a celebration to commemorate the exodus of the Israelites from Egypt.
Jewish cuisine varies depending on where your family is from during Passover and all year round.
Passover is marked by a change in diet – those observing will keep kosher for Passover and avoid certain foods. Read on to find out which ones!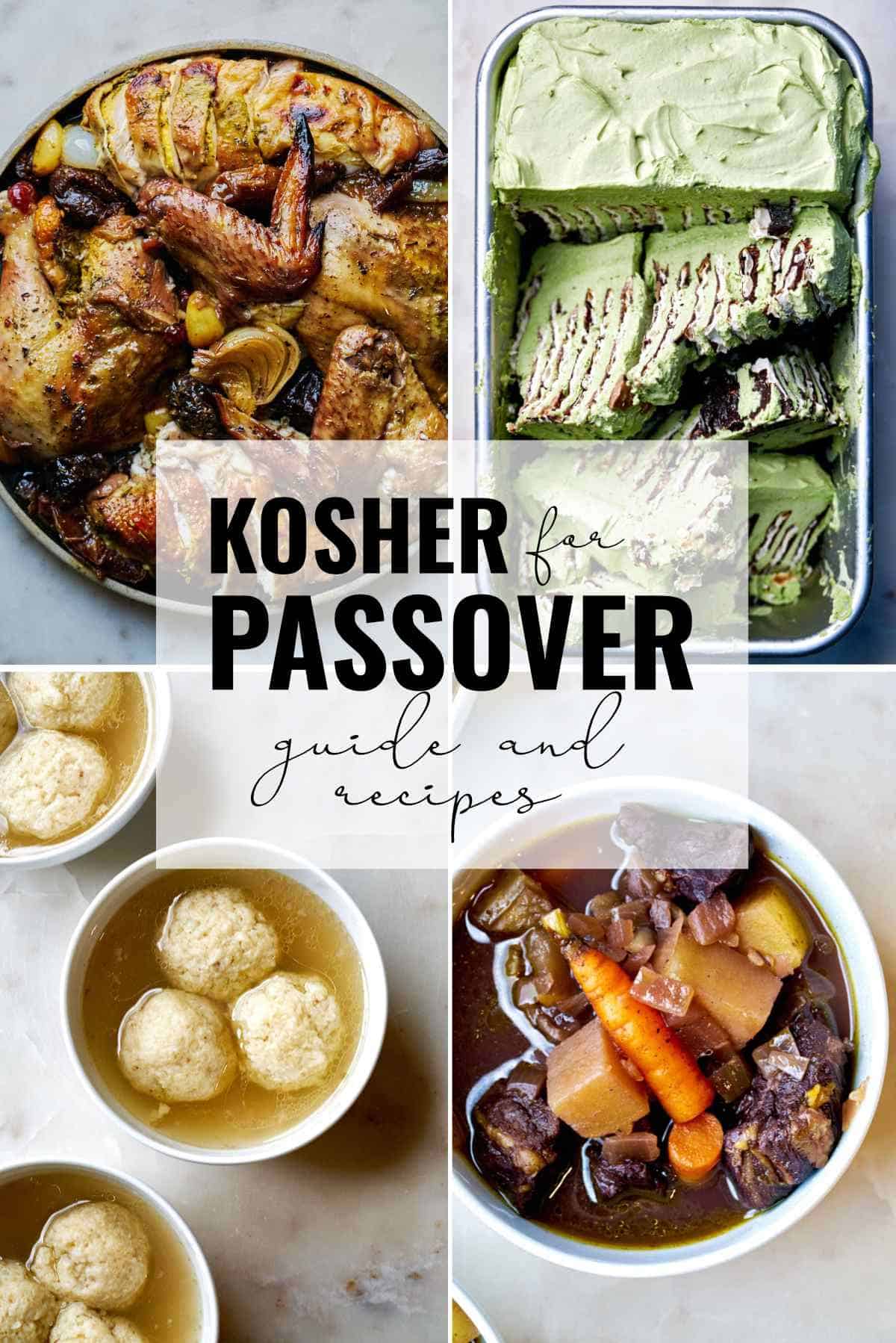 Which Foods Are Kosher for Passover?
There are many foods that you can't eat if you're observing Passover. The following list compiles the foods that are kosher for Passover and good to have on your menu.
All fruits
Most vegetables (except the following: corn, millet, lentils, beans, peanuts, soy beans, mustard, cumin, fennel seeds, sesame seeds, poppy seeds)
Fermented vegetables
Matzos
Beef, turkey, chicken, fish with scales, duck, or goose
Dairy (as long as it is not combined with meat)
Eggs
Herbs and spices
Unflavored teas and unflavored coffee
Nuts and nut butters (except peanut and soy butters)
Quinoa, almond, coconut, and quinoa flours
Processed foods marked kosher-for-Passover
One special thing I make for myself during Passover is sweetened condensed coconut milk. I use it to make my homemade coconut macaroons, and also to sweeten my tea as a special treat.
It's important to note that there are additional foods that are Kosher for Passover depending on whether your family is Ashkenazi or Sephardic. I myself and half Ashkenazi and half Sephardic, which has given me the unique opportunity to experience and practice both traditions.
In addition to this list, if you're Sephardic, you can eat the foods classed as Kitniyot, as follows*:
Beans
Buckwheat
Caraway
Cardamom
Corn
Edamame
Fennel Seeds
Fenugreek
Flaxseed (Linseed)
Green Beans
Hemp Seeds
Lentils
Millet
Mustard
Peas
Poppy Seeds
Rapeseed
Rice
Sesame Seeds
Soybeans
Sunflower Seeds
Teff
*List sourced from oukosher.org
What Are Examples of Leavened Foods?
For Passover, chametz (foods that incorporate wheat, oats, barley, rye, and spelt) are not allowed. Leavened foods are also not allowed. Leavened foods are those that have used a leavening agent to make them rise, like baking powder, baking soda, and yeast. Leavened foods that can't be consumed over Passover include:
Bread, cakes, and baked goods
Beer and grain alcohol
Any foods containing baking powder, baking soda, and yeast
Grains including wheat, barley, spelt, oats, and rye
Which Beverages are Kosher for Passover?
During Passover, grain alcohols are not allowed, but there are still many alcoholic beverages available to you. Following are alcohols that are kosher for Passover:
Wine with the kosher certification
Whiskey, as long as it's not derived from a chametz ingredient
Vodka, as long as it's not derived from a chametz ingredient
Prosecco and sparkling wine with the kosher certification
Gin
Rum
Tequila, and other agave-derived spirits
Brandy, distilled from kosher wine
Unflavored seltzer and sparkling water are good, even without any Kosher certification
Kosher for Passover recipes
It can feel really hard to keep kosher for Passover, especially because most people are used to eating out, ordering takeout, or eating prepared food for their weekly meals.
If you cook for yourself, it can be easier to do because a lot of whole foods are allowed and can be turned into delicious meals. Here's some menu inspiration with recipes that I make every year for Passover.
Passover Sweets and Desserts
Brisket Recipes
Chicken for Passover
Kosher Snacks
Kosher Appetizers
Kosher Meat and Salmon Dishes
Passover Vegetables and Sides
Prepared kosher items for Passover
If you want to stock up on some prepared items and snacks, here are some that I usually buy during Passover. Always make sure to check for the Kosher for Passover certification.
Matzo
Cream Cheese
Cheese and Deli meats
Pizza Sauce
Chocolate Hazelnut Spread
Apple Cider Vinegar
Chocolate Chips
Wine
Pickles and other Fermented Foods
I hope this guide helps you create some fun and delicious dishes for Passover. Although Passover will look a bit different this year, it remains a holiday to spend quality time with family and remember our history. Chag Pesach sameach!
Explore More Jewish Recipes!
I create Jewish recipes for all holidays and occasions and share them on this blog. You'll love these throughout the year!
This post was originally published in March of 2021 but was republished with additional recipe ideas in March of 2023.