Every year, in March or April time, Jewish households celebrate Passover with their families. Passover is a tradition rooted in history; it's a celebration to commemorate the exodus of the Israelites from Egypt. Passover is marked by a change in diet – those observing will keep kosher for Passover and avoid certain foods.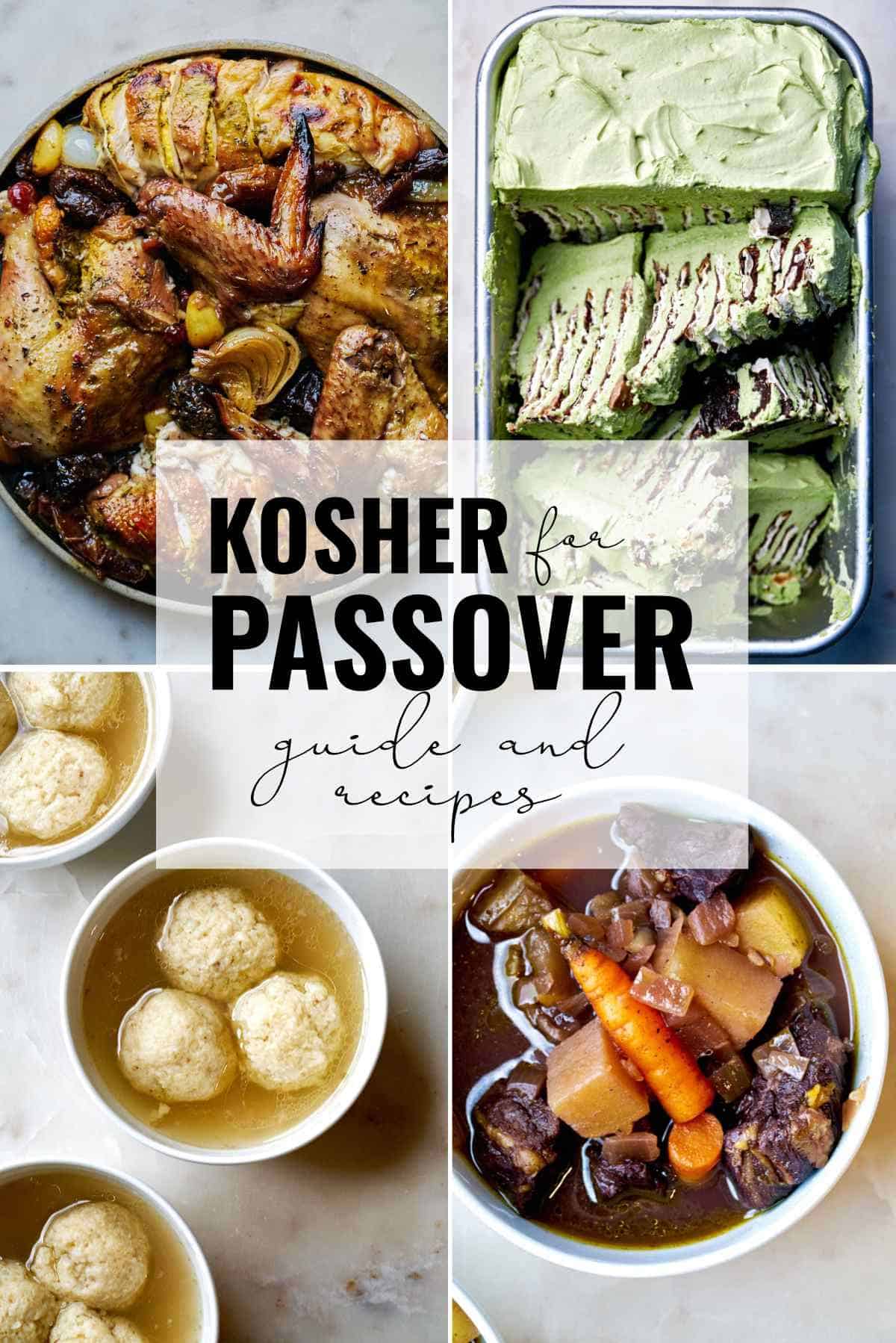 Which Foods Are Kosher for Passover?
There are many foods that you can't eat if you're observing Passover. This list will help you with some foods that are kosher for Passover and good to have on your menu.
All fruits
Most vegetables (except the following: corn, millet, lentils, beans, peanuts, soy beans, mustard, cumin, fennel seeds, sesame seeds, poppy seeds)
Fermented vegetables
Matzos
Beef, turkey, chicken, fish with scales, duck, or goose
Dairy (as long as it is not combined with meat)
Eggs
Herbs and spices
Unflavored teas and unflavored coffee
Nuts and nut butters (except peanut and soy butters)
Quinoa, almond, coconut, and quinoa flours
Processed foods marked kosher-for-Passover
It's important to note that there are additional foods that are Kosher for Passover depending on whether your family is Ashkenazi or Sepharadic. I myself and half Ashkenazi and half Sepharadic, which has given me the unique opportunity to experience and practice both traditions.
In addition to this list, if you're Sephardic, you can eat the foods classed as Kitniyot, as follows*:
Beans
Buckwheat
Caraway
Cardamom
Corn
Edamame
Fennel Seeds
Fenugreek
Flaxseed (Linseed)
Green Beans
Hemp Seeds
Lentils
Millet
Mustard
Peas
Poppy Seeds
Rapeseed
Rice
Sesame Seeds
Soybeans
Sunflower Seeds
Teff
*List sourced from oukosher.org
What Are Examples of Leavened Foods?
For Passover, chametz (foods that incorporate wheat, oats, barley, rye, and spelt) are not allowed. Leavened foods are also not allowed. Leavened foods are those that have used a leavening agent to make them, like baking powder, baking soda, and yeast. The agent makes the dough rise before cooking to make a fluffy product. Leavened foods that can't be consumed over Passover include:
Bread, cakes and baked goods
Beer and grain alcohol
Any foods containing baking powder, baking soda, and yeast
Grains including wheat, barley, spelt, oats and rye
Which Beverages are Kosher for Passover?
During passover, grain alcohols are not allowed, but there's still many alcoholic beverages available to you. You'll need a bit of know-how to navigate alcohol that's kosher for Passover:
Wine with the kosher certification
Whiskey, as long as it's not derived from a chametz ingredient
Vodka, as long as it's not derived from a chametz ingredient
Prosecco and sparkling wine with the kosher certification
Gin
Rum
Tequila, and other agave-derived spirits
Brandy, distilled from kosher wine
Unflavored seltzer and sparkling water are good, even without any Kosher certification
What Are Some Kosher Recipes for Passover?
It can feel really hard to keep kosher for Passover, especially because most people are used to eating out, ordering takeout, or eating prepared food as part of their weekly meals.
If you cook for yourself, it can be easier to do because a lot of whole foods are allowed and can be turned into delicious meals. To help you out, I'm offering some menu inspiration with recipes that I find myself making every year for Passover.
Snacks
Matzo Pizza
This is a classic 4-ingredient matzo pizza with rich pizza sauce, mozzarella, and basil. It satisfies all the cravings that I'm having for those foods we don't eat this week!
Persian Tea Eggs
Persian tea eggs are a Sephardic Jewish tradition I grew up with. Memories of these slow-simmered Persian tea eggs from childhood bring such joy! These eggs are incredibly easy-to-peel and the flavor & color infuse beautifully.
Charoset
Keeps well in the refrigerator for easy snacking all week long!
Nut Butter Cups
If you make these with almond butter instead of peanut butter, they are kosher for Passover!
Appetizers
Matzo Ball Soup
Matzo ball soup is a Jewish classic, usually enjoyed during Passover. It takes only 5 ingredients and is much easier to make than you think.
Lamb Stuffed Piquillo Peppers
Easy and delicious piquillo peppers stuffed with delicious spiced ground lamb and roasted to perfection.
Mains
Kotlet
Kotlet are delicious meat patties, the Persian version of meat cutlets. My grandmother's recipe, this version has a good amount of cumin, and I absolutely love it!
Citrus Thyme Salmon
A tasty, easy meal for Passover. This Citrus Thyme Salmon uses barely any additional ingredients in order to highlight the wonderful, natural flavor of the salmon.
Beef Stew with Red Wine
This red wine beef stew uses an entire bottle of red wine, and that magical ingredient both tenderizes the meat and flavors the stew. It tastes incredible!
Whole Roasted Chicken with Dried Fruit and Red Wine
You can't go wrong with this one - it's the most incredibly juicy and tasty roasted chicken. You just place all the ingredients in a pot, marinate the chicken overnight to infuse the flavors, and then this dish is ready with ease.
Desserts
Matzo Icebox Cake
This icebox cake has an (optional) matcha twist! It's easy to make with delicious sweet layers of chocolate-covered matzo and whipped cream, and frozen to make a wonderful treat you'll want to enjoy all year long.
Matcha Mousse
A 4-ingredient, light, and sumptuous matcha whipped mousse. It's a tasty, fluffy alternative to ice cream that takes almost no time to make.
Strawberry Matcha Semifreddo
One of my favorites - a smooth and decadent Strawberry Matcha Semifreddo that you can make without an ice cream maker. You can't go wrong with fresh strawberries, matcha powder, eggs, sugar, vanilla extract, and heavy cream.
Plant-Based Passover Dish Ideas
Roasted Kabocha Squash
Simple, easy roasted squash that tastes incredible, All you need is salt, pepper, and oil to roast this squash to perfection.
Blistered Shishito Peppers
These blistered shishito peppers are the perfect salty bite to satisfy all your junk food cravings, It's a healthy, plant-based snack, complete with a subtle, salty crunch!
Eggplant Involtini
This dish is full of great flavor and can work with both fresh tomatoes and canned, whatever you have handy. It's also a fun dish to make with kids, they'll do a great job rolling the eggplants up!
Grapefruit Fennel Salad with Cactus Pear Vinaigrette
This salad is so good, and the vinaigrette is just incredible: the cactus pear juice has an amazing sweet-tart berry taste, often compared to strawberry or raspberry in flavor. It's a flavor explosion that you won't expect!
Prepared Items for Passover
If you want to stock up on some prepared items and snacks, here are some that I usually buy during Passover. Always make sure to check for the Kosher for Passover certification.
Matzo
Cream Cheese
Cheese and Deli meats
Pizza Sauce
Chocolate Hazelnut Spread
Apple Cider Vinegar
Chocolate Chips
Wine
Pickles and other Fermented Foods
I hope this guide helps you create some fun and delicious dishes for Passover. Although Passover will look a bit different this year, it remains a holiday to spend quality time with family and remember our history. Chag Pesach sameach!
Read More