If you've never cooked with purslane, I want you to have the chance to try his unique leafy green popularized last year on Netflix's Chef's Table Pizza by an amazing Portland restaurant called Lovely's 50/50, where they use it as a pizza topping.
Purslane is so versatile both in its raw and cooked form – I'm showing you the must-make top 3 purslane recipes along with tips for foraging and growing them in your garden.
The local Portland farmers' markets have been abundant with purslane this summer, so even if you aren't a forager, you may be able to find this special green.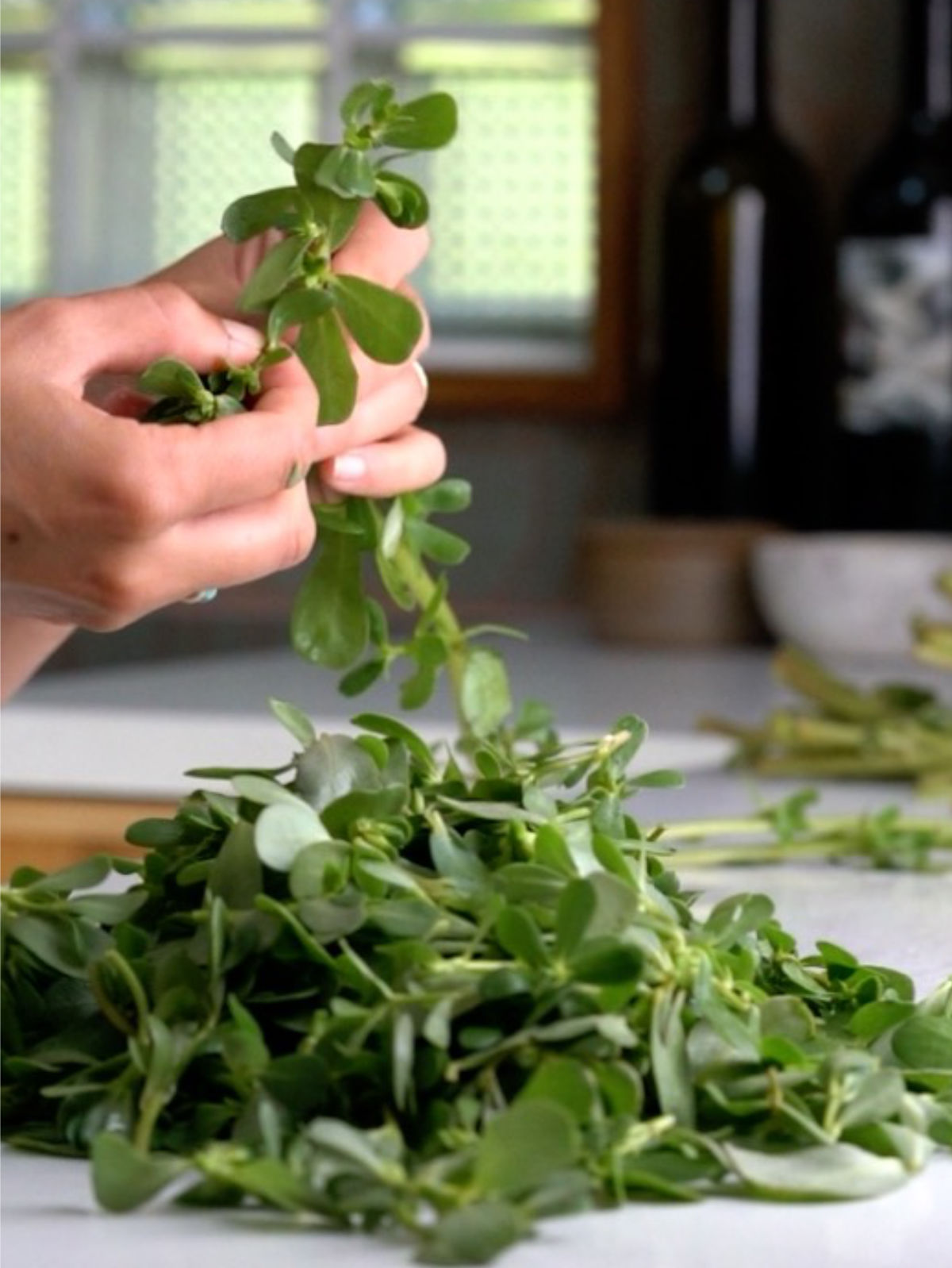 Jump to:
🌟Why you'll love these Purslane recipes
✅ Tips for foraging wild purslane
WHERE to look for purslane: Look for it in gardens, fields, parks, and even cracks in sidewalks! Avoid picking it in areas that are likely to be contaminated with pesticides. Remember, always ask for permission before picking purslane from someone's private property.
WHEN to look for purslane: Purslane pops up in late spring, summer, and early fall. The best time to forage is when the plant is actively growing and the leaves are still tender. Browse all the summer recipes here.
HOW to pick purslane: Gently pull or cut the stems close to the base of the plant with your fingers or a pair of scissors/shears. I recommend going for the young, tender leaves as they are more tasty. The older leaves can be tough and have a slightly sour taste.
🪴 Safety precautions for wild purslane
Make 100% sure it's purslane and not a toxic look-alike: Purslane has leaves that are spoon-shaped and clustered around reddish stems. The leaves are smooth and can be shiny. Plants like spurge, which is poisonous, can be easily mistaken for purslane. If you're uncertain about whether a plant is purslane it's best to be safe and not eat it.
Clean the purslane thoroughly: Once you've picked the purslane, give it a thorough wash with cold water to remove any dirt, insects, or debris.
🏡 Tips for growing wild purslane in your garden
I also now grow purslane in my garden and have some advice for fellow at-home growers:
Stop purslane taking over: Purslane is an aggressive weed that can grow under any conditions, so you need to tend to it to avoid mass spreading. If you don't want the plant to take over your garden, you need to pull it from the root before flowers are showing or pluck the flowers as soon as they start to appear.
Start seeds indoors: If you want to prolong your growing season, you can start your purslane seeds in egg cartons or milk cartons with soil.
Propagate cuttings: Get your purslane garden flourishing even faster by clipping 6-inch cuttings and placing them in water. They will root in less than a week.
🌿Top 3 Purslane Recipes
1.
Purslane Pesto
Fresh purslane tastes great in this easy homemade pesto recipe. It's ready in only 15 minutes!
Make Your Purslane Pesto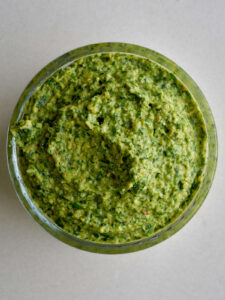 Psst, try a delicious classic garlic basil pesto recipe, too.
2.
Sauteed Purslane
Indulge in the ultimate side dish: sautéed purslane with garlic. This flavorful green may just steal the spotlight. And it only takes 10 minutes to make!
Delight Your Guests with Sauteed Purslane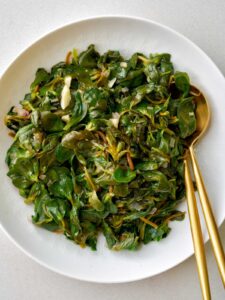 3.
Purslane Soup
This nutritious purslane soup recipe has the fresh flavors of purslane, diced potatoes, and onions, all simmered together in a tasty broth and pureed. Perfect for colder weather!
Warm Yourself Up with Purslane Soup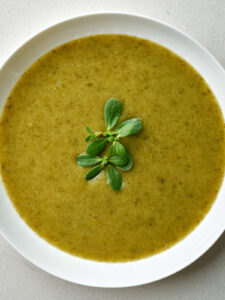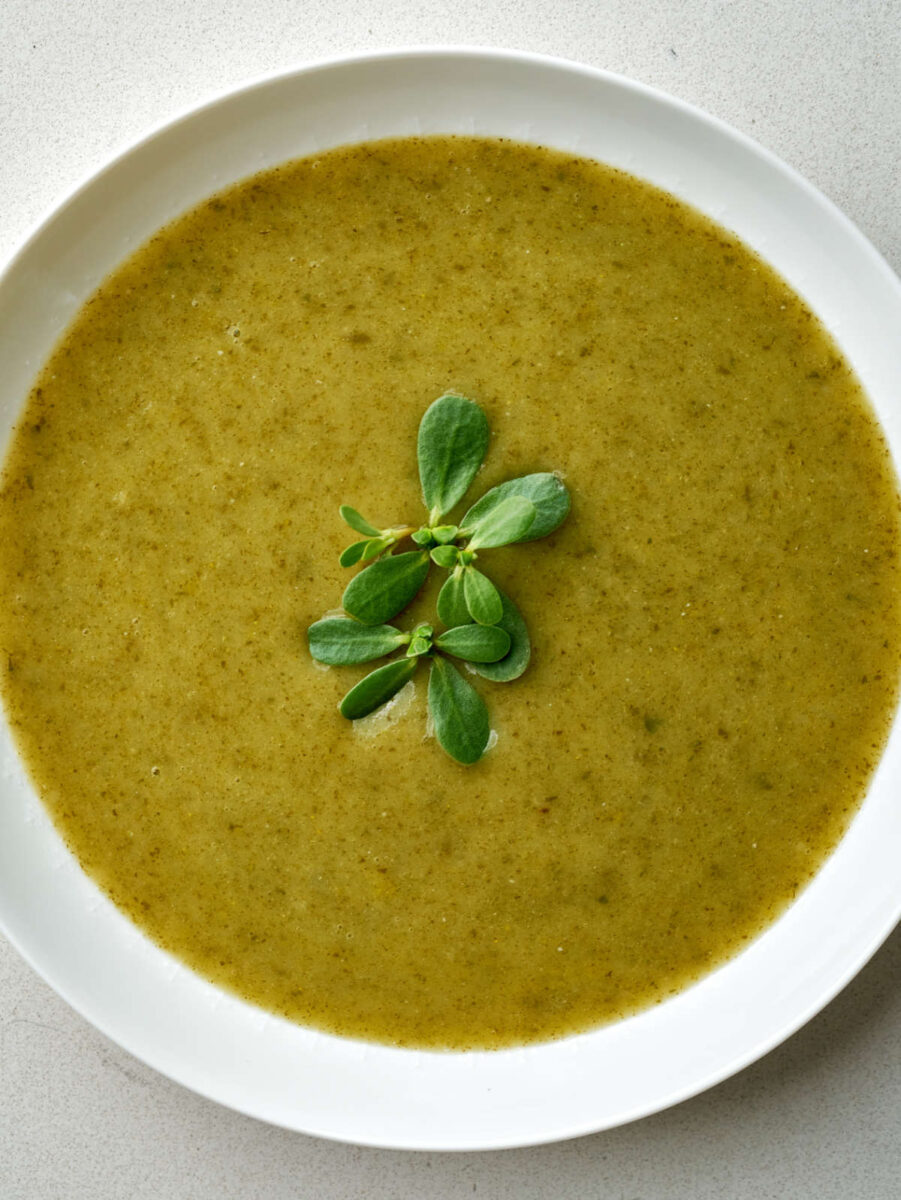 🌱 Purslane FAQs
What does purslane taste like?
I would compare purslane to a mild spinach or a slightly tangy watercress. It has a lovely citrusy-lemony subtly flavor with a bit of tartness. It's a succulent, and when raw, it definitely tastes how you'd imagine a succulent to taste.
Can I eat purslane every day?
It's best to eat purslane in moderation. A small amount every day wouldn't be bad for you, but an excessive amount every day could cause some problems.
Is purslane better raw or cooked?
Purslane is delicious and versatile both in its raw and cooked form. Choose whichever one you prefer!
Can I eat purslane from my yard?
You certainly can, just make sure to give it a thorough wash before consuming it.
🟩 More Recipe Inspiration
Enjoy more amazing and quick 30-minute meals!
I love hearing from you! You can also FOLLOW ME on INSTAGRAM, TIKTOK, and PINTEREST to see more delicious food and what I'm up to.