A meyer lemon curd recipe taken to an awesome level...as the filling inside the perfect meyer lemon scented sufganiyot. You can make the curd 1 week in advance which makes for VERY easy entertaining! Happy Chanukah!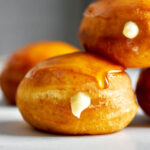 Print Recipe
Lemon Brûlée Sufganiyot
These incredible lemon-pastry-cream-filled sufganiyot can be made with either regular or Meyer lemons, and both versions are delicious. Plus, I'm giving you all the advice you need for perfectly fried sufganiyot. Happy Hannukah!
Ingredients
Lemon Pastry Cream
¼

cup

granulated sugar

2

tablespoon

arrowroot powder

or cornstarch

1

pinch

sea salt

3

egg yolks

1

cup

whole milk

or full fat coconut milk

2

teaspoons

lemon zest

1

tablespoon

butter

unsalted

1

tablespoon

lemon juice

meyer lemon or regular lemon
Sufganiyot
1 ¼

teaspoon

yeast

2

tablespoon

warm water

2.5

tablespoon

sugar

2

egg yolks

¼

cup

whole milk

or full fat coconut milk, lukewarm (100-105F)

¼

lemon zest

1

tablespoon

lemon juice

meyer lemon or regular lemon

½

teaspoon

salt

¼

teaspoon

vanilla extract

1.5-2

cups

flour

3

tablespoon

vegetable oil

or melted margarine/vegan butter

Vegetable oil

for deep-frying
Brûlée
1

cup

granulated sugar

or caster sugar

⅓

cup

water
Instructions
Sufganiyot Dough
Combine the yeast, 1.5 teaspoons sugar, and 2 tablespoons of warm water to the bowl of a stand mixer. Let it stand until the yeast foams, ~5 minutes. If it doesn't foam, start over.

Add 2 tablespoon of sugar, 2 egg yolks, coconut milk, lemon juice and zest, salt, vanilla extract, and 1 cup of flour into the yeast mixture. Mix on low with the dough hook for about 2 minutes until combined.

Add the vegetable oil slowly with the mixer running. Mix well. Gradually add UP TO 1 more cup of flour. Start with ½ a cup, you might not need it all. If too sticky, a tablespoon more of flour at a tiime. You want the dough to be soft, smooth, and pull away from the sides of the bowl. Knead the dough for 3 minues to make sure it isn't sticky. If it is, add a little more flour until it isn't.

Lightly oil a medium bowl. Place the dough in the oiled bowl and cover with a kitchen towel. Let it rise in a warm place until doubled in size, about 1-1.5 hours.
Lemon Pastry Cream
In a medium heat-safe bowl, mix the sugar, arrowroot powder, and salt. Then add the egg yolks and whisk together until it is pale yellow, which takes about a minute.

Add the milk and lemon zest to a small non-reactive saucepan over medium heat. Bring it just barely to a simmer before removing it from the heat.

Slowly add the milk to the bowl with the egg yolk mixture while whisking constantly. Then, transfer the whole mixture back into the saucepan. Whisk constantly until it begins to thicken, ~2 minutes. Then continue to whisk for another 2 minutes so it's gently bubbling for about a minute.

Turn off the heat and whisk in the butter until melted. Strain the entire mixture to remove any clumps from the arrowroot/cornstarch. Cover and refrigerate until cold, ~2 hours.
Sufganiyot
Flour your surface to roll out the dough. Roll it out to ¾ inch thick. Cut into 8 squares or use a 2.5-3-inch cookie cutter*. Transfer the 8-pieces to a parchment lined baking sheet, cover with a kitchen towel, and let rise for 45-50 minutes, until ALMOST doubled in size.

Heat 3-4 inches of vegetable oil to 360F. Fry 45 seconds per side. Work in small batches and make sure your temperature is stable around 360F.

Drain on paper towels. There shouldn't be much or any excess oil if you are keeping it at 360F. Let them cool slightly before filling.

Take the pastry cream out of the refrigerator, and mix the lemon juice into the cream.

With a toothpick or skewer, make a hole in the side of each doughnut. With a piping bag** fill the doughnuts with the lemon pastry cream. Set aside.
Brûlée
Add the water to a saucepan or pan wide enough to be able to dip the doughnuts but no larger than 8" diameter.

Top with the sugar, and heat over medium-low heat until the sugar starts to dissolve.

Turn the heat to medium-high. Do not stir to prevent crystallization. You can use a clean pastry brush dipped in water to help remove any crystallizations that are forming, and swirl the pan. Heat until you get a dark caramel-brown color, keeping your eye on the pan because it can turn quickly and you don't want it to burn.

Working carefully (caramel will burn your hand) and quickly (caramel will harden), dip the top of each sufganiyah into the caramel. You can use tongs if you prefer. DO NOT TOUCH THE CARAMEL WITH YOUR HANDS... IT WILL BURN! Move the sufganiyah in a circular motion while it's upside-down until the caramel begins to set so it doesn't drip on you when you flip it. Set it aside.

Repeat with the remaining sufganiyot. If the caramel begins to stiffen, you can return it to the heat until it warms up, but be careful not to burn it. Ideally, you would move quickly enough not to have to reheat the caramel.
Notes
If you have added the brûlée topping, do not store in the refrigerator or it will soften. These are best consumed immediately.
To wash the pan of the caramel, just cover in hot water and let sit, and it will dissolve.
Nutrition
Calories:
307
kcal
|
Carbohydrates:
58
g
|
Protein:
6
g
|
Fat:
6
g
|
Saturated Fat:
3
g
|
Polyunsaturated Fat:
1
g
|
Monounsaturated Fat:
2
g
|
Trans Fat:
0.1
g
|
Cholesterol:
130
mg
|
Sodium:
184
mg
|
Potassium:
121
mg
|
Fiber:
1
g
|
Sugar:
37
g
|
Vitamin A:
268
IU
|
Vitamin C:
3
mg
|
Calcium:
69
mg
|
Iron:
1
mg