Though I am not always great about this, I like to be conscious of the benefits of staying away from Salmon, Tuna, Trout, and Cod, the four most fished fish. "The way we fish for popular seafood such as salmon, tuna and shrimp is threatening to ruin our oceans." -Paul Greenberg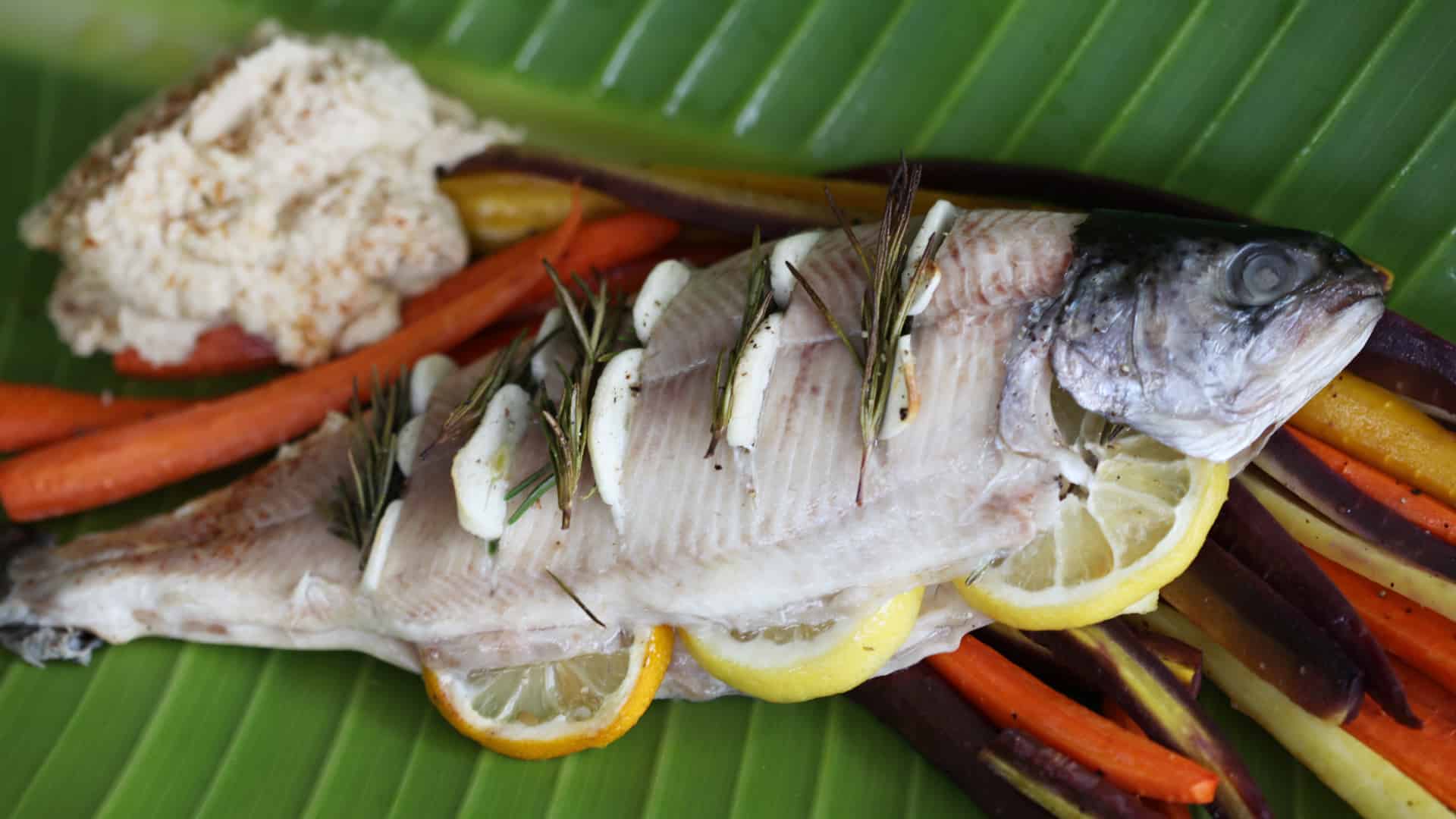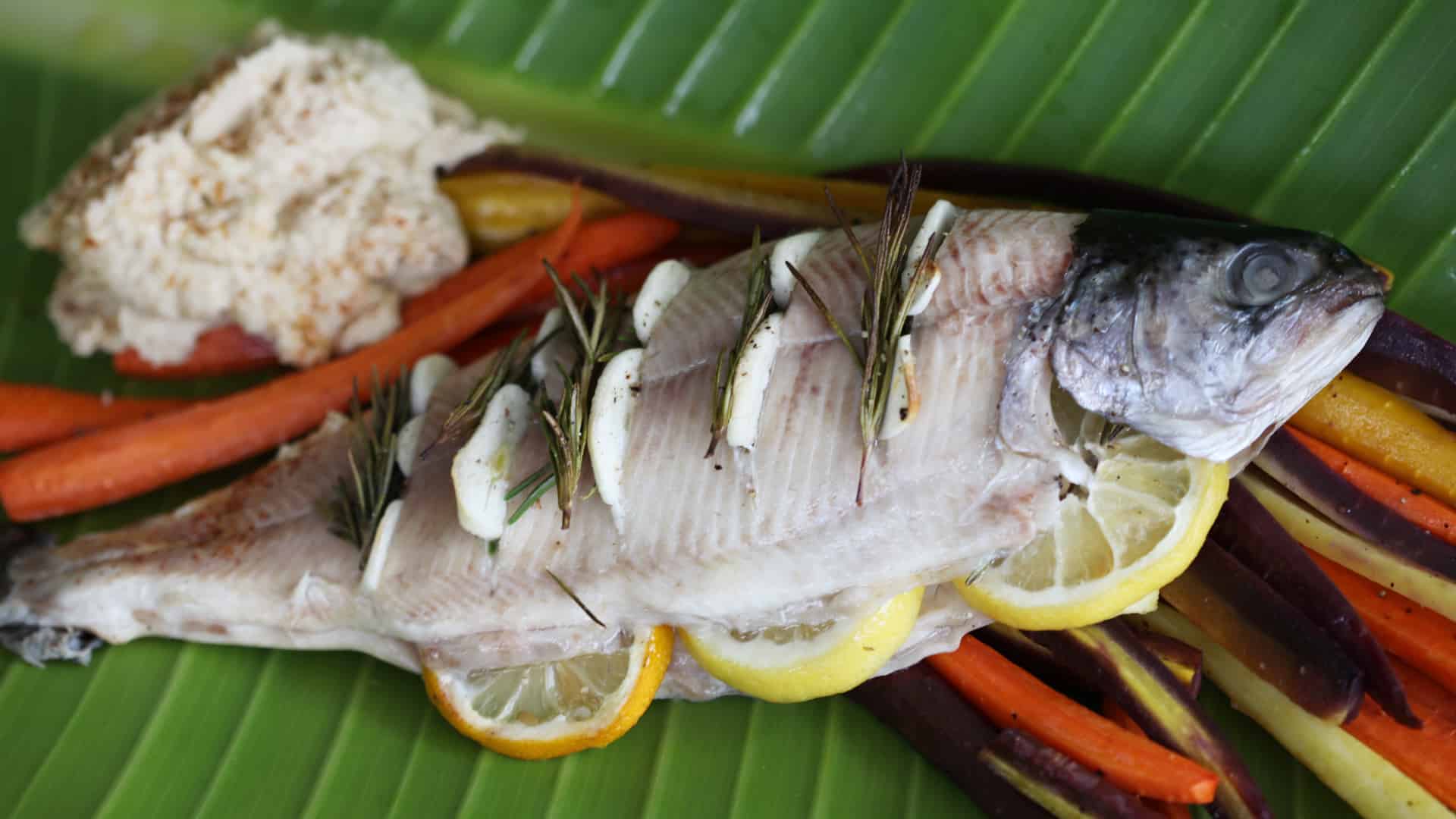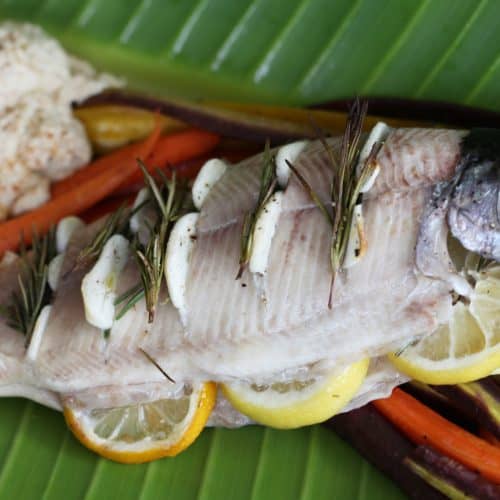 Print Recipe
Rosemary Garlic Trout
Though I am not always great about this, I like to be conscious of the benefits of staying away from Salmon, Tuna, Trout, and Cod, the four most fished fish. "The way we fish for popular seafood such as salmon, tuna and shrimp is threatening to ruin our oceans." -Paul Greenberg
Ingredients
2

lbs.

Whole trout

gutted and scaled

1

lemon

5

sprigs of rosemary cut inot ~3-in pieces

5

cloves

garlic

thinly sliced lenghtwise

drizzle olive oil

salt and pepper
Instructions
Pre-heat the oven to 390. Line a baking sheet with foil for easy clean-up.

Cut 5 deep slits on each side of the fish. Do not go through the spine or to the other half of the fish.

Place one piece of rosemary inside the slits of the fish. If the sprig is too long, you do not have to trim the sids, but it is prettier if you do.

Place 2-3 slices of garlic in each slit.

Slice 1 lemon into 5-6 slices.

Place the slices of lemon inside the fish.

Drizzle olive oil and sprinkle salt and pepper on both sides of the fish.

Cook 13-15 minutes. It is ready when you pull a fin and it comes out easily.

Skin (or not) and serve! Once you filet the fish on one side, the spine comes out easily and the other side is ready to eat!
Nutrition
Calories:
349
kcal
|
Carbohydrates:
3
g
|
Protein:
47
g
|
Fat:
15
g
|
Saturated Fat:
2
g
|
Cholesterol:
131
mg
|
Sodium:
119
mg
|
Potassium:
871
mg
|
Vitamin A:
130
IU
|
Vitamin C:
16.6
mg
|
Calcium:
111
mg
|
Iron:
3.6
mg