Pasta Puttanesca is a flavor-packed Italian classic that is simple to make in only a few steps with pantry essentials. I love using the best ingredients I can find to make this trusty family favorite.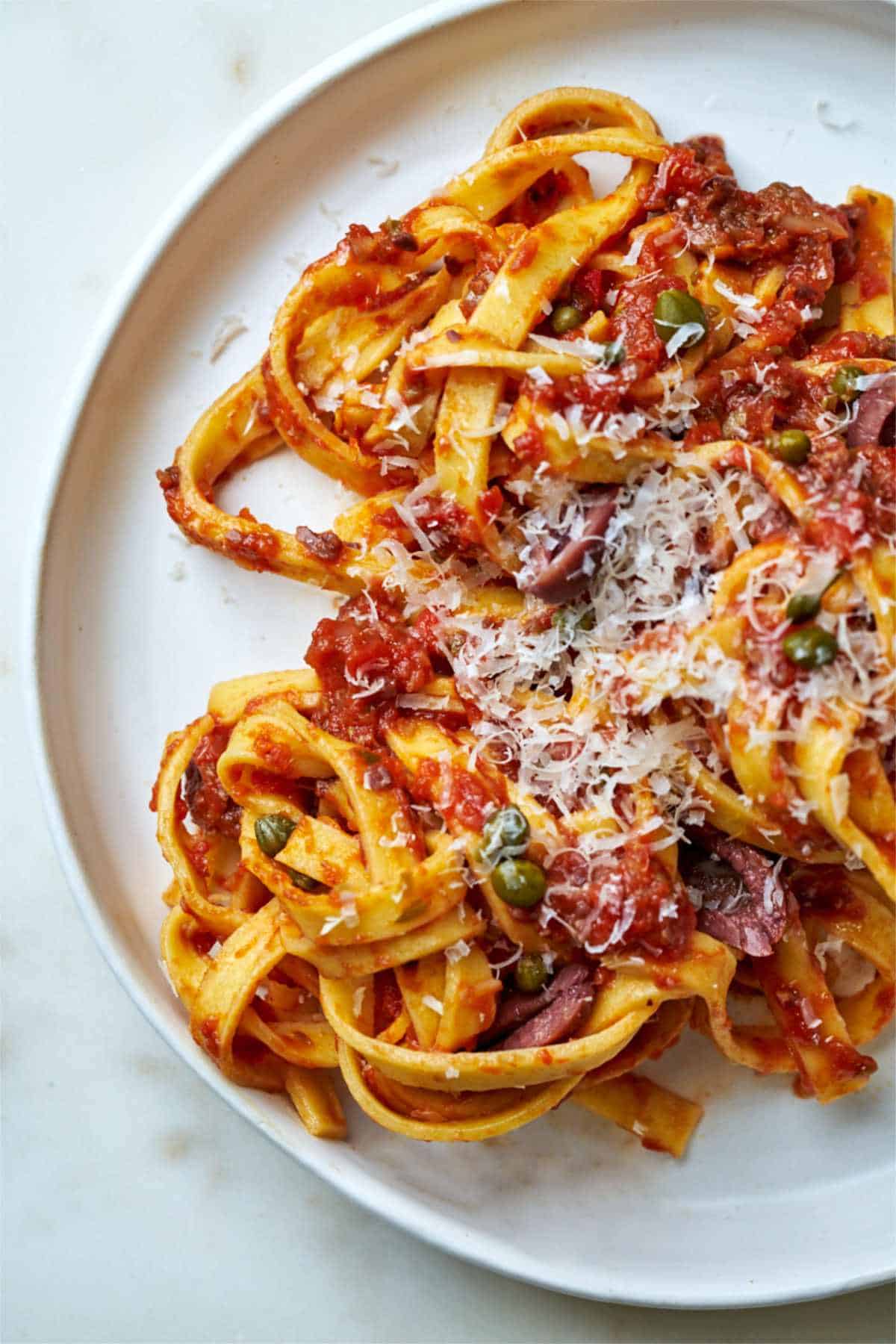 Why this Recipe Works
You can't go wrong with a fantastic pasta dish, and this one comes together quickly!
This puttanesca sauce consists of a rich tomato base made by combining both canned tomatoes and tomato paste, then mixed with capers, anchovies and olives. The sauce combines savory and salty elements in just the right amount.
I like to add red pepper flakes for an slight spicy kick which really takes the flavors of the dish to a great place.
As for the pasta, I usually use a thinner noodle light spaghetti or tagliatelle, as it coats nicely and evenly in the sauce for the perfect bite. You can also use your favorite pasta, ravioli, or gnocchi.
Ingredients & Substitutions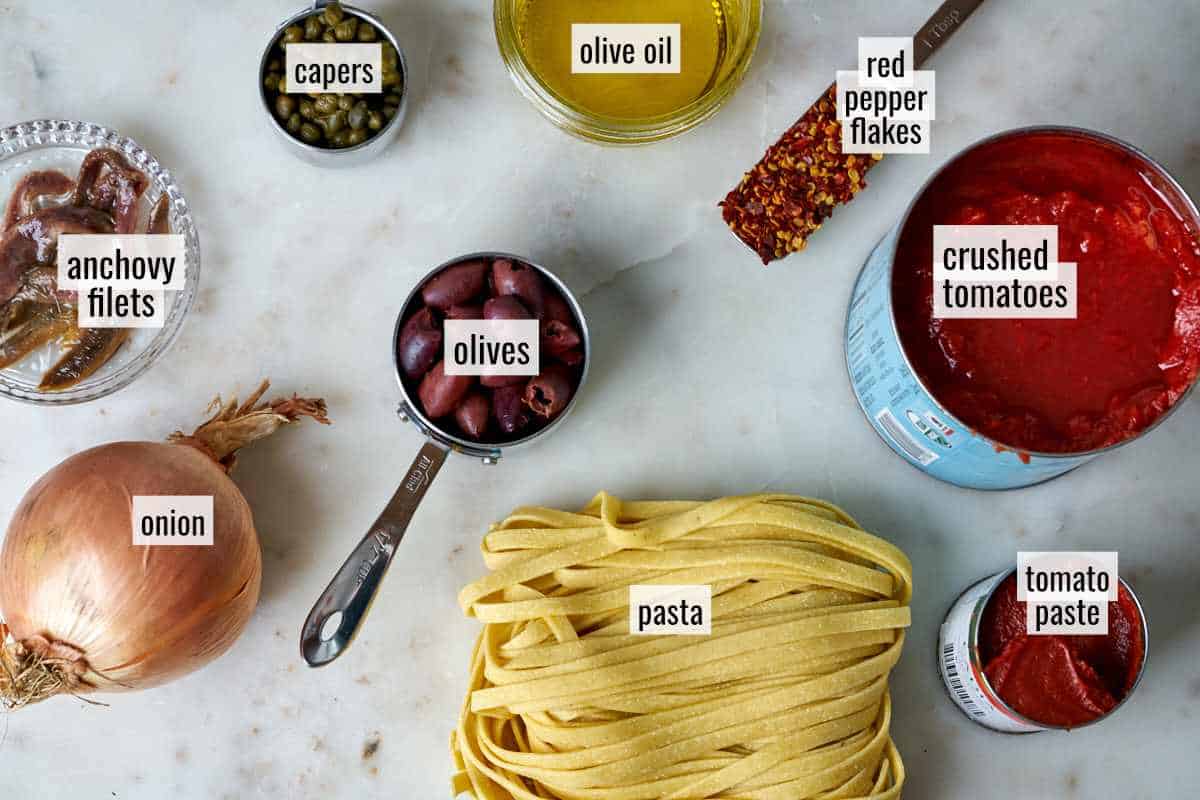 anchovies - I personally prefer to use canned or jarredanchovies for this recipe. You can also use anchovy paste. It can be overwhelming if too much is used, so take care not to overdo it.
olives - traditionally puttanesca uses black olives. I have used both black olives, green olives, and kalamata olives. My personal favorite is kalamata, with black olives coming in second.
How to Make this Recipe
Add your quartered and peeled onion, ¼ cup of drained capers, ½ cup of olives, 4 anchovies, and 1.5 tablespoons of red pepper flakes to a food processor. Pulse the ingredients until they come together into a rough paste.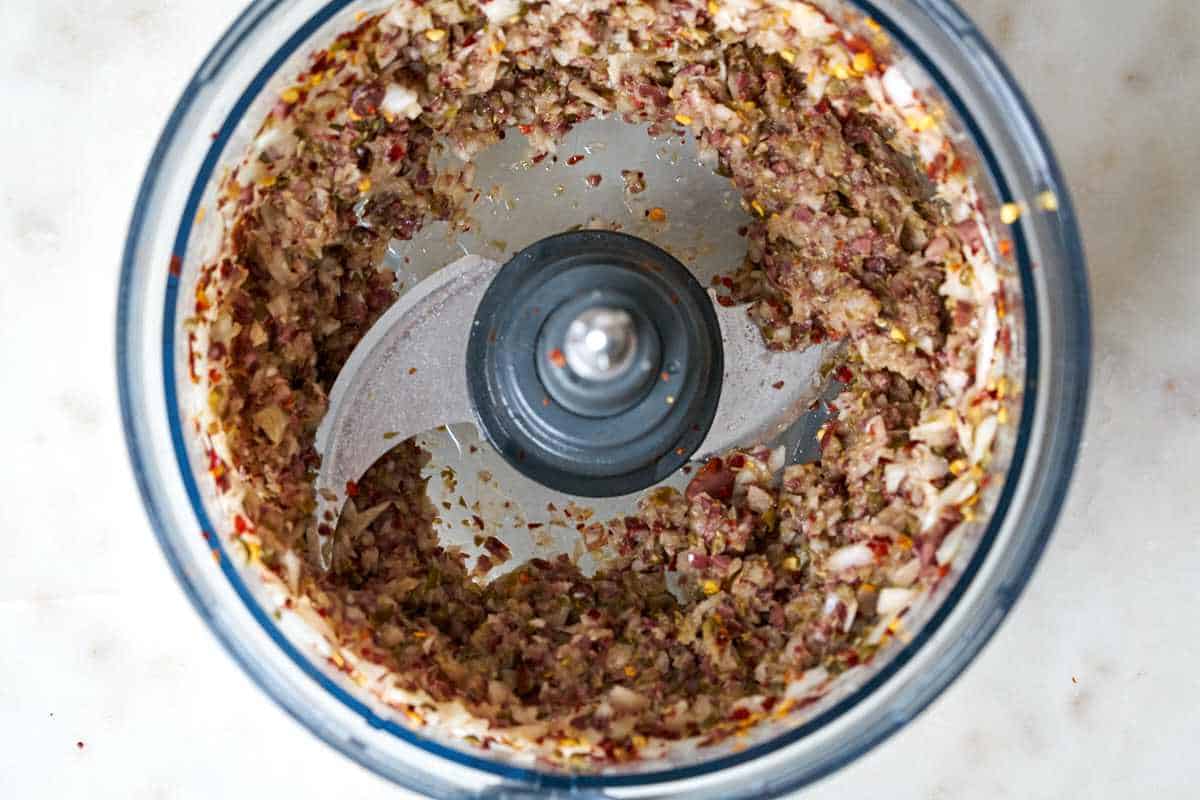 Next, heat 2 tablespoons of olive oil in a pan or large skillet over medium to medium-high heat. Add the anchovy mixture from the food processor to the pan and cook it for 8-10 minutes, stirring the sauce regularly, until the mixture is cooked. In the meantime, bring a large pot of water to the boil for the pasta. Season with salt.
Once cooked through, add in the can of crushed tomatoes and 2 tablespoons of tomato paste to the pan and mix to incorporate them into the sauce. Bring to a boil and then simmer it while you are waiting for your pasta to cook.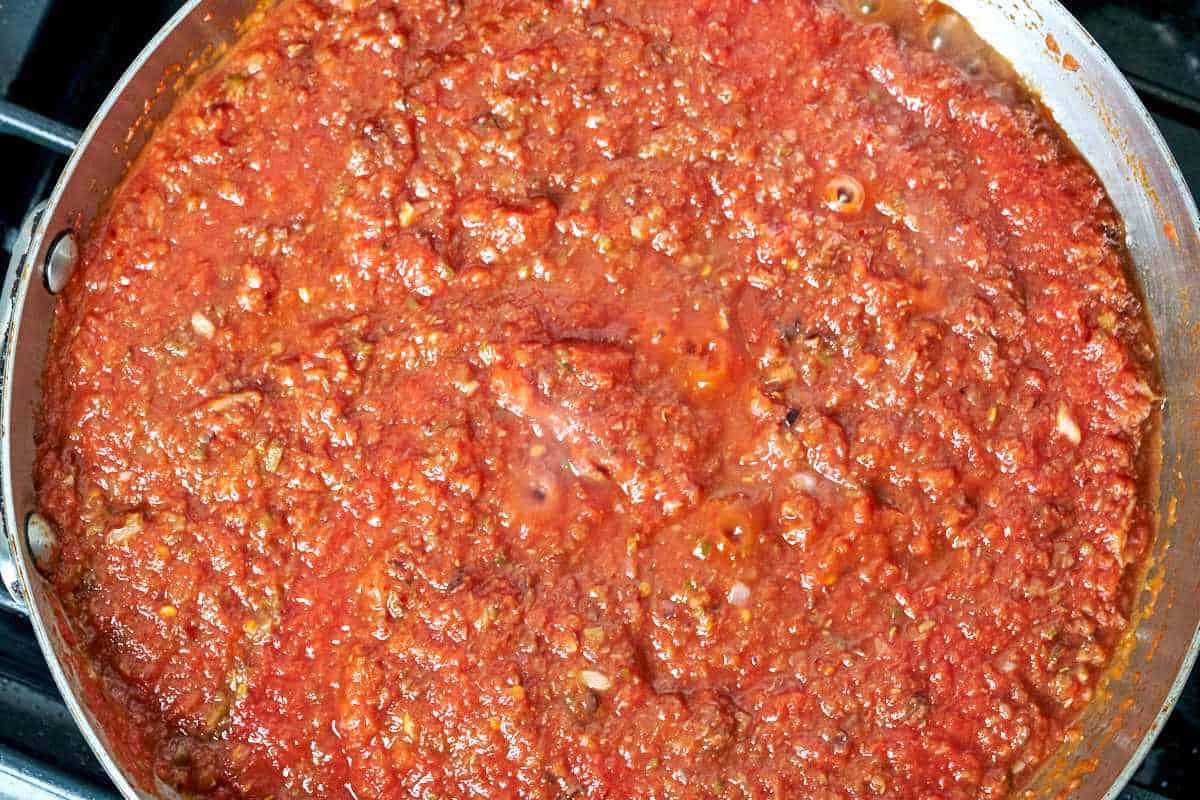 In the large pot, add your pasta to the boiled water and cook until it is al dente. Once cooked, strain the pasta and add it to the simmering sauce. Toss gently to thoroughly coat the pasta in the sauce.
To serve, you can add some extra halved olives, capers, and freshly grated parmesan.
Pasta Puttanesca FAQs
What is Spaghetti Alla Puttanesca?
Spaghetti Alla Puttanesca is a traditional Italian pasta dish where spaghetti is tossed with Puttanesca sauce - a unique, distinctive sauce made with canned tomatoes, capers, anchovies, and olives. The other ingredients in the sauce can vary but usually include red pepper flakes.
Why is it Called Pasta Puttanesca?
There are a few different theories about the origin of the name 'puttanesca' which is derived from 'puttana', an Italian word for a prostitute. Some say the dish was named because Italian prostitutes found it easy and quick to make between clients (!) Others think the dish was invented when one Italian chef only had a few ingredients to whip up a last-minute sauce and threw together the Puttanesca sauce, which plays on the second meaning of the word puttana as 'garbage'. The name 'puttanesca' could mean a dish made by adding anything lying around. Whatever the origins are, it makes for a fun story to tell when you serve it!
What Wine Goes with Pasta Puttanesca?
For this dish, red wine is a great way to go. Keep the meal wholly Italian with an Italian red that has light berry and red fruit flavors to complement the savory, salty flavors in the sauce.
How Do You Use Anchovy Paste?
Sparingly! Anchovy paste is a trusty way to enhance the flavors of a sauce or dressing, and it will add an extra something special to most savory dishes. Add it to pasta sauces, salad dressings and meat marinades for an extra layer of great flavor. It can be overwhelming if too much is used, so take care not to overdo it.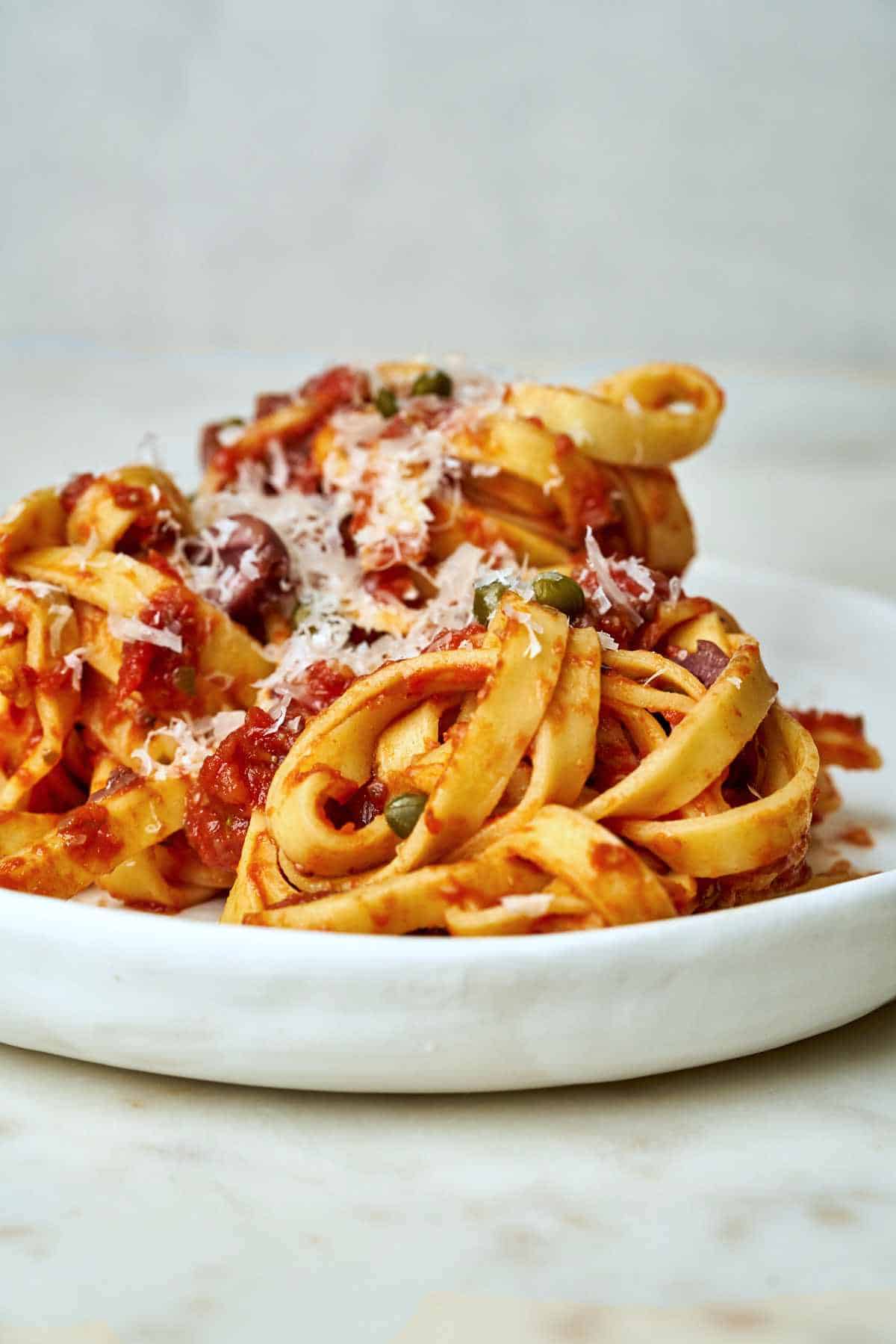 More Homemade Pasta Sauces
If you love pasta as much as I do, try some of these favorite sauces:
Or peruse all my pasta recipes here!
I love hearing from you! You can also FOLLOW ME on INSTAGRAM, TIKTOK, and PINTEREST to see more delicious food and what I'm up to.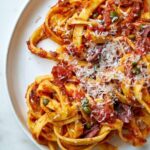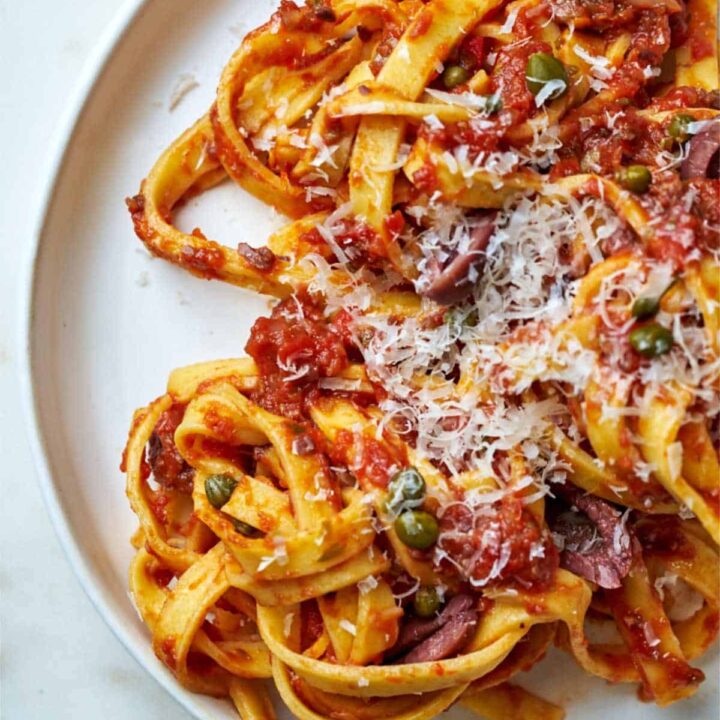 Print Recipe
Pasta Puttanesca Recipe
Pasta puttanesca is a flavor-packed Italian classic that is simple to make in only a few steps with pantry essentials and only takes 30 minutes to make.
Ingredients
1

yellow onion

peeled and quartered

¼

cup

capers

drained

½

cup

black or kalamata olives

drained

4

anchovies

rinsed patted dry to remove excess oil

1.5

tablespoon

red pepper flakes

28

oz.

crushed tomatoes

can

2

tablespoon

tomato paste

2

tablespoon

olive oil

1

lb.

pasta

basil to garnish
Instructions
Bring a pot of water to boil.

While you wait, add the yellow onion, capers, olives, anchovies/sardines, and red pepper flakes to a food processor. Process until smooth.

Heat the olive oil in a pan over medium to medium-high heat. Add the contents of the food processor and cook 8-10 minutes, stirring regularly. Add the crushed tomatoes and tomato paste. Bring to boil and simmer until your pasta is cooked.

Add your pasta to the boiling water. Cook until al dente. Drain and add to the sauce. Toss to coat.

Optional: Stir in a handful of basil leaves.
Nutrition
Calories:
606
kcal
|
Carbohydrates:
106
g
|
Protein:
21
g
|
Fat:
13
g
|
Saturated Fat:
2
g
|
Cholesterol:
4
mg
|
Sodium:
947
mg
|
Potassium:
1038
mg
|
Fiber:
10
g
|
Sugar:
14
g
|
Vitamin A:
1238
IU
|
Vitamin C:
23
mg
|
Calcium:
131
mg
|
Iron:
5
mg
Did you try this recipe?
Don't forget to leave a rating and/or comment! And tag @ProportionalPlate on TikTok or Instagram... I'd love to see what you're making.
This post was originally published in November of 2017, but was republished with step by step instructions, nutrition facts, and tips March of 2020 and new photos & FAQs in December 2020.