Japan was more amazing than we imagined. From the people and culture to the food and nature, Japan is only the second place we've been where we could actually see ourselves living.
Japan didn't make it into our 1 year trip around the world because it's known to be expensive (and it really is). If you're looking for a budget trip, I promise you Japan is NOT it! It is, however, an incredible experience.
In this guide I am going to focus on Tokyo and Kyoto, the two main tourist destinations in Japan. We also made it to the Izu Peninsula, which I would highly recommend if you want to get those amazing Mt. Fuji views with the water in front of it…truly amazing.
Jump to:
Pre-Travel Tips
You do not need to rent a car. Get a JR Rail Pass if you plan on taking the high-speed train twice or more. It pays for itself. You can use it on most subways and high-speed trains all over Japan and it is only available to you if you buy it before you get there. There are many rules about JR Rail Passes, so make sure you read the instructions. Trust me, it's very much worth it, even if you are only planning on doing day trips from Tokyo.
Although I always like to pack light and leave room in my bag, I recommend taking that a step further in Japan. Pack basics that you can dress up and down. You don't need heels, try to dress modestly and neatly, and bring layers. We each had a small-medium backpack and planned to do laundry once in the middle of the trip at a laundromat. Try not to wear sleeveless t-shirts, flip flops, sweats, or short shorts.
Don't over-plan. Let yourself get lost…we found some of the most beautiful and delicious things that way.
Almost nothing is open before 9am, so plan on having some leisurely mornings.
Get your nails done with (clear) vitamins instead of nail polish and they'll last much longer and feel great. I don't like to get gel manicures, so this is my alternative.
Many places are in basements or down alleys. I recommend doing a combination of planned and unplanned restaurants. There is so much good food in Japan, and it's nice to stumble upon a delicious surprise. If you want to go somewhere specific, make sure you have great directions or a SIM card/hotspot so you can find it easily. If you've seen Jiro Dreams of Sushi, you know that many good restaurants are actually in the subway station.
Plan what time of year you want to go. The landscape in Japan can be completely different from one season to another. We were there during cherry blossom season, and plan to go back when all the maple trees turn.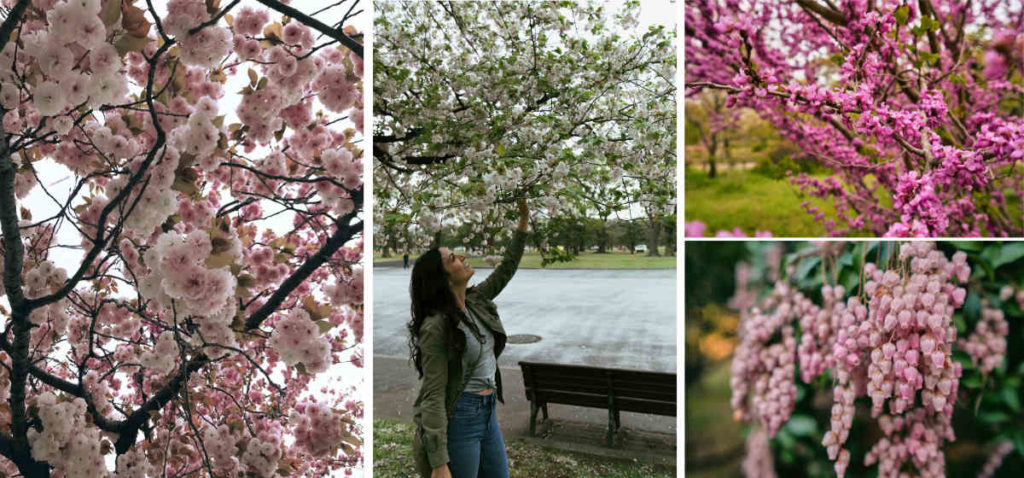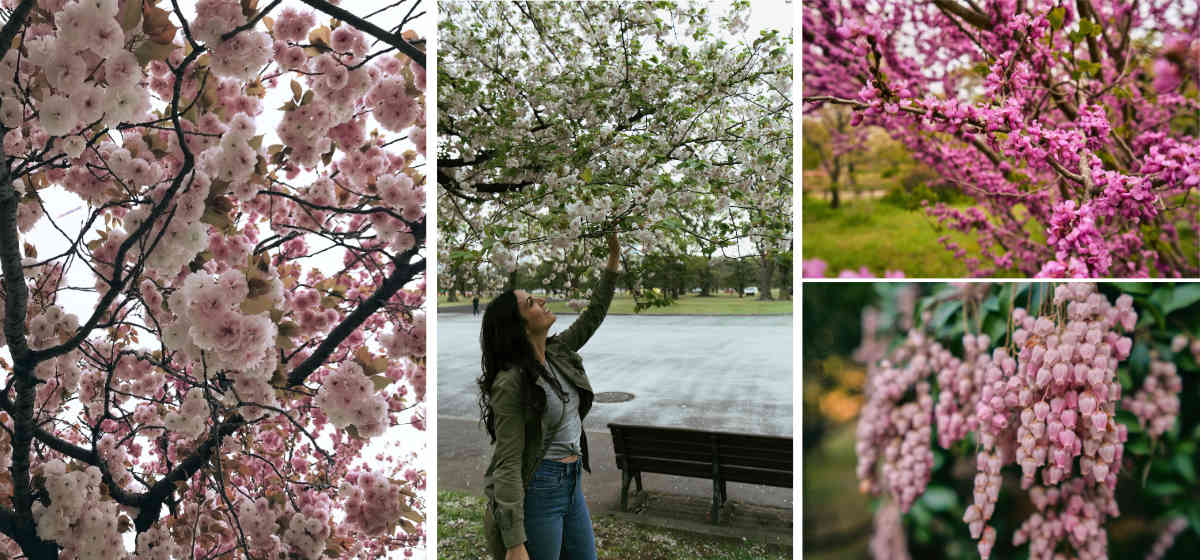 Notes on Etiquette
Onsen: You MUST try a public bath or onsen while you are in Japan. We tried many, one of the best we tried was in the Izu Peninsula which is full of natural, outdoor hot springs. I highly recommend reserving a private outdoor hot spring if you can find one.
Onsen Etiquette: Wash before entering the onsen. Put the towel on your head. No bathing suits…naked. No photographs or any digital devices, no eating or drinking. Cover up tattoos…the fancier onsens have cover up stickers. Do not talk or play music.
Meal Etiquette:
Chopsticks should not be stuck into a bowl of rice and do not spear your food.
Do not use your chopsticks to move a bowl towards you
At the end of your meal neatly fold your napkin.
If you are eating soup you should slurp it
Do not walk and eat – if you are getting fast food you will need to eat it before you continue your trek
Do not tip
If the server does not speak English it is OK to take them outside and point to what you want to have from the plastic models.
Convenience stores have decent food for a quick, cheap snack or meal.
Phrases that People Appreciate:
Kudasai – Please
Arigato – Thank you
Konichiwa – Hello
Oishi – Delicious
Ichi – One
Ni – Two
San – Three
In Public:
Your phone should always be on vibrate or silent, especially on public transit.
Don't be loud or yell, it's considered rude.
Do not sit in the priority seating on the subway unless you really need it – you will see those seats empty even during rush hour.
Take your shoes off before entering a room with a tatami mat or even a clothing store dressing room.
If you are sick, buy and wear a face mask.
Carry a small plastic bag in your purse or backpack for trash. There are not many public trash cans or restrooms. You can find restrooms in subway stations, convenience stores, and department stores.
Don't smoke while walking around. It is even illegal in downtown Kyoto
Places We Stayed that I Would Recommend
I'm a fan of staying in Japanese-style places, so please keep that in mind.
Hoshinoya Tokyo ($$$$) is a very well known Japanese hotel chain. If you have the means, it's worth going for their rooftop onsen that opens up to a clear view of the sky.
This cute Airbnb in Kyoto ($$) was a fantastic Japanese-style house in the cutest neighborhood in Kyoto with canals. It is not a touristy area, and we loved that. Plus, the person who runs it, Takumi, is absolutely amazing.
Hoshinoya Kyoto ($$$$) had insane views of the river by Arashiyama, though we are happy we didn't stay there our whole time in Kyoto…it is a bit off the beaten path and I recommend staying somewhere closer to all the action.
The Edo Sakura Guesthouse in Tokyo ($-$$) that is perfect if you're looking for a Western/Japanese experience. Best customer service and the food is great.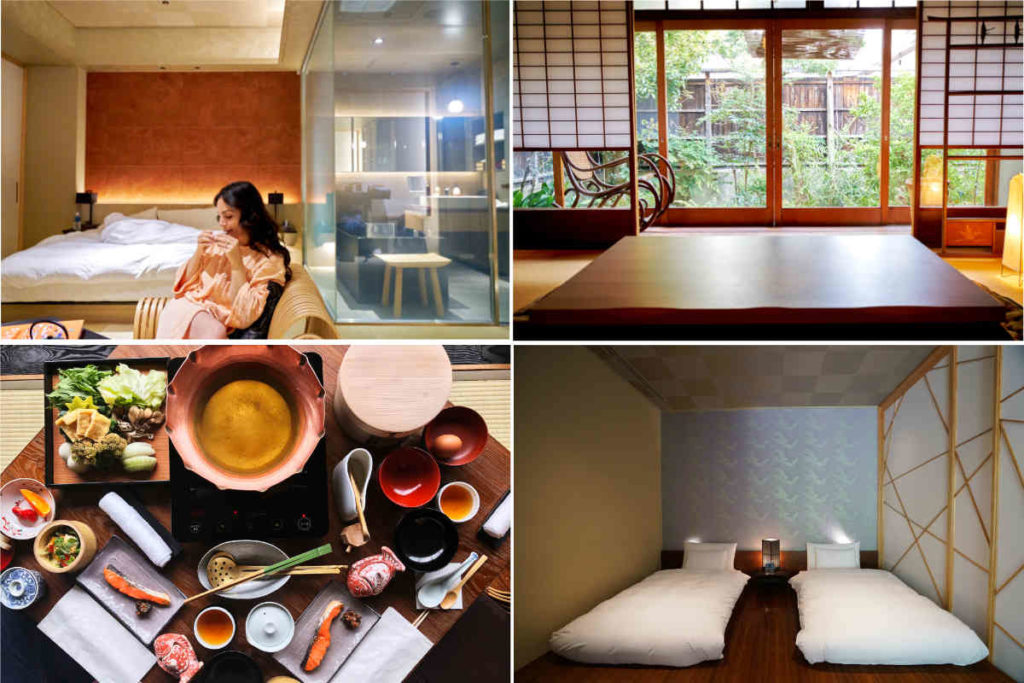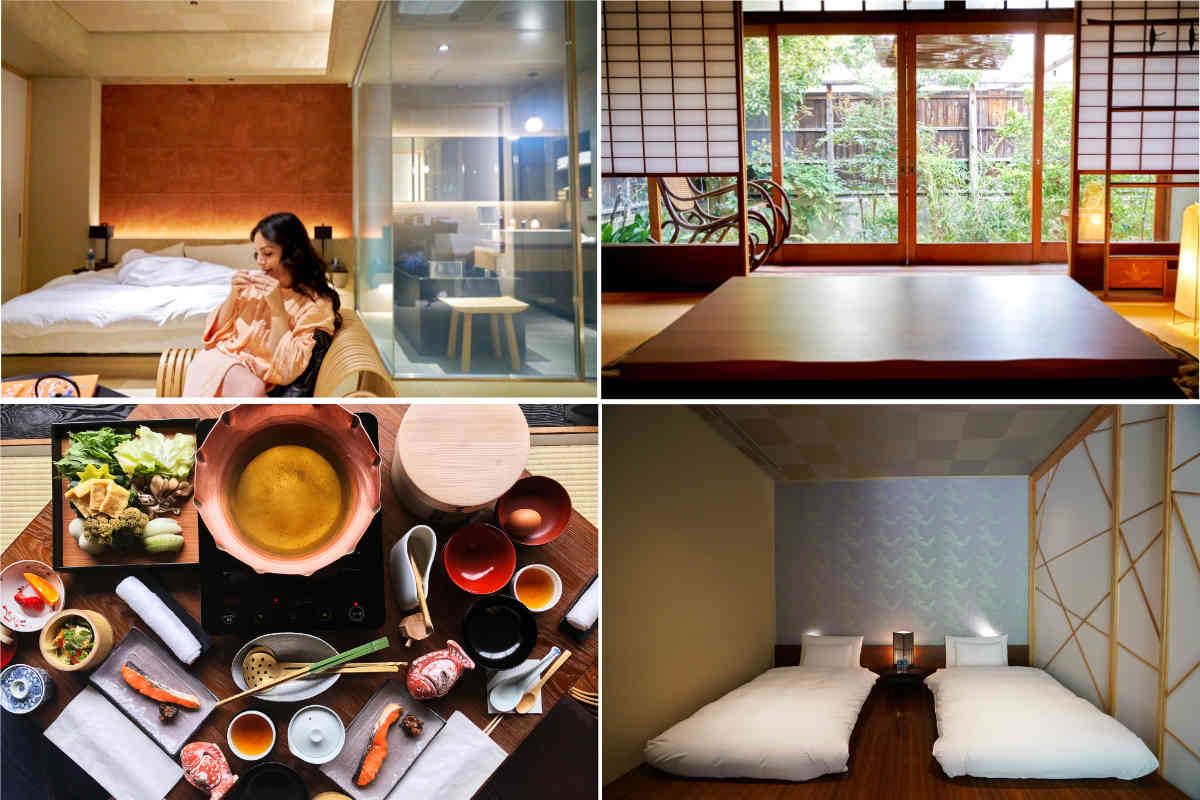 Places We Didn't Stay (but hear great things)
In Arashiyama: Togetsutei, Arashiyama Benkei, Ryotei Rangetsu, Hanaikada.
In Kyoto: Sumiya Ryokan, Hiiragiya Ryokan, Tawaraya Ryokan, Ikumatsu, Seikoro, Gion Hatanaka, Kinoe, Kikusui, Lakuyohso, Momijiya Honkan Takao Sansou
Top Touristy Japan Shopping and Food
Top Things Tourists Buy
The most popular items are hands down stationary/paper, sake sets, teapots, kitchenware/knives, fans, chopsticks, toys, and fabrics. The stationary and paper available in Japan is out of this world. Purchase a set of letters you can later use as thank you cards for friends!
In Japan, gifts are often wrapped in fabric wrapping cloth instead of paper. The art of Japanese Fabric Wrapping is called Furoshiki. If you find a shop with fabric you love, grab some and play around with Furoshiki.
Top Foods To Try:
My must-try foods are ice cream (matcha and black sesame seed), soba, ramen, udon, curry, sushi/sashimi, onigiri, tempura, pizza, taiyaki, yakitori, kaiseki (in Kyoto), fish cakes, mochi/daifuku, dango, nato, nabe, coffee jelly, sake, shochu, tea (matcha, sencha, hojicha, ocha, genmaicha). My matcha ice cream recipe here. And a hojicha gelato that is my new favorite.
Kaiseki multi-course seasonal meals are traditional in Kyoto. Not only do they use seasonal ingredients, but the food is styled and presented with the theme of the season, as well. It is a must, and such a unique experience.
If you love drinking tea as much as I do, you have to enjoy a tea ceremony. You can order various deserts and tea, and enjoy them in a usually lovely and serene setting. It's meditative, relaxing, and nourishes the soul.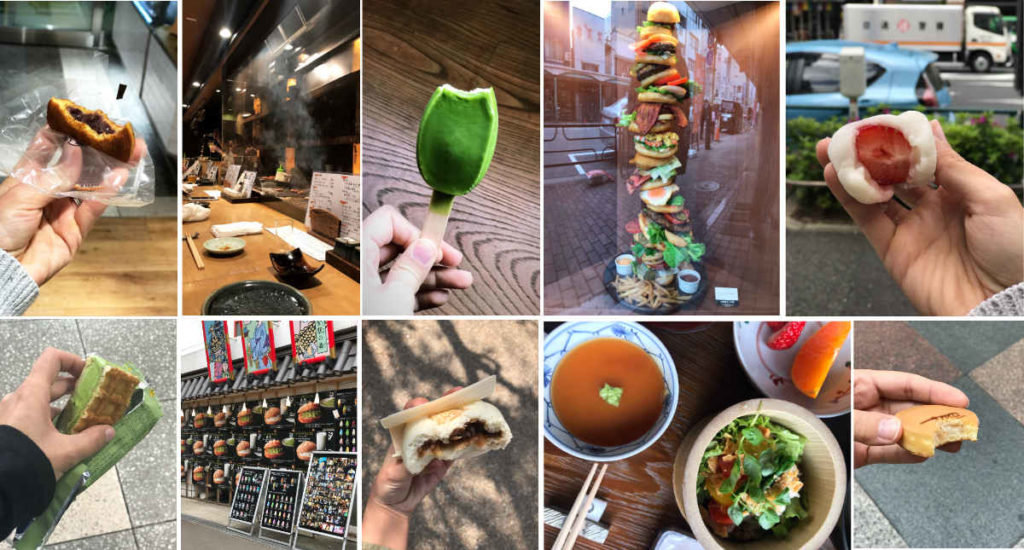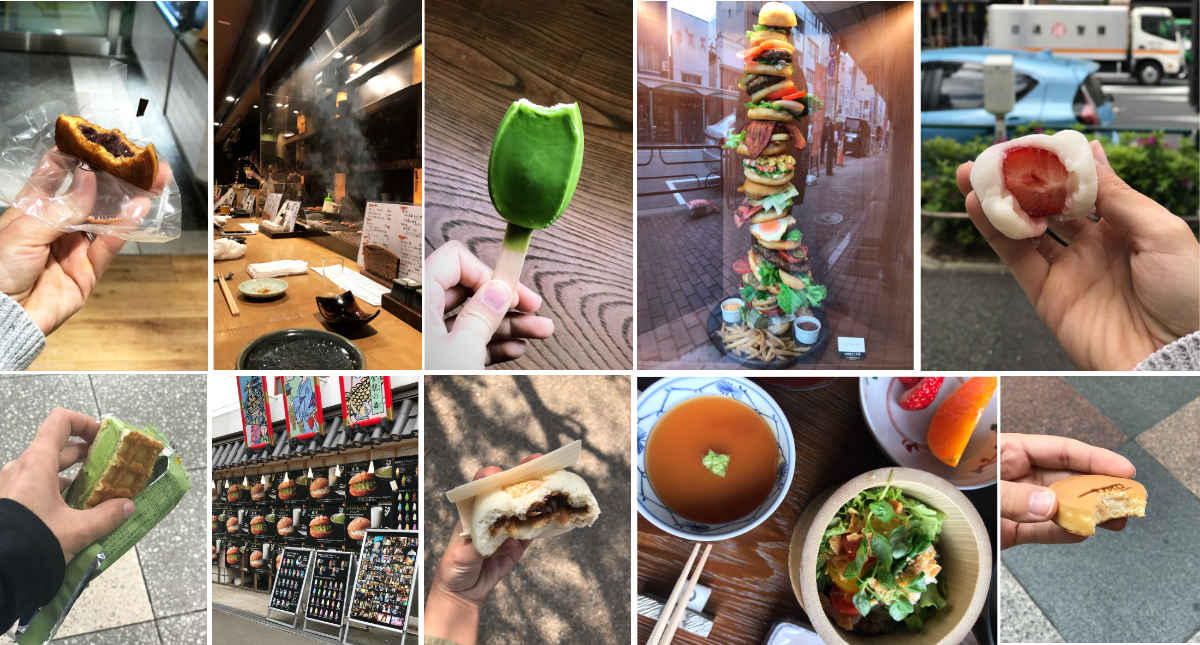 For more of my travel & lifestyle content, click here!
Tokyo (Mostly Organized by Subway Area)
Tsukiji Fish Market:
There is a long wait at Sushi Dai and Daiwa Sushi since they are the most popular, but it is known that all the sushi shops in the area are excellent so don't get hung up on the most popular. Avoid Saturdays. They only let 120 people in a day and it's first come, first served. Try to go your first day because you will be jet lagged and you need to get there early if you want to see the tuna auction. FYI, we got there at 4:15am and were too late for the auction. Try and get there as early as possible.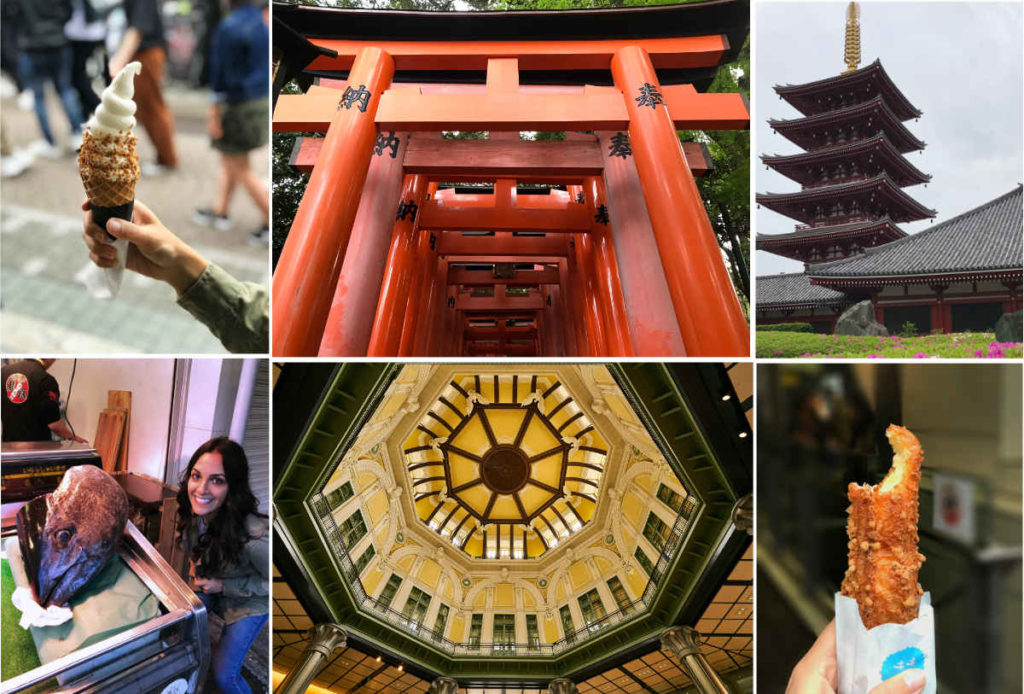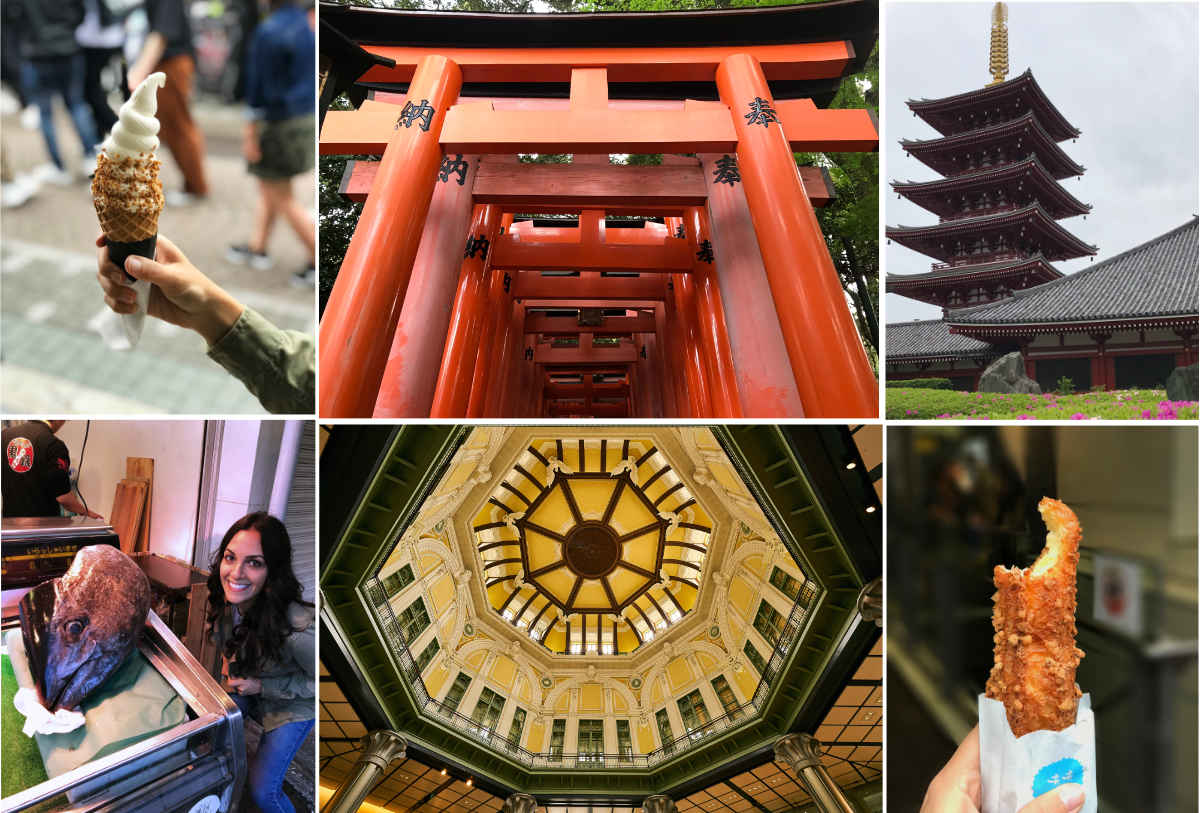 Shibuya/Harajuku/Ebisu/Yoyogi:
Aoyama: A fancy shopping area
Roppongi:
Ginza: Another expensive shopping district
Tokyo: Tokyo station itself is beautiful
Nihonbashi Yukari - Bento for under $40 by Japanese Iron Chef Kimio Nonaga.
Imperial Palace Gardens - A free excursion! All the gardens in Japan are impeccable. They take great care and pride in the care of their gardens. Take a picnic, and enjoy your time here.
Ginza Kagari Otemachi - Amazing soba, I had the duck soba and recommend it!
Ueno:
Ichiran Ramen - it's the classic vending machine ramen joint with dividers and your own water dispenser, and they sell their spice mix.
Shinjuku:
Shinjuku Gyoen National Garden - These are Tokyo's largest garden grounds. You do have to pay to get in, but it's a great midday break and perfect for a picnic.
Tempura Tsunahachi - Really good deal for a ramen lunch, ~$12.
Afuri Ramen - Amazing, and one of our favorite ramen joints. Make sure you check out the dessert stands on the same floor and pick up some mochi.
Koenji:
INSANE vintage shopping at Look Street, Kitakore, Central Road, and many, many more. Make sure to weave in and out of the alleys and check out the second and third floors.
Floresta Nature Donuts - Cutest little animal donuts like pandas, frogs, and kittens.
Shimokitazawa:
Nakameguro:
The cutest area to walk around, by a canal with many nice shops. Walk along the canal from Meguro to Nakameguro, too. Let yourself get lost here!
Other:
Kyoto (Organized by Day-Outing Areas)
You do not need to rent a car in Kyoto. Rent bikes or take the bus. The bus offers a full-day pass that you can pay for when you get off the bus instead of paying for your one-way and it is worth it if you plan on taking the bus 3 times or more.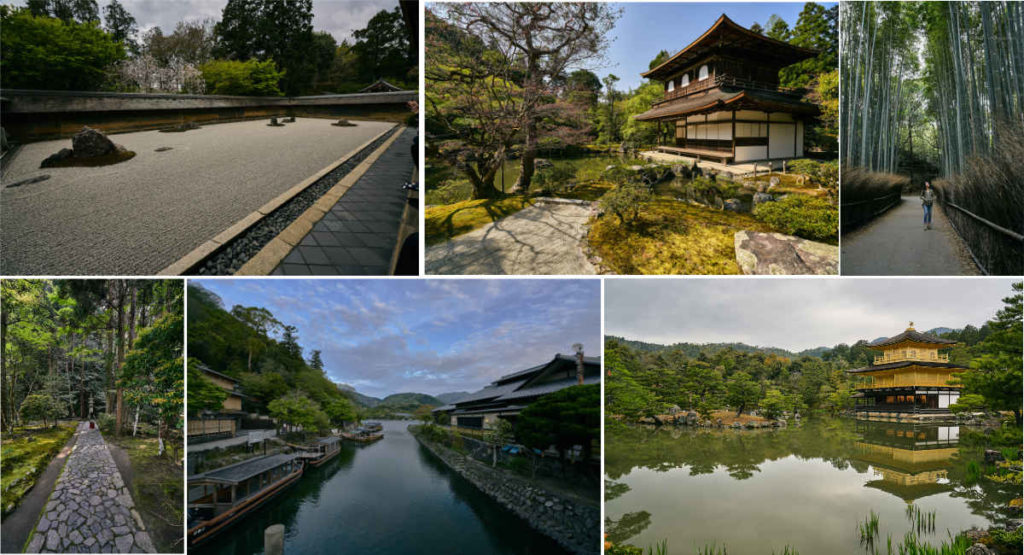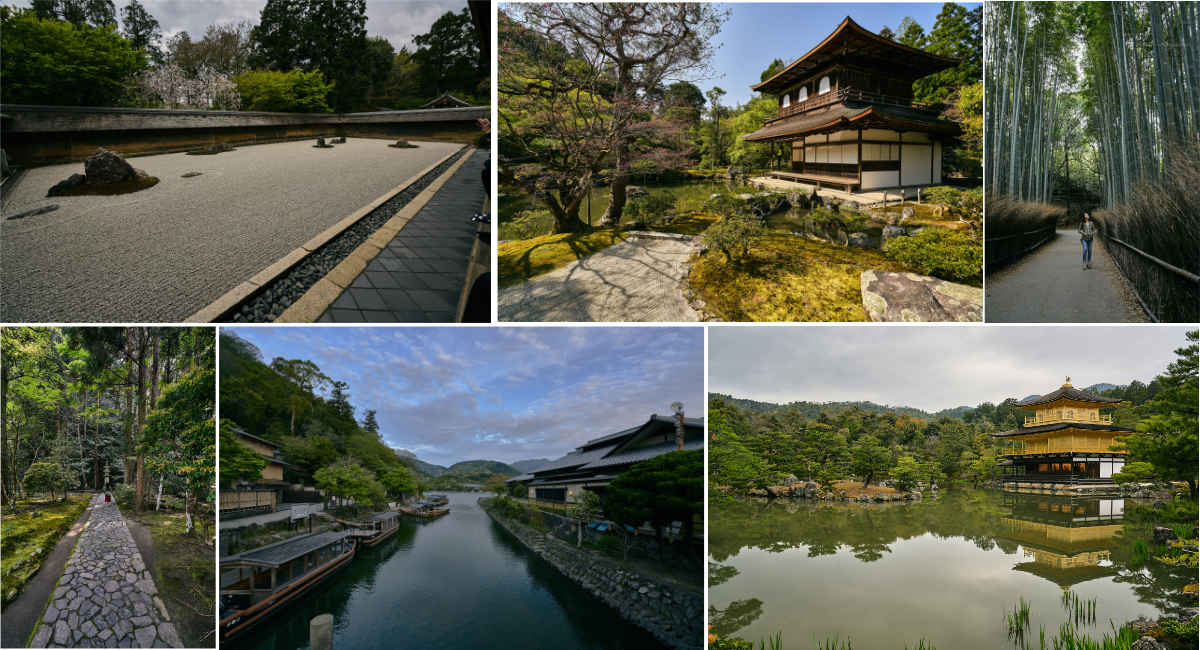 Be sure to make a reservation for at least one kaiseki style Japanese dinner. It is a multi-course, seasonally inspired dinner that is very special. This fine-dining meal is just as much art as it is food.
Arashiyama District:
North Kyoto:
Higashiyama:
This will be a heavy walking day!
Some amazing temples to visit:
Gion District:
There is a geisha sighting usually around 5:45pm. I got some great ceramics at one of the small shops and checked out the Yayoi Kusama collection at the Contemporary Art Museum.
Kikuume - Has very nice handmade ceramics by Japanese ceramicists. Got some tea cups here.
Yakitori Tarokichi - In all the guide books, but we didn't go here
Uzuraya - Best yakitori we had the whole trip, make a reservation if you want to try it!
South Kyoto:
Kyoto Imperial Palace:
Downtown:
Tons of shopping, take the time to walk around and enjoy. Great for afternoons if you're killing time before dinner in or around Gion.
Lisn - Incense to die for.
Other:
Miho Museum - It's out of the way, but it's an amazing museum showcasing ancient art and antiques.
Kyoto Manga Museum - We didn't go here, but we hear it's pretty cool. A must-see if you're into comic books and graphic novels.
Kyoto Station - Lunch here is a great option. There are many places to choose from and tons of shopping in the basement levels.
A Little bit of Japan in the USA
It's not every day we can enjoy a trip to Japan, so in case you wanted to know, my favorite Japanese restaurant for soba and udon is Otafuku in Gardena, CA and my favorite place for sushi is Saburos in Portland, OR.