This hearty and delicious bone broth udon soup is an excellent way to use some freshly made homemade bone broth. With ginger, garlic, onion, and fennel, it's a tasty and warming dish for any night of the week.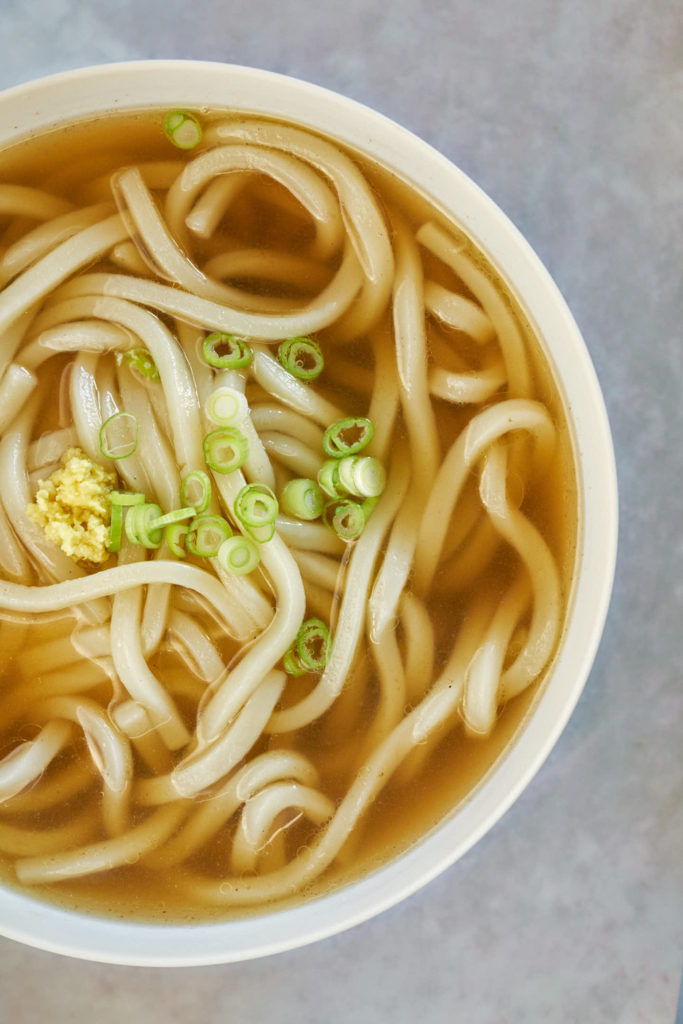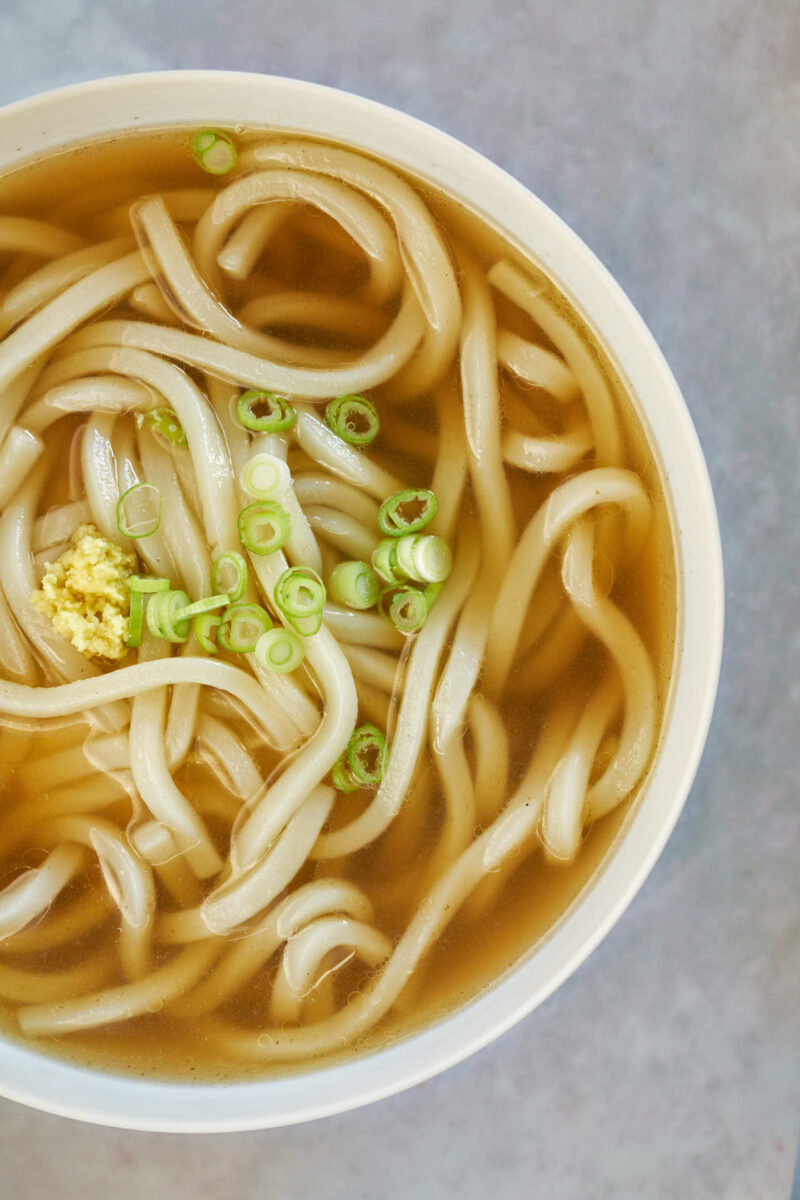 Is Udon Healthier than Ramen?
Udon noodles are thick, pale, wheat flour noodles often used in hot noodle soups. Ramen noodles are much thinner, yellow wheat noodles that are also used in soups, usually flavored with soy or miso.
As to which is healthier, it really depends on the preparation. Fresh udon noodle soup made at home will likely be healthier than store-bought ramen that's packed with sodium and processed ingredients.
However, a homemade ramen dish where you know exactly what's going into the recipe would be healthier than the store version. It really depends on the additions you make and how you cook them.
What is Udon Broth Made Of?
A simple and traditional udon broth is made of dashi broth, soy sauce, and mirin. It gives a mild, savory flavor. This recipe is made with bone broth, instead of the traditional dashi.
What is Dashi Broth Made Of?
Dashi broth is a Japanese broth used widely in soup recipes - for example, to make udon broth. Dashi is made from a combination of water, dried kelp, bonito fish flakes, dried anchovies and shiitake mushrooms. Most dashi broths will use water and two of the above ingredients. Dashi is a great base for noodle dishes and has that coveted umami flavor. It is also great in Agedashi Tofu, a Japanese favorite.
Do I Have to Eat Udon with Dashi Broth?
Traditional udon in udon broth requires dashi, but you can, of course, use udon noodles in many other recipes like this one. You can also substitute other types of noodles based on your personal preference.
What are Udon Noodles?
Udon noodles are thick Japanese wheat flour noodles, usually served in a dashi broth. This recipe serves them in bone broth.
How Do I Cook Udon?
To cook udon noodles, you will need to bring water to the boil and place the noodles in the water until submerged. Cook until they are tender but not too soft and slippery. The cooking time may vary depending on whether you are using semi-dried, dried noodles, or frozen udon. I prefer frozen udon noodles, which take 1 minute to cook.
How Do you Cook Frozen Udon Noodles?
If you're short on time and want to cook your noodles from frozen, there's no need to defrost them first! Place the frozen noodles into boiling water and cook until tender, about 1 minute.
What Can I Add To Udon Soup?
In theory, you can add whatever you like to udon soup so that it's just right for you. If you want to stick to traditional add-in ingredients, or are looking for inspiration, try any one of these:
Roasted or sliced veggies like parsnips, sweet potato, or turnips
Seaweed
Soy sauce
Chili oil
A soft boiled egg
Woody herbs like rosemary and thyme
Meat additions like chicken or beef
How to Make Bone Broth Udon Soup
To make bone broth udon soup, you will need the following ingredients: chicken backbones or carcasses, ginger, garlic, bay leaf, peppercorns, scallions, fennel, onion, jalapeño (optional), and frozen udon noodles.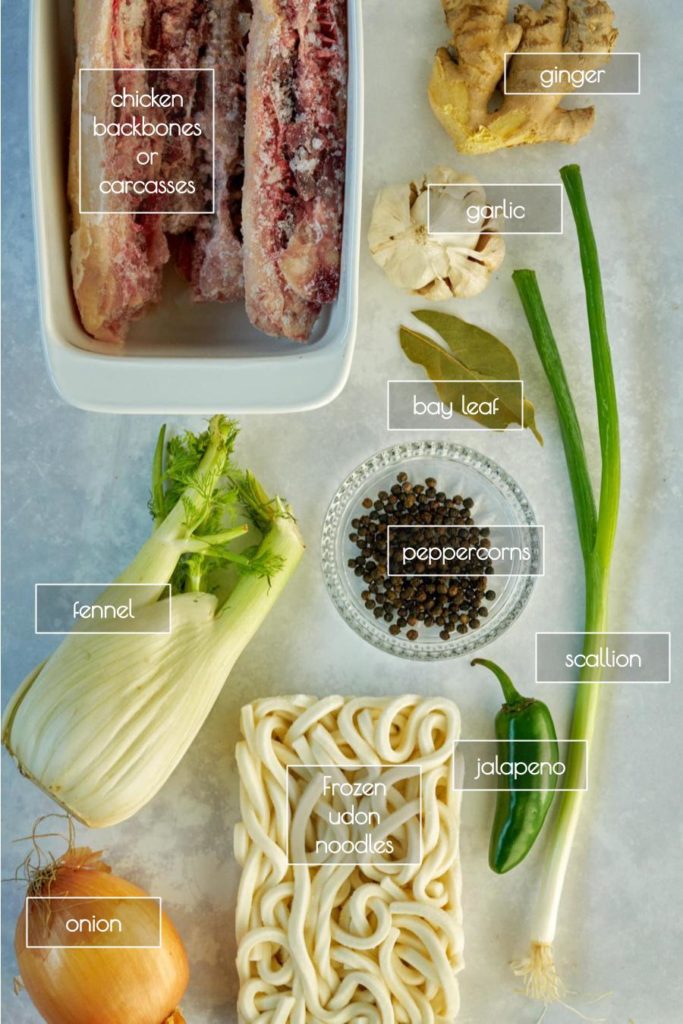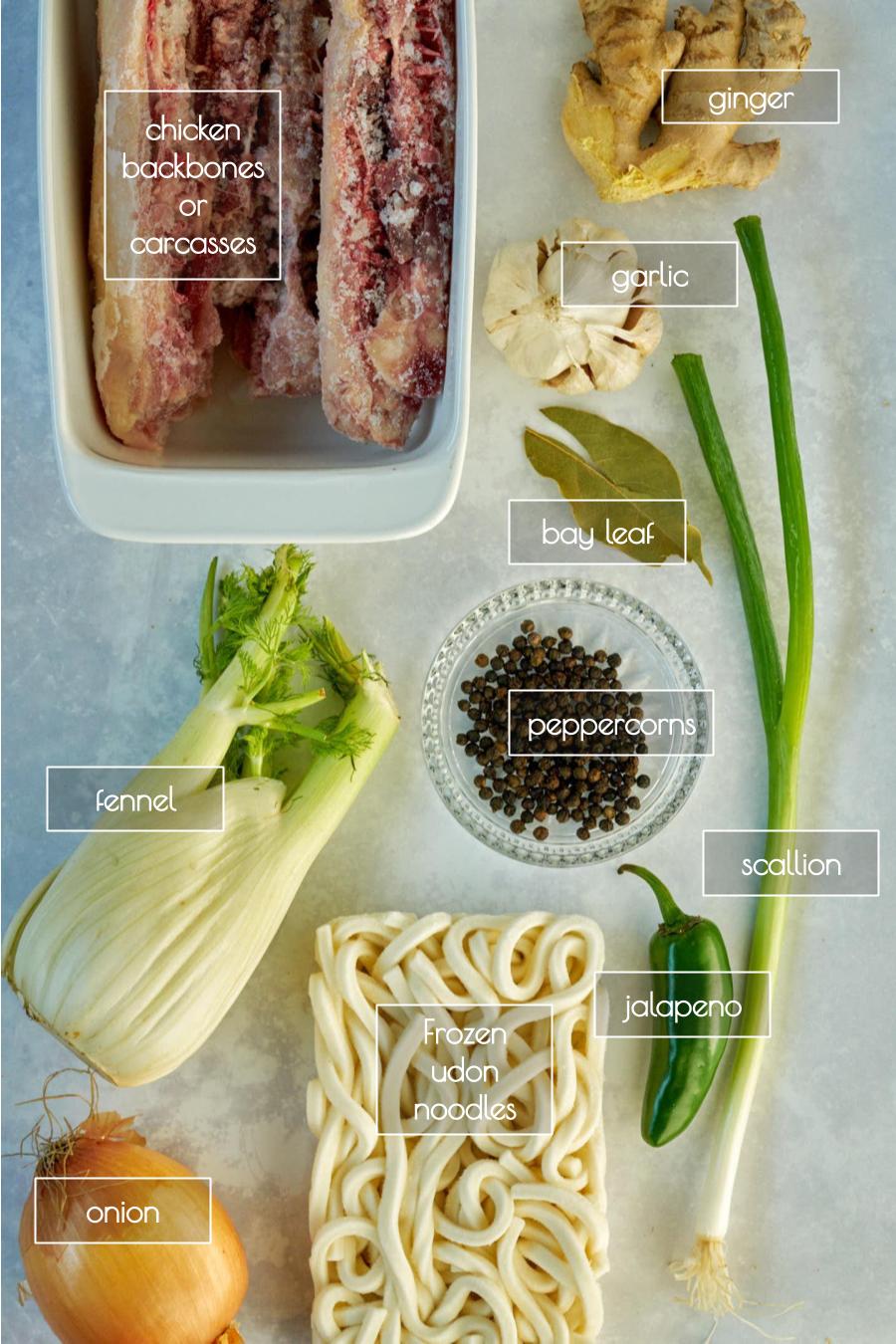 Ahead of time, you will need to make bone broth. For more in-depth info on bone broth, visit my post A Complete Bone Broth Guide for more info.
To begin, you will add all your chicken bones, carcass, and vegetable ingredients to a stockpot, or slow cooker, or Instant Pot.
Cover all the ingredients with water. Bring the water to boil, then reduce until it's lightly simmering. Cover with the lid of the stockpot and leave for 24-48 hours.
Now, using the broth that you made in advance, you can make the tasty udon noodle soup.
Cook your udon noodles in boiling water until tender (bear in mind the cooking time will be different depending on whether the udon noodles are dried, frozen, etc)
Once the noodles are ready, warm your bone broth through, and pour 3 ladles of the bone broth into a bowl with your udon noodles. Top with the thinly sliced scallion & ginger, and any other of the ingredients of your choosing.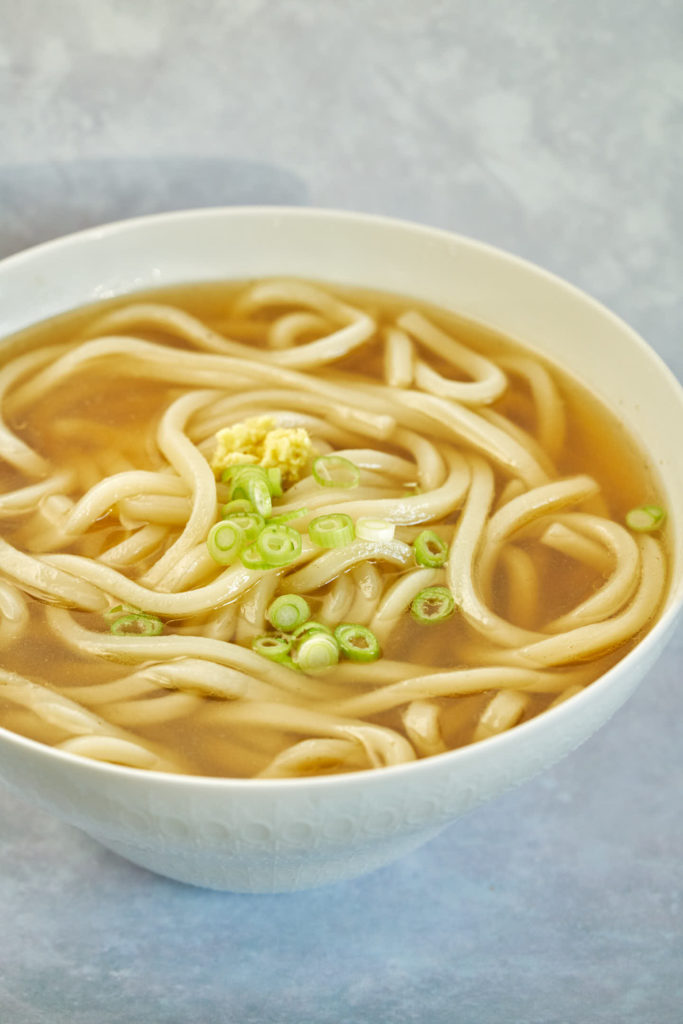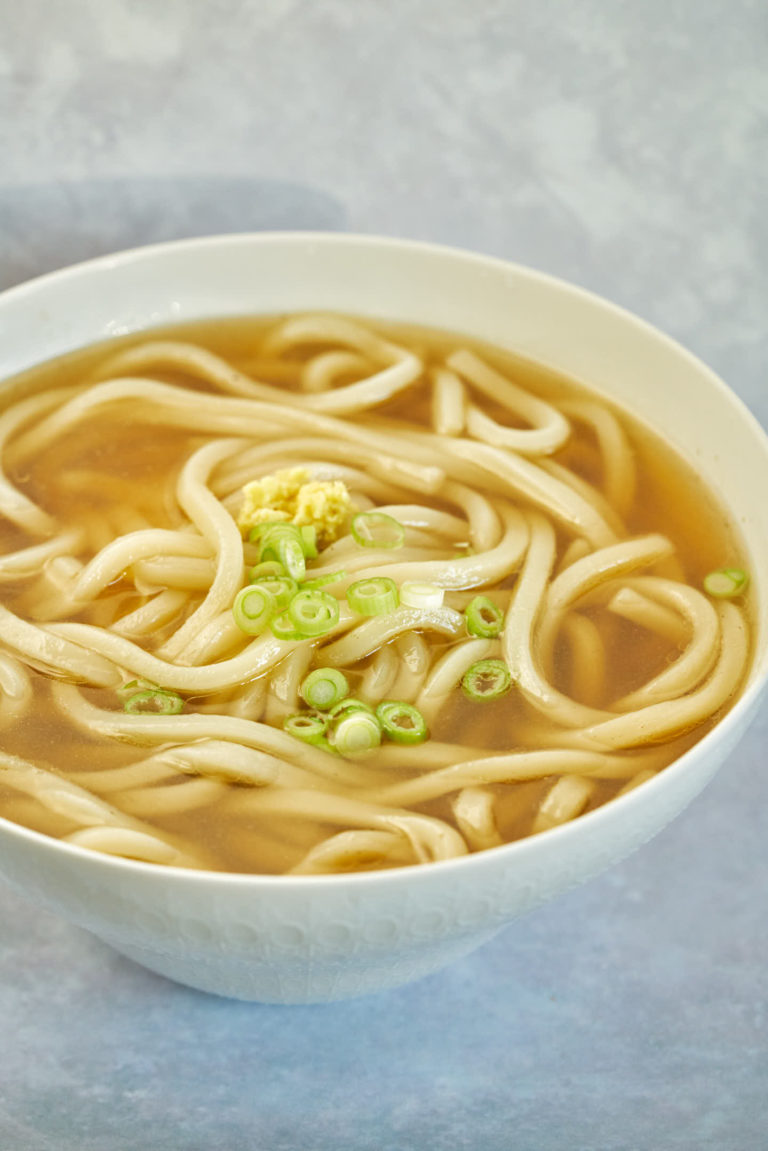 If you love this soup, you'll love my other noodle soups like:
★ Did you make this recipe? Please give it a star rating below!★
I love hearing from you! You can also FOLLOW ME on INSTAGRAM, FACEBOOK, TWITTER, and PINTEREST to see more delicious food and what I'm up to.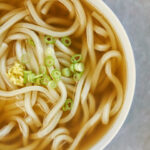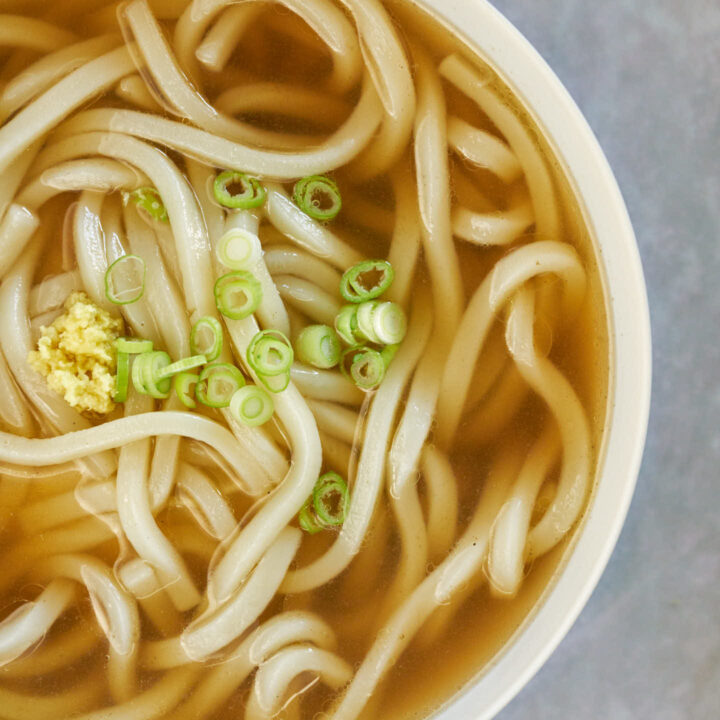 Print Recipe
Bone Broth Udon Soup Recipe
What do I do with my homemade bone broth? I make this simple bone broth udon soup. Just add some scallions, ginger, and udon noodles...plus any toppings you'd like: seaweed, soy sauce, chili oil, furikake, mushrooms, etc.
Ingredients
Bone Broth
4-6

chicken backbones

chunks of beef bones, or leftover chicken/turkey whole cooked chicken bones

1

bulb

fennel

quartered

1

onion

quartered

1

bay leaf

1

tablespoon

black peppercorns

3

inches

fresh ginger

sliced

1

head

garlic

cut in half

1

jalapeño

water
Soup
~6

oz.

frozen udon noodles

per person

1

teaspoon

grated fresh ginger

1

scallion

thinly sliced

salt & pepper
Instructions
Bone Broth (make in advance)
Add all your ingredients to a stock pot. Cover with water.

Bring to boil. Reduce to a light simmer. Cover. Cook 24-48 hours on lowest setting.

Season with soy sauce to taste before serving!
Udon
Cook your udon noodles per the directions on the package.

Pour 3 ladles of bone broth into a bowl with your udon noodles. Top with the scallion & ginger.
Notes
Can add any veggies (parsnips, celery, and turnips usually end up in my bone broth) and woody herbs you like...rosemary and thyme are a favorite.
Other optional toppings: seaweed, furikake, soy sauce, chili oil, soft boiled egg.
Nutrition
Calories:
52
kcal
|
Carbohydrates:
12
g
|
Protein:
1
g
|
Sodium:
34
mg
|
Potassium:
365
mg
|
Fiber:
3
g
|
Sugar:
1
g
|
Vitamin A:
160
IU
|
Vitamin C:
16.3
mg
|
Calcium:
59
mg
|
Iron:
0.8
mg
Did you try this recipe?
Don't forget to leave a rating and/or comment! And tag @ProportionalPlate on TikTok or Instagram... I'd love to see what you're making.
This post was originally published in March of 2018, but was republished with new photos, step by step instructions, and tips December of 2019.