Tofu is one of my favorite ingredients. It's an effortless ingredient to work with, and I can infuse it with all kinds of flavor profiles. So, I find myself making my tofu dishes again and again. My go-to type of tofu to use is firm tofu, so this guide to cooking with firm tofu will give you tips on how to prepare it, teach you how to cook it, and will share my favorite preparations.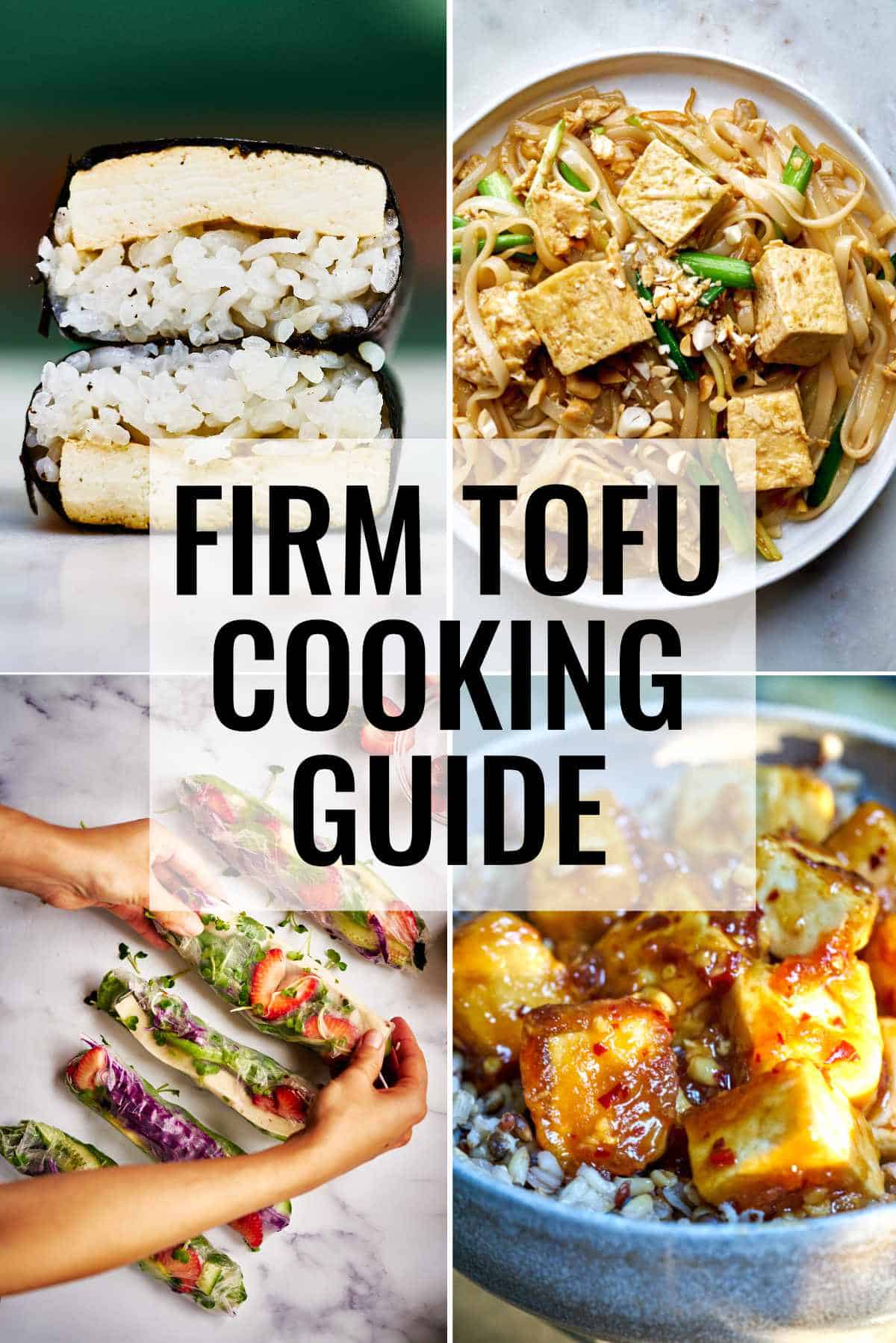 What is Firm Tofu and How is it Made?
Tofu is made from soybeans combined with water to make soy milk. The soy milk is then separated into curds and whey (the same process as making cheese). The lumpy curds are then pressed into blocks, which makes the square blocks of tofu that we see in supermarkets. Depending on how hard they are pressed, the process gives you varying levels of firmness in the tofu.
Tofu is available in a few different forms, from most firm to least firm: super firm tofu, extra firm tofu, firm tofu, regular or normal tofu, and silken tofu. Silken tofu has such a high water content that it doesn't keep its shape, and breaks apart very easily. This makes it popular to use in soups and desserts.
If you're feeling inspired to make your own tofu, this is a comprehensive step-by-step guide from Toiro Kitchen. You actually only need three ingredients to make tofu - soybeans, water and a salt coagulant like gypsum or nigari.
How to Prepare and Marinate Firm Tofu
Wrap the tofu in a paper towel or kitchen towel, and use something heavy like a book to press the tofu and drain out the water. Leave it for at least 10 minutes.
Once pressed, you can slice the tofu into bigger pieces, though most dishes will require that the tofu are cubed. Try and get them all a similar size so that they cook evenly.
To marinate the tofu pieces, place them in a pan or a deep dish so that the tofu is immersed in the marinade or sauce, and place in the fridge. I recommend marinating the tofu for a minimum of 30 minutes, or as long as 24 hours. If you leave the tofu marinating in the fridge for longer than 24 hours the tofu has a tendency to break down. From a food safety standpoint, the tofu is safe to marinate for 48 hours, but I don't recommend leaving it this long.
How to Cook Firm Tofu
Once you have your marinated firm tofu, there are a few ways you can cook it. I like to pan fry tofu for my recipes, but you can also grill it or bake it. I like pan-frying because it's easy to cook all my tofu evenly, and to get that crispy outer texture that works well in many recipes. No matter what method you use, here's a little cheat-sheet:
Pan-Frying

: Cut the tofu into 1-inch cubes or 8 rectangles. Pan-fry 2-3 minutes per side.

Frying

: Cut the tofu into 1-inch cubes. Deep fry for 2-3 minutes.

Baking

: Cut the tofu into 1-inch cubes or 8 rectangles. Bake at 350F for 20-30 minutes.

Grilling

: Cut the tofu into 1-inch cubes or 8 rectangles. Grill over medium heat for 2-3 minutes per side.
Note: For any dish where you are eating the tofu raw, I recommend flash-boiling the tofu to kill any bacteria on the surface as an extra safety precaution.
How to Make Sure your Tofu Doesn't Stick to the Pan
For pan-frying, tofu has a tendency to stick to the pan if it is wet (e.g soaked in marinade or not pressed). You must press the firm tofu to drain out the water before working with it. The drier your tofu is to start, the less likely it will be to stick to the pan.
I always use a heated non-stick pan and lightly oil the pan's surface as an extra precaution. Try not to place your tofu on the pan before it's adequately heated, as this will increase chances of sticking.
One last trick you can use is to lightly coat the tofu in flour or cornstarch. This thin layer of dry powder helps prevent sticking and gives the tofu a crispy outer layer.
How to Store Tofu
Firm tofu is very fridge stable and keeps well. An unopened tofu packet can last about 2 months in the fridge. Once opened, it's good for only 3-5 days so it's best to cook quickly. Store the tofu submerged in water, and change the water daily for extended preservation.
You can freeze unopened tofu to keep it for longer, and it's recommended that if you intend to freeze it you should drain the water from the tofu before transferring to a freezer-safe container. I personally very rarely freeze my tofu, but if you eat tofu regularly and want to stock up it can be done safely.
When defrosting your tofu, always defrost by moving the tofu from the freezer to the fridge and leave for 24 hours. Don't defrost it out on the counter at room temperature. After defrosting, cook and eat as soon as you can, and then don't re-freeze the tofu as it's already been exposed to potential bacteria in the air.
Not Sure about Tofu? Here's Why You Should Cook with it.
Tofu is a hero ingredient for anyone who follows a vegetarian or vegan diet, or who simply want to reduce their intake of meat. It is a rich source of protein, and is easy to substitute into recipes that would otherwise contain meat as the main protein. But calling tofu a meat substitute is a disservice - tofu is a much more interesting and versatile ingredient to cook with than you might think.
Tofu has a very mild, neutral flavor which means most people will like the taste of tofu as it is. The neutral base flavor of tofu is key to why it's so great to cook with. The thing that makes tofu unique is that it's a really effective flavor absorber. You can marinate it in any marinade or sauce, and the tofu will absorb those flavors and hold onto them through cooking.
My Favorite Firm Tofu Recipes
Now you've mastered cooking with firm tofu, here are some recipes to put those skills into action.
Marinated Tofu Musabi
Tofu marinated in ginger, garlic, scallions, soy sauce, and rice vinegar. with rice and seaweed wrap, they're easy to make and super tasty. Make these over the weekend (without the seaweed as it will get soggy) and pack two a day for lunch, or grab one as an afternoon snack.
Agedashi Tofu
This dish is a deep-fried tofu in a dashi based broth. This katsuobushi dashi is the perfect bath for perfectly fried, fluffy-inside tofu. This recipe also shows you my simple method for making your own dashi broth.
Sweet and Spicy Tofu
A perfect takeout dish homemade version, this recipe is inspired by the flavors in a sweet and spicy or 'General Tso's' takeout dish. It's a superb meat-free takeout option that has amazing flavor. Pair the fried tofu with plenty of rice.
Tofu Summer Salad Rolls
I love these rolls - they're so beautiful and taste amazing. I use see-through rice paper wrappers so you can see all the ingredients inside. Served with a wicked strawberry dressing, these rolls will add a new level of fun to your summer salads.
Rice Noodle Stir Fry with Tofu
During the three months that I lived in Thailand, I gained such an appreciation for Thai cuisine and have been making this dish ever since. It's a delicious, savory, warm dish inspired by Pad Thai with fried firm tofu.
I love hearing from you! You can also FOLLOW ME on INSTAGRAM, TIKTOK, and PINTEREST to see more delicious food and what I'm up to.
Read More Guides