Cooking for others is one way that I express my gratitude for them and say thank you for all that they do for me. It's an opportunity to have fun, and use a really creative way to show your appreciation and care for someone you love.
Creating an easy, sweet & savory breakfast in bed is something anyone can do, regardless of your cooking abilities. I'm excited to show you my favorite way to do it!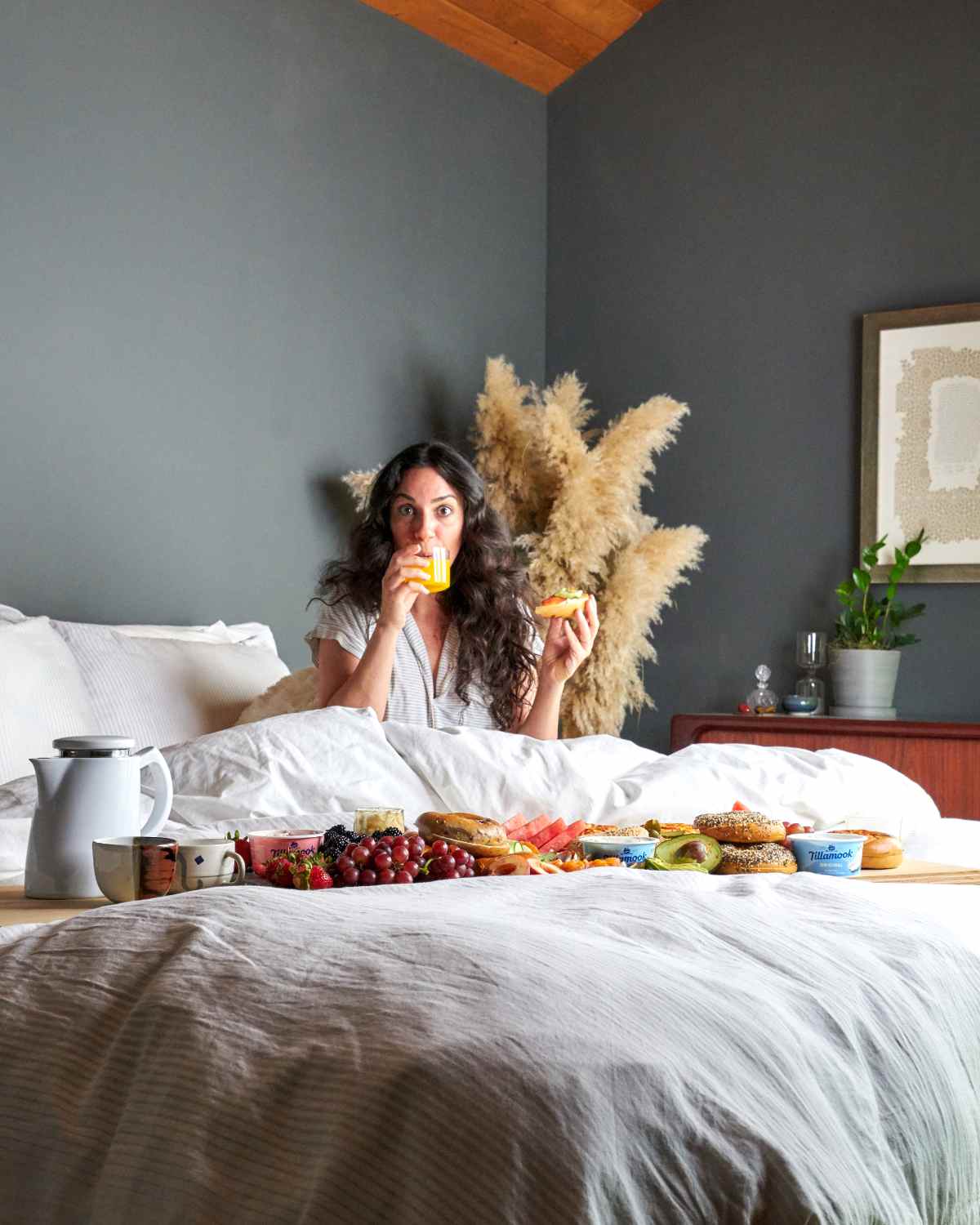 This post is sponsored by Tillamook, my go-to brand for dairy. All thoughts and opinions are my own.
I can never decide between sweet and savory breakfast foods, so why not include some of each? I am going to show you how to build a breakfast bagel board for 2 or 20 with both sweet and savory options to satisfy anyone's morning cravings. For this how-to, I'm partnering with Tillamook because I'm loving their AMAZING cream cheesespreads that you're going to want to try as soon as you can.
Create a Bagel Breakfast With A Special Touch
First, you'll need something to serve everything on. If you have a tray or even a large baking sheet that you can cover (something with a large enough surface area for multiple items), you can dress it up to minimize mess.
Once you have your base, you can add:
Some fun tea towels or a patterned placemat to dress the tray
Plain brown baking paper as a covering to catch any spills
Your best plates and mugs
Cutlery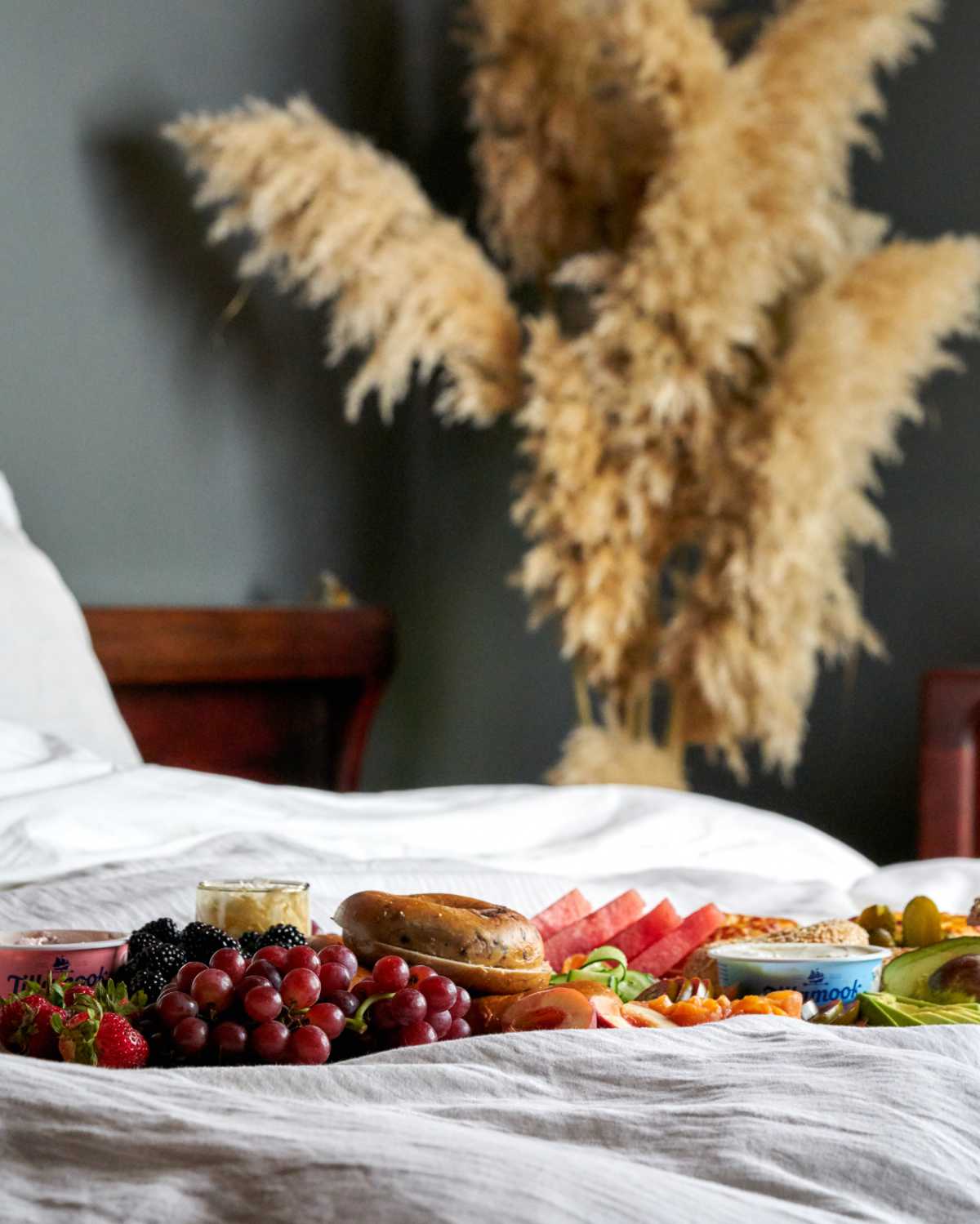 I encourage you to add a few extra touches to make it particularly special: napkins, a small vase and flowers, and maybe a little handwritten note or gratitude card. These all go a long way to show you've put that extra effort and care into the gesture.
What Goes with A Bagel for Breakfast?
Quality ingredients make a huge difference – to make this breakfast special, you'll want to pick some items that can be savored and really appreciated. I picked Tillamook as my partner for this because their products combine amazing quality with taste, and their new cream cheese flavors are no exception.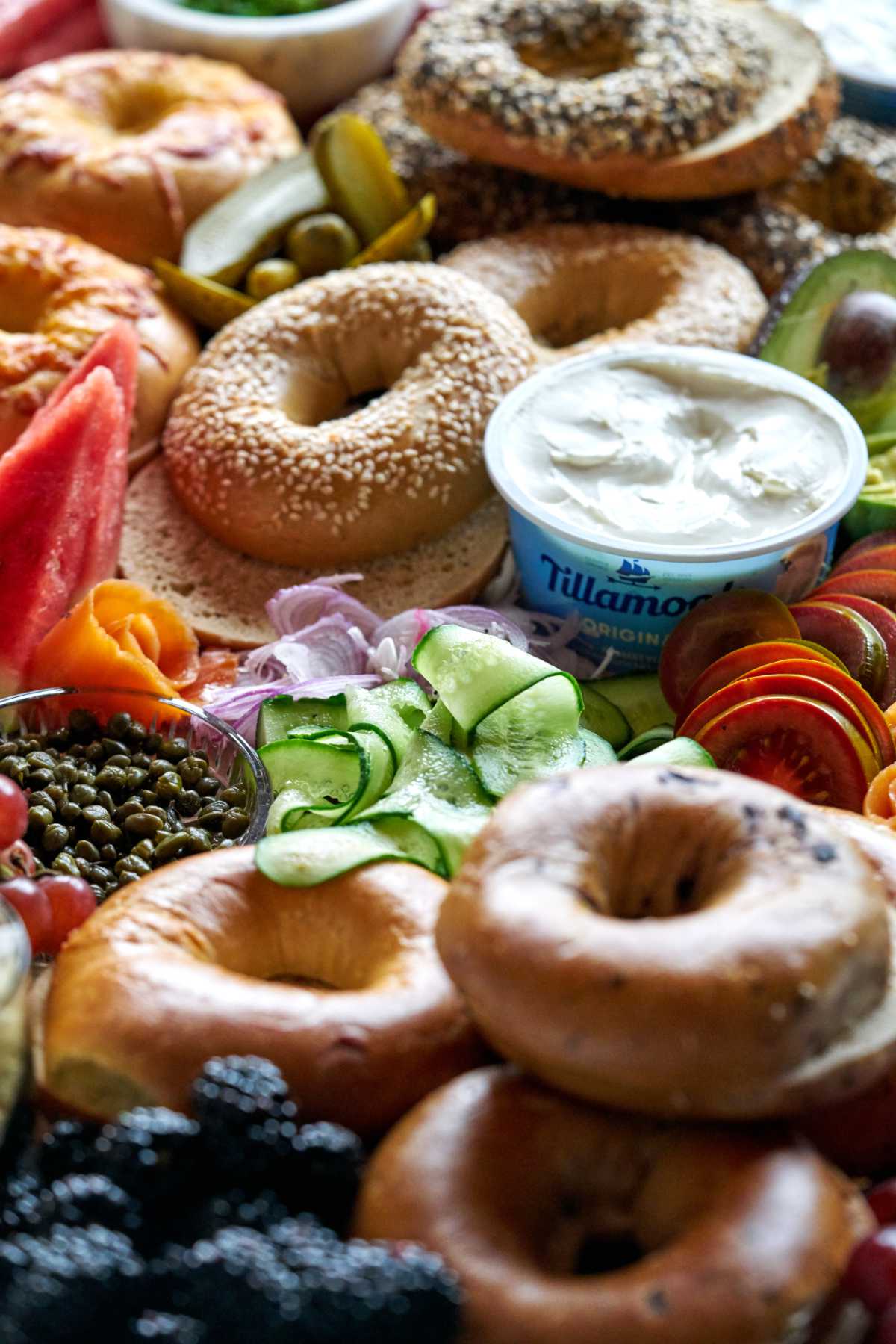 You can find Tillamook cream cheese spreads at your local Walmart.
Choosing Your Bagels
Breads will usually be the base for building your breakfast, as you can mix up your toppings and create something new each time. I think breakfast is incomplete without great bagels, so I include at least a plain option as well as something fun! Blueberry bagels are a favorite over here, along with sesame seed, poppyseed, and sourdough.
Cream Cheese Spread
You can't go wrong with a delicious, classic cream cheese to serve with breakfast. It's good to have a neutral option that can be customized to anyone's tastes. Tillamook Original Farmstyle Cream Cheese Spread is a winner for me. I live in Oregon, and am passionate about supporting local brands – Tillamook is my go-to for high quality dairy. I also love a tasty flavored spread, and the Chive and Onion Spread is delicious when combined with eggs on a bagel or with some smoked salmon or lox.
I love the Tillamook Seriously Strawberry Cream Cheese for a sweet spread option, as it pairs well with bagels, pastries, or even whipped until light as a dip for your fresh fruit. The tart sweetness of strawberry and the richness of cream cheese is such a tasty match.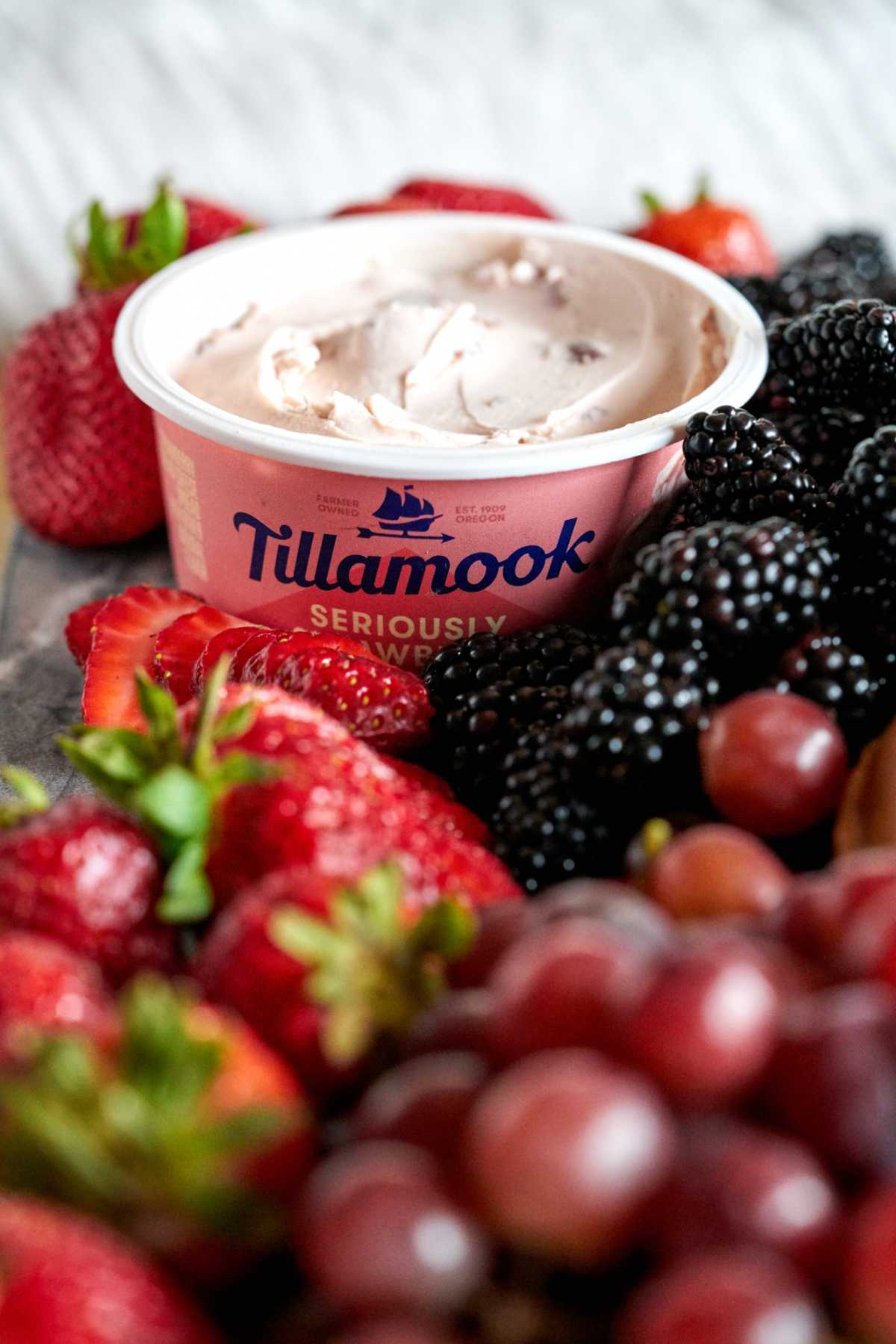 For other sweet options, I like to include a jam, my favorites are raspberry or blackberry! I also always keep some honey or agave syrup handy for a sweet drizzle over my breakfast foods.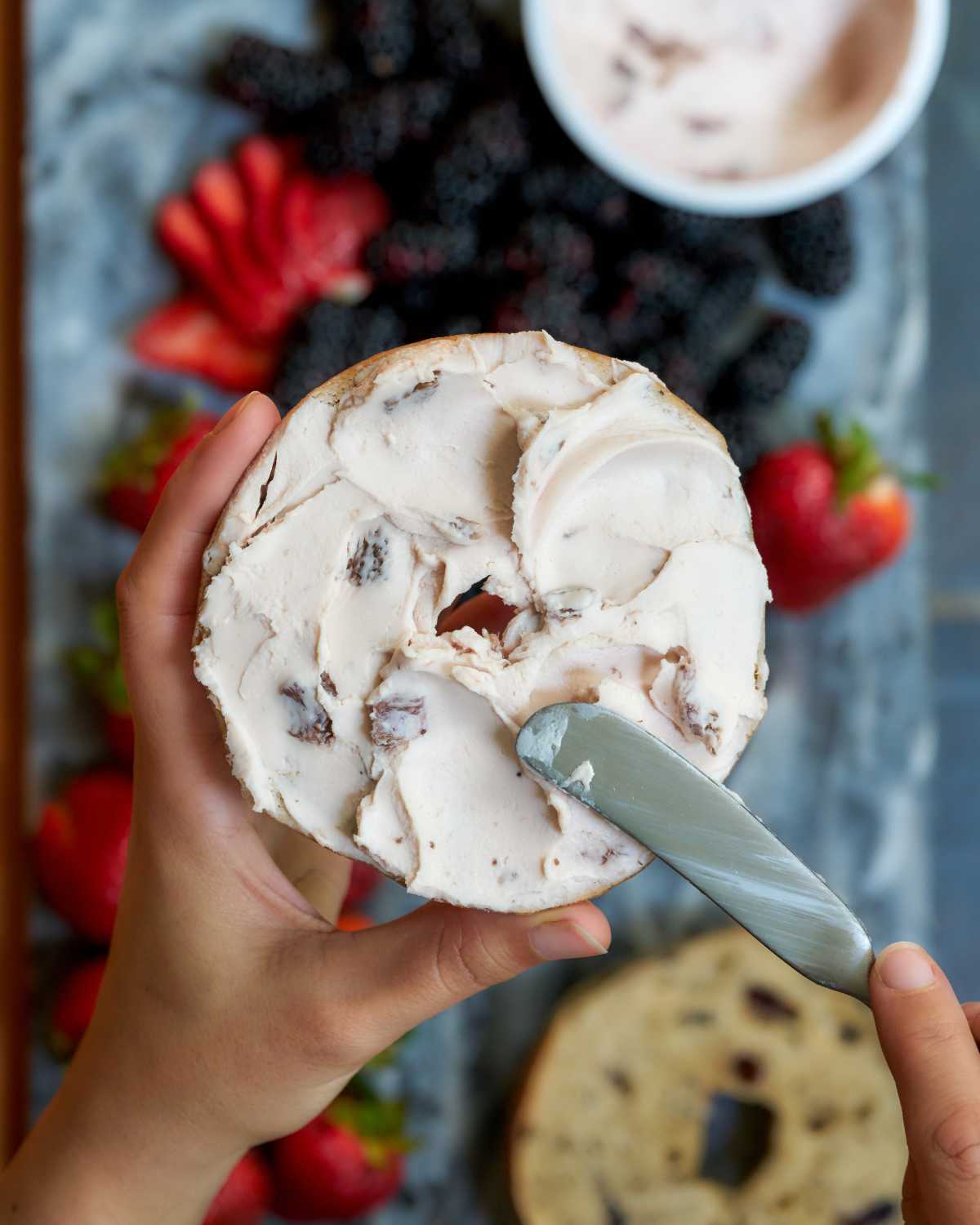 Fresh Fruit and Vegetables
Fresh fruit for your breakfast in bed looks gorgeous and tastes even better! Thinly slice them so you can snack on them easily, or top your bagel and cream cheese with them. I like to include:
Citrus like orange and grapefruit
Mango
Stone fruits like cherries, apricots, and peaches
Berries
Apple
For savory toppings:
Sliced tomatoes
Cucumbers
Onions, red onions or shallots are really good on bagels
Pickles
Capers
Chives
For sweet toppings:
Toasted coconut flakes
Chocolate chips
Fruit (see above)
Jams & preserves
Honey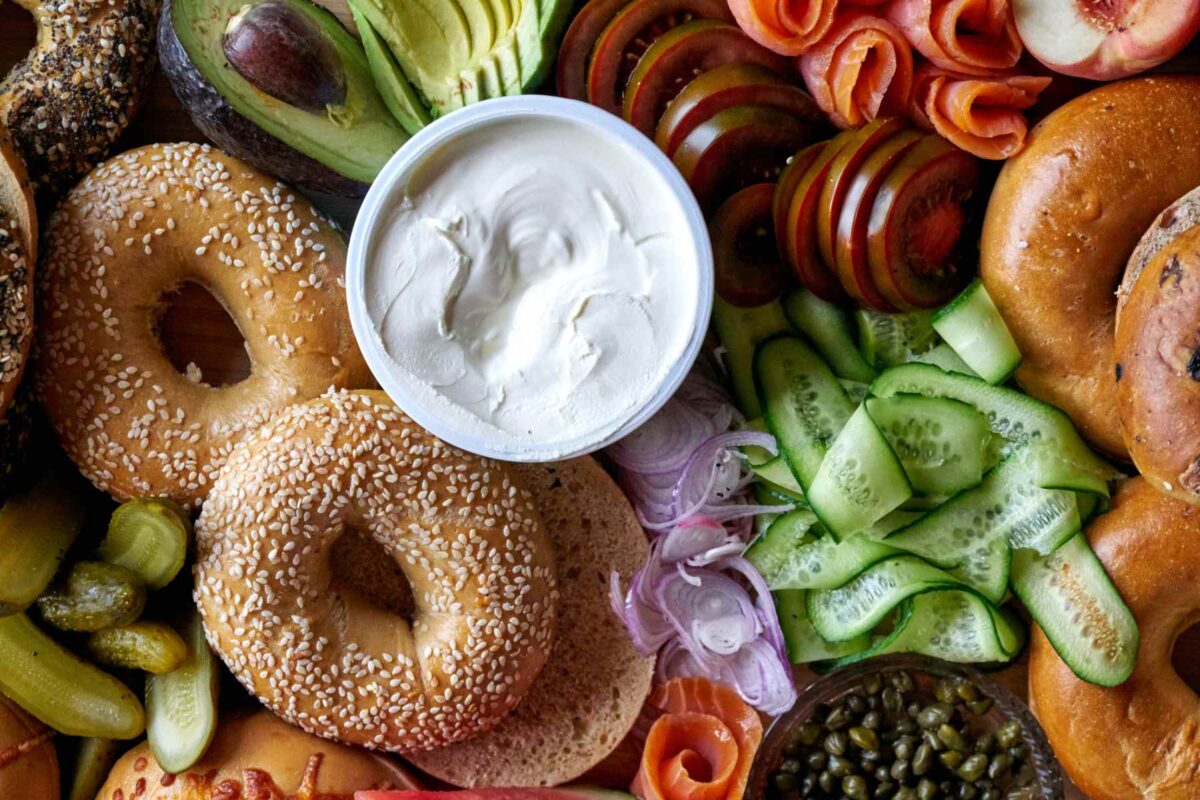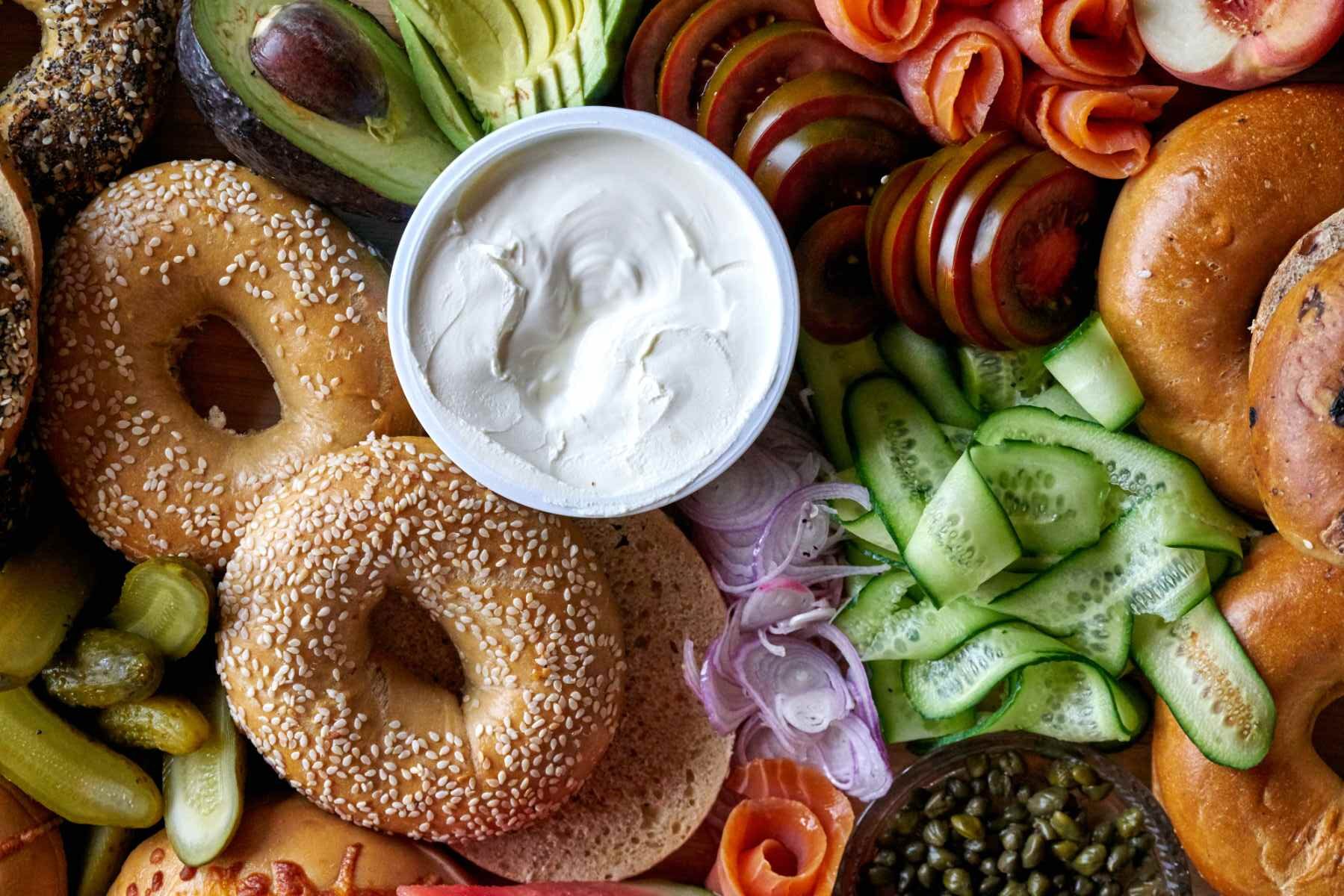 Creative Extra Toppings
My ultimate decadent savory topping is fresh lox and capers. They are the perfect pairing for a toasted bagel and cream cheese.
Crushed nuts like hazelnuts, almonds, and walnuts are all a great crunchy element to sprinkle over your breakfast dish. I like to have mini chocolate chips as well, for an extra sweet bite. Coconut flakes are also a fantastic addition to bring a new flavor to your breakfast.
Drinks
Some fresh brewed coffee with cream is a morning staple. However, here are a few ideas for delicious alternatives:
For cold drinks, fresh squeezed fruit juice is so delicious and uplifting. Iced tea or lemonade are both very refreshing choices, or you can always make an iced version of your favorite teas and coffees by simply pouring it over ice. Lastly, always have water available as a default option.
A Thoughtful Touch Goes a Long Way
Showing someone how much you love them with breakfast in bed doesn't have to mean spending hours in the kitchen. This easy-to-assemble treat is the perfect kind gesture, and made exceptional with high-quality ingredients and a few personal touches. And of course, express your gratitude out loud for your special person along with breakfast, and it'll be a morning to remember!
More Thoughtful Things...