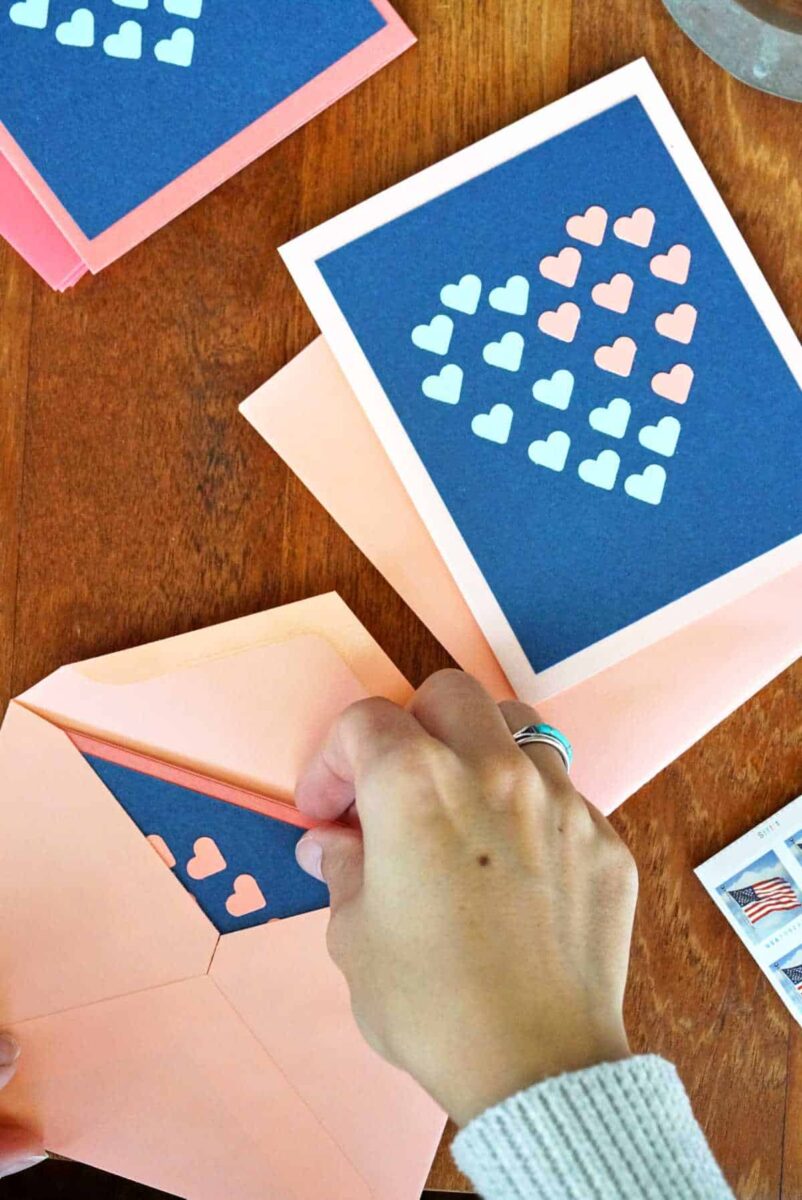 It may seem small, but making time to send gratitude cards and show your thanks to someone in your life has far-reaching positive effects! Every year I make gratitude cards and send a personal message to the people in my life who have really impacted, helped, and inspired me.
What Are Gratitude Cards?
Gratitude cards are small, paper thank you cards, though I like to think of them as personal acknowledgements of someone's impact in my life rather than a thank you note for a specific thing or act. You can buy pre-written thank you cards at most stores, but I think a handmade, handwritten version is much more special and is fun to make as well!
If you're the kind of person who experiments with arts and crafts, you can really get experimental with these.
Why Express Gratitude Regularly?
Every year I make gratitude cards and send a personal message to the people in my life who have really impacted, helped, and inspired me. Research has shown (link opens in new tab) that expressing gratitude is proven to positively affect our health and well-being, and makes us feel happier as well!
So it not only helps lift your recipient's happiness, it increases your own, and strengthens good-will and affection between you. Think about how great it feels when you are thanked and acknowledged - I believe we should pass that feeling on as often as we can.
Why Make Handwritten Notes?
When was the last time you wrote or received a piece of mail that wasn't a bill, nuisance mail, or credit card offer? Getting a handwritten thank you note will stand out for your recipient, and make them feel special that you took the extra time to write it, get postage, and find a mailbox.
But even if you don't have time for all that, expressing gratitude in any form is important. Take a moment to send a text or email!
Who Should I Thank?
When I express gratitude, it doesn't always have to be to someone that I've met in person - sometimes I'll write to an author whose book I've really enjoyed or a blogger whose recipe I had fun trying out. Engaging in these small acts of thankfulness, even to people I don't know, lifts my mood and reminds me of all the good people I have in my life.
You could write to the author of a book you are reading, the host of your favorite podcast, a coworker, a friend, partner, or family member. I challenge you to think of all the people you'd like to thank, and every day this week, write one thank you note and send it out.
What Supplies Do I Need to Make Gratitude Cards?
To make some gratitude cards at home, you can use some simple craft supplies that they'll have at most craft or stationery stores. Some things you may need are:
Other Card Design Ideas
Here's a roundup of some really cool craft DIYs that I love for gratitude cards! Pinterest is a great place to get some inspiration, and I found that following a tutorial to get started can be helpful in coming up with my own designs.
I love hearing from you! You can also FOLLOW ME on INSTAGRAM, TIKTOK, and PINTEREST to see more delicious food and what I'm up to.
Read More...
Or check out all the lifestyle and travel articles on Proportional Plate here.
This post was originally published in April of 2019 but was republished with new tips in November of 2020.