Gnocchi is delicious, but it's even more fantastic when paired with the right sauce. And there are so many great sauces that compliment gnocchi! Whether it's a pesto or cream or spicy sauce, there's a sauce for whatever mood you're in. Here I'm sharing the BEST ones for you to try!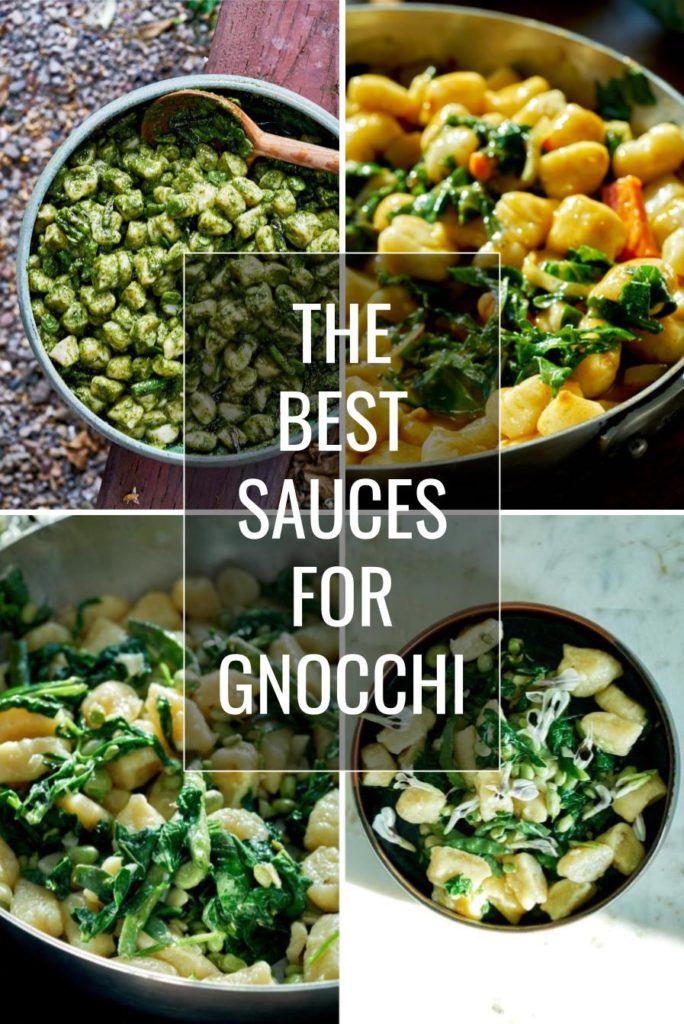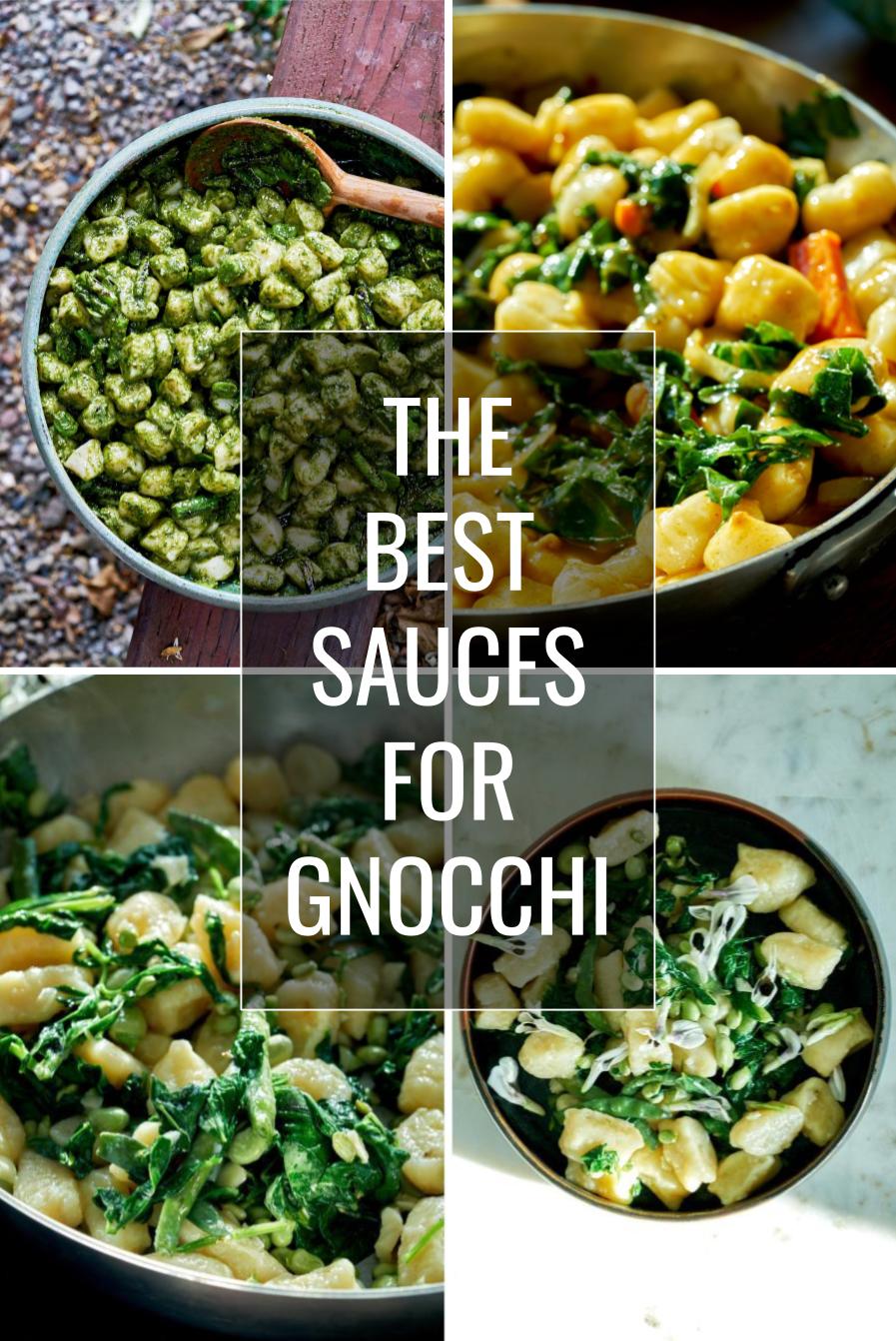 In this Guide You Will Find:
And answers to the following questions:
Is Homemade Gnocchi Easy to Make?
Absolutely! It may seem hard, but all you need is some spare time and a little bit of know-how. You will need some starchy potatoes like Russet or sweet potato, egg and some flour.
Boil the potatoes in hot water, then mill the boiled potato into tiny pieces. Next, use the milled potato to form a gnocchi dough with flour and egg. You can roll the dough out, and then cut each piece of gnocchi from the dough.
To get started on your homemade gnocchi, follow my recipe for easy homemade gnocchi or for sweet potato gnocchi if you fancy a twist on classic gnocchi.
Is Gnocchi Healthier Than Pasta?
Gnocchi and pasta are nutritionally very similar. They are both high in carbohydrates, and low in protein. They do differ in that pasta is slightly higher in protein than gnocchi, while gnocchi is less calorific when compared directly by weight. Swapping out gnocchi for pasta or vice versa isn't really a healthy swap. Both of these carbohydrate-heavy foods should be enjoyed proportionally as part of a balanced diet.
How to Cook Gnocchi: Boiled or Pan-Seared
Boiled Gnocchi
Fill a pot with water and simmer to boiling on a medium heat. When the water has reached a rolling boil, add in your gnocchi (photos 1 & 2). They cook very quickly, and will only take a few minutes. You know that your gnocchi are ready when they float to the top (photo 3).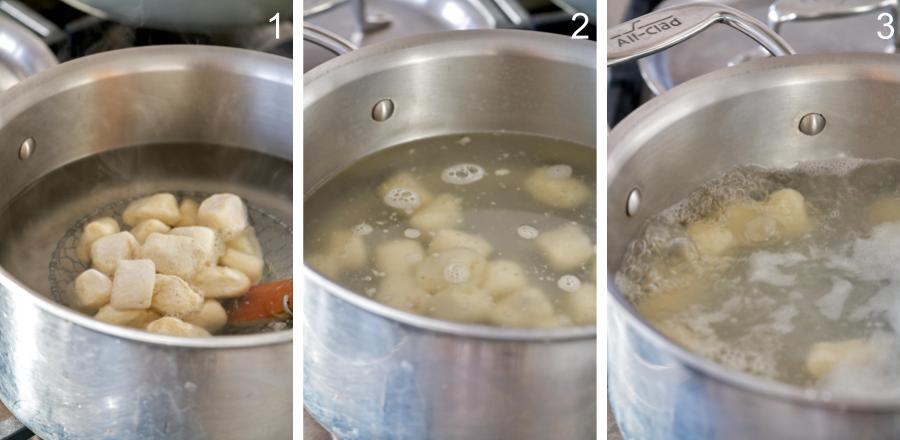 Pan-Seared Gnocchi
Once you have boiled your gnocchi, you can pan-sear them for a crispy outer texture. Start by melting one tablespoon of butter in a 12-inch nonstick skillet over medium-high heat.
When the butter is melted, add the gnocchi in a single layer. You can use a large slotted spoon or a strainer to transfer the cooked gnocchi from the boiling water to the skillet, shaking off as much water as possible first.
Do not pile the gnocchi on top of each other or overcrowd the pan. Season them with salt, then cook and toss the gnocchi in the pan until they're lightly browned, which should take about two minutes.
Transfer to your serving platter and repeat until all the gnocchi have been cooked in the pan.
Do I Have to Boil Gnocchi Before Frying?
You don't have to boil gnocchi before pan frying. Many recipes call for fresh gnocchi to go straight in the pan with sauce and other ingredients. I personally prefer to boil them first because it is the best way to guarantee they are cooked all the way through.
Whether you do it after boiling first or not, pan frying gnocchi will give them a crispy texture while soft on the inside.
Why Are My Gnocchi Mushy?
Gnocchi will get too mushy when they take on too much moisture. This can happen when you boil your individual gnocchi pieces. Boiling them too long results in them absorbing too much water. Avoid this by being attentive while your gnocchi are boiling and making sure you take them out when they are ready.
Some recipes call for boiling the potatoes to make the gnocchi. This can also result in mushy gnocchi. Try this recipe for gnocchi using roasted potatoes.
The Very Best Sauces for Gnocchi
Basil Pesto
There's nothing better than fresh basil pesto with gnocchi. My recipe for garlic basil pesto uses simple ingredients to make a knock-out sauce, and it's really easy to mix up with a food processor. The pesto is delicious to add in with roasted asparagus, frozen peas, or sautéed greens like spinach, chard, or fava beans.
Simply add 4 oz. of stemmed fresh basil, 4 rough chopped cloves of garlic, ½ cup toasted pine nuts, and ¼ teaspoon pepper to a food processor. With it running, slowly add ½ cup of good olive oil. Transfer to a bowl and stir in ½ cup freshly grated parmesan. Buon appetito!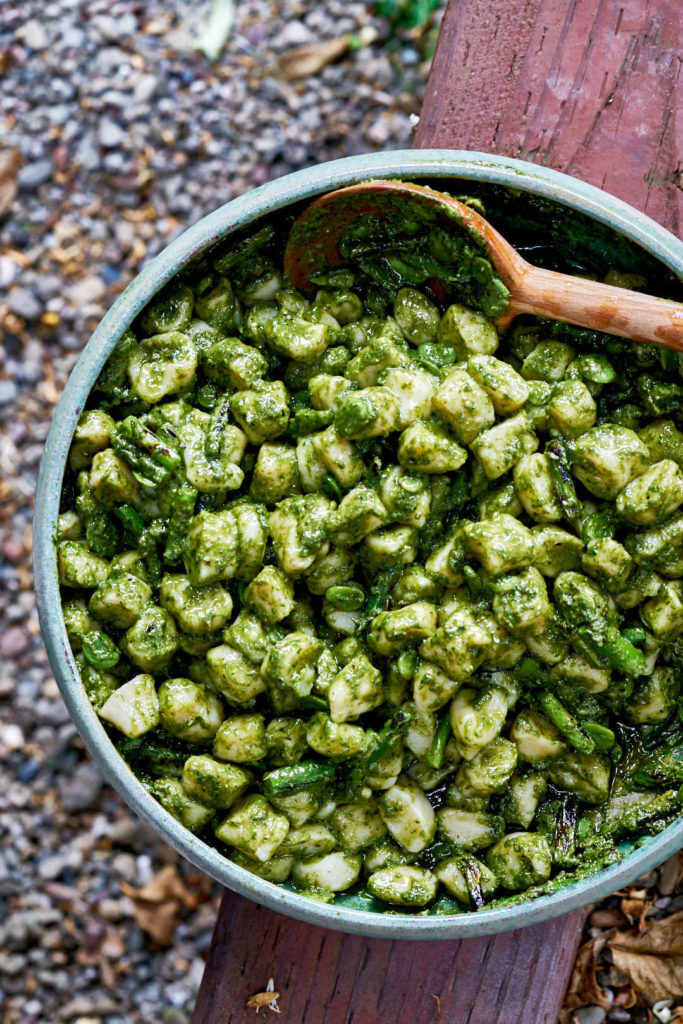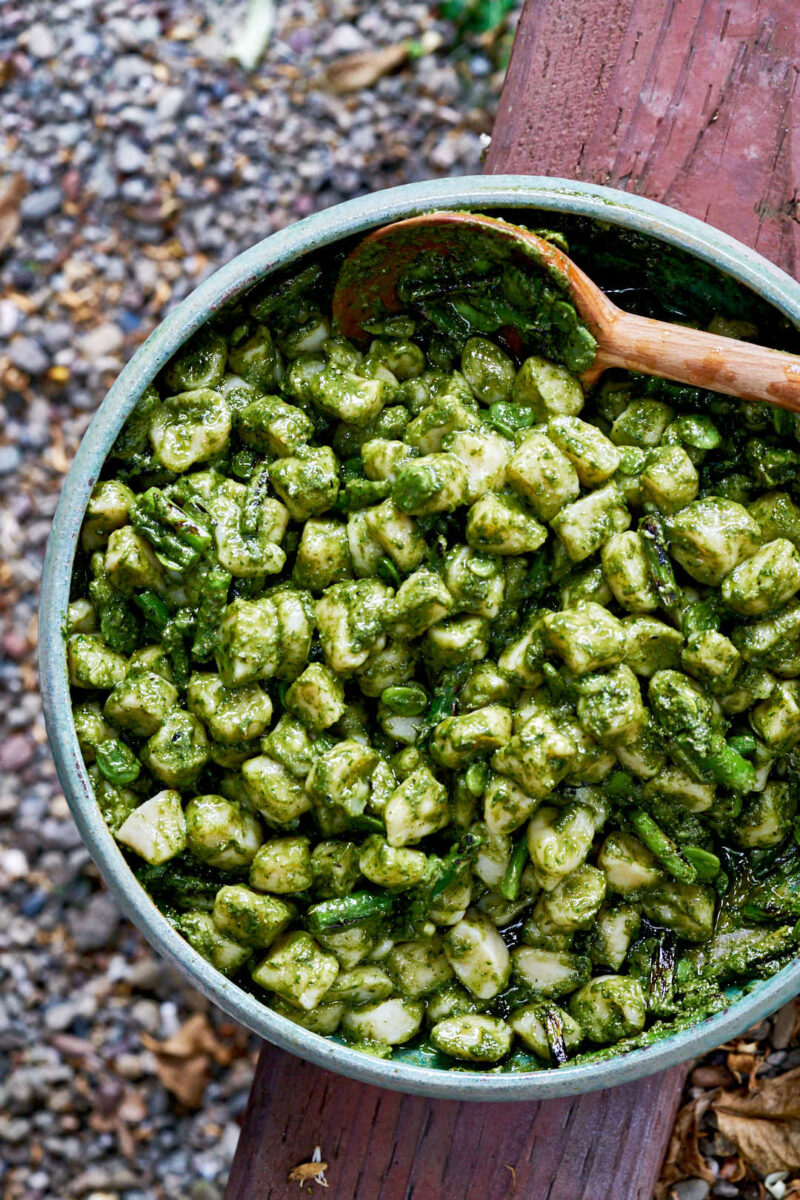 Spicy Pomodoro
Spicy Pomodoro sauce is a classic tomato-based pasta sauce. My recipe has a real kick with some jalapeños and red pepper flakes added in. Perfect for gnocchi, or any kind of pasta!
Start your sauce by heating 3 tablespoons of olive oil in a large saucepan over medium/medium-high heat. Add 2 finely diced jalapeños, 1 finely chopped shallot, 4-5 minced cloves of garlic, a pinch of sea salt, ½ teaspoon red pepper flakes, and 16 medium leaves of basil.
Once the garlic looks cooked but is not yet brown, add 1.5 to 2 pounds of diced or processed vine or San Marzano tomatoes. Taste and adjust the seasoning. If it tastes too acidic, add a pinch of sugar. Once the tomatoes are brought to temperature lower the heat to a simmer and cover for 20-30 minutes. If a smoother consistency is desired, blend the sauce.
Add the cooked gnocchi directly to the sauce and toss to coat before serving.
Aglio e Olio
This is a tasty, comforting accompaniment for your gnocchi. Aglio e Olio is an easy garlic sauce made with ingredients you likely already have in your pantry. Simply roast some garlic, add olive oil, red pepper flakes and some of your pasta/gnocchi water. It reduces down to a delicious yet simple sauce.
Heat ½ cup of olive oil over medium heat in a large saucepan. Add 8 cloves of smashed and rough chopped garlic and cook until fragrant. Do not let the garlic burn or brown, but golden is OK. Add ½ teaspoon of red pepper flakes and turn the heat down to low.
Carefully add 1 ½ cups of reserved pasta water to the olive oil. Season with 1 teaspoon of salt and simmer for 5 minutes, until the liquid is reduced by ⅓.
Add the cooked gnocchi directly to the sauce and toss to coat before serving.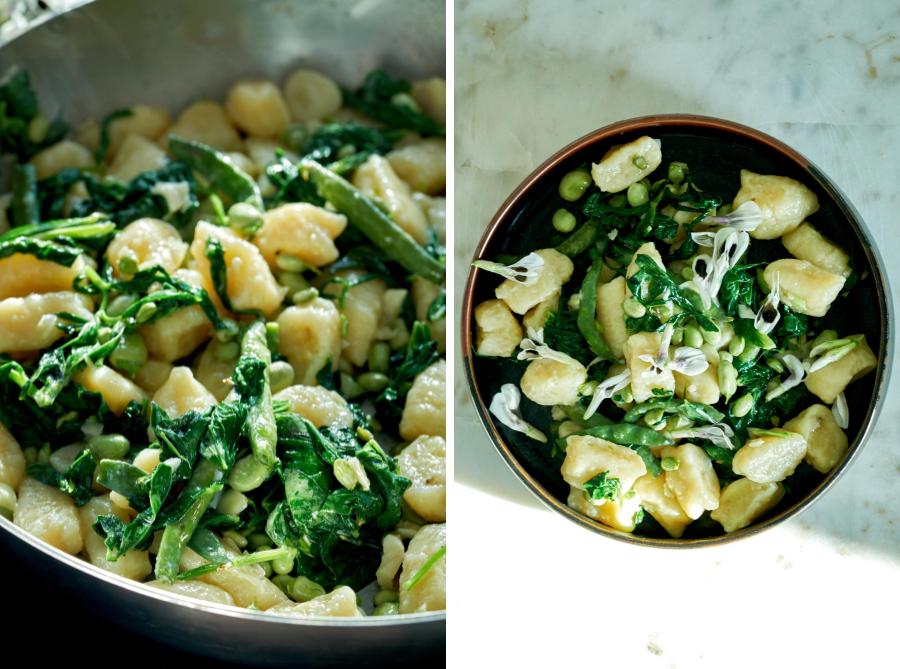 Japanese Curry
This sauce is a non-traditional but is a surprisingly incredible option. Sauté your favorite greens or veggies (like spinach or chard) in a few tablespoons of oil. There's no need to season since the curry has plenty of flavor. You can add in any extras you like – it's especially good with leftovers like roasted carrots or asparagus.
Add one 4-square of Golden Curry cubes, and 1.5 cups of water in the sauté pan over medium heat. Add more water if the sauce is too thick. Mix until the curry cubes are completely dissolved. Add the cooked gnocchi to the pan, and toss to coat. Then it's ready!
This recipe was created by accident during the stay-home-shut-down when we had to get creative with our pantry items. It was such a hit, that we've been making it ever since!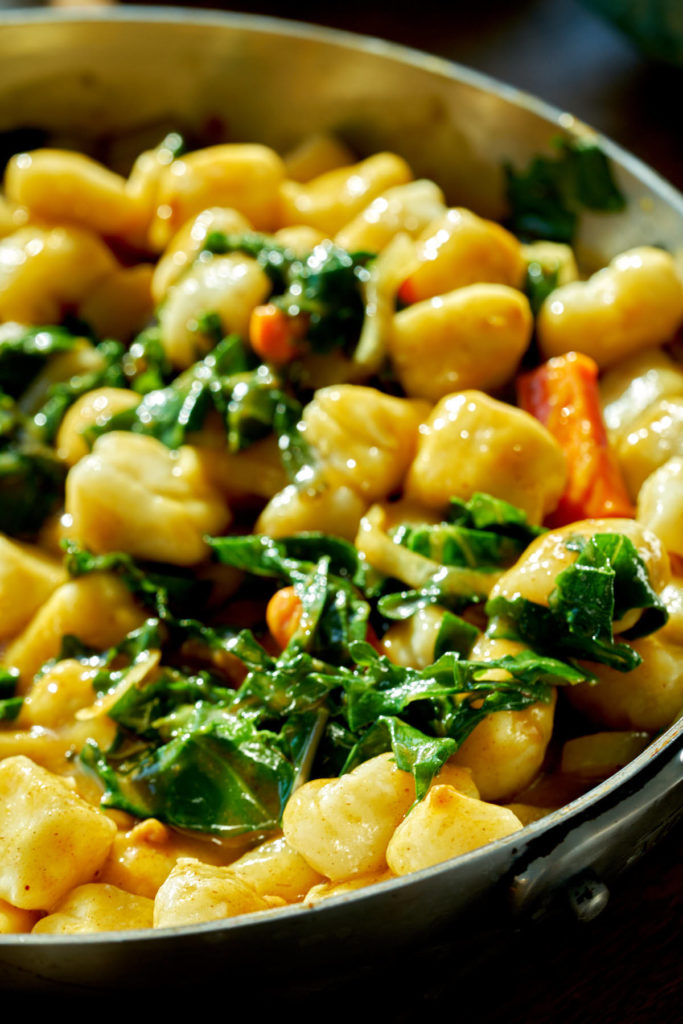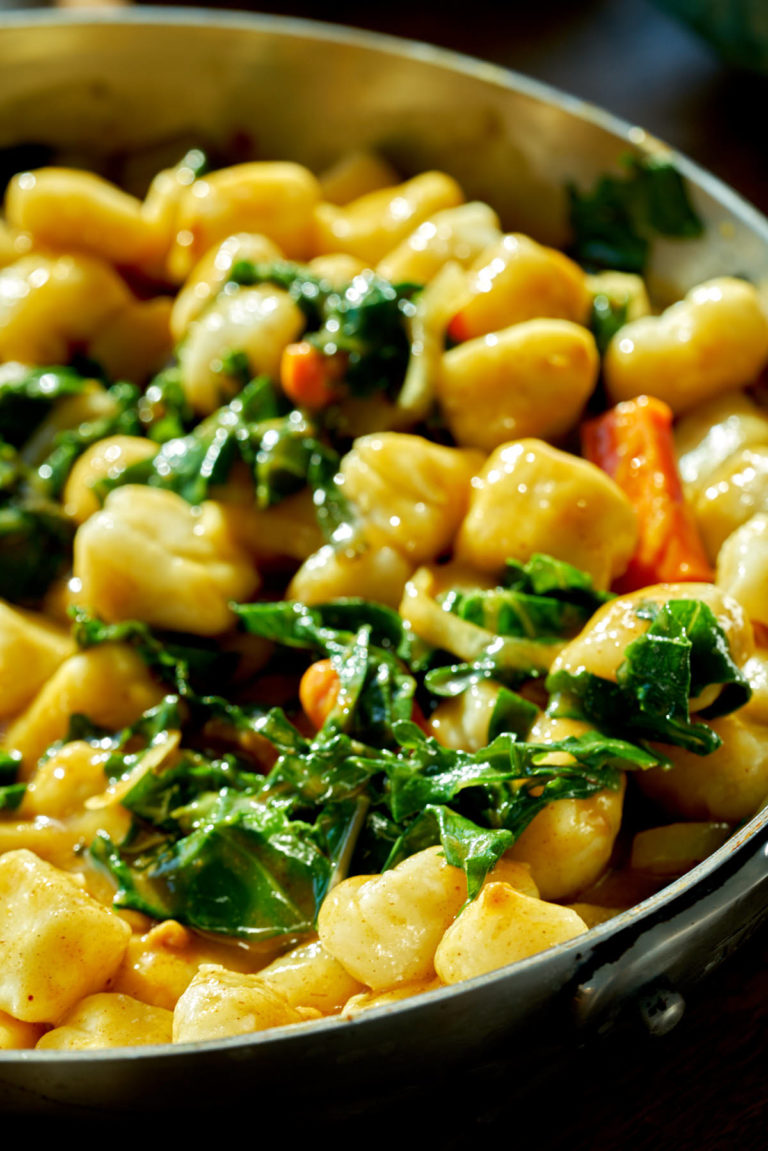 I love hearing from you! You can also FOLLOW ME on INSTAGRAM, FACEBOOK, TWITTER, and PINTEREST to see more delicious food and what I'm up to.
Vegetarian Mushroom Carbonara
I love this recipe for mushroom carbonara sauce by Molly Baz. Eggs provide the base of the sauce, with parmesan and reserved pasta water. Then add in some browned mushrooms, shallots, and garlic for an amazing flavor kick.
Heat a large dutch oven over medium high for 3 minutes. Add ¼ cup olive oil and 1.5 lbs. of quartered crimini mushroom caps. Cook, tossing every 4-5 minutes until mostly golden brown, 13-16 minutes.
Reduce heat to medium low and add 6 minced garlic cloves, 2 minced shallots, and 1.5 teaspoons of salt. Cook up to 1 minute until you can smell the garlic.
Add 1 cups of pasta water (reserve a total of 2 cups) and the cooked gnocchi to the dutch oven. Remove from heat and let cool for 1 minute. Whisk together ½ cup of pasta water, 5 egg yolks, and 1 egg. Gradually add the egg mixture to the dutch oven, stirring the gnocchi with a wooden spoon until they are all coated with the sauce.
Stir in 1 cup of chopped parsley, top with extra parmesan and pepper, and serve.
Alla Vodka
This easy vodka sauce by Caroline Lange is so good – it's creamy, spicy and has that rich tomato flavor. It uses crème fraîche instead of heavy cream so tastes lighter and has a freshness to it. Also, the recipe gives steps to caramelise the tomato paste, which makes the sauce even more delicious.
Simply add 1 diced yellow onion, 5 minced cloves of garlic, ¼ cup olive oil, and ¼ teaspoon red pepper flakes to a large saucepan over medium heat. Cook until the onions are soft, ~10 mintues.
Stir in 6-oz tomato paste and turn the heat up to high. Stir constantly until the paste is dark red, ~5 minutes.
Reduce the heat to low and add ¼ cup vodka. Stir until mixed. Then, add ¼ cup creme fraiche or mascarpone. Add 1 ½ cups of pasta water and stir well to combine.
Add the cooked gnocchi directly to the sauce and toss to coat before serving.
Gorgonzola Sauce
I love a cheesy sauce with gnocchi, and this Gorgonzola sauce by Ina Garten is perfect. It has only a few ingredients and is super easy to make. It combines hot heavy cream with melted Gorgonzola, parmesan, and fresh parsley.
Simply bring 4 cups of heavy cream to a full boil in a large saucepan over medium-high heat and boil for 45-50 minutes until it's a thick, white sauce.
Then, remove the saucepan from the heat and whisk in 3 oz. of crumbly Gorgonzola, 3 tablespoon grated parmesan, ¾ teaspoon salt, and ¾ teaspoon pepper, and 3 tablespoon of minced fresh parsley until the cheeses melt.
Add the cooked gnocchi directly to the sauce and toss to coat before serving.
DO YOU LOVE PASTA AS MUCH AS I DO?
Try some of my other favorite pasta recipes like:
DUMPLINGS FROM AROUND THE WORLD
These Italian potato dumplings aren't the only dumplings I love. Try some of these other kinds of dumplings:
I love hearing from you! You can also FOLLOW ME on INSTAGRAM, FACEBOOK, TWITTER, and PINTEREST to see more delicious food and what I'm up to.