Replacing refined sugars with natural sugars makes this vanilla date ice cream borderline healthy, right? No added sugars, and incredibly delicious.
Print Recipe
Vanilla Date Ice Cream (No Added Sugar)
Replacing refined sugars with natural sugars makes this vanilla date ice cream borderline healthy, right? No added sugars, and incredibly delicious.
Ingredients
5

large egg yolks

300

g

Medjool Dates

pitted

1 ½

cups

whole milk

1

vanilla bean or 1 teaspoon vanilla extract

1 ½

cups

heavy cream

roughly chopped pistachios

optional
Instructions
Put the bowl of your ice cream maker in the freezer.

Whisk the yolks together and set aside.

Add half of the dates to a food processor with the milk. Run until well combined, 3-4 minutes. Rough chop the remaining dates.

Warm the milk & date mixture with the vanilla and rough chopped dates until it just lightly simmers. Use a whisk to break up the chunks of dates. (If using a vanilla bean, slice lengthwise, scrape out the specks of vanilla, and add the bean and specks to the milk mixture.)

Temper the egg mixture with the milk/date/vanilla mixture.

Return to the sauce pan and cook until thickened, stirring slowly and constantly. It should get to 170F.

Remove from heat. Add the cream. Chill in the refrigerator overnight.

The next day, add your chilled ice cream to your ice cream maker. Churn (stir setting) until it is the thickness of soft serve ice cream, 20-25 minutes.

Transfer to a container you can freeze, cover with parchment paper, and freeze at least 4 hours.

Optional: Top with roughly chopped pistachios before serving!
Nutrition
Calories:
646
kcal
|
Carbohydrates:
64
g
|
Protein:
9
g
|
Fat:
42
g
|
Saturated Fat:
24
g
|
Cholesterol:
375
mg
|
Sodium:
84
mg
|
Potassium:
734
mg
|
Fiber:
5
g
|
Sugar:
54
g
|
Vitamin A:
1895
IU
|
Vitamin C:
0.6
mg
|
Calcium:
238
mg
|
Iron:
1.3
mg
Did you try this recipe?
Don't forget to leave a rating and/or comment! And tag @ProportionalPlate on TikTok or Instagram... I'd love to see what you're making.
Can I use less cream and more milk?
Yes, you can use 2 cups of milk and 1 cup of cream. The texture will be less like ice cream, and more like gelato. Also delicious, and a choice I make every once in a while to reduce the fat in the recipe!
What do I use to churn the vanilla date ice cream?
I use the KitchenAid mixer ice cream attachment. I think it works great, and does not require a separate appliance like most ice cream makers. However, it does take up quite a bit of room in the freezer. So plan ahead when you want to make ice cream!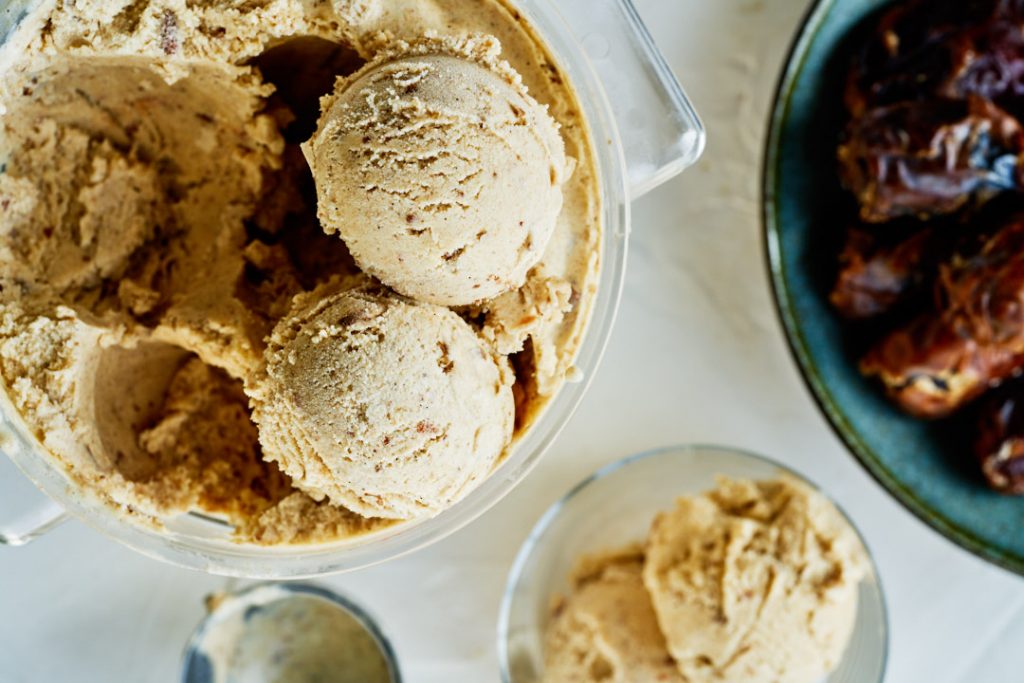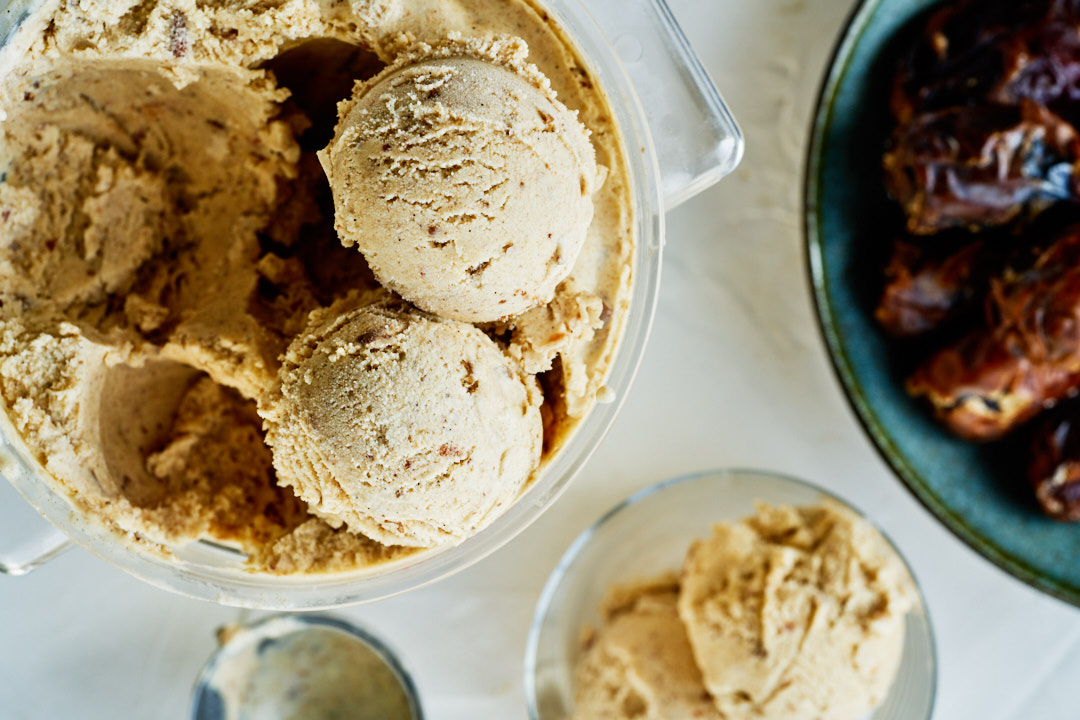 If there is no added sugar, then is it sweet?
You must be thinking that if there is no added sugar, then it isn't sweet. But that isn't true at all! Dates are considered a whole food, but are 80% sugar. So take precaution if trying to minimize your sugar intake.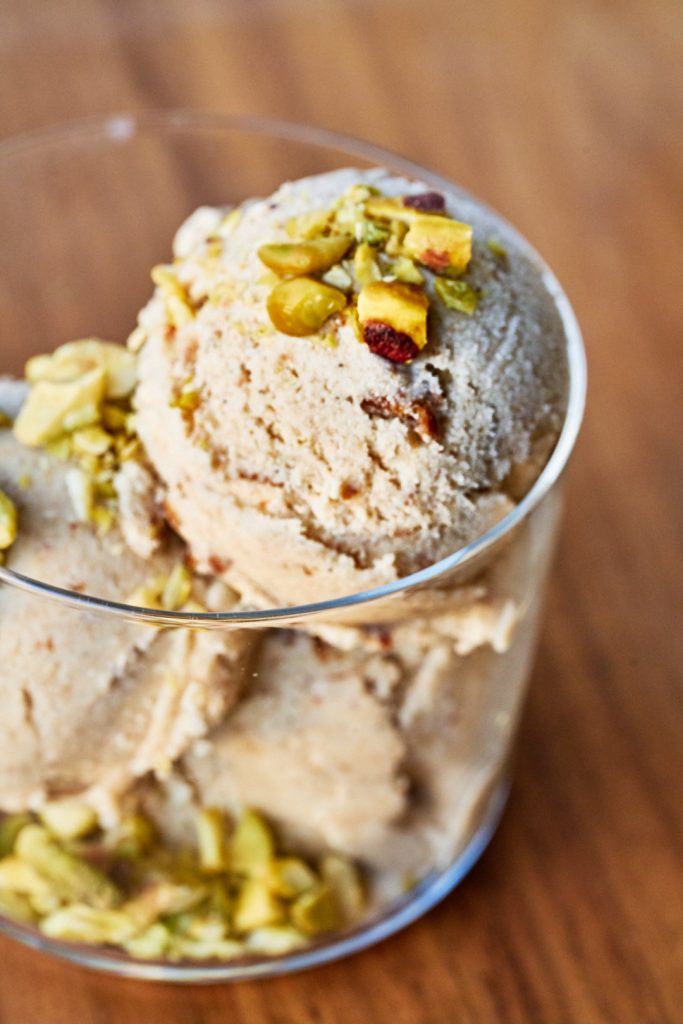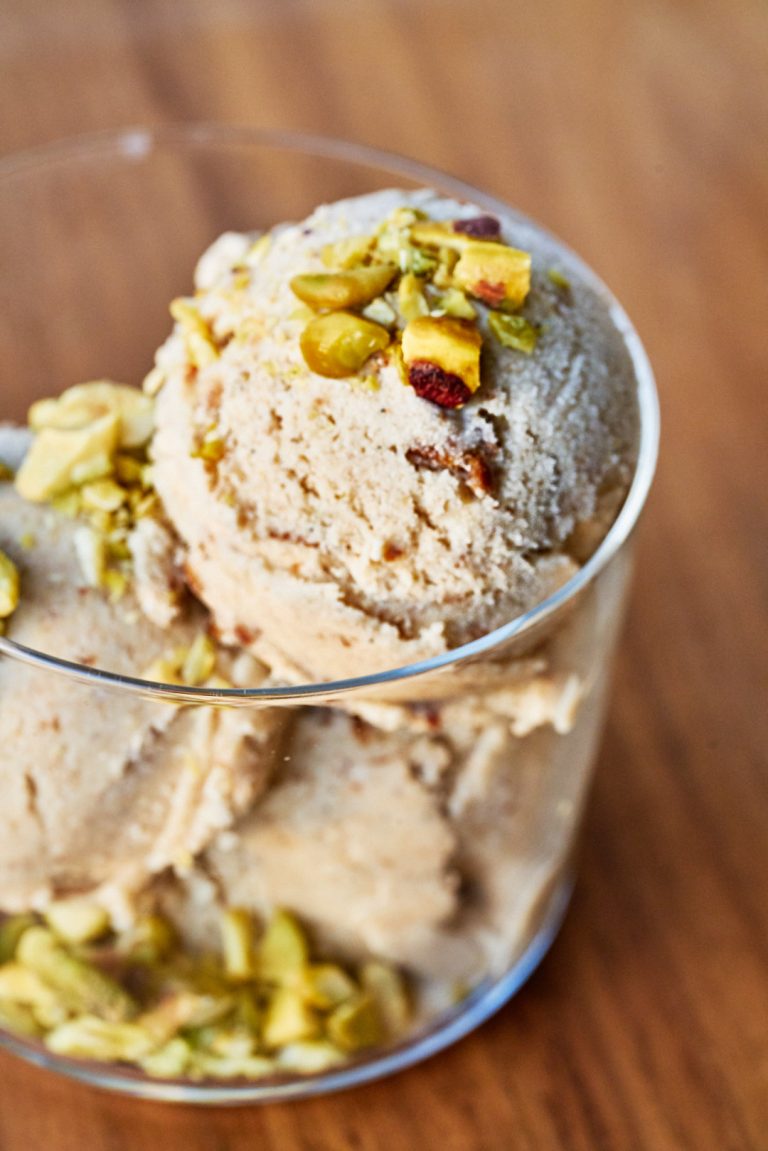 What's the difference between ice cream, gelato, sherbet, & sorbet?
I get a version of this question every time I post or serve ice cream, and it's such a great question!
The difference between ice cream & gelato is the milk to cream ration. For ice cream is 1:1, and gelato is 2:1.
Sorbet does not have dairy at all. Instead, it is fruit and water based. Sherbet has some diary, but is still fruit and water based like sorbet. It is also less than 2% fat.
More ice cream...
Looking for a dairy-free ice cream? Try this dairy-free coconut hojicha ice cream. Also, check out this matcha ice cream & my personal favorite, hojicha gelato. Either way you go, you'll enjoy these delicious, frozen treats. I'll take ice cream over other sweets any day!