An at-home tea tasting is a unique and fun idea for your next date night or get-together with friends! Replace the traditional wine tasting with an array of delicious tea samples, which you can easily pair with tasty snacks and sweets to complement the tea flavors.
The only bit of know-how you need to put this easy idea into action is how to properly steep tea. Set the mood, drink some amazing tea, and take some time together to connect.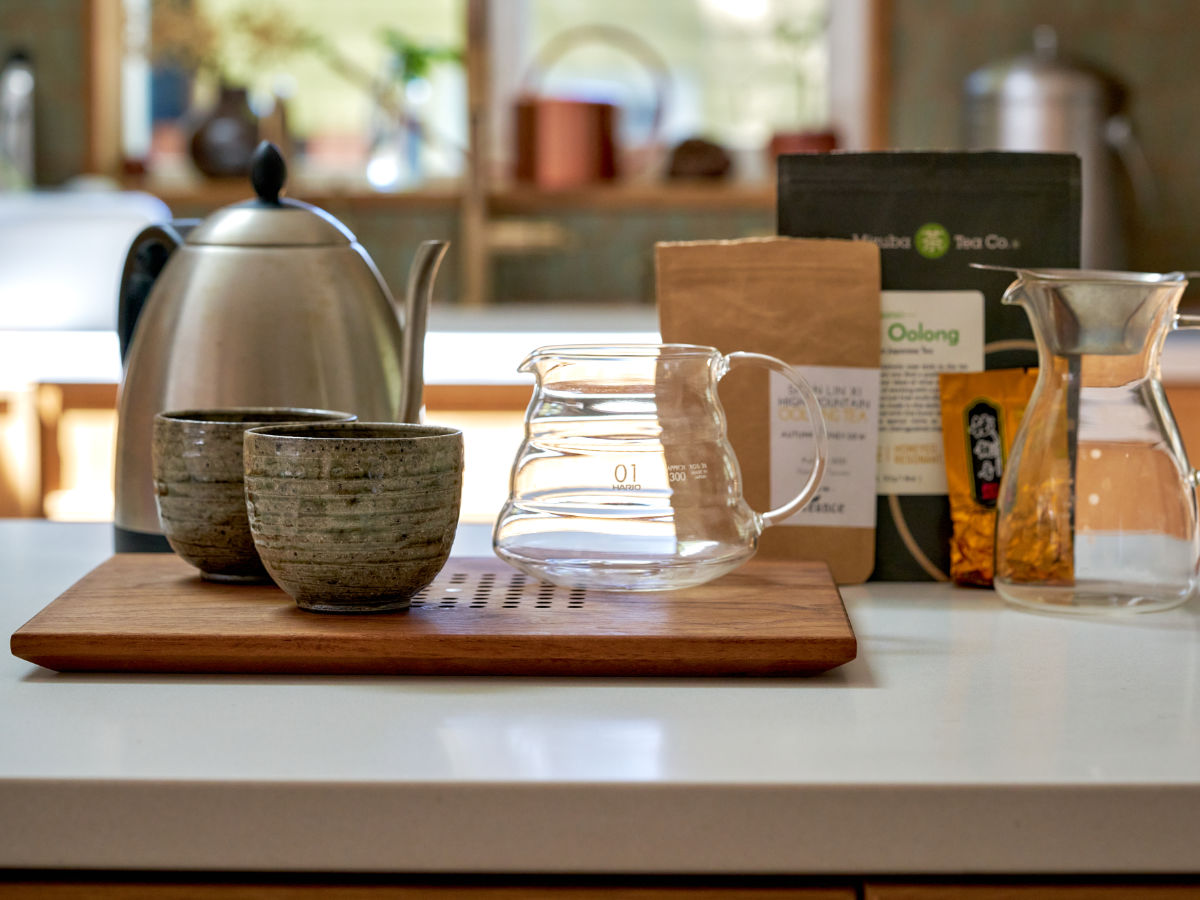 Jump to:
🌟Why you'll love this date night idea
🍵Teas ideas for a tea tasting
I recommend combining a minimum of three tea options for a special tea-tasting experience. This combination can be entirely up to you, but here are some ideas of categories of teas to feature:
If you want to design a theme for your tea tasting, here are some ideas:
🍽️ Extras to Serve with Your Teas
Here are some accompaniments to serve alongside your teas to help enhance the flavors and add to the tea-tasting experience.
Here are some freezer-friendly cookies we like to have handy and not have to make the cookies from scratch.
🫖How to host a tea tasting date night
Time needed: 1 hour.
To get the most out of your tea tasting, follow the instructions below.
Pick a location

This could be at your kitchen counter, at a dining table, on your couch, or even on the floor with pillows! Place a tablecloth to make the experience extra special.

Set the mood and snacks

Light a candle, clip some flowers from the yard or nearby wildflowers, and adjust the lighting to be more relaxing and romantic. Set up your pairings and accouterments within reach.

Pick special mugs or glasses

Select your serving glasses. I like to serve teas in glass or white containers as it's part of the experience to see the beautiful color, or in other special cups.

Prepare the teas

Boil hot water to steep the tea, if you have an electric kettle you can plug it in nearby. Most teas will require less than 5 minutes of steeping. Set a timer so you can chat during each steep.

Tasting

Sample each tea one at a time and together, making sure to discuss the flavors and how you both feel about them in between. The main components to look for are aroma, body, color, and flavor.
Pro Tips
The key to a successful tea tasting is properly steeping your tea. Be sure to read the instructions on your particular tea for measurements and temperature. Take it a step further by weighing your tea using a tea scale, measuring the water, and timing the steeping.

If your tea package doesn't tell you the temperature, check out this guide on how to properly steep tea. If your kettle doesn't have a temperature setting, you can use any instant-read thermometer.
Take a sip of water between each tea tasting to reset your palette and fully enjoy the flavor of each tea.
☕️Equipment
All you need is something that will boil water and any tea steeper or tea pot. If you want to take your tea tasting to the next level or picture yourself steeping tea regularly, here are some items I like having around:
I steep the tea in the carafe, and strain it through the superfine strainer into the pitcher for serving.
📋Tea Tasting FAQs
What is a tea-tasting event?
This is an event where you sample different teas, giving you an opportunity to try new and exciting teas you may not have tried before.
What is the most popular tea flavor?
Due to availability, black tea is typically the most popular tea consumed.
Is drinking tea good for your health?
Many varieties of tea are said to have amazing health benefits, from treating indigestion or inflammation to helping you get better sleep to having calming effects on your mind.
Does tea have caffeine?
Yes, brewed tea does contain caffeine. In general, it has less caffeine than coffee, but still a fair amount. Some teas you can buy at the grocery store will be labeled no caffeine if they don't contain any.
What is the difference between a tea cupping and a tea tasting?
Generally, tea cupping is meant to identify the purity of tea and therefore usually with single-source and origin tea only. Tea tasting can be done with multiple varieties and kinds of tea.
Tea-tastic Tea Recipes
Explore your love of tea further with these great recipes.
I love hearing from you! You can also FOLLOW ME on INSTAGRAM, TIKTOK, and PINTEREST to see more delicious food and what I'm up to.