Persimmons are sweet, delicious, and have a unique flavor that you just can't beat. As most people don't cook or bake with persimmon regularly, I have put together this guide with tips, tricks, FAQs, and recipes to help you master this amazing fruit!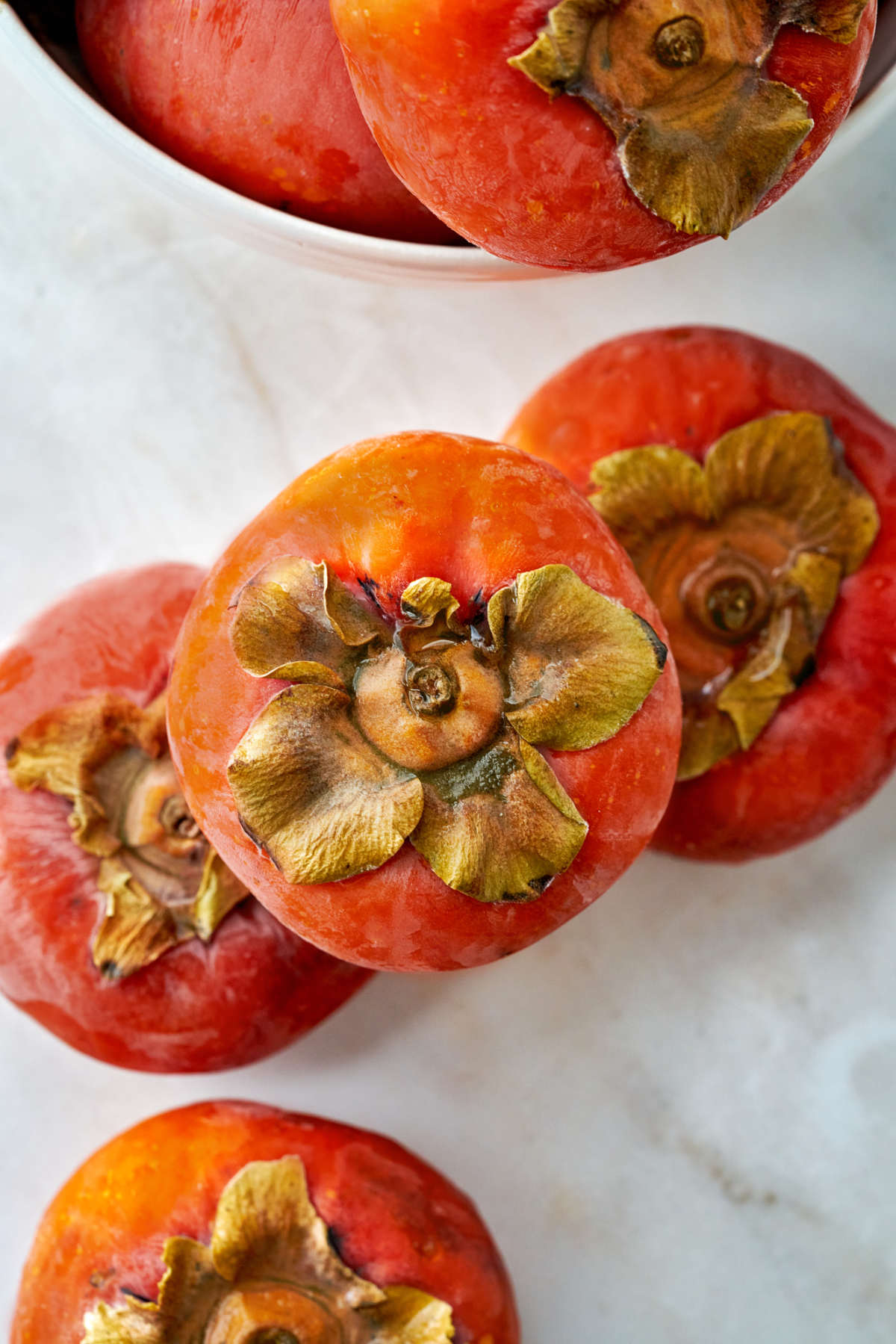 What are Persimmons and When are They in Season?
Persimmons are round, juicy, light to deep orange fruits that are mostly grown in China, South Korea, and Japan. They are only in season for a short while, beginning in October and going out of season in January.
Once the fall comes these beautiful tasty fruits can be found in supermarkets or at farmers' markets, and I highly recommend taking advantage of them when they're available.
What is the Difference Between Fuyu and Hichaya Persimmons?
Fuyu persimmons are a non-astringent variety (meaning, crisp and slightly bitter like many fresh fruits and berries).
Fuyu persimmons can be eaten under-ripe and raw, and I prefer to eat slightly under-ripe Fuyu persimmons as snacks on the go. Hachiya persimmons are an astringent variety, and cannot be consumed until fully ripened. They are slightly larger in size than Fuyu, and these will NOT taste good if you eat them underripe.
Over-ripe hichaya persimmons work best in baking recipes. As these ripen, they get sweeter and sweeter until they are perfect to use in your baking. I use them in my persimmon bread and chocolate chip persimmon muffins recipes. I use sliced Fuyu persimmons in my persimmon and roasted raddichio salad recipe.
This post contains affiliate links where I might receive a commission if you make a purchase, at no additional cost to you. Thanks for your support!
How to Store Persimmons
You can store persimmons at room temperature on your countertop if you intend to use them soon. It's best to wait until they ripen by leaving them out on the countertop.
Fuyu persimmons have a firm texture when ripe enough to eat and continue on to get softer. For Hachiya persimmons, when they're very ripe they're very pulpy and soft.
How to Make Persimmon Puree
Almost all baking recipes that use persimmon will call for persimmon puree. Pulse your very ripe and mushy persimmon insides (with the skins removed and discarded) in a blender or food processor until you have a smooth pulp.
How to Quickly Ripen Persimmons
If you're not in a rush and have a few days, you can leave them in a bag with an apple and/or banana to ripen faster.
If you're shorter on time, this tip may seem counter-intuitive, but it works. Freeze your persimmons overnight, then let them thaw on your countertop at room temperature. As they defrost, they'll be ready to go.
Remember, Hachiya persimmons will be jelly-like when ripe. They will be so squishy you can press your finger into the fruit.
Bake with Persimmon All Year Long
Simply freeze your pureed persimmon pulp until it's ready to be used. This is how I cook with persimmon all year round, not just when it's in season.
Before freezing, your persimmons need to be completely ripened and will be very mushy in texture.
Puree and transfer your ripe persimmons to a freezer container like I show below, which is portioned out so you can easily defrost only the amount you need when you're ready to cook with them.
You can use anything from ice cube trays to silicone trays that have measurements like these SouperCubes, where you can accurately divide your pulp, which makes it so much easier to portion out when the time comes to defrost.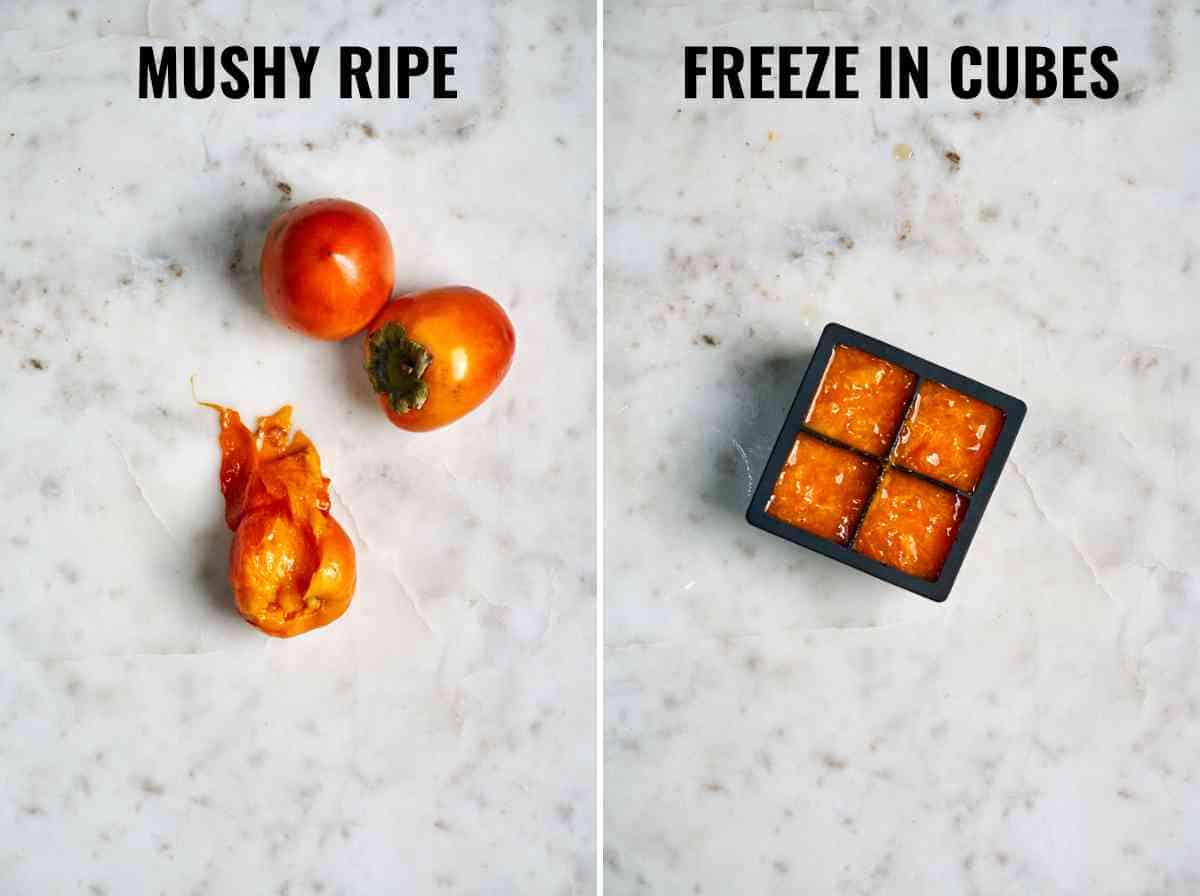 FAQs
Can you eat persimmons raw?
You can eat persimmons raw, though you have to eat Fuyu and Hachiya persimmons at different times. Fuyu persimmons can be eaten raw when they are hard and firm. Hachiya persimmons need to ripen more before you eat them.
Why do persimmons need to be really ripe for baking?
It's crucial to bake with very ripe and mushy persimmons for two reasons: 1. The riper they are, the sweeter they taste. 2. The mushy consistency in the persimmon is essential so that the persimmon can be properly and evenly distributed throughout your batter for recipes like persimmon bread and muffins.
My batter is really wet, is it supposed to be like that?
Yes, when baking breads or muffins with persimmons, the batter will be wet and liquid-y similar to a banana bread texture.
What should I do with persimmon skins?
Although it is best to peel these off and discard before baking, it isn't necessary since the skins are edible. The more peel you can remove, the smoother the texture of your baking batter.
My Favorite Persimmon Recipes
When autumn and winter come and persimmon season is in full swing, these are the recipes that I turn to time and time again. Start with my Persimmon Bread, it's guaranteed to be a hit!
1.
Persimmon Bread
This persimmon bread has the texture of banana bread, but it's even better because its made with persimmons! It's got all the flavors of winter, and utilizes one of my favorite winter fruits.
Get Baking!
2.
Chocolate Chip Persimmon Muffins
Looking for something delicious to make with persimmons during persimmon season? These muffins can be made with and without chocolate chips, and they're are exactly what you're looking for.
Get Baking!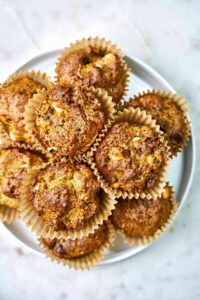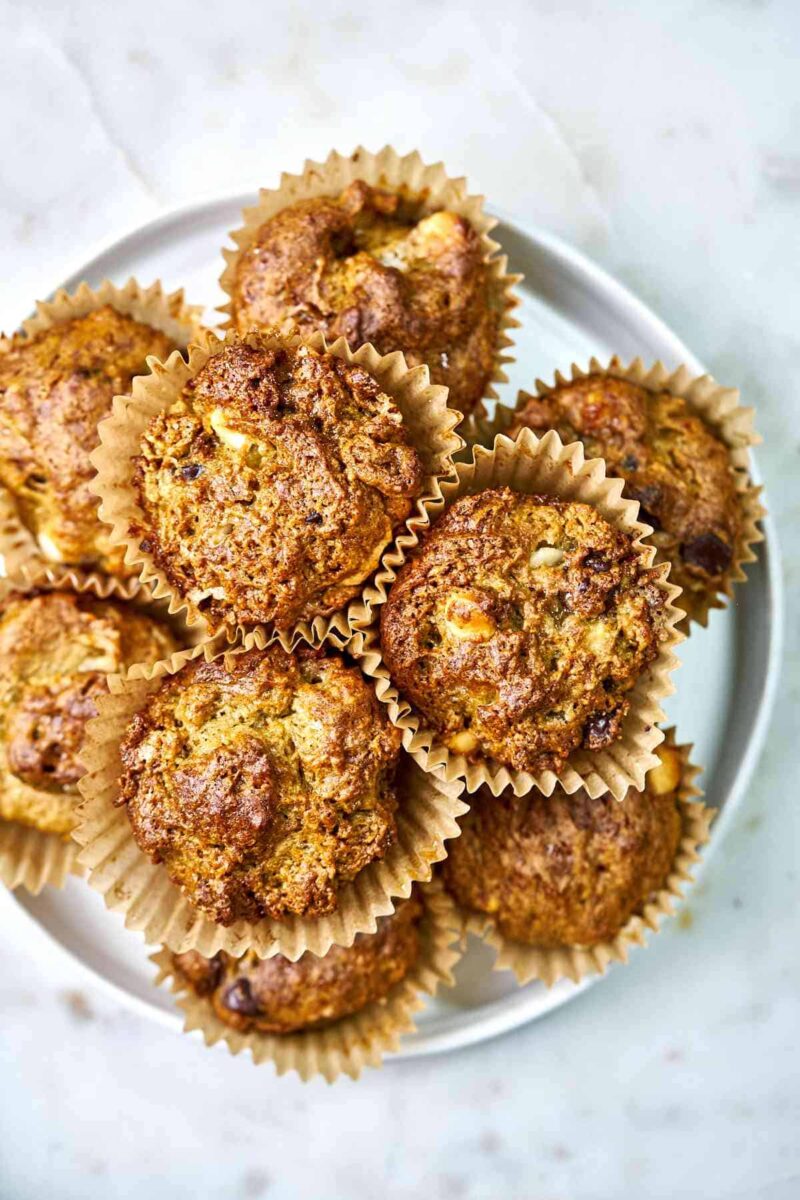 3.
Roasted Radicchio & Persimmon Salad
Roasting radicchio until slightly charred is the best way to enjoy radicchio. This salad is paired with persimmon, drizzled with a mix of balsamic vinegar and pomegranate molasses, then topped with pistachios, goat cheese, and pickled mustard seeds.
Make this Recipe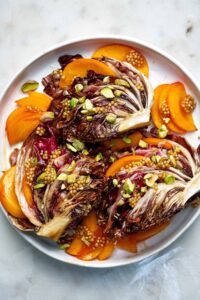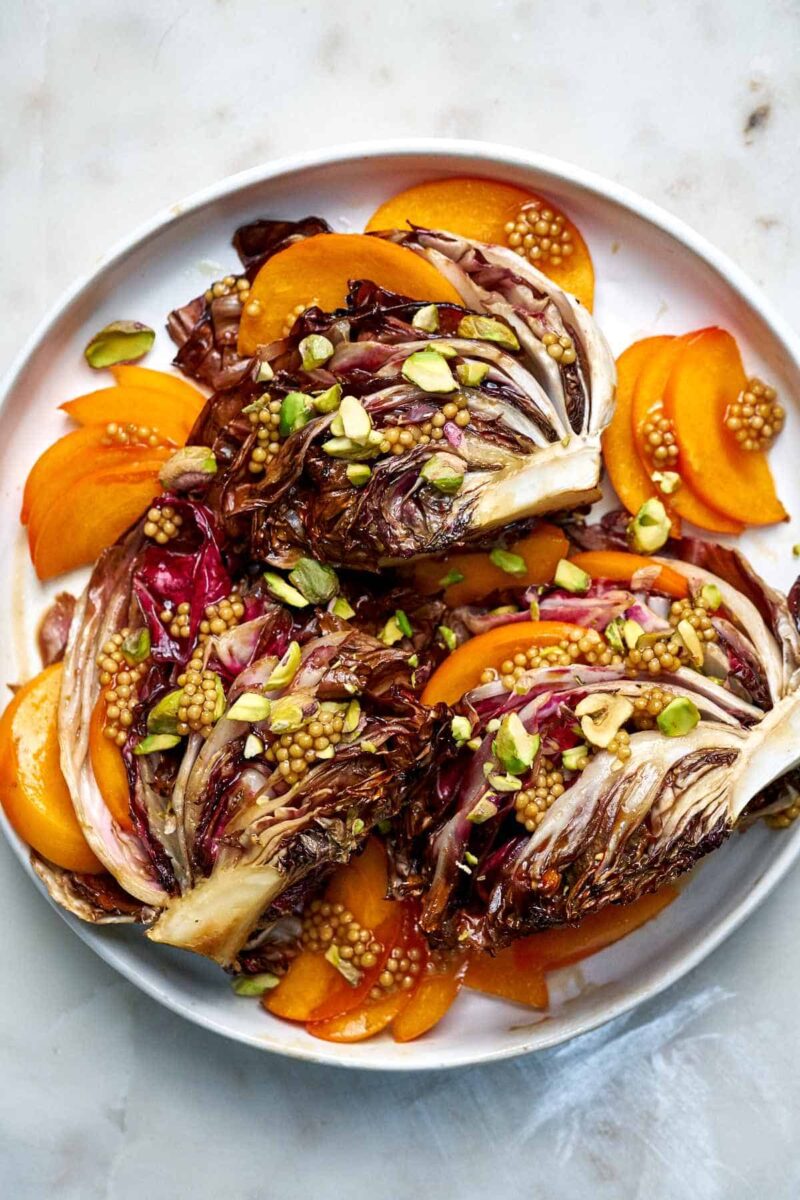 4.
Persimmon Pancakes
The perfect way to start your day – These fluffy, sweet pancakes are made with persimmon pulp for a wholly unique flavor.
Check out this recipe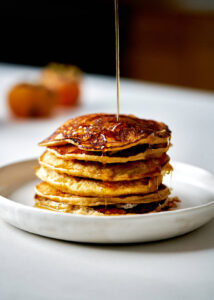 5.
Persimmon and Brie Crostini
Little toasts that make a great appetizer. Make them for Thanksgiving, your next dinner party, or for an afternoon snack. Recipe via MarthaStewart.com.
Make this Recipe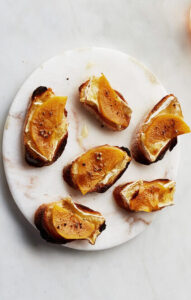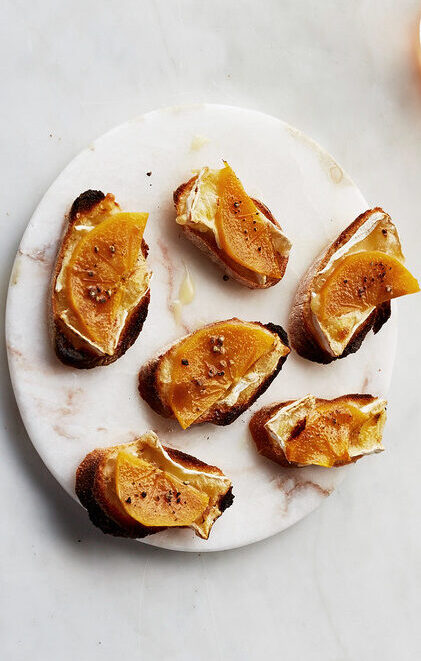 6.
Old-Fashioned Persimmon Pudding
Moist and just like eating pumpkin pie filling, you will love this pudding with a heavy dose of whipped cream. Recipe by Cheryl Thomas via AllRecipes.com.
Make this recipe.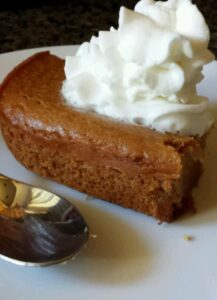 More Food Guides
If you liked this guide about persimmons, you just may enjoy one of these other guides and roundups.