This Disneyland food guide includes all my favorite eateries, tips on where to find alcohol, an insider sneak peek of the exclusive Club 33, and how you can get into the park for free!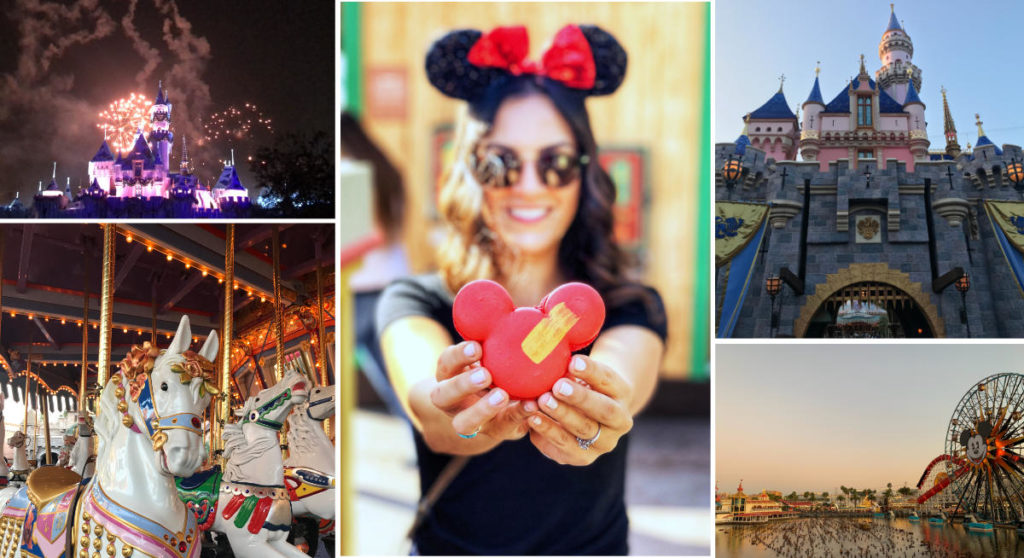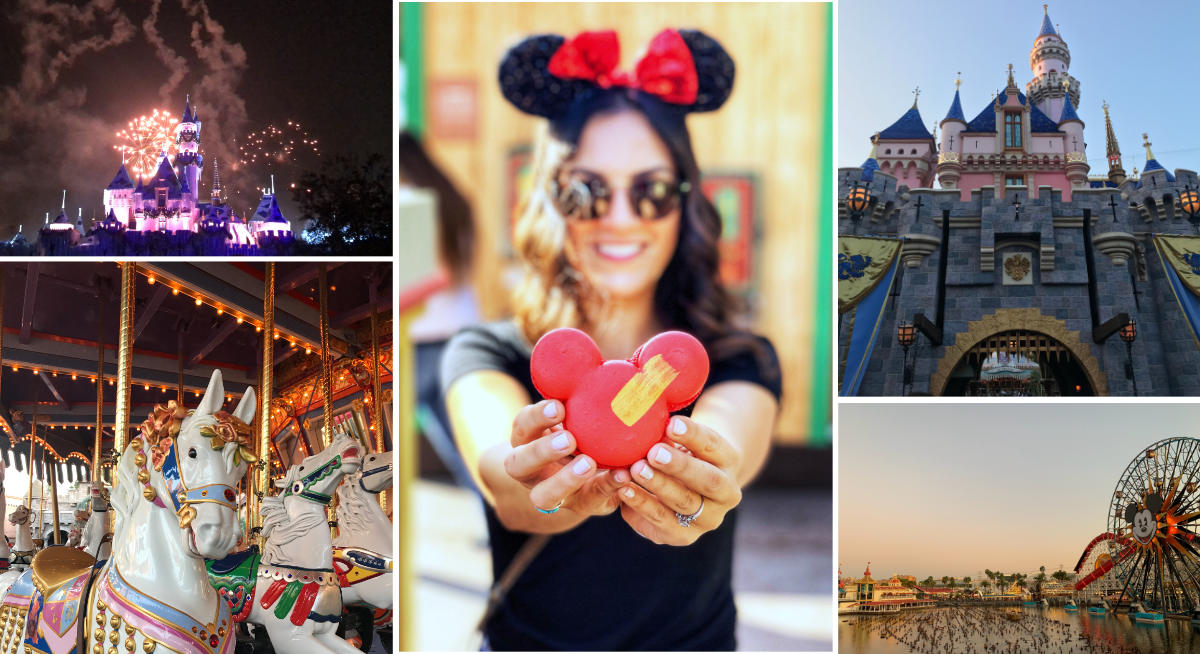 For now, I'll be focusing on the parks in Anaheim, CA as I know and love these the best. In the future, I'll always be expanding this food guide with more Disney adventures!
In this guide you will find:
Keep your eyes out for my Disneyland TIPS scattered throughout the post, with all the things I've learned from many awesome visits to Disneyland.
TIP #1: BRING YOUR OWN WATER AND SNACKS!
Unlike other theme parks, Disneyland allows you to bring your own food & snacks into the park. This is a great way to save money on the heavy ticket price. It also means you can prepare in advance, and have plenty of snacks and drinks ready for those lengthy line waits. However, they do confiscate glass bottles, so keep that in mind.
TIP #2 ALWAYS DRESS COMFORTABLY
A full day at Disneyland means you will be walking a ton! Make sure you wear comfortable shoes, dress in layers that can get you from the hot sun to the cool A/C, and wear sunscreen!
MY FAVORITE FOOD SPOTS
Eating at Disneyland is just as magical as the rides and shows! There are food options for everyone and so many unique places to eat and drink (and take amazing photos!) This is an ongoing list of my favorite places to dine whenever I visit Disneyland.
My Favorite Place for Dinner: Carthay Circle (in California Adventures)
Carthay Circle is an upscale restaurant designed to look like Hollywood theatre. Back in 1937, Snow White was first premiered at the then-famous Carthay Circle Theatre! A beautiful location, and it's one of the better meals I've had at Disneyland.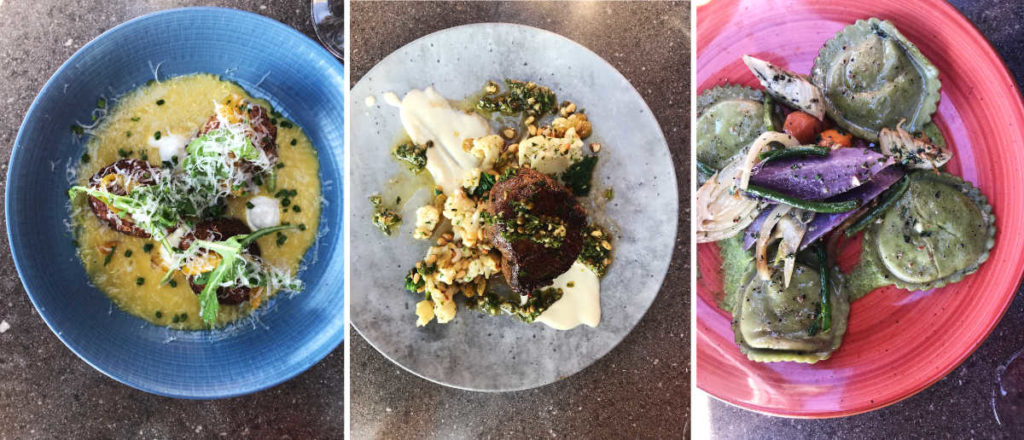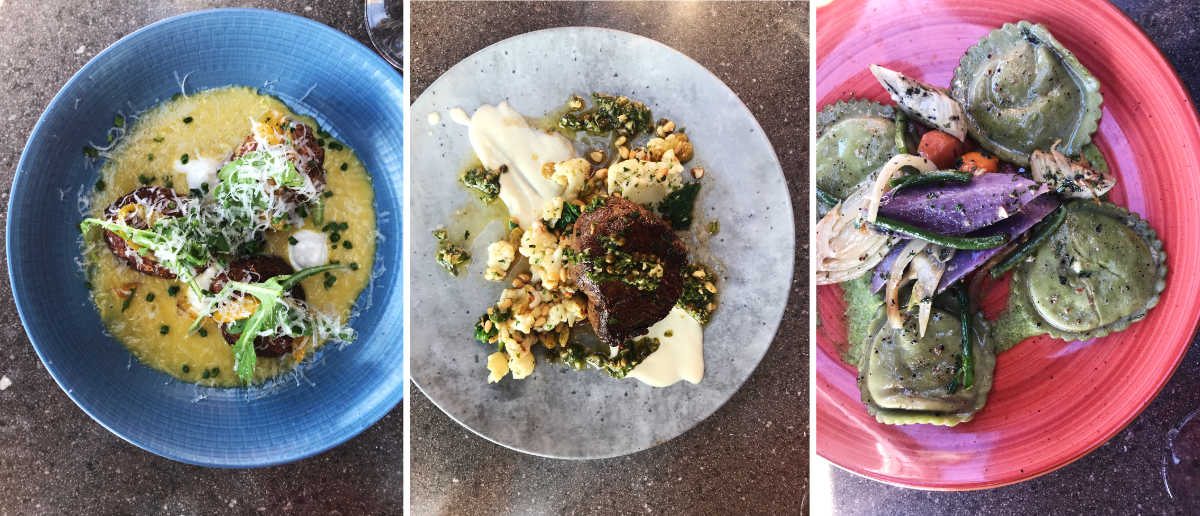 For An Afternoon Indulgence: Disneyland Hotel
Go ahead and treat yourself to afternoon tea at the Disneyland Hotel. Teatime usually has a fun theme and is often offered for a limited time only. For example, during Pixar-fest, the tea was Pixar themed, and during the "Get Your Ears On" Celebration, the tea focused on celebrating the iconic Mickey. I would recommend going to the tea only if you are there for more than a day.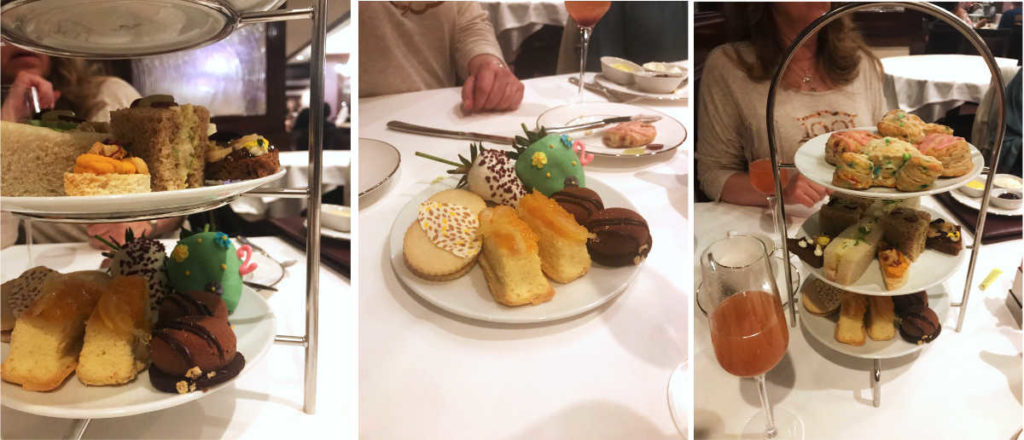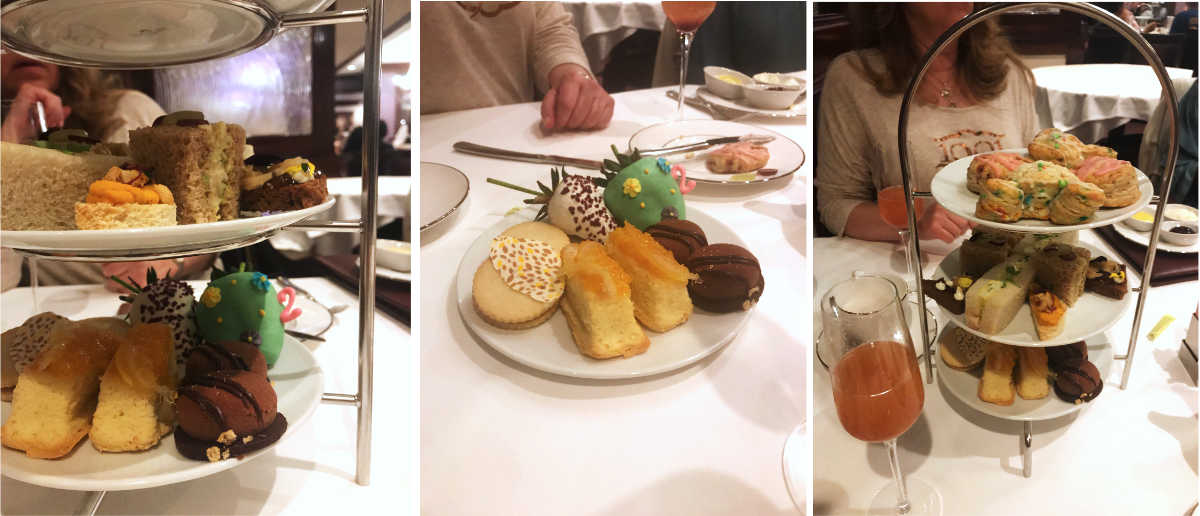 For Great Steak: Steakhouse 55
Steakhouse is an upscale eatery with a Hollywood theme. It's very popular, and for good reason!
When You're in the Mood for Soup: Pacific Wharf Cafe (in California Adventures)
If you're feeling like soup, I recommend trying one of the soups at Pacific Wharf cafe. Get it in a sourdough bread bowl - hearty and classic.
For a Cool Atmosphere: Blue Bayou
If you dine at the Blue Bayou in New Orleans Square, you'll be eating inside the ride for Pirates of the Caribbean! It has a unique and fun ambiance: it's always nighttime in the restaurant. The food is good, but I wouldn't say it was great. I will say again that the ambiance is pretty awesome, and makes up for the food.
For Value for Money: Rancho del Zocalo
This Mexican restaurant always has room to sit, the food is reasonably priced, and the dishes are filling. In my experience, this place is the best bang for your buck.
TIP #3: IF YOU PLAN TO DO A SIT DOWN MEAL OR HIGH TEA, MAKE A RESERVATION.
Whether it's a weekday or if it's during the holidays, it's best to make a reservation if you want to guarantee a table. My favorite places tend to fill up, as do a lot of the most popular restaurants. You can either call directly and make a reservation, or make a reservation through the (free) app. However, please note that not all establishments take reservations.
FOOD CARTS
TIP #4: SKIP LUNCH BY BRINGING YOUR OWN SNACKS AND THEN STOP BY A FOOD CART FOR AN EARLY AFTERNOON PICK-ME-UP.
The five most popular food cart foods are: churros, turkey legs, hand-dipped corn dogs, cheese dogs, pretzels, & cotton candy. For me, the churros always take the win! And if it's a hot day, I'll go for a frozen lemonade, ice cream, or a Dole Whip.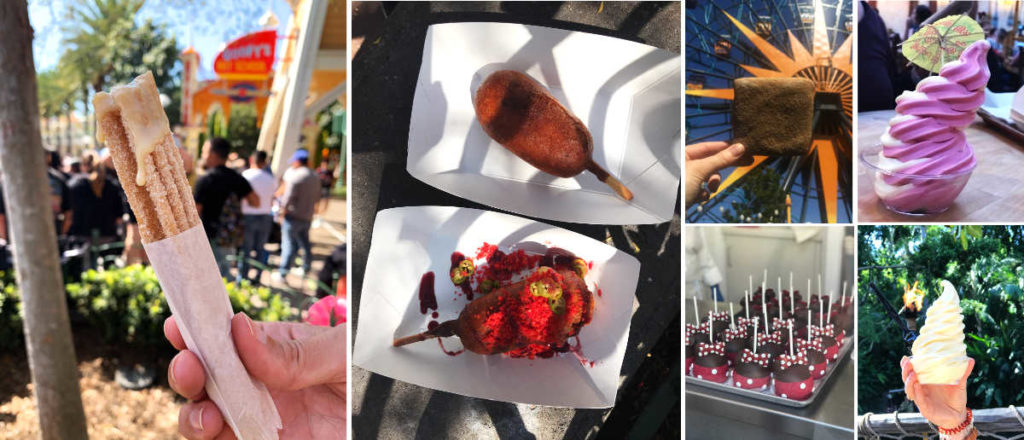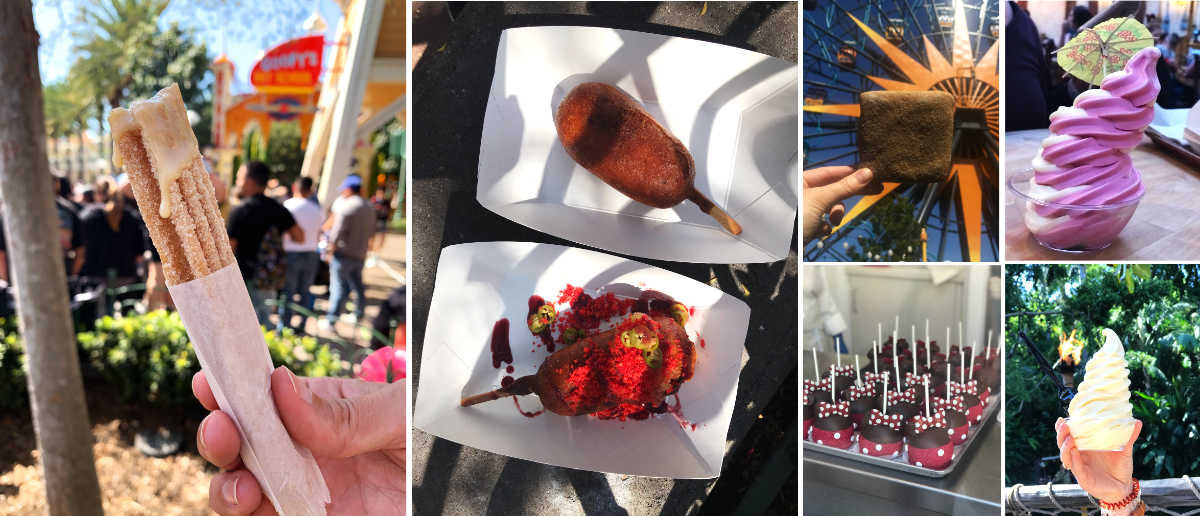 Dole Whip is a Disneyland MUST! It's a vegan frozen pineapple soft serve that is even better than it sounds. They also have Dole Whip floats where they put the soft serve in a cup, and fill it up with pineapple juice. It's so popular that they just opened a tiki buffet-style restaurant that has two other flavors, raspberry & orange. The raspberry pineapple swirl is delicious! I am almost always loyal to the pineapple though.
I also love getting a Cheese Dog at Goofy's Flight School in California Adventures. It's like the corn dog, but with cheese inside instead of meat. They are hand-dipped and make for a tasty (and portable) snack. Over the Halloween season, they have one with Pepper Jack that's my favorite.
THE DISNEYLAND FOOD & WINE FESTIVAL & LUNAR NEW YEAR
If there's a special food event like the Food & Wine Festival, head over to California Adventures for a ton of unique treats. They are generally on the pricey side, but great for foodies. If you're savvy, there are ways to get more bang for your buck at these food events.


TIP #5: YOU DON'T HAVE TO PAY FOR THE ENTIRE FOOD & WINE FESTIVAL IF YOU JUST WANT A SMALL TASTE.
To participate in the entire festival, including the food demonstrations and all the tastings, you can purchase a complete ticket. However, if you're just looking for a snack during the day, you can purchase items a-la-carte. The tastings are quite expensive and small compared to the rest of the park food, so choose only the items that you're really excited about.
Similarly for the Lunar New Year celebration, you can purchase 6 items for ~$35. I like to buy one of these 6-item passes and split it with a friend. Then, make sure you are not ordering the $5 items, and instead getting the most for your money by using your passes for the pricier items. The sample sized items are all pretty expensive compared to the rest of the park, so keep that in mind.


If you're a foodie, the Disneyland Food & Wine Festival and the Lunar New Year celebration are great ways to try fun new foods.
WHERE TO FIND ALCOHOL AT DISNEYLAND
TIP #6: STAY HYDRATED. IF YOU'RE GOING TO HAVE ALCOHOL, MAKE SURE YOU'RE DRINKING DOUBLE THE WATER.
It's always wise to take care when drinking and make sure you stay hydrated. Disneyland is, in general, alcohol-free (see more details below & the exceptions). All the hotels serve alcohol, and if you are looking for alcohol inside the parks, try these spots:
California Adventures: You can find wine, beer, & margaritas almost everywhere.
Club 33 & Club 1901: These two private clubs both serve alcohol. See below for more details on these!
Oga's Cantina in Star Wars Land: Now open to visit, Star Wars Land boasts a themed cantina that serves amazing cocktails. When I first visited, I had the S16 Skyhopper which was the most delicious in my opinion. Then I tried The Fuzzy Tauntan which makes your mouth numb because of the buzz button flower in it!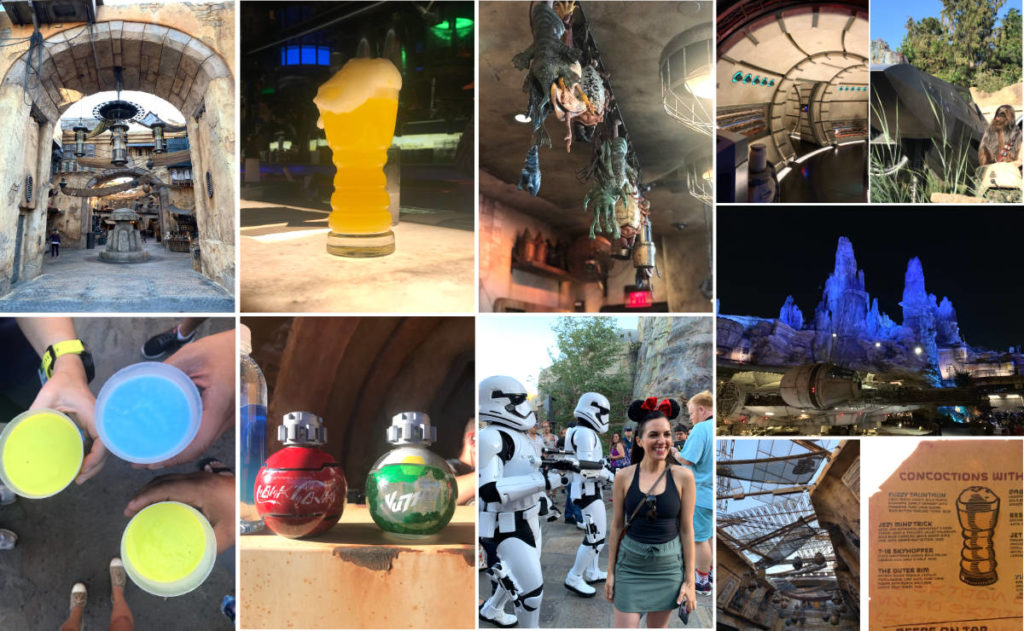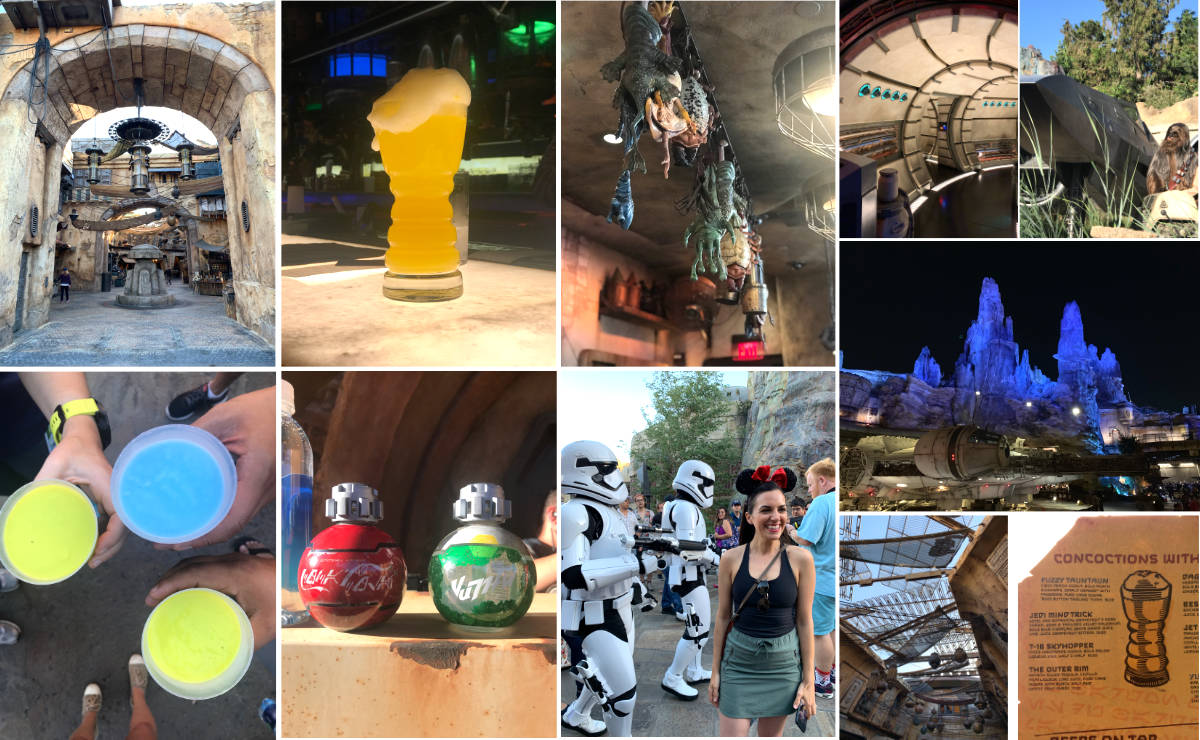 Many of the drinks they had when they first opened are no longer available, but many favorites are still there. The Blue Milk and Green Milk (vegan & non-alcoholic are great (though quite sweet), and you get a cookie along with them that tastes like a Girl Scout Samoa cookie.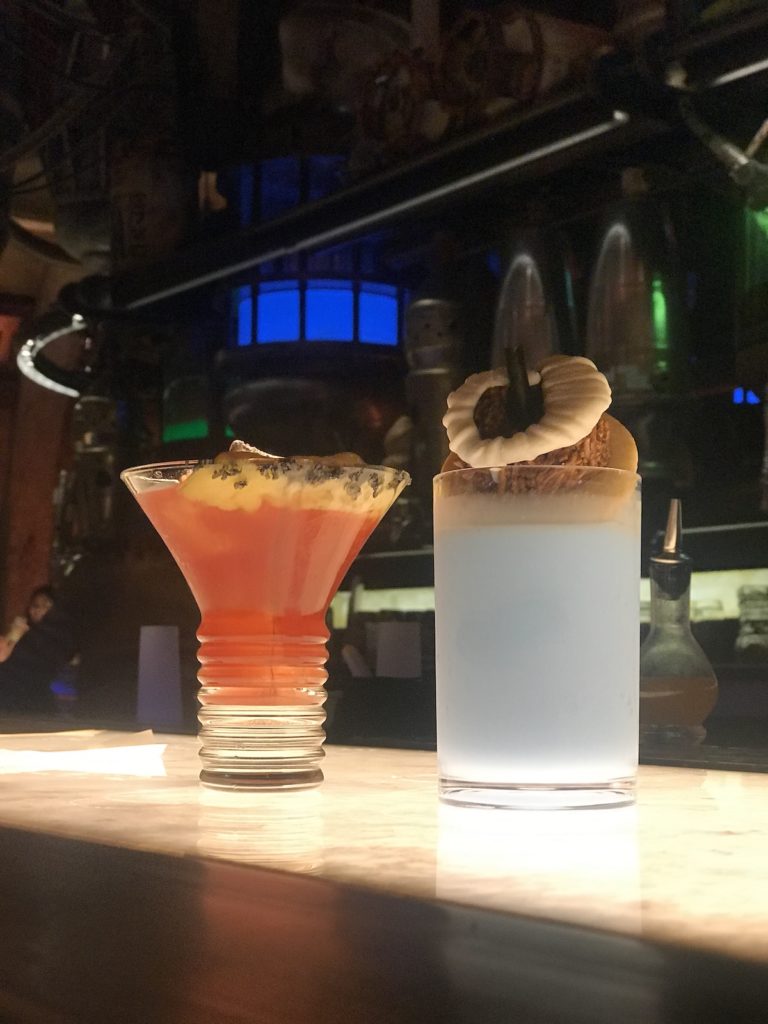 Important to note: Oga's Cantina is very popular. You will need to make a reservation as early as possible (even days or weeks in advance) to get the time slot you want. Bear in mind that they only let you stay for 45 minutes, and you get two drinks per person.
Fun fact while you're exploring Star Wars Land, there are hidden millennium falcons instead of hidden Mickeys!
Trader Sam's: Located at the Disneyland Hotel by the pool, this tiki-bar is themed, has great decorations, and if you order the right drink, there will be an audible shipwreck or attack! It's fun, but can be hard to get a seat.
WHAT ARE THE MYSTERIOUS CLUB 33 AND CLUB 1901?
Club 33 & Club 1901 are the private luxury clubs in Disneyland and California Adventures respectively. Each of these decadent clubs feature incredible bars, 5-star restaurants, and special Disney details you can only experience inside as a member or member's guest. They often host exclusive events for members, like dinner inside of the haunted mansion. I've been able to visit them both, so here is the insider scoop!
Club 33: The gorgeous club, lounge, and dining room are solely for members and their guests. They serve great food, and it's an ideal place for a midday park break. The club has a full-service bar with awesome cocktails. Members and their guests can retire to the dining room for an incredible 5-course dinner with wine pairing options. The menu changes frequently, see my photos below!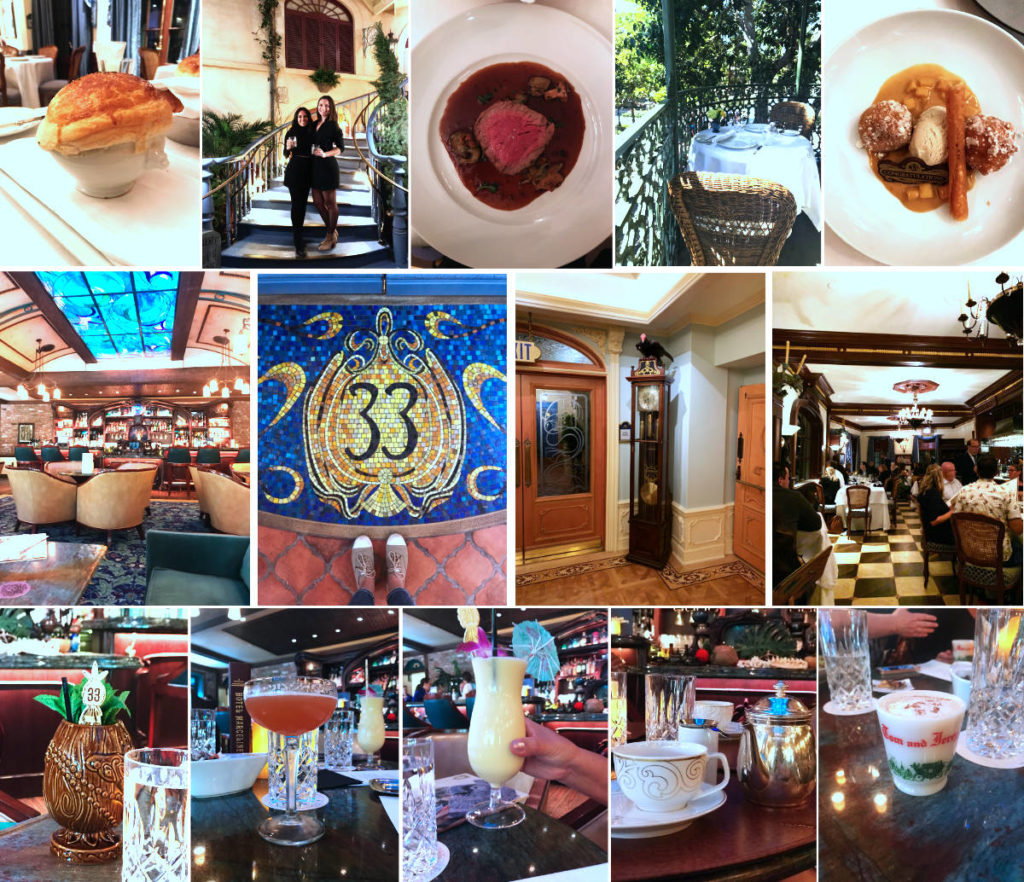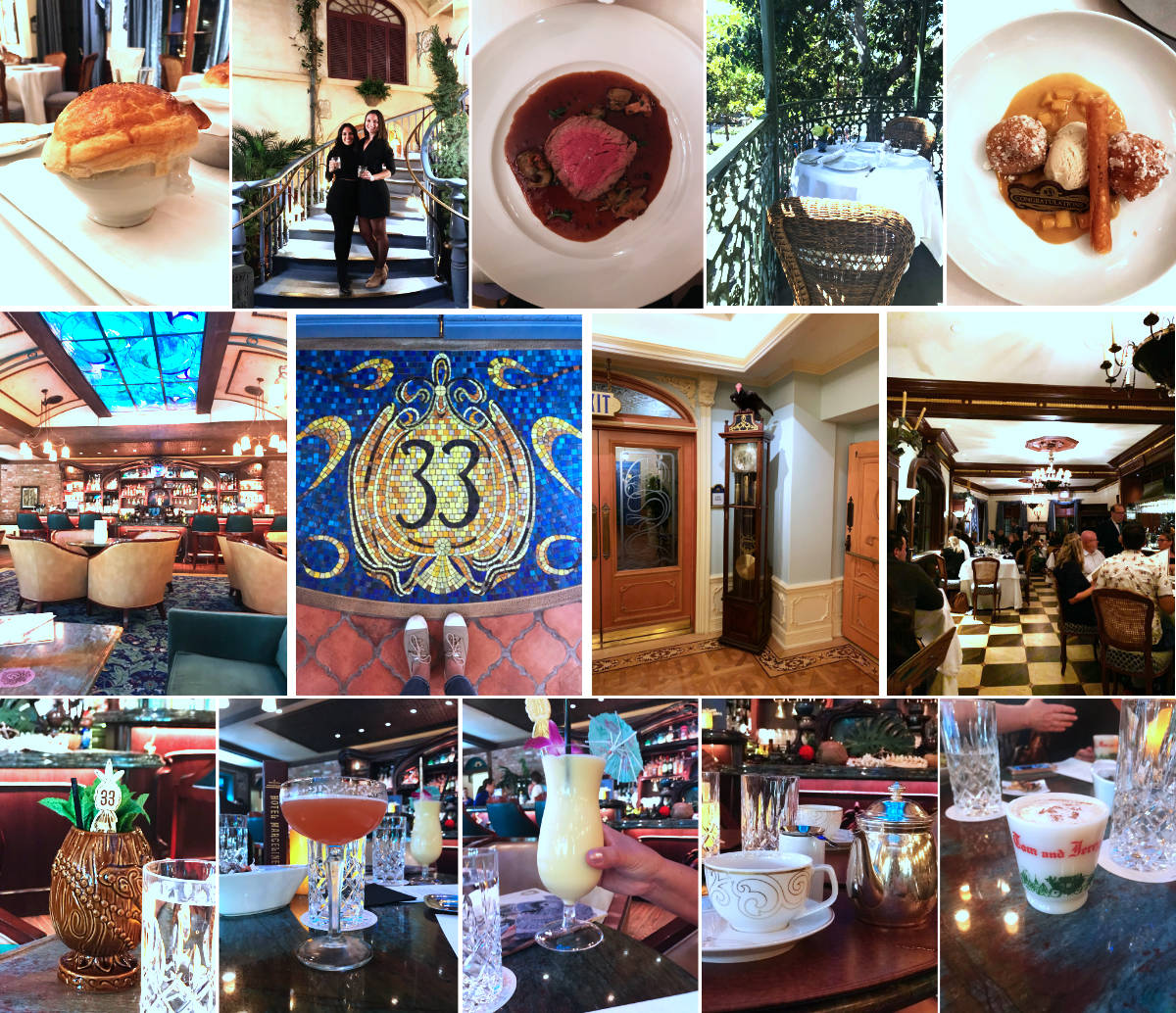 Club 33 is hands down the best food in the park, but also the most expensive by far. It's highly exclusive and extravagant: there is a strict dress code for club entry and an even stricter one for dinner.
Club 1901: This private club in California Adventures is not quite on a par with Club 33 in terms of food quality. The vibe is like a fancy cigar lounge with an excellent bar. It's a great break from the sun if you're hanging out at CA. It's also usually less busy than Club 33. See below for some photos of the bar and cocktails on offer.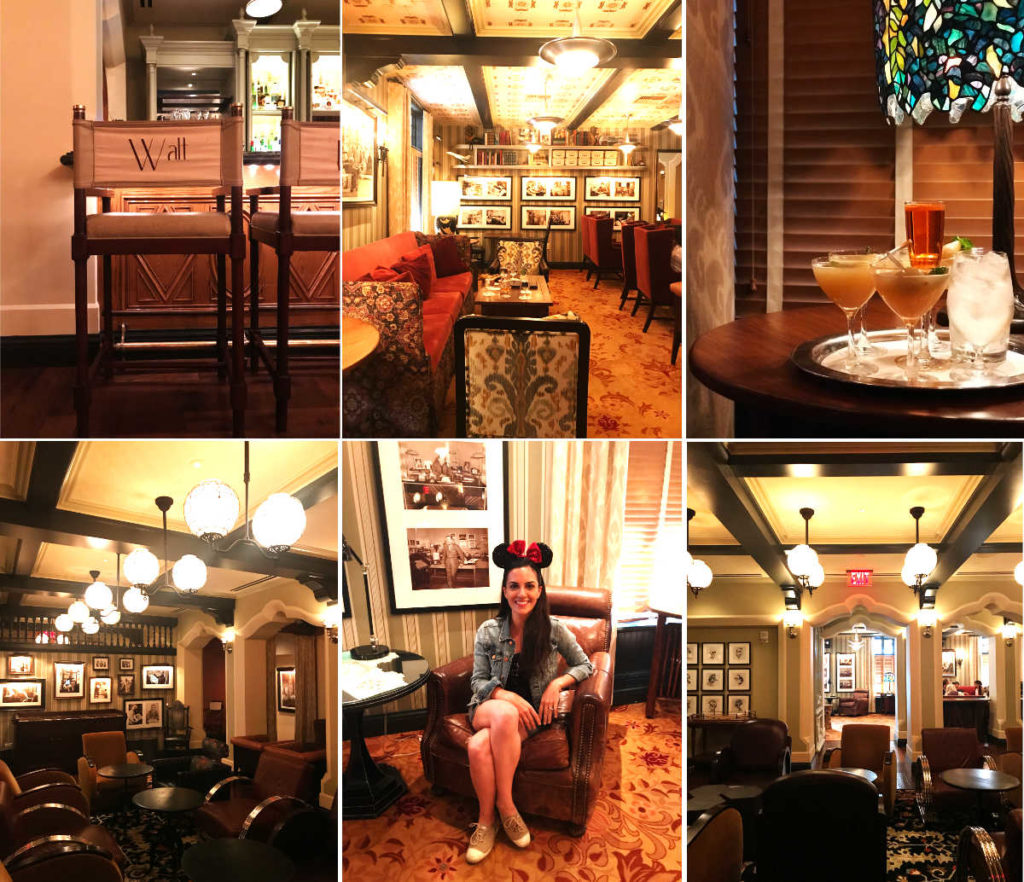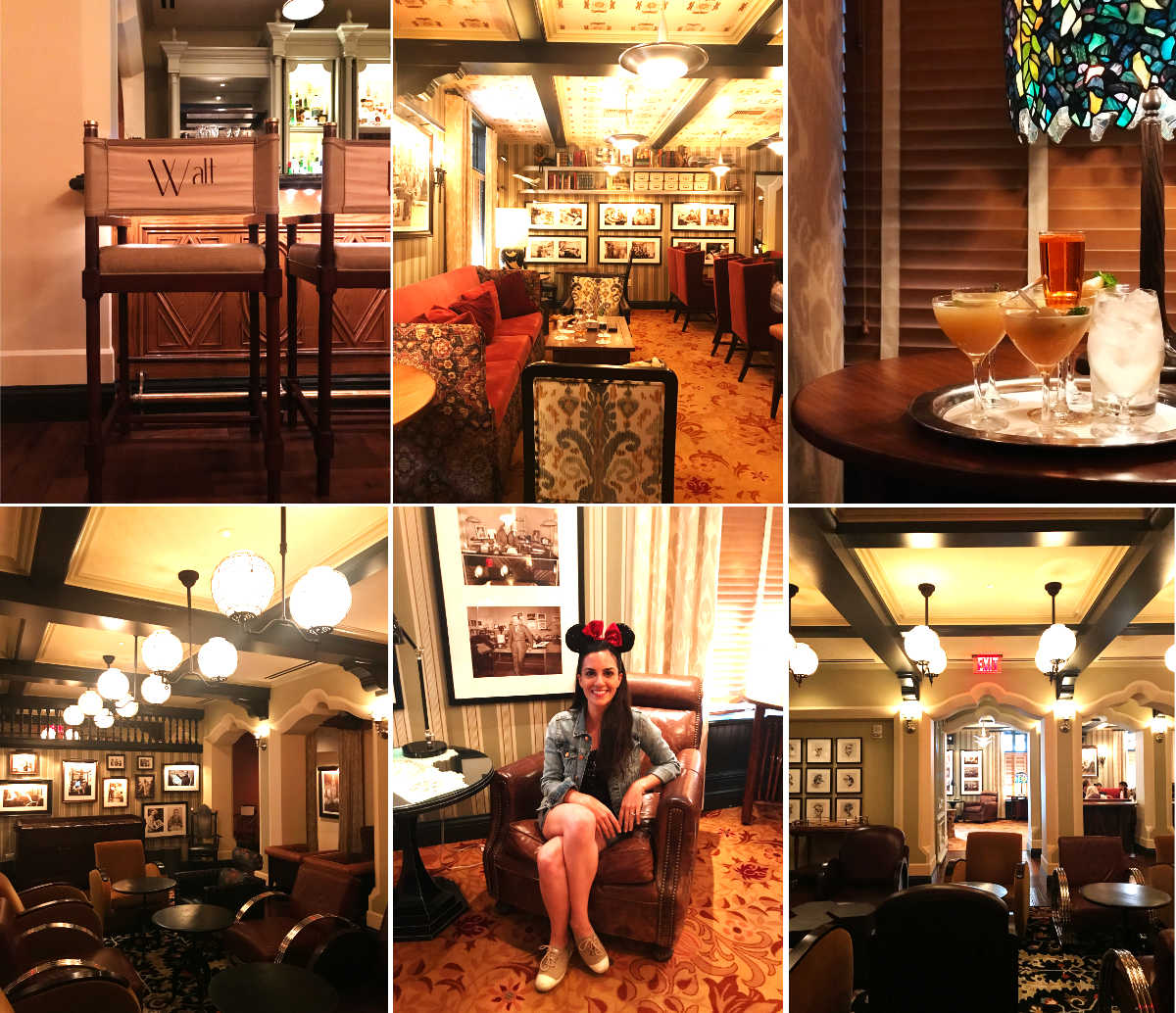 SWEETS AND TREATS
TIP #7: TAKE A SWEET TREAT TO GO TO ENJOY THE NEXT DAY.
Disneyland is well known for its extra special, over-the-top sweets. It'd be a shame not to enjoy a treat (or three). After a long day of walking, treat yourself to a fancy caramel apple (like the cute Minnie Mouse ones!), a lollipop the size of your head, cotton candy, or stop by the enormous chocolate shop on Main Street. If you're full from all the good food on offer, it's worth it to take a treat to go. And, because I love them so much, I'll mention the amazing churros again as a must-eat sweet.
My new favorite is the churro toffee that you can get at the gift shop by Inside out at California Adventures. Also, there are plenty of shops with similar treats in Downtown Disney.
DIFFERENT SEASONS IN DISNEYLAND: PAY ATTENTION TO THE DETAILS
TIP #8: PICK YOUR FAVORITE HOLIDAY, AND GO TO DISNEYLAND TO CELEBRATE!
Disneyland goes all-out with incredible decorations for every holiday. If you want to celebrate your favorite holiday, Disneyland will make sure you feel all the warm and fuzzies for your season. For every holiday, the characters get dressed up in special costumes for the holiday, and the decorations are always incredible. Also, during the holidays, the castle gets an all-over lights makeover that is just magical.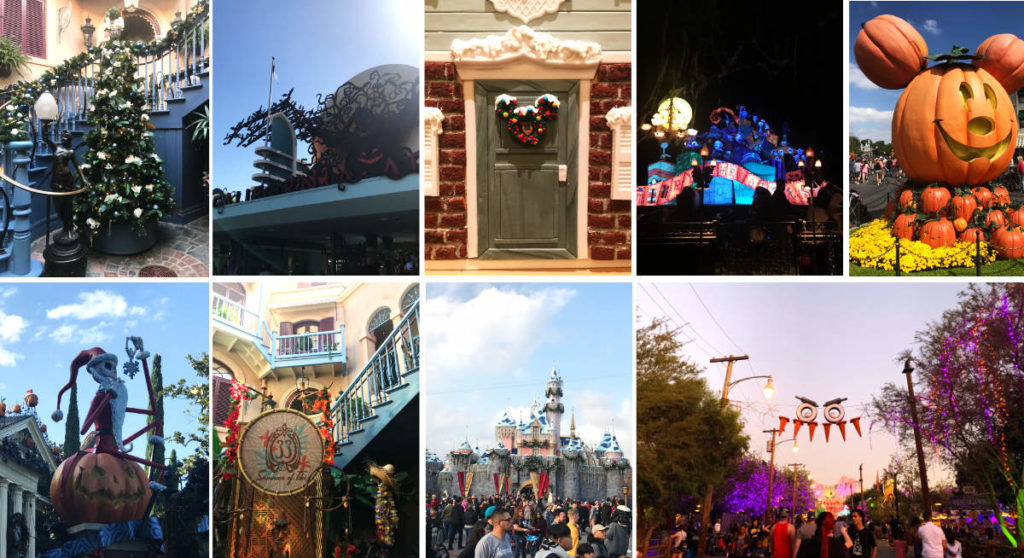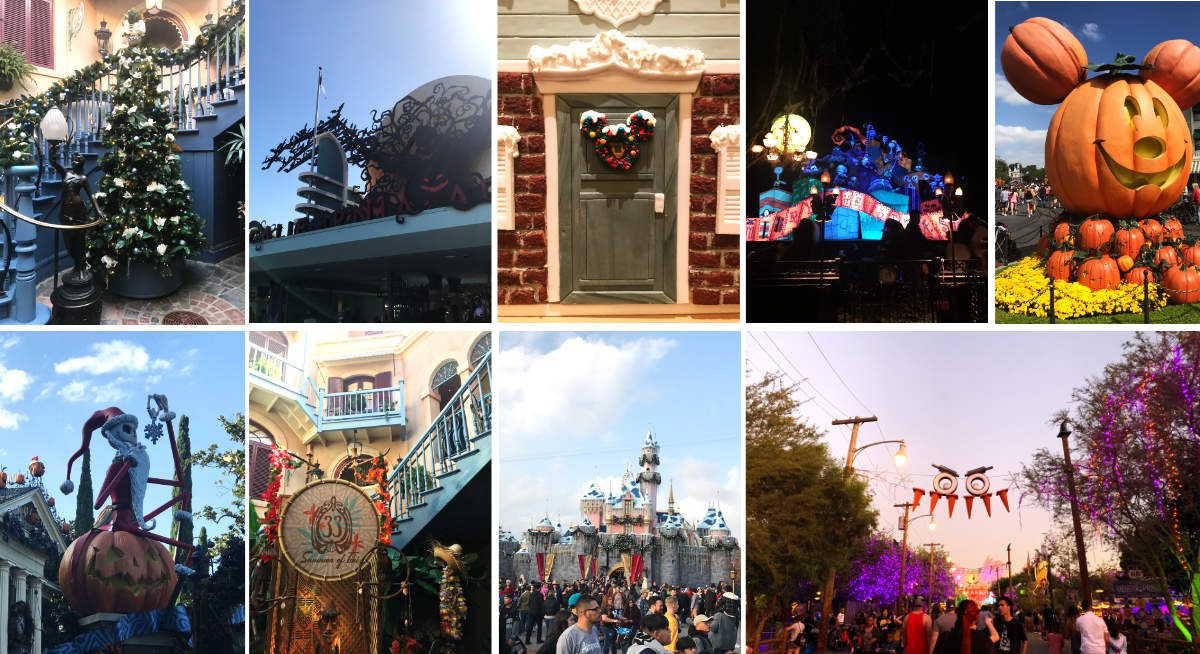 For example, The Haunted Mansion gets shut down before Halloween for a major makeover. The ride gets completely transformed for the Halloween through Christmas season. For the Christmas holidays, the entire park is decked out in holiday lights. A great thing is that the look and feel of seasonal decorations is different every year, so you always see something new!
For Lunar New Year in California Adventures, there are regular parades, music, food, and other lunar new year traditions. There is even a Mickey & Minnie Valentines Day Scavenger Hunt in February (for kids).
Pay attention to the details: The trims on doors, decorations in windows, themed events, parades, and everything get the holiday treatment. So keep an eye out for the little things. There are hidden Mickeys all over the park. So keep your eyes open when wandering, waiting in line, and even going to the bathroom to see how many you can find!
GENERAL DISNEYLAND PARK TIPS I'VE PICKED UP
TIP #9: ASK FOR WHAT YOU WANT.
Disneyland is a magical place, but more importantly, the customer service is incredible. Want a picture holding a million giant balloons? Just ask.
TIP #10: EITHER GO TO THE PARK TUESDAY – THURSDAY OR USE THE APP TO GET YOUR FAST PASSES.
There is a small charge for the fast passes through the app, but worth it if you want to maximize the number of rides you can go on. Using the app, you can get your next fast pass without being at the ride. You do get fast pass access for free, but if you are there on a weekend, you will likely only get to use them on 2 rides. Get them early, and use as many as possible.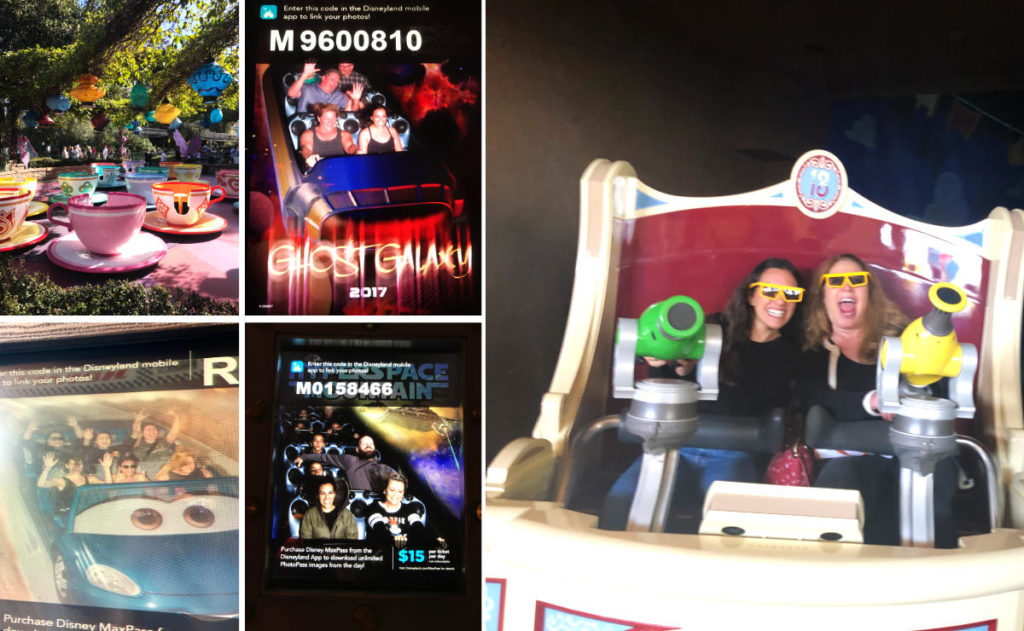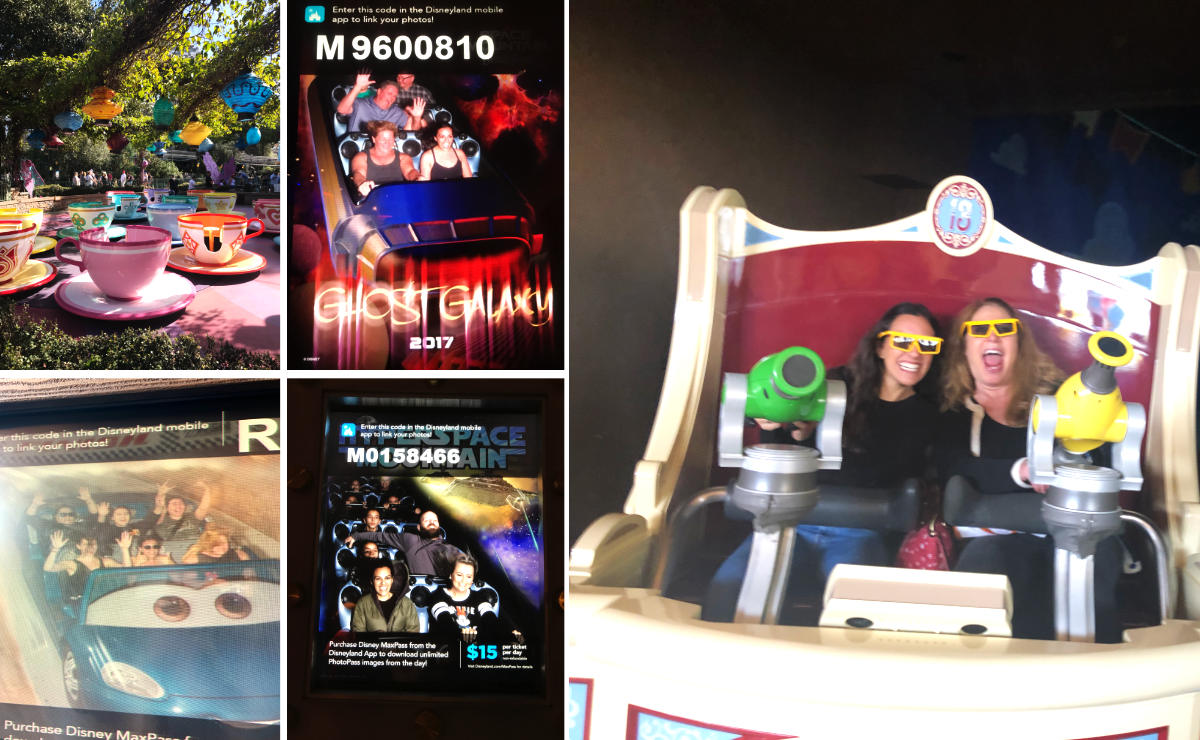 TIP #11: GO TO CARS LAND IN THE EVENING/SUNSET TIME.
Cars land is magical at in the evening and at night, and worth seeing.


ARE YOU A BLOGGER? GET IN FOR FREE!
TIP #12: IF YOU'RE A BLOGGER, YOU CAN GET IN FOR FREE!
If you know you're going to Disneyland or Disneyworld, you can request a 2-day park hopper media ticket once every 12 months. Click here for Disneyland details. And here for Disneyworld details.
I hope you enjoy your next Disneyland trip, and let me know if you have any questions!
DISNEYLAND TRIVIA
Some fun facts I've picked up along the way!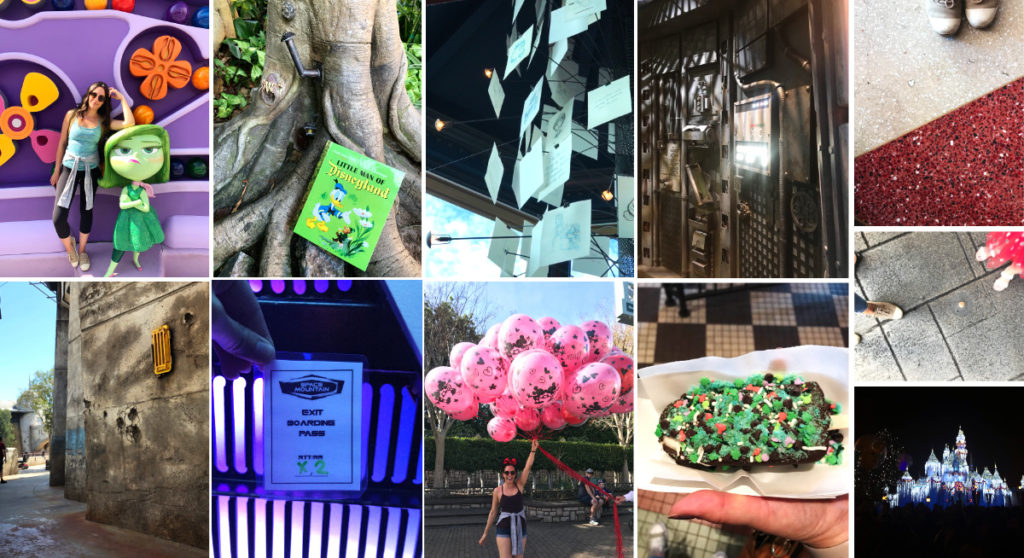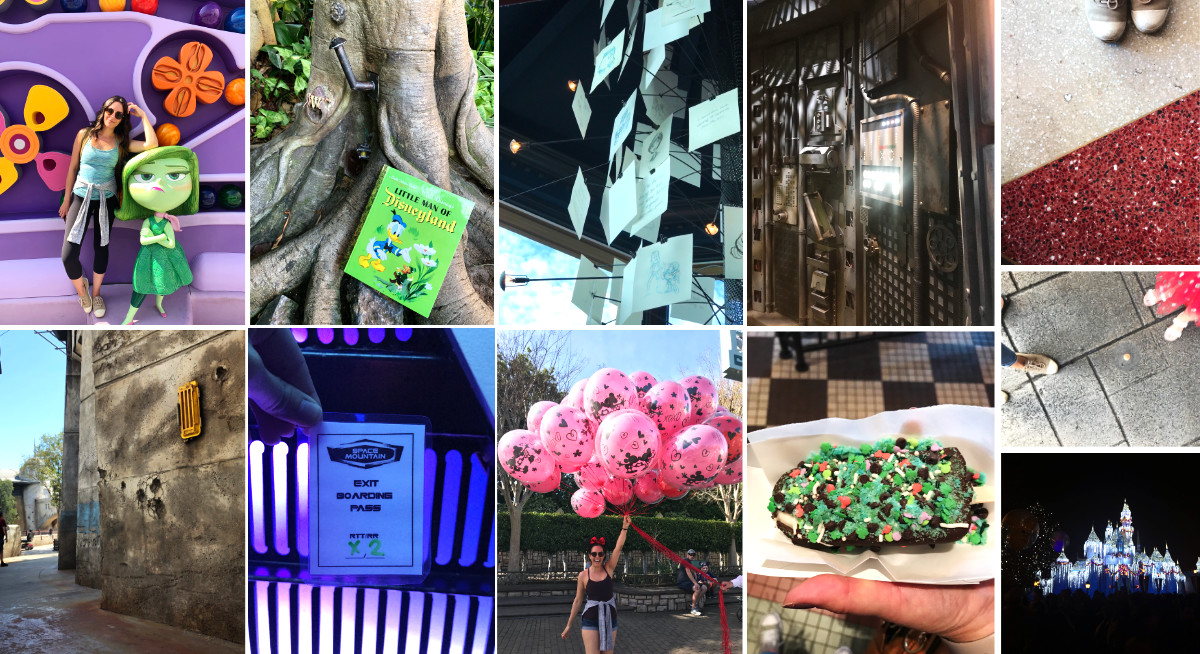 If you build a Droid in Star Wars land, it will have its own reactions in and around the park depending on whatever personality chip was chosen - especially on the Smuggler's run ride!
The #1 most stolen item in Disneyland was the apple in the witch's hand in the Snow White ride - so much so that they ended up making it a hologram.
On the Star Tours PA system in the waiting area, a voice says, "Mr. Egroeg Sacul, Mr. Egroeg Sacul." which is George Lucas spelled backward.
There's a secret message aired at the New Orleans Square train station. If you listen carefully while waiting for your ride on the iconic Disneyland railway, you can hear the tap-tap-tap of Morse Code. The little telegraph office across the tracks is transmitting the first two sentences of Walt Disney's opening day speech: "To all who come to Disneyland, welcome. Here age relives fond memories of the past, and here youth may savor the challenge and promise of the future."
The center of the park is marked by a gold circle in the concrete under the castle (see photo above).
If you touch the apple in fantasy land across from the Peter Pan ride, you might hear the witch talk to you.
One of the horses on the merry-go-round has a golden tooth, and it's the only detail that Walt Disney didn't know about for at least a week while it was being built. Walt Disney was meticulous with the details!
You can have a photo moment on part of the Star Wars set where Leah and Han first kisses (see photo above).
There's a hidden Mr. Limpis on The Little Mermaid Ride! Just before you exit, it's in the under-the-sea scene. You have to look behind you, behind the shellfish.
Guardians of the Galaxy: Harold the abominable snowman from Matterhorn can be seen in the tower. There is also a hidden Minnie Mouse.
Walt Disney had a room built above the fire station on Main Street where he would stay. Whenever he was staying in the park, he'd light a lamp in the window to indicate he was there. On the day Walt Disney died, the lamp in the window above the fire station was extinguished to signal his death. The next morning, Walt's lamp was lit again to signify his presence in the park. When you walk by the fire station, you'll often see the lamp lit!
Pirates of the Caribbean ride - there's a hidden Mickey on one of the armor breastplates near the end of the ride.
Haunted Mansion- the plates on the dining table are arranged in a hidden Mickey.
Thunder Railroad- the wheel gears are positioned to look like a hidden Mickey near the hill with the goat on it
The"Goat Trick"- when you are riding Big Thunder Railroad and get to the hill with a goat at the top, try to keep your eyes on the goat by turning your head as you go down the hill and around the next curve. It will make the turn feel even faster!
Normally I love to sit on the back of a roller coaster ride because it goes the fastest. But on Space Mountain, sit in the front if you can! It's so dark that you'll feel like you are hurling through space and can't see anything. Unlike when you sit in the back, you can't see people's heads in front of you so it feels more real.
Goofy's Flight School is my favorite "under the radar" ride. It's surprisingly terrifying and fun!
You can hire a tour guide for $400-$700 per hour (8 hour minimum - price dependent on time of year and day of the week) to take you and your friends through the park. You get to cut all the lines, and other special treatment.
Do you know Patrick Beggora? He's the Little Man of Disneyland, and his house is still there. Can you find it? (See photo above.)
★ Have any questions or did you learn something new in this post? Is there something you think I missed and you'd like me to include? Please let me know in the comments below!★
This post was originally published in February of 2019, but was republished with new photos, an index, and tips December of 2019.