While I love holiday cookies, this year I'm giving you some options that are not cookies, but are just as delicious and just a little more special. This is perfect for you if you're looking for no-bake easy options, or for something that will look really impressive on your table.
The holiday season is the perfect time to show your appreciation for your loved ones, and sharing some special sweet treats are a great way too!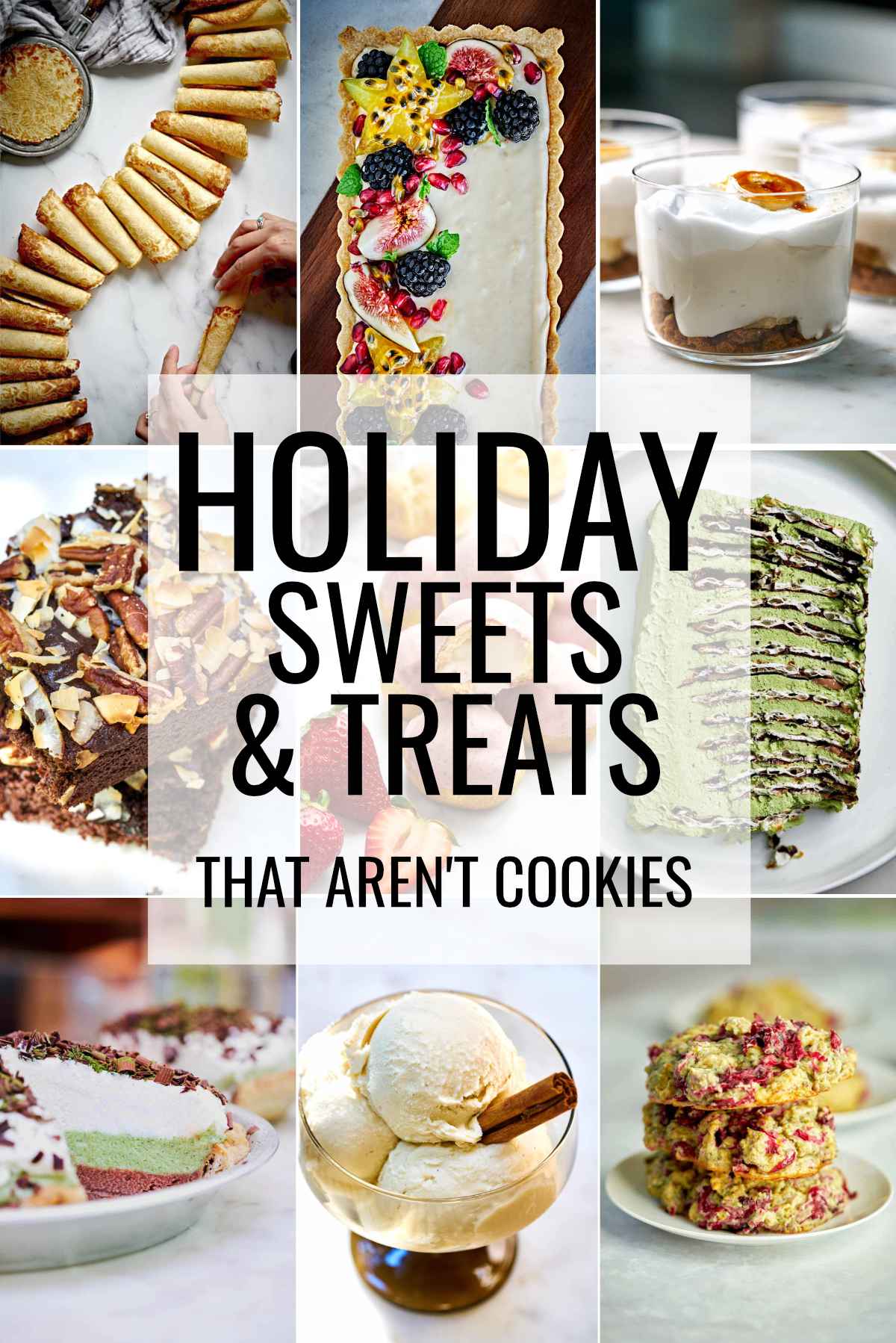 Desserts with Holiday Flavors
There are some delicious flavors that can come out to play during the holidays like eggnog, ginger, cinnamon spices...yum! I'm sharing the holiday themed recipes I like to make this time of year.
Feel free to get cozy with one of these desserts and your favorite hot and cozy holiday drink.
Eggnog Gelato
You heard it right, eggnog in ice cream form! This is the perfect light dessert after a heavy family dinner. It's creamy, smooth, and the nutmeg and rum come through beautifully.
Cardamom Krumkake
Krumkake are these amazing Norwegian waffle cookies shaped into cones and filled with a scrumptious filling of your choice. I make them with mascarpone filling, and also with matcha! They're best for arranging on a plate and snacking at leisure throughout your day.
Ginger Root Cake
This cake is packed with fresh ginger and spices that will zing your tastebuds. It's a recipe that my husband created – serve a homemade slice of this with a huge pot of tea, and the compliments will come rolling in.
Chocolate Ginger Cake
If you like a little bit of crunch and pizazz on top of your cake, this chocolate ginger cake topped with coconut and pecans is just the thing. It's a great way to get your friends and family on board with ginger cake if they're not so sure about it!
Cranberry Orange Scones
Scones are a great recipe to master because they are so versatile – serve hot, cold, or halved with jam and clotted cream. The flavors in these scones are to die for, and make me feel festive without fail every year. It's another great way to use the cranberries you may have bought for cranberry sauce.
Baked Sweets
The smells of delicious things baking always make me think of the holidays. Fill your kitchen with tasty aromas by baking these goodies this year.
Apple Slab Cake
This is a special recipe – it's my friend Molly's Nana's recipe, and it works with olive oil or vegetable oil. Olive oil cake is moist and delicious, plus it's great for anyone with dairy restrictions. This cake has a layer of crisp, sweet apples and can be decorated with an apple slice design for extra flair.
Earl Grey Crème Brûlée
I just had to turn my favorite winter drink into a silky smooth crème brûlée. Inspired by a London Fog latte, this creamy dessert is infused with earl grey and soothing lavender. Also, if you haven't had a London Fog yet, I highly recommend trying one! It's a unique twist on classic vanilla.
Strawberry Cream Puffs
Arrange these cream puffs into a tall tower for a stunning centerpiece dessert. These puffs are light and airy, filled with a delicate strawberry infused cream. It's a perfect sharing dessert for larger groups. I also have an amazing matcha version you can try if you love these.
Lime Curd & Mascarpone Tart
Not only is this tart so beautiful, but the filling is so light and sweet that it's always a winner for dessert. The zest of lime and creamy mascarpone are a match made in heaven for this tart filling.
No-Bake Desserts
Sometimes you just want something simple and no-fuss to serve for dessert. These recipes turn out perfectly every time and require only a small amount of prep.
Chocolate Mousse
Light, fluffy, and decadent – chocolate mousse is a classic dessert that everyone will enjoy and isn't stressful to make on busy days. I like to serve the chocolate mousse with a complementary mascarpone whipped cream. You could also add toppings to customize each dessert.
Matcha Matzo Icebox Cake
If only just for the festive green color, I think matcha is an amazing dessert flavor for the holidays. This icebox cake is super simple to assemble, chill, and serve. It's a great no-fuss but impressive dessert option.
Banana Coconut Cream Pie Cups
It's a good idea to have some vegan/dairy-free options in your dessert recipe book for anyone with diet restrictions. These cream pie cups have a delectable Biscoff Lotus cookie base, which have a sweet caramelized flavor, topped with light banana coconut pudding.
Matcha & Chocolate French Silk Pie
This layered dessert is a holiday showstopper and will be the dish of the night. It has a layer of rich chocolate mousse, topped with silky matcha mousse, and a hefty portion of whipped cream to finish. Silk pie is my husband's favorite, so I experimented with this version and am thrilled with it – I hope you will be too!
Nutella Sufganiyot (Doughnuts)
These doughnuts are stuffed with Nutella chocolate filling, fried lightly and dusted with confectioner's sugar. Its the perfect option if you need a dessert for all ages – children will love helping to fill these, and have fun squeezing the filling when they eat them.
Small Treats and Nibbles
Whether it's nuts or chocolates or candies, holiday season is prime-time to leave enticing treats around the house for your loved ones to snack on. I'm giving you some fun ideas for sweet nibbles that are also easy to make.
Chocolate Truffles
These truffles are just so easy to make ahead. You can rustle up a big batch and leave them for casual sweet snacking. You can customize them however you like – they also make lovely gifts for friends and family, or as a thank you to anyone hosting you for the holidays.
Dark Chocolate Peanut Butter Cups
Rich, nutty, crunchy... peanut butter cups are the perfect bite-sized sweet indulgence. You only need 4 ingredients to make these classic candies. This are also lovely to give as welcome/thank you gifts.
Matcha and Chocolate Dipped Candied Oranges
Combine sweet matcha white chocolate with rich bitter dark chocolate and the tart sweetness of candied oranges, and you get this immensely satisfying treat. I use slices of blood oranges to make this treat, and they are always loved by all!
Churro Toffee (With Cinnamon Sugar)
When I tried churro toffee at Disneyland, I just knew I had to make my own version at home. Toffee can be intimidating as you have to heat sugar with precision, but with a few steps you can easily master it. The layer of toffee is topped with melted white chocolate and a cinnamon sugar blend just like the one churros are dipped in. Make a tray of these and have bonus fun cracking them into pieces.
So dessert is covered, what about the main dish?
Cook a spectacular main meal to go before your delicious desserts. Here are some of my tried-and-true winter dinner options.
More Roundups & Recipe Ideas