You can never go wrong with tacos - there are so many great fillings and varieties, and there's always something to please everyone. From vegan potato tacos to marinated steak tacos, I've got you covered with the best tacos in each category!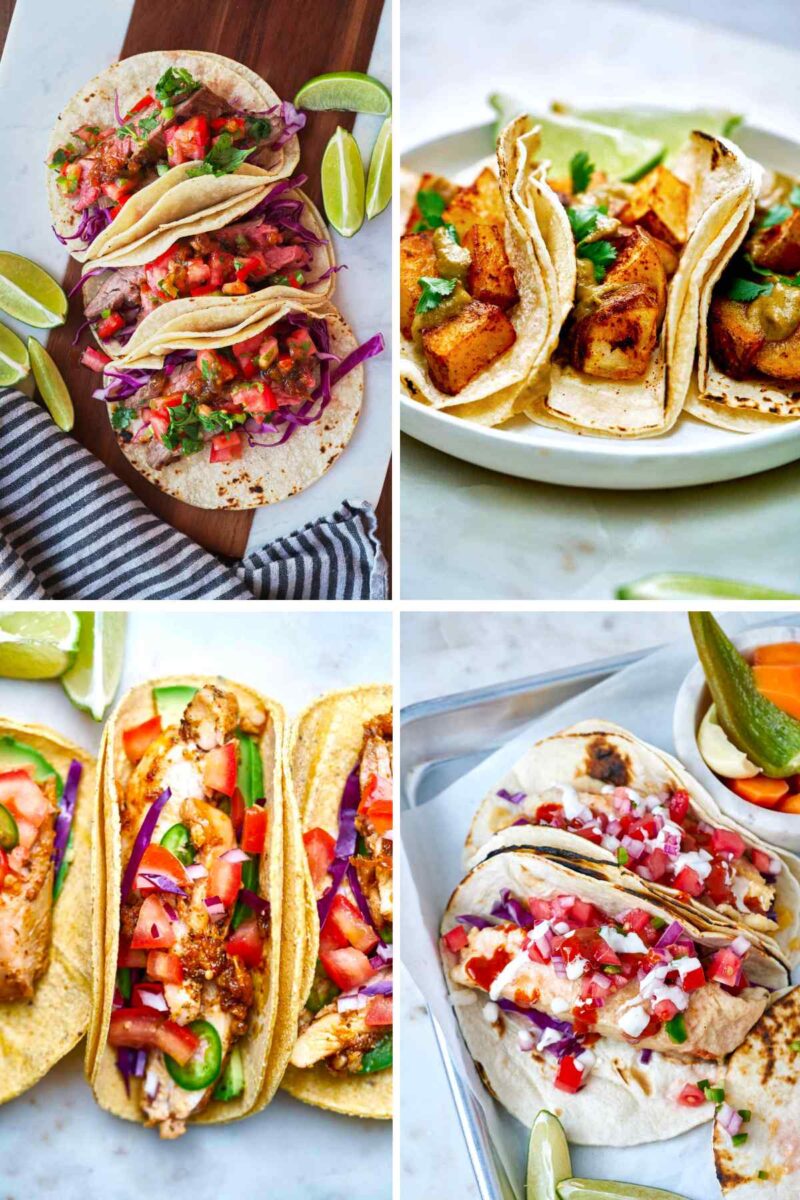 Jump to:
This taco roundup is something I wanted to share for Cinco de Mayo, an annual holiday that has turned into celebrating Mexican culture and heritage with parties, delicious food, and drinks.
I want to acknowledge that this holiday isn't always celebrated and honored with its origin in mind, especially in the US. Read more about Cinco de Mayo on Wikipedia.
I'm sharing these recipes to express my great appreciation for a broader Latin cuisine - growing up and living in Southern California and living for a short time in Guatemala influences so many of my recipes.
The recipes in this best tacos guide are non-traditional, though I'm lucky to have had the chance to taste traditional recipes on my travels. When I lived in Guatemala, I had a fantastic time making masa from corn and then into tortillas - a unique experience, even for locals! And of course, I got to learn how to make many traditional dishes while I was there.
🌮 Tips For Making the Best Tacos Ever
🌽Make your own Tortillas
If you're curious and want to try making some traditional tortillas and making the best tacos from scratch, these are some of my favorite tortilla recipes.
For a traditional corn tortilla recipe, try these corn tortillas by Mexico in my Kitchen.
For a traditional flour tortilla recipe, I love this flour tortilla recipe from Denay's blog, Confetti and Bliss.
🍗 The Best Chicken Tacos
I'm a fierce advocate for marinating your meat for tacos to get the best flavor. The marinade for this chicken is delicious - it has a great balance of acidic, sweet, and spicy. This not only helps break down the chicken to make it tender, but adds so much flavor. I use boneless chicken thighs as I think their taste and texture works the best.
1.
Chicken Tacos
This delicious and easy way to cook boneless chicken thighs and is just as great as tacos as it is with your favorite side dishes. Marinade overnight, then cook down the marinade for an extra flavorful sauce.
Check out this recipe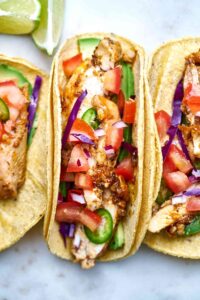 🍖 The Best Steak Tacos
These are one of the most popular recipes on the blog. The steak is so tender and flavorful. The trick is a super marinade. The acidic citrus juice in the marinade helps break down the meat and get that juicy, tender texture you're craving.
2.
Steak Tacos Recipe
Sweet & tangy skirt steak tacos cook up quickly and are filled with flavor. Marinate overnight and they're ready in 35 minutes!
Check out this recipe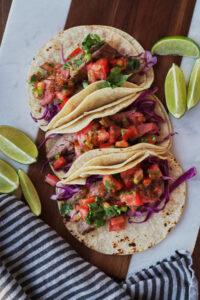 🥔 The Best Vegan Tacos
Potatoes? In tacos? YES and they're incredible. Mine are filled with spiced and perfectly roasted Yukon Gold potatoes topped with a rich salsa and a squeeze of lime. They're so full of great flavor, I think they're a fantastic alternative to meat and fish tacos. They might even become your new go-to taco filling.
3.
Potato Tacos
Spiced and perfectly roasted potatoes make a delicious taco filling for these potato tacos. A great meat-free, vegan taco option!
Check out this recipe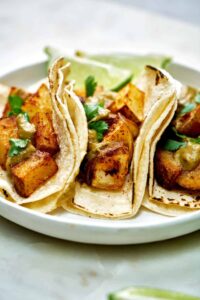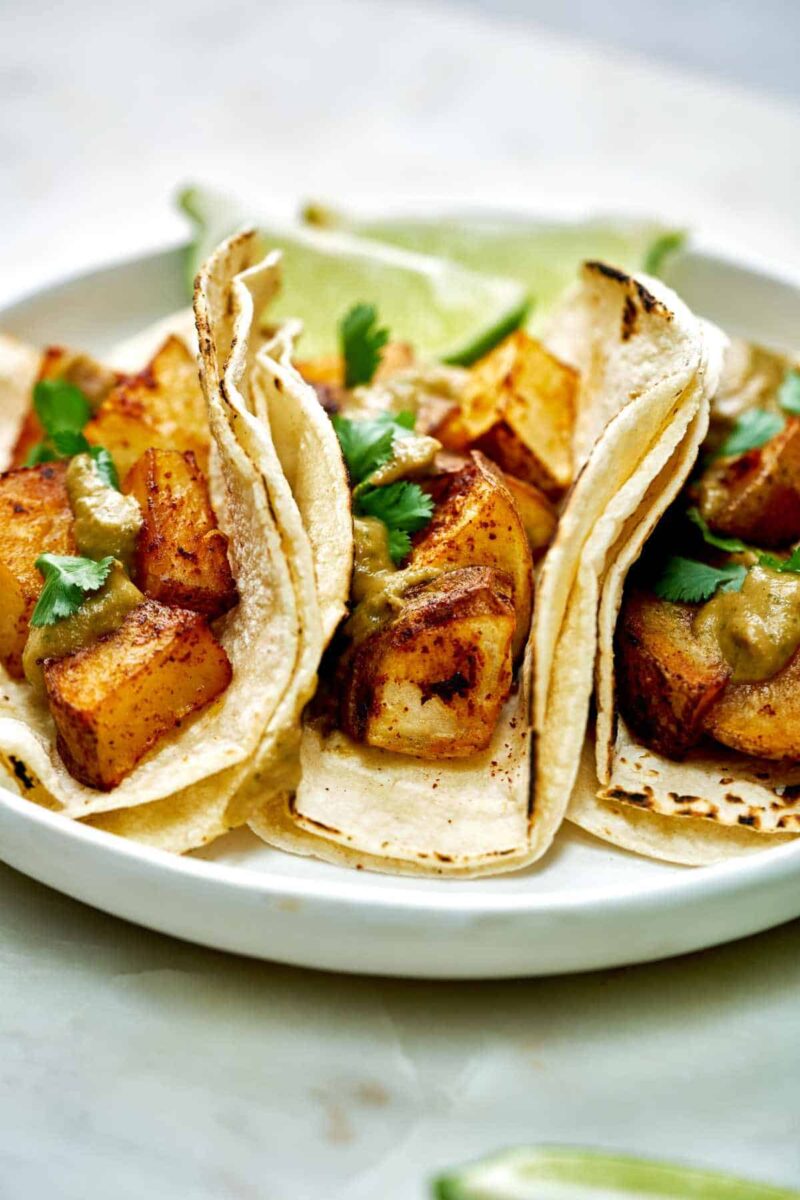 🐟 The Best Fried Fish Tacos
These tacos are filled with delicate flaky fish and a delicious combo of hot sauce and ranch on top. It may sound weird, but trust me it's amazing! This recipe works great with any white fish or skinned salmon.
4.
Salmon Baja Style Fish Tacos
These salmon Baja style fish tacos will have you craving them every single taco Tuesday. The perfect bar-food at home, inspired by my favorite San Diego taco restaurant.
Check out this recipe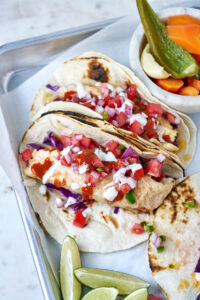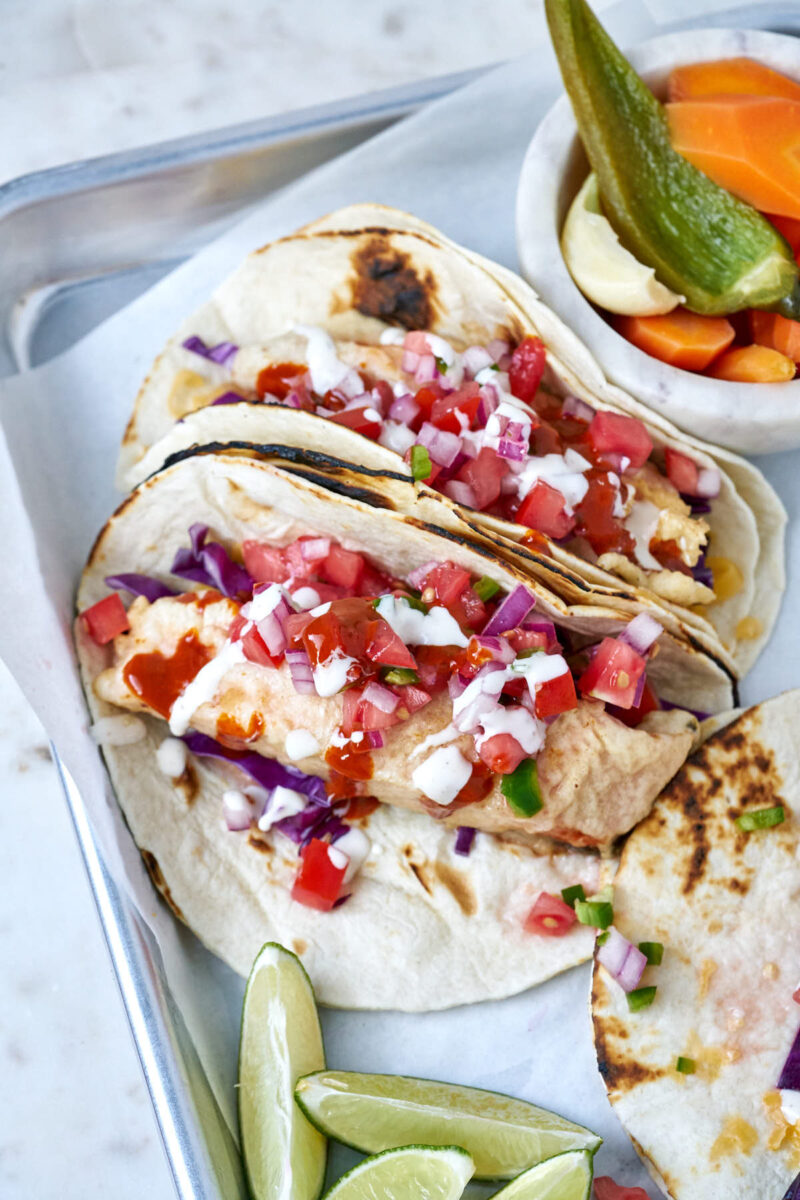 This recipe was inspired by my favorite taco Tuesday spot in San Diego, South Beach Bar and Grill (link to restaurant page opens in new tab). Baja- style food represents an incredible fusion of Mexican and American cuisine.
🔥 The Best Grilled Fish Tacos
This recipe is almost the same as the recipe above, with a winning combination of toppings, and instead of deep-frying the fish, the fish is grilled (or pan-fried). This a wonderful, delicious option with my favorite flavor combinations... enjoy!
5.
Grilled Baja Fish Tacos with Pico de Gallo Salsa
When I lived in San Diego, grilled Baja fish tacos from my favorite taco bar were an unbeatable treat! These tacos are my homage to all those delicious nights, and I make these all throughout the summer.
Check out this recipe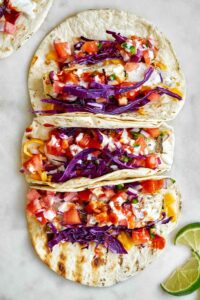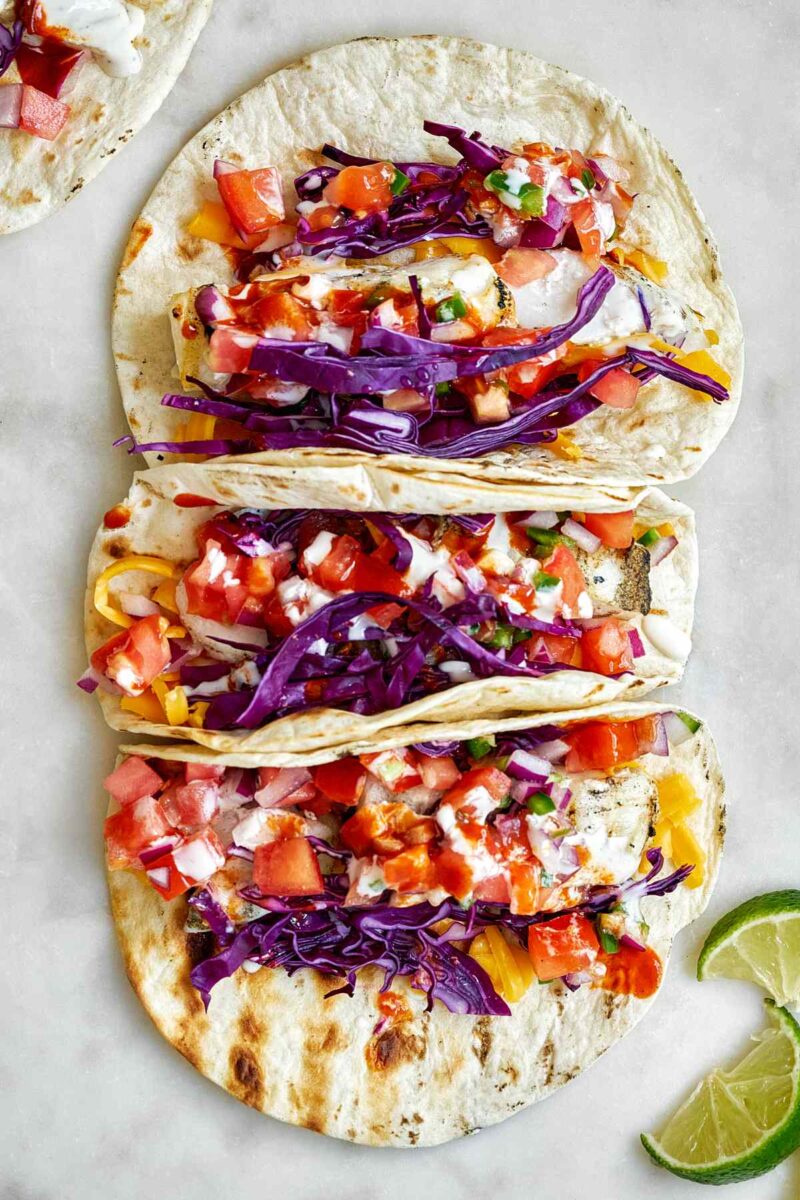 ⏱️ The Best Quick Tacos
A 30-minute taco recipe that delivers on freshness. The meaty swordfish pairs great with the acidity of tomatillo salsa with lime and the butteriness of the smashed avocado. Make the salsa homemade or grab your favorite at the store... either way, this recipe is a winner!
6.
Swordfish Tacos with Tomatillo Salsa
These swordfish tacos are delicious, easy, and they're ready in less than 30 minutes! Plus, a homemade tomatillo salsa that's the perfect pairing.
Check out this recipe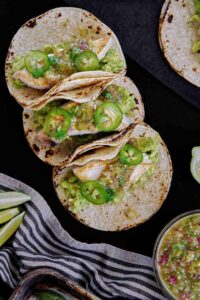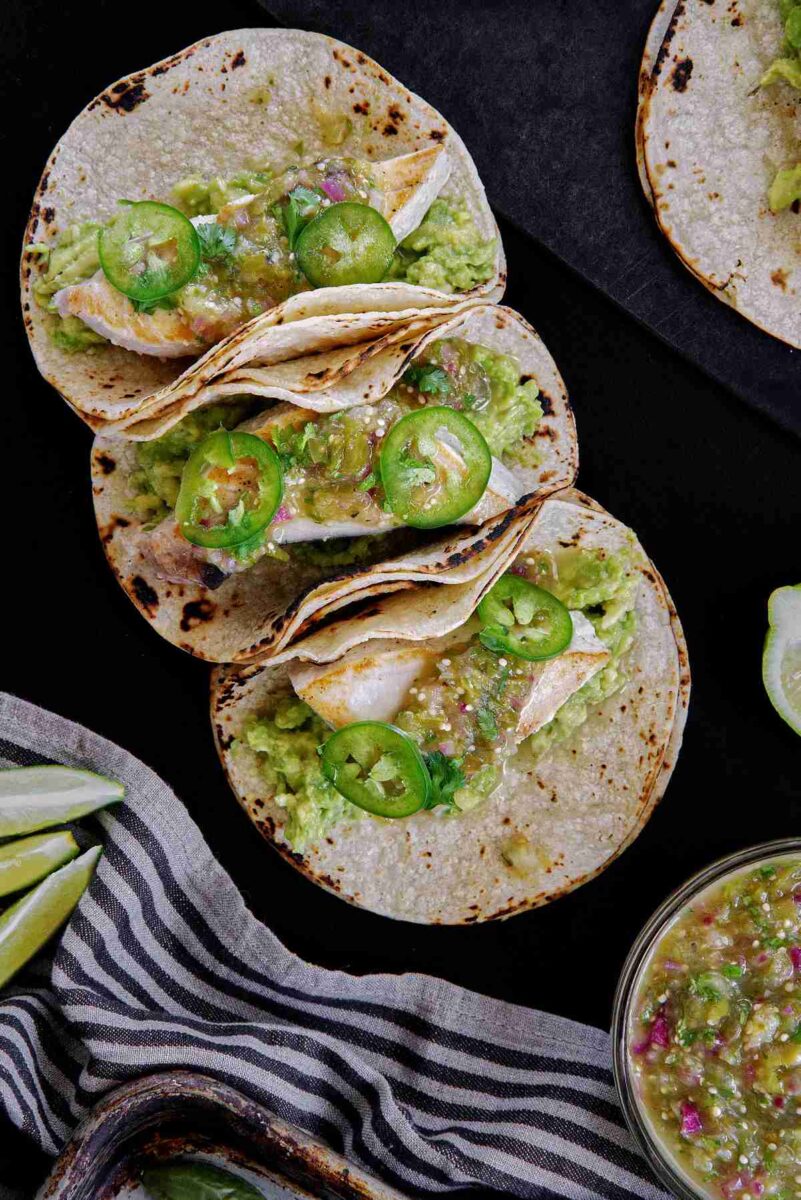 📋 Taco FAQs
Why do tacos have two tortillas?
This is to help catch any overspill of fillings, and to help prevent spillage if one taco becomes too soggy with the juice of the filling and tears itself.
What is a street taco vs a regular taco?
Street tacos are so-named as they are sold by street vendors or local taquerias. They are typically smaller and simpler than regular tacos. They are usually made with soft corn tortillas and only a few ingredients like meat, onion, cilantro, and salsa. Regular tacos tend to be served in a wider variety of tortillas (corn, flour, hard shell) and with more fillings.
What's the difference between a taco and a tortilla?
A tortilla is soft and can be made of corn, flour, or other ingredients. A taco shell is a hard, firm holder made by frying a tortilla in a U-shape.
How many tacos are good for one meal?
This depends on the size of the taco, the filling, and the availability of sides. Typically 2 tacos per person is a good portion.
⭐ Even More Recipe Inspiration
Looking for even more inspiration? Check out some of these favorites:
I love hearing from you! You can also FOLLOW ME on INSTAGRAM, TIKTOK, and PINTEREST to see more delicious food and what I'm up to.